Bacon, Brussels sprout, ranch pizza is the perfect combination of health and indulgence. Store-bought pizza crust topped with ranch dressing, cheese, crispy bacon, and shredded Brussels sprouts.
The first recipe of 2020 is here! It's a winner. I think they all are winners, but I am a bit biased.
This pizza recipe is the way I got Mike to love Brussels sprouts.
Granted, he only loves them on this pizza. Back when I made roasted Brussels sprout nachos, he obliged and ate one.
One nacho topped with one Brussels sprout.
However, when it comes to bacon, Brussels sprout, ranch pizza, he was going back for third and fourth slices.
That is a win in my book!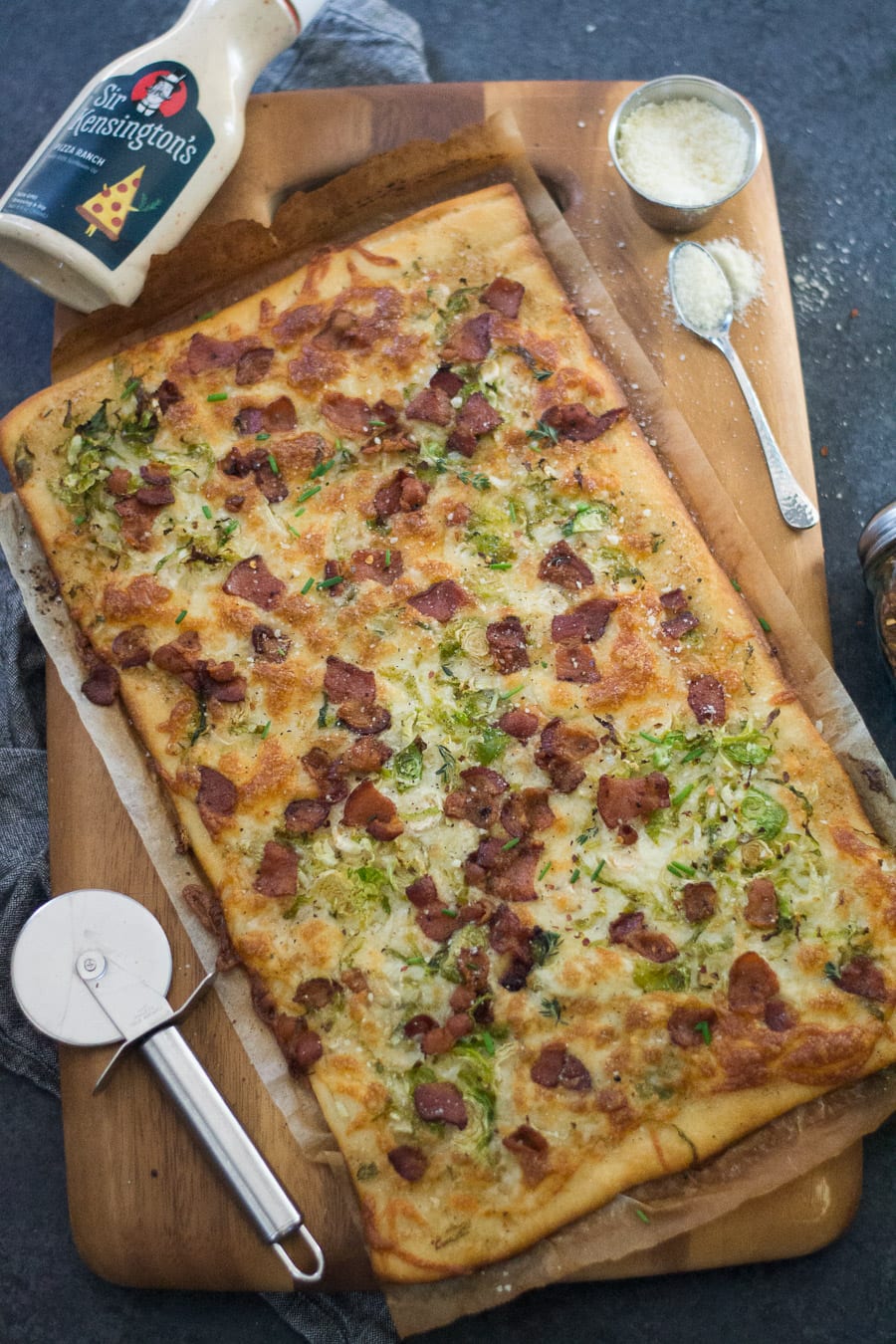 I was also thiiiiiiis close to getting Jack and Andy to taste a bite. The smell of the cooked Brussels sprouts overwhelmed their little sniffers and set off alarms.
Normally, I am more of a Brussels sprout salad kind of girl. I will always choose shredded Brussels sprouts over the whole or half roasted versions too.
What can I say? I am a sucker for a good crunch.
That's what you get on this pizza. Lots of crunch.
Use your favorite store-bought dough or crust. Top the crust with some good ol' Hidden Valley or my new personal favorite Sir Kensington's Pizza Ranch. Sprinkle with cheese, shredded Brussels sprouts, and some partially cooked bacon pieces.
The bacon works its magic and gets even crispier while the pizza cooks and that bacon flavor infuses through all the Brussels sprouts.
It is sooooo good!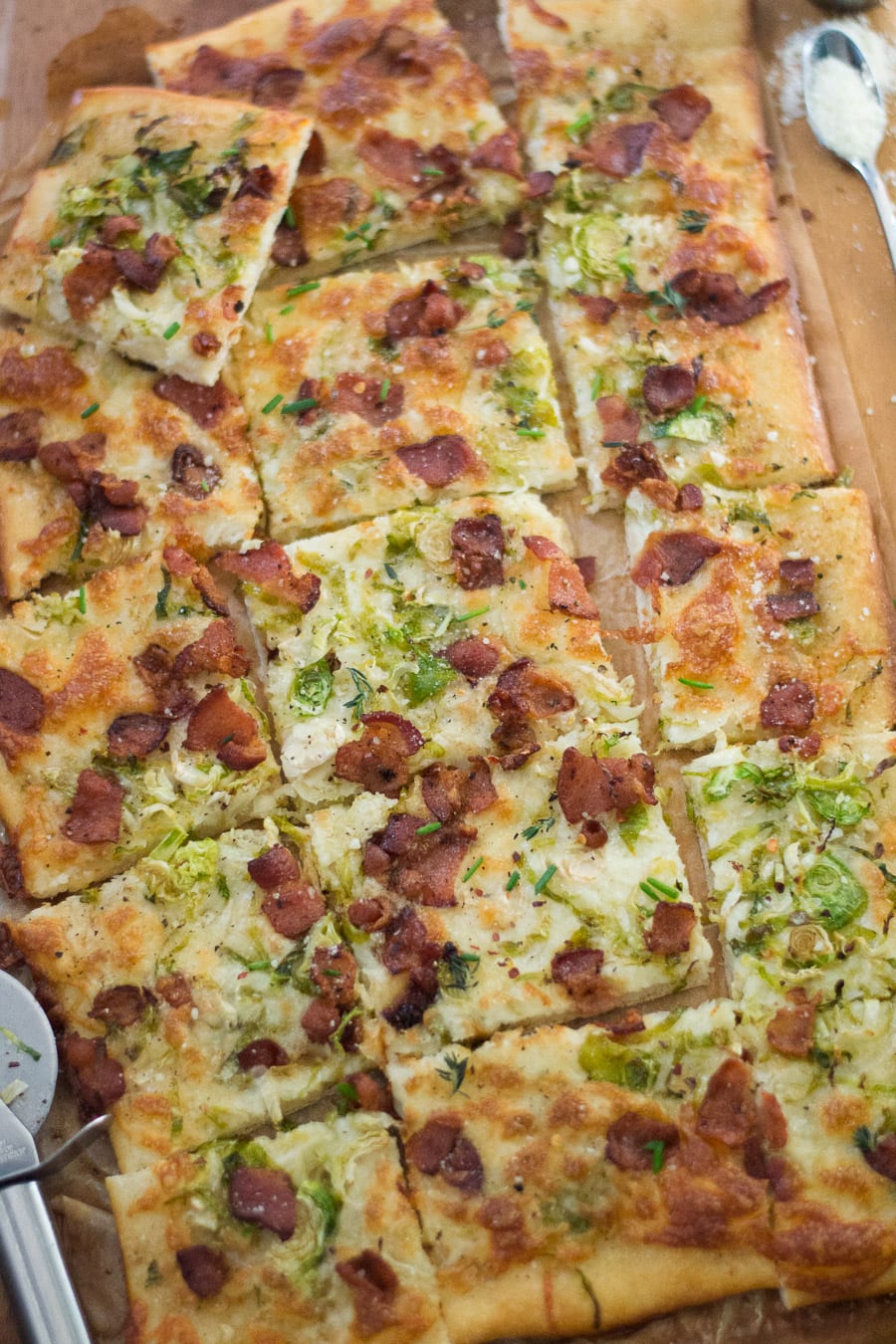 Five ingredients is all it takes to make an excellent pizza.
A possible side effect of said pizza may be converting a Brussels sprout hater along the way.
Why wouldn't you make this pizza?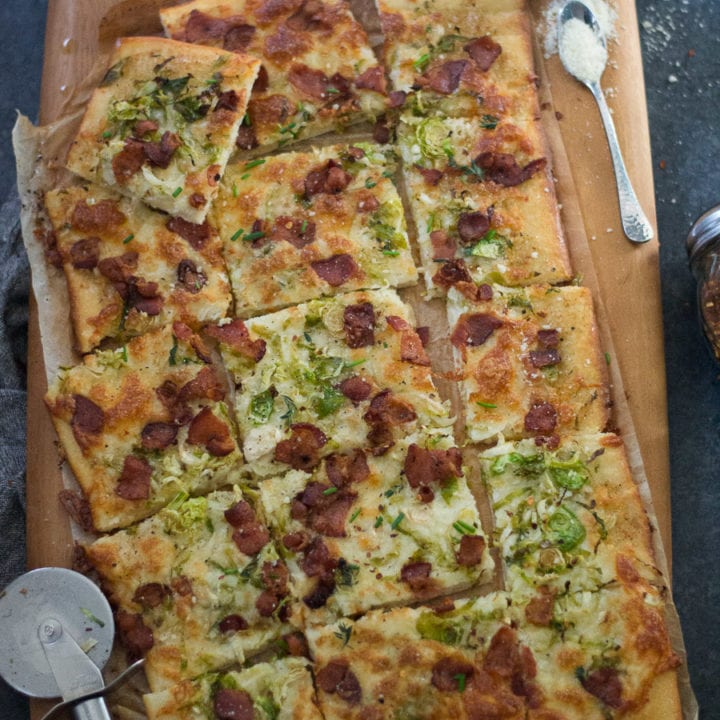 Bacon, Brussels Sprout, Ranch Pizza
Store-bought pizza crust topped with ranch dressing, cheese, bacpon, and Brussels sprouts.
Ingredients
14 oz Pizza Dough/ Crust (enough to make a 14-16" pizza)
6 strips of center-cut bacon
6 oz Shredded Brussels Sprouts
1/2 cup Ranch or Pizza Ranch Dressing
2 cups shredded mozzarella cheese
Instructions
Heat a large skillet over medium/high. While the pan gets hot, chop the bacon.
Add the bacon to the hot skillet. Cook until barely crispy, but cooked through. The bacon will continue to crisp in the oven while the pizza cooks.
Transfer bacon pieces to a paper towel-lined plate.
Preheat the oven according to the pizza dough's packaging instructions. I normally cook pizza at anywhere from 425 -500 degrees F.
Spread the dough over a pizza pan until it is about 14-16" inches round or 16 -18" long rectangle.
Top with an even layer of ranch, then the cheese. Top with shredded Brussels sprouts and then the bacon.
Bake for about 12 minutes, each dough cooks differently so it may be more or less. Once the cheese is melted and slightly golden on the edges, the pizza is done.
Allow to cool for 4-5 minutes before cutting and serving.
Top with crushed red pepper flakes and Italian seasoning.
Recommended Products
As an Amazon Associate and member of other affiliate programs, I earn from qualifying purchases.