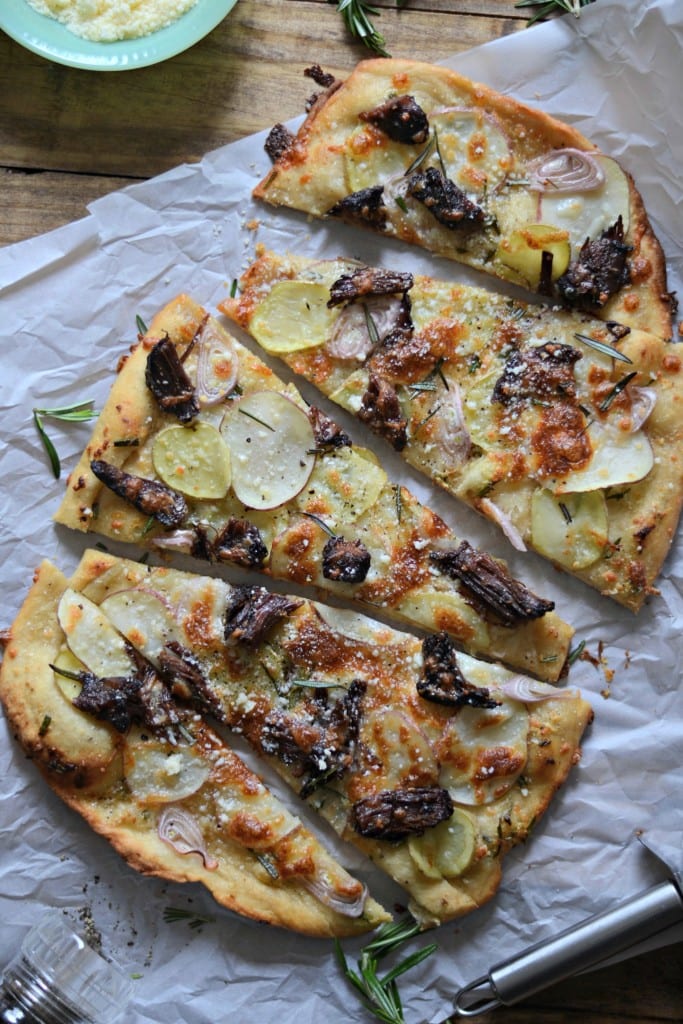 Today marks the end of pizza month. Are you as excited as I am? Do you never want to see another pizza recipe on my blog again? Did I ruin your favorite food for you? I honestly thought I would get sick of pizza. I maybe got sick of making a crap ton of pizza dough, but sick of pizza? No way. You still got me, pizza. You got me.
Let's recap what pizzas we made this month. First we started with three different doughs/crusts:
That created the bases for my pizza brainchildren:
Crispy Carnitas Enchilada Pizza
Spicy Roasted Red Pepper and Burrata Pizza
I think I did a good job covering some classic pizza recipes and coming up with some new fun ones to add to our weekly repertoire (if I do say so myself).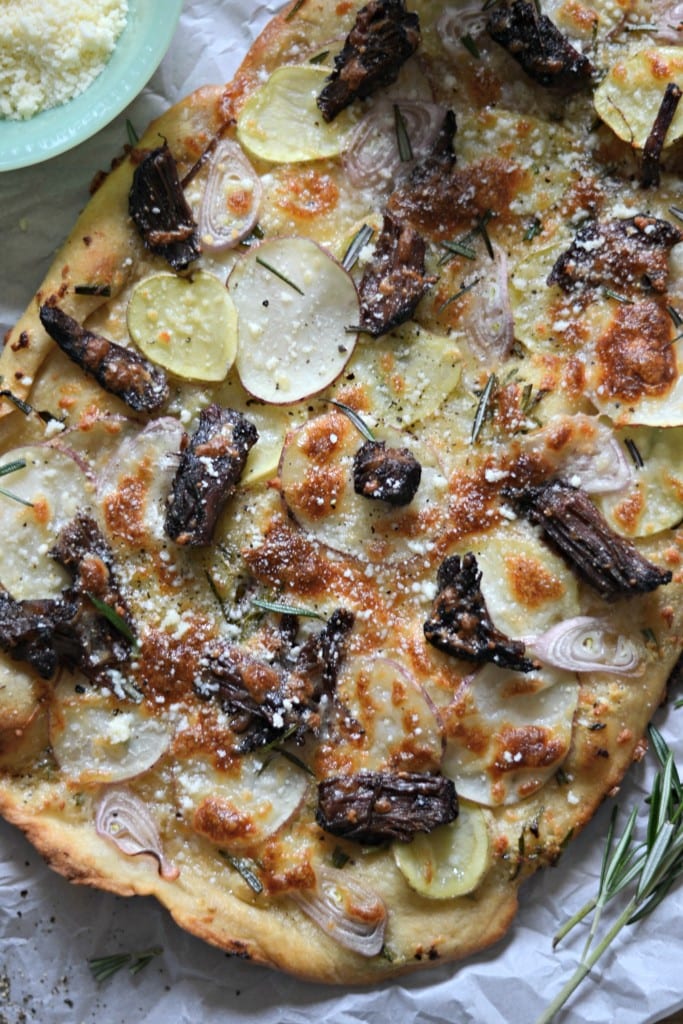 I wanted this last pizza recipe to be something fancy. Something you would make for a dinner party and drink with a big ol' overpour of red wine. A pizza that could satisfy a meat and potatoes kind of crowd. I knew that I was braising some short ribs for Easter, so I kept one off to the side just for this pizza. If you are braising short ribs or have any kind of leftover steak, add it to a pizza. Don't braise just one short rib for this recipe.
Since it was the last pizza for the month, I relinquished art direction and food styling to my little assistant. Ya know, just to keep things interesting.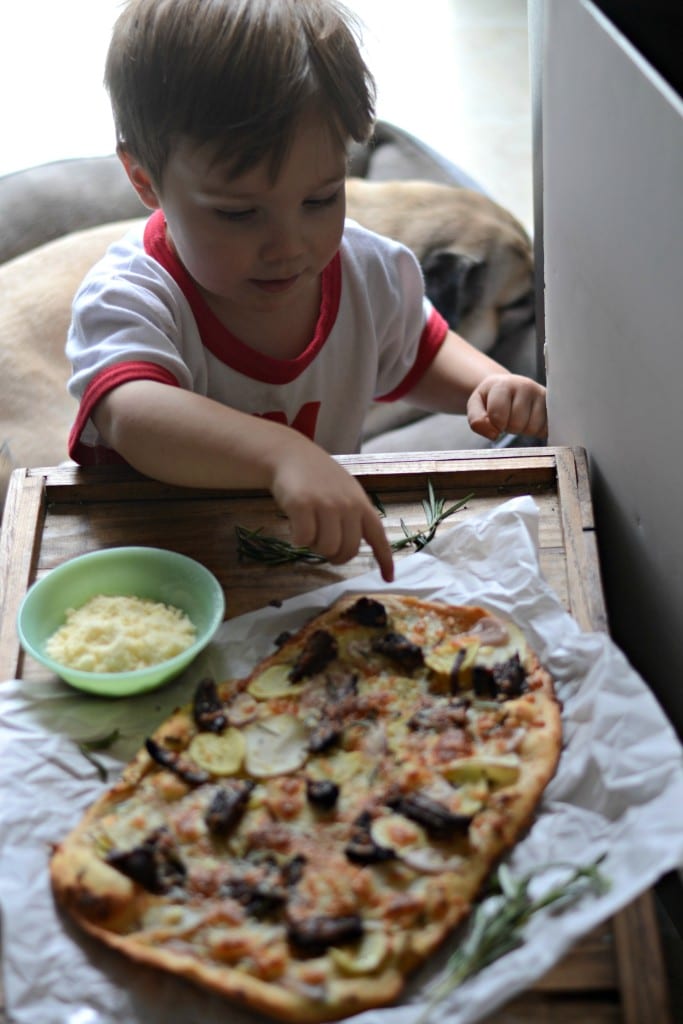 He was just in it for the cheese.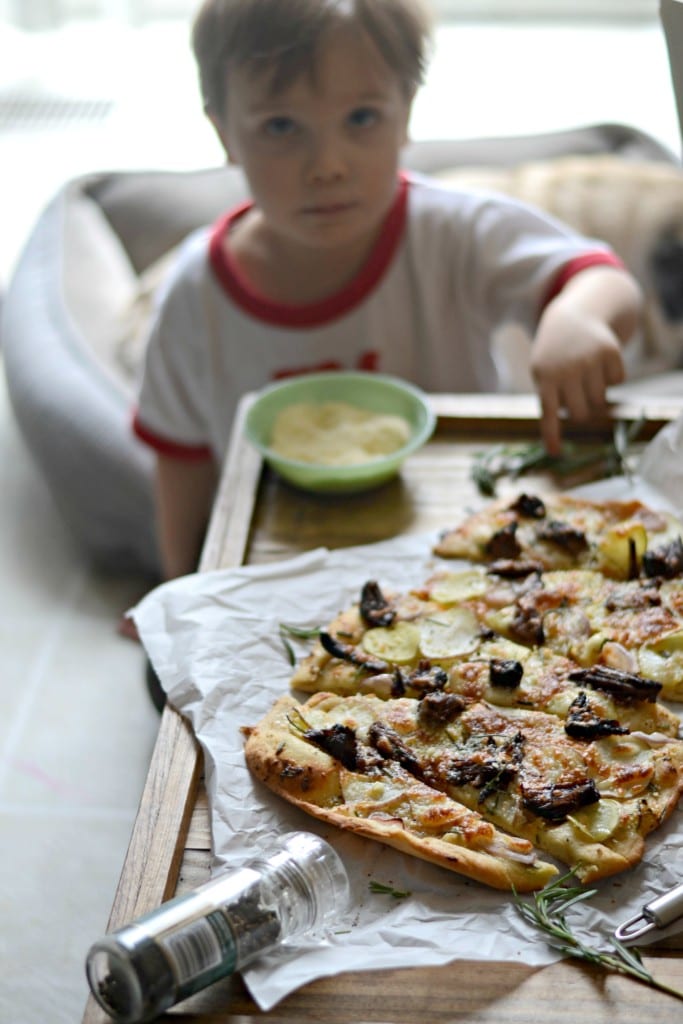 And let me tell you, there was parm EVERYWHERE after this kid got done styling this photo. FYI do not walk around your kitchen barefoot after a parmesan spill. You will end up with parmesan stuck to your feet and then transfer it to the rest of the house. Why didn't I sweep it up, you ask?
Um, I did.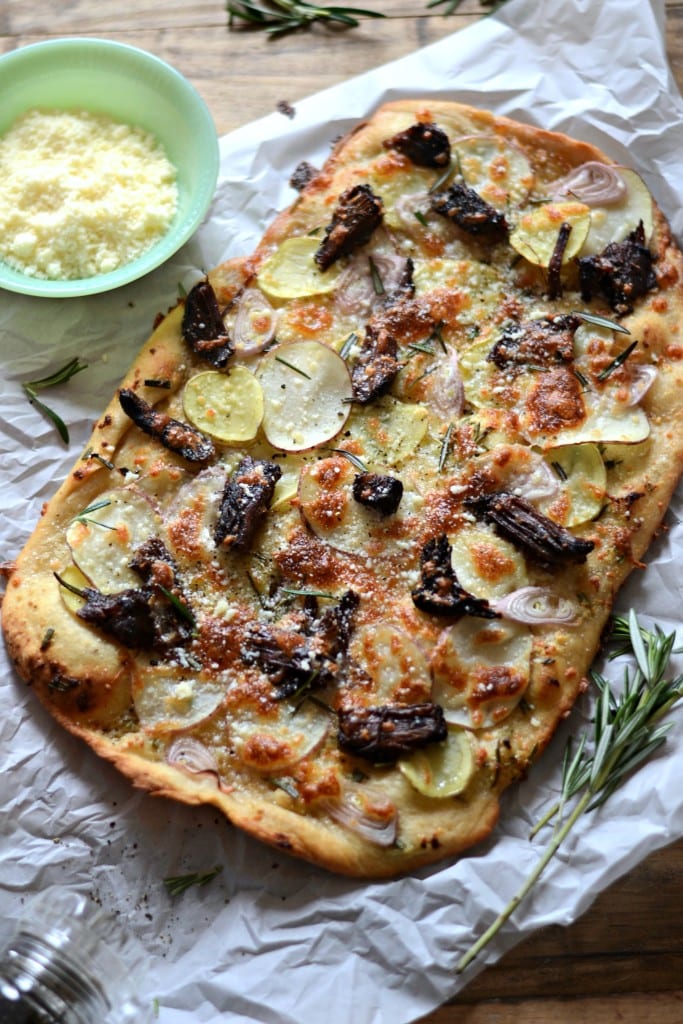 I think Andy had it down his clothes or something. Every time he walked a little more shook out. It was like I was following Hansel and Gretel around my house.
Sorry Andy, but next time I think I might go another direction with my photography. Maybe a cleaner direction.
It has been super fun doing a theme month. Let me know if you have any ideas for my next birthday month theme. If it's a good theme idea, maaaaaybe you won't have to wait an entire year for me to do it!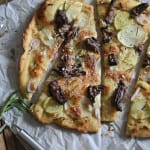 Steak and Potato Pizza
This fancy steak and potato pizza features braised short ribs and thin crunchy potatoes in a garlic herb butter sauce.
Total Time
8
hours
10
minutes
Servings
1
, 12 Inch Pizza
Ingredients
Best Yeast Pizza Dough

1

Braised Beef Short Rib

1

Small Red Potato

thinly sliced

1

Small Fingerling Potato

thinly sliced

1

Shallot

thinly sliced

1/4

Cup

Melted Unsalted Butter

Pinch

of Salt

Freshly Ground Black Pepper

2

Garlic Cloves

grated

1

Teaspoon

Fresh Chopped Rosemary

1/4

Cup

Shredded Mozzarella Cheese

2

Tablespoons

Grated Parmesan
Instructions
Prepare Short ribs ahead of time. I used one leftover short rib from

this recipe.

Preheat the oven to 500 degrees F. Leave a 9x13 inch baking sheet in the oven or a pizza stone while the oven preheats.

Use a mandolin on the medium setting to thinly cut the potatoes and shallot.

Combine the melted butter, garlic, salt, pepper, and chopped rosemary in a small mixing bowl. Stir to combine.

Stretch the dough out to a roughly shaped oval.

Carefully remove the baking sheet from the oven. Transfer the dough to the baking sheet.

Spoon the butter mixture over the entire dough.

Layer some potatoes and shallot slices on top, then some cheese, and finally all the short rib and remaining potato slices.

Bake the pizza for 10-12 minutes until crispy and the potatoes are golden on the edges.

Top with more rosemary, freshly cracked black pepper, and grated parmesan.

Wait four minutes before slicing.