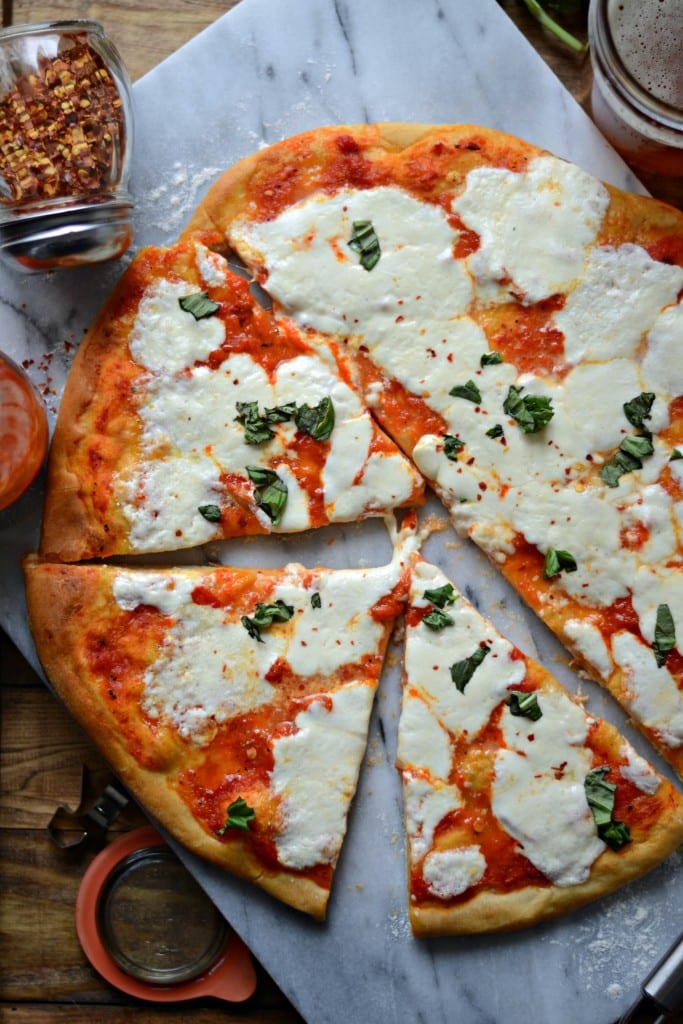 Have you guys ever noticed how, when you want something or maybe are obsessing just a bit about something, you seem to see it everywhere? For example, when I wanted to be engaged, I felt like everybody around me and on social media was posting stuff about getting married. When we were trying to get pregnant, I felt like my streets and sidewalks were overthrown by the buggy brigade. Moms with babies in strollers, everywhere!
Now that we are looking for a house, I seriously see moving vans everywhere. It just adds to my obsessive Redfin checking and second guessing. I even had a dream that a house I really liked but was contingent went back on the market. Then we got into the house and there was something wrong with it. That is not a good dream to be having while looking to dump a crap ton of your money into a house!
I know things are picking up in the housing market with spring right around the corner but it is like, one comes on the market, we like it, we plan to go see it, and then poof. It's gone.
I am a Debbie Downer as is; I don't need any more reason to be a bigger one. Mike and I started our last house hunting session by telling each other that we cannot wait to spend the whole day together being horribly disappointed. But hey, at least we were together without kids for once, right? Silver lining.
For those of you not house hunting, I am sorry to bore you or maybe even bring you back to that stressful time in your life when you were house shopping. Ugh, sorry.
On to bigger and better things.
MORE PIZZAAAAAA!
Today's pizza features the easiest sauce ever. I actually shared it on Snapchat (@sarcasticcook) a while ago and a lot of you screen-shotted (is that a word?) the recipe to save for future use. So that made me think, why not share it here too for all you non-snapchatters. (Man, I am just making up words left and right today)!
This spicy red pepper sauce comes together in a food processor and can be easily frozen for later use on pasta or as a dip with some garlic bread. I will tell you, if you skip or go easy on the CRP, kids like it! At least my little weirdo does. The red pepper sauce pairs perfectly with the mild and creamy burrata. Match made in heaven.
Hopefully like me and my soon to be found future house.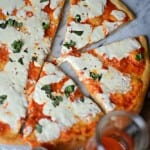 Spicy Roasted Red Pepper and Burrata Pizza
Spicy roasted red pepper sauce complimented by creamy burrata cheese all on the perfectly crisp pizza crust.
Servings
1
, 12 Inch Pizza
Ingredients
Homemade Yeast Pizza Dough or Another premade dough

1, 12

Ounce

Jar Roasted Red Peppers

Salt

Pepper

1/4 - 1/2

Teaspoon

Crushed Red Pepper Flakes

2

Pieces

of Fresh Burrata Cheese

drained and slightly patted dry

Fresh Basil for topping
Instructions
Make the dough according to

these instructions

or if you are using a different recipe, follow the instructions on the packaging.

Preheat the oven to 500 degrees F. Place the pizza oven or pizza stone in the oven for the duration of the preheat.

Drain the jar of roasted red peppers, reserving maybe 1-2 tablespoons of liquid. Roughly chop the roasted red peppers and then add them along with a pinch of salt, some freshly cracked black pepper, and the desired amount of crushed red pepper flakes to the food processor. Pulse until the roasted red pepper is almost minced. Add one tablespoon of reserved liquid and puree until smooth. If the sauce is still too thick, add the second tablespoon and puree again.

Carefully remove the pizza pan from the oven. Transfer rolled out dough to the pan. Top with about 1/4 cup sauce. Bake pizza for 5 minutes.

After five minutes, remove pizza and top with another 1/4 cup of sauce. Gently tear each ball of burrata into large pieces and spread over the sauce. Bake for another 5 minutes.

Flip on the broiler to high. Broil the top of the pizza for 2 minutes to make the cheese caramelize a little.

Remove pizza from oven. Top with fresh basil and more crushed red pepper or some parmesan cheese. Wait three to five minutes before slicing so the cheese doesn't spill all over the edges.

Remainder of red pepper sauce can be stored in an airtight container in the fridge for up to five days or in the freezer for up to a month.