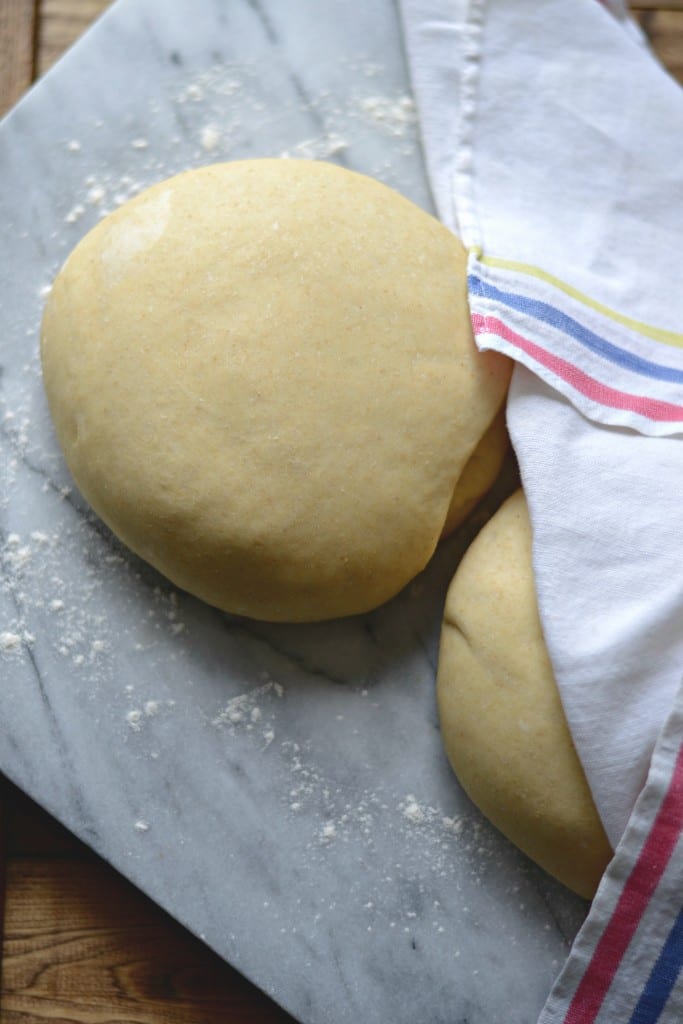 Welcome to pizza month! What? You don't like pizza this much, you say? What are you a communist? Well too bad because "it's my birthday and I'll eat pizza all month long if I wanna, all month long if I wanna. You would eat 'za too if you were turning 32." (Sing that to the tune of It's My Party by Leslie Gore).
#pizzamonth
I am not really crying about turning 32. It does sound way older than 31 for some reason. Instead of crying, I am having a whole month dedicated to my favorite food, PIZZAAAAA! It was either this or tacos. Ugh, it was a tough decision. But this year, pizza rules.
This week I am introducing you to three different crust options. Today, "the thin-crust-wait-for-the-yeast-to-rise" version. Tomorrow, gluten-free cauliflower crust (shhh don't tell my husband). Then on Thursday, a no-knead whole wheat version for you people still scared of dealing with proofing yeast. I am kind of hoping that you scared-y cats will see how easy it is to deal with yeast from the following pictures and make this dough recipe instead.
After all, it is the best and it is my birthday month so you have to do what I say.
Alright so let's get started. First you microwave the water for about 40 seconds. I don't even use a thermometer anymore, but it should not be more than 110 degrees F. Add the honey to the bowl of an electric stand mixer or a mixing bowl if you are doing the brut strength approach and kneading by hand. Whisk the water and honey together.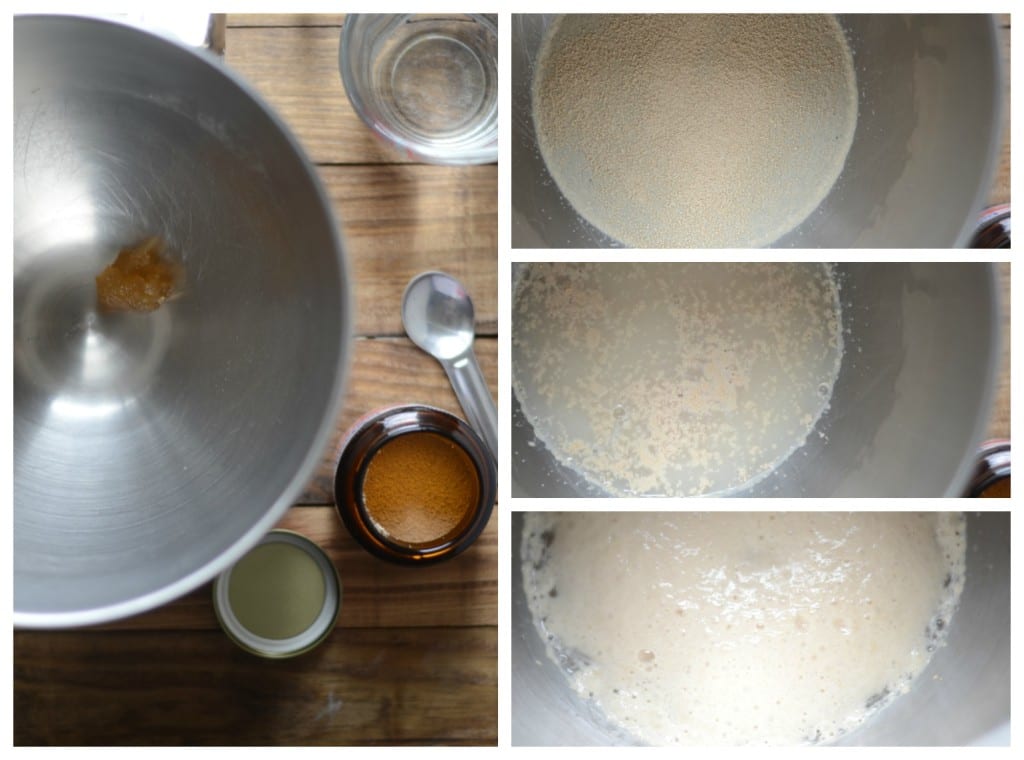 Sprinkle the yeast on top of the honey water. Mix it all up so the yeast gets wet. FYI I used to be so scared of this step that I would just sprinkle the yeast on top and hope it worked. Like, me toughing the yeast would make it mad and then my recipe would fail. But fear not! It will still work. Wait about 5 minutes and the yeast will be super foamy.
Add in the flours, olive oil, salt, and beer. Attach the dough hook to the stand mixer and mix for about 3 minutes until a shaggy dough forms. Crank that speed up to medium/high and knead in for 5-7 minutes until a smooth, somewhat sticky dough ball is formed. Take the dough out of the bowl, coat lightly with olive oil, and then return the dough ball to the bowl. Turn it and toss it a few times to coat it in the olive oil. Cover with a towel and let rise for an hour and a half.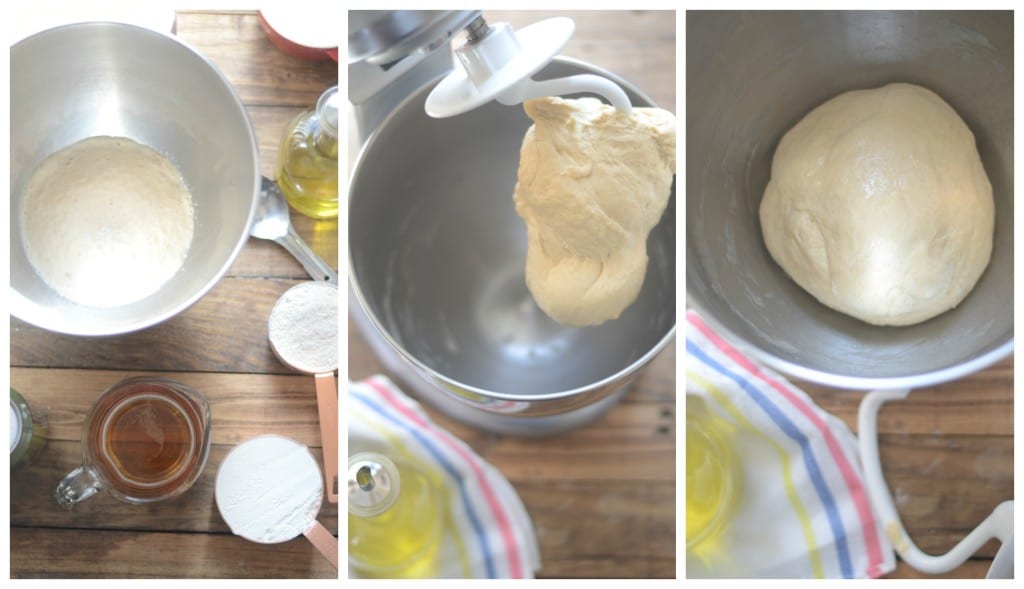 Go do some laundry, clean some dishes, or get some toppings together. It really isn't that long or hands on, so don't complain.
After an hour and a half has passed, uncover the dough and punch it down. Form it into a ball. Cut the ball in half. Lucky for you, this makes 2, 12-inch thin crust pizzas. Oh the possibilities!
Cover those dough balls with a towel and let rise for an hour. Again, go live your life; this recipe takes care of itself.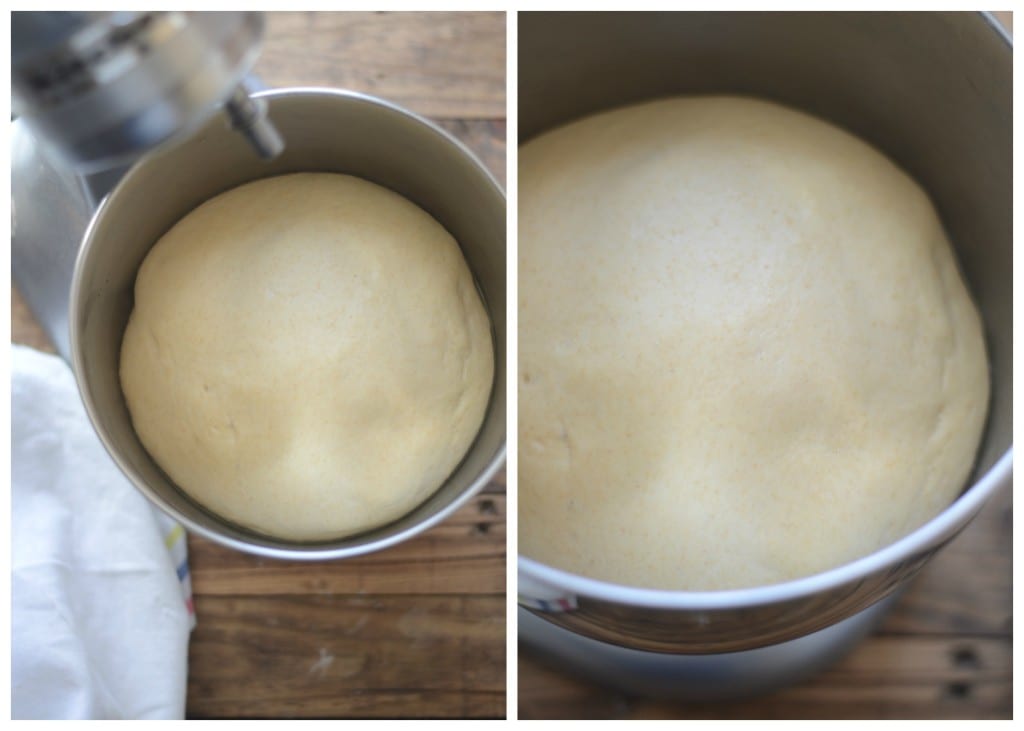 After an hour, preheat your oven to 500 degrees F. If you are using a pizza pan or baking sheet, place it in the oven while the oven preheats. This helps with that super crunchy crust we are looking for! Once preheated, lightly flour a work surface. Roll out the dough until approximately 12 inches. Remove the hot pan from the oven and transfer dough to pizza pan or baking sheet or pizza stone.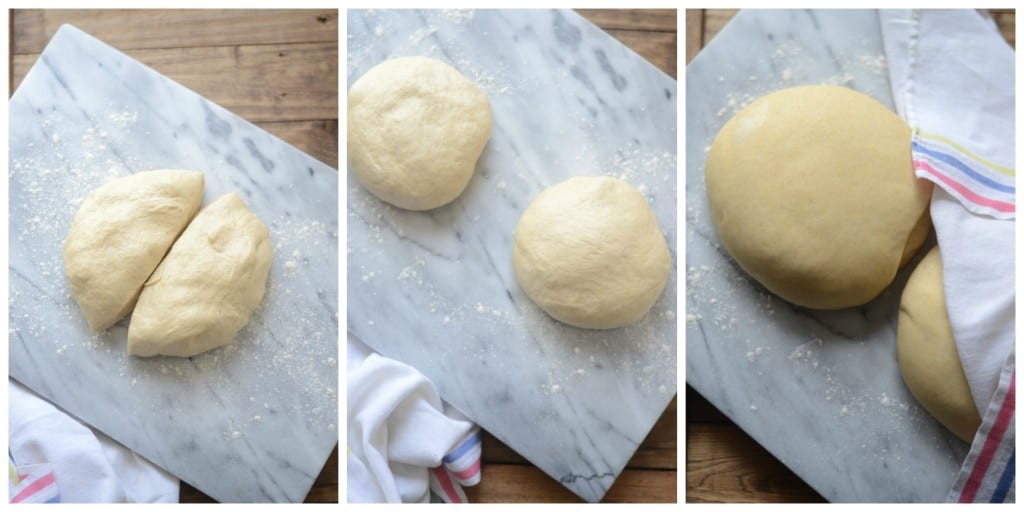 I like to add a little sauce and bake the pizza for 5 minutes before adding more sauce and the rest of the toppings. Then finish up baking the pizza for 5 more minutes. I find that makes for a sturdier crust.
This is my go to, every Friday pizza dough recipe. The beer is the secret ingredient!! If for some reason the beer weirds you out, just add more water instead. It still works; it just doesn't have the same flavor in my opinion.
I just made a simple Margherita pizza to show you the awesomeness of this crust. It's just a little bit of jarred tomato sauce, fresh mozz, shredded mozz, and fresh tomatoes and basil. Boom! Perfection!
Please give this crust a shot. Don't be scared of yeast. Yeast is your friend. Wait. That sounds weird…
Related posts: