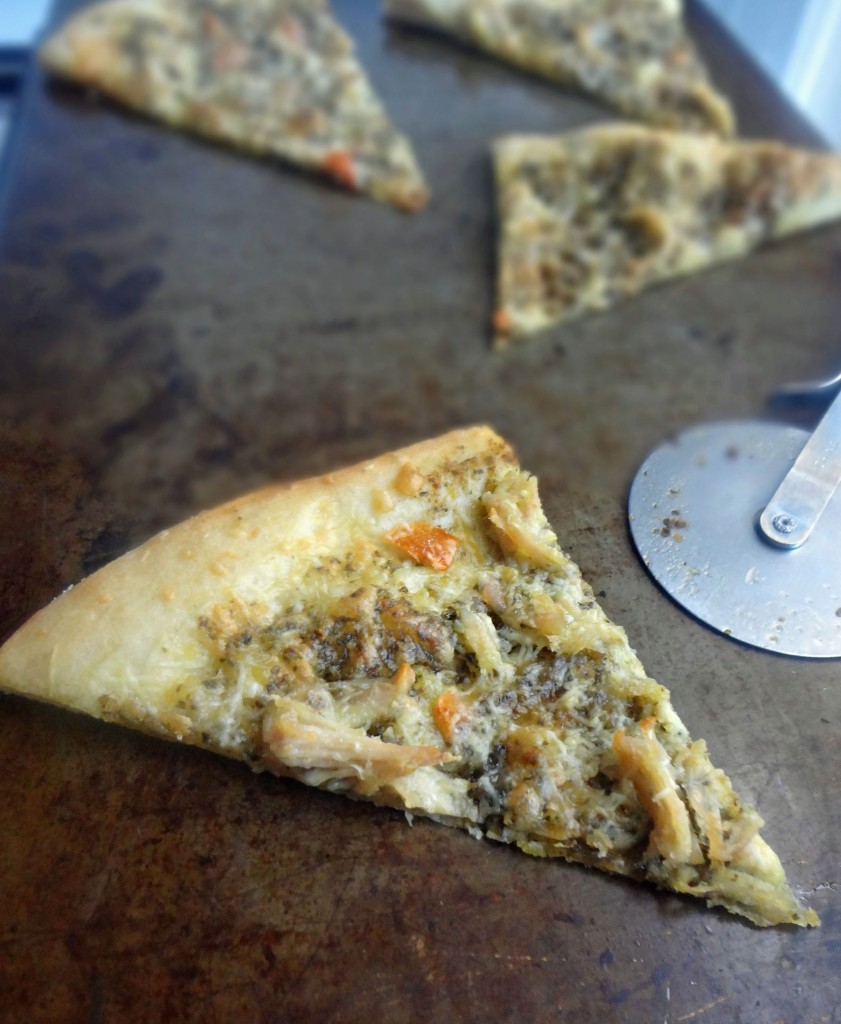 Today's Friday feature is from one of the sweetest bloggers I know, Kayle. She is an actress and baker/blogger in New York. She is one of my favorite people to chat with about TV shows. We are both obsessed with so many it is ridiculous! She has been nothing but excited and supportive through my whole pregnancy and I was so happy she was willing to bring some of her creativity to my site today!
The amazing desserts and carb-related awesomeness she creates for her site leave me drooling and speechless. Seriously, go to her site and try and find a cookie recipe that doesn't look amazing!
Omigosh! Hello all you Sarcastic Cooking readers!! My name's Kayle, and I'm visiting from my blog, "The Cooking Actress" whiiich…you guessed it…means I'm an actress….who enjoys food…and making food. So yeah. You get it. I am SO excited to be guest posting for Stef today while she just soaks up new motherhood!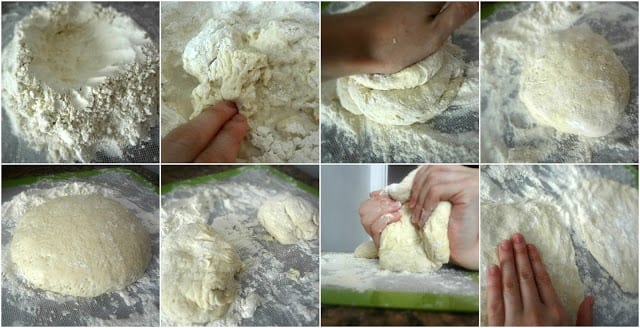 Can we just talk about how jealous I am of this by the way? Like…Stef has a baby. A cute little baby. I LOVE babies (I was even lucky enough to participate in Stef's virtual baby shower back in November). And it breaks my heart that I don't get to be in Chicago and give her lil guy all the cuddles in the world. Because you guys NOTHING is better than baby cuddles-nothiiiing! On a serious level-I adore Stef. I think she's hilarious (I'm a big fan of sarcasm, so I was won over by the blog name alone) AND we have the same taste in a lot of TV shows (I hope the poor dear has time to watch them still, what with her whole crazy busy life as a momma now!) AND of course…Stef whips up some deeeelicious foods. Like…I think Michael (my fiance' and main eater of my food) would maybe prefer to live at her house, because I think he likes her food better than mine. Yeah. I know. I can't blame him though, seriously, SO YUMMY!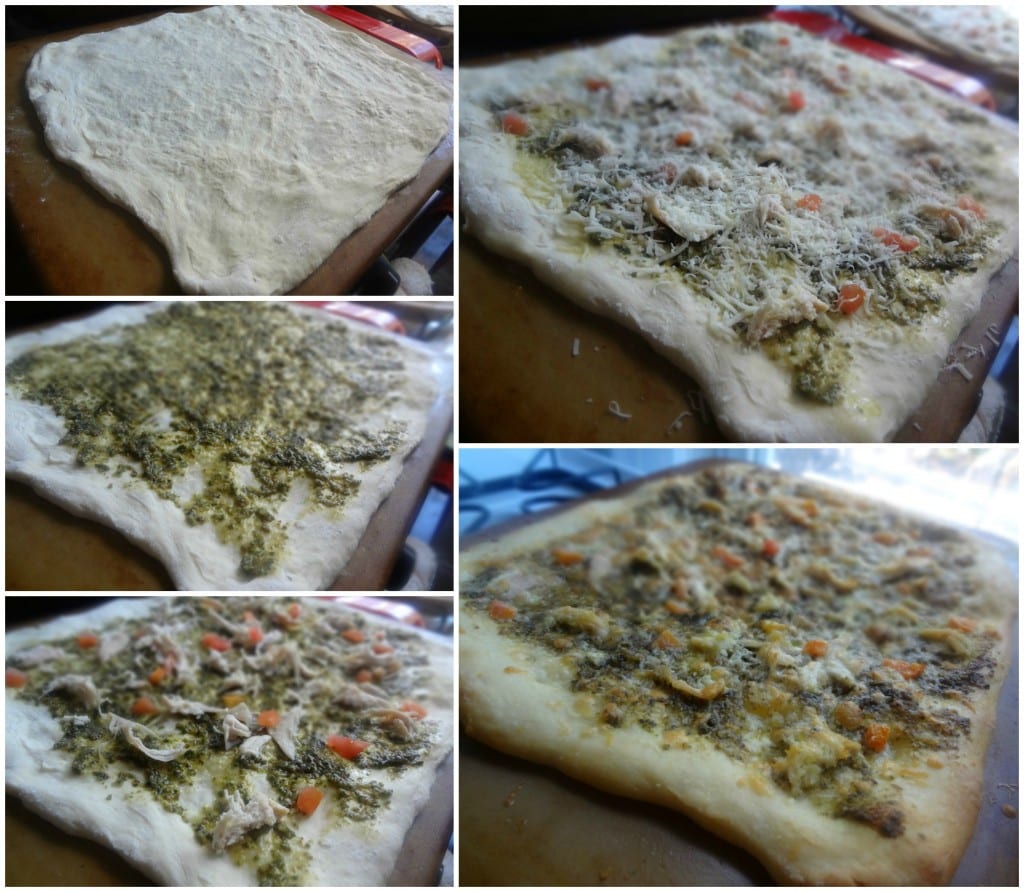 So I had to make sure I picked something to share that would be worthy of this blog and its tradition for yumminess. And, I think this pizza is up to the task-if I do say so myself.
I'm a bit obsessed with Neapolitan style pizza, ever since I took a class and learned how to make it (or at least, my tweaked version) at home. And I happen to think pesto is SUPER delicious. Diced tomatoes add a little extra color and flavor (and bonus-healthiness!), chicken makes this a complete meal (although if you're doing the vegetarian thang, go ahead and leave it off), and topping this whole thing with a fine layer of freshly grated Pecorino Romano cheese and some shredded mozzarella is just-*muah*! Bellisima!
And, this whole thing is preeeetty darn quick and easy. So I bet our new mommy here could probably whip this up easily and enjoy herself a delicious, crispy, restaurant quality pizza in the comfort of her own home.
So, enjoy all! Make this! And Mike and Stef-again-congrats on your new little boy. I couldn't be happier for you! OR about the fact that I get to share this recipe with you and your readers. OR about the fact that SOMEDAY I will visit Chicago and I wiiill get baby cuddles….in a totally normal and not creepy at all kinda way.
Anywayy….Pesto Pizza. Eat it.
The Cooking Actress – Pesto Chicken Pizza
Prep Time
2
hours
15
minutes
Total Time
2
hours
30
minutes
Ingredients
Dough

• 1 packet active dry yeast

• 1 cup warm water

you'll probably not use the whole cup

• 2 cups 00 or all purpose flour

Toppings

• 1 cooked chicken breast

shredded and divided between the 2 pizzas

• 4-8 tbsp. pesto

I used this basil pesto

• 1 tomato

diced into small pieces

• Shredded mozzarella and freshly grated Pecorino Romano cheese

to taste

• Olive oil

for drizzling
Instructions
In a measuring cup, dissolve yeast in water. Let sit at least 5 minutes.

On a work surface, form a mound (resembling a volcano, with a well in the middle) with the flour.

Slowly pour some of the yeast-water into the well. Gently use 2 fingers to work the liquid into the dough, adding more yeast-water as needed until you have a soft, not sticky, mound of dough.

Knead the dough gently by folding and pressing with the heel of your hand, until it is pliable yet well floured (not dry or sticky, in between).

Let sit for an hour or so, until it has doubled in size. Split into 2 pieces and refrigerate for an hour (or place into the freezer until ready to use).

Return dough to a floured work surface, if needed give it a couple gentle kneads to work in some flour (if it's too sticky).

Pick up each mound and, very gently, place your hands on either side and lightly press, rotating and pressing a few times. Return to the work surface and, again gently, use your fingers to press into circles. VERY gently pick up dough and use your fists (up as if you're going to box) under the dough, going around the circle to stretch it. Be very careful and try to avoid tearing or holes (but if there are-no big deal). Do this until the dough is thin (preferably so you can almost see through it). Transfer to greased pizza stones.

Preheat oven to 500 degrees and position the rack in the lower third of the oven.

Spoon desired amount of pesto onto each pizza dough and spread evenly over it.

Sprinkle shredded chicken and diced tomatoes evenly over the two pizzas.

Cover the two pizzas with desired amount of mozzarella and Romano cheeses.

Drizzle olive oil over the pizzas.

One at a time (unless you have an oven that can fit both pizza stones on the same rack) bake the pizza for 9-15 minutes, until the crust is crisp and browned.

Remove, allow to cool for a bit, cut, and serve!