Everything bagel breakfast pizza is a showstopper of a pizza. Crispy, quick pizza dough topped with caramelized onions, eggs, prosciutto, mozzarella and finished off with a little bit of cream and green onions is the ultimate meal. But, let's not forget that everything bagel seasoned crust. Save the crust for last and dunk it in the runny yolks! Perfection!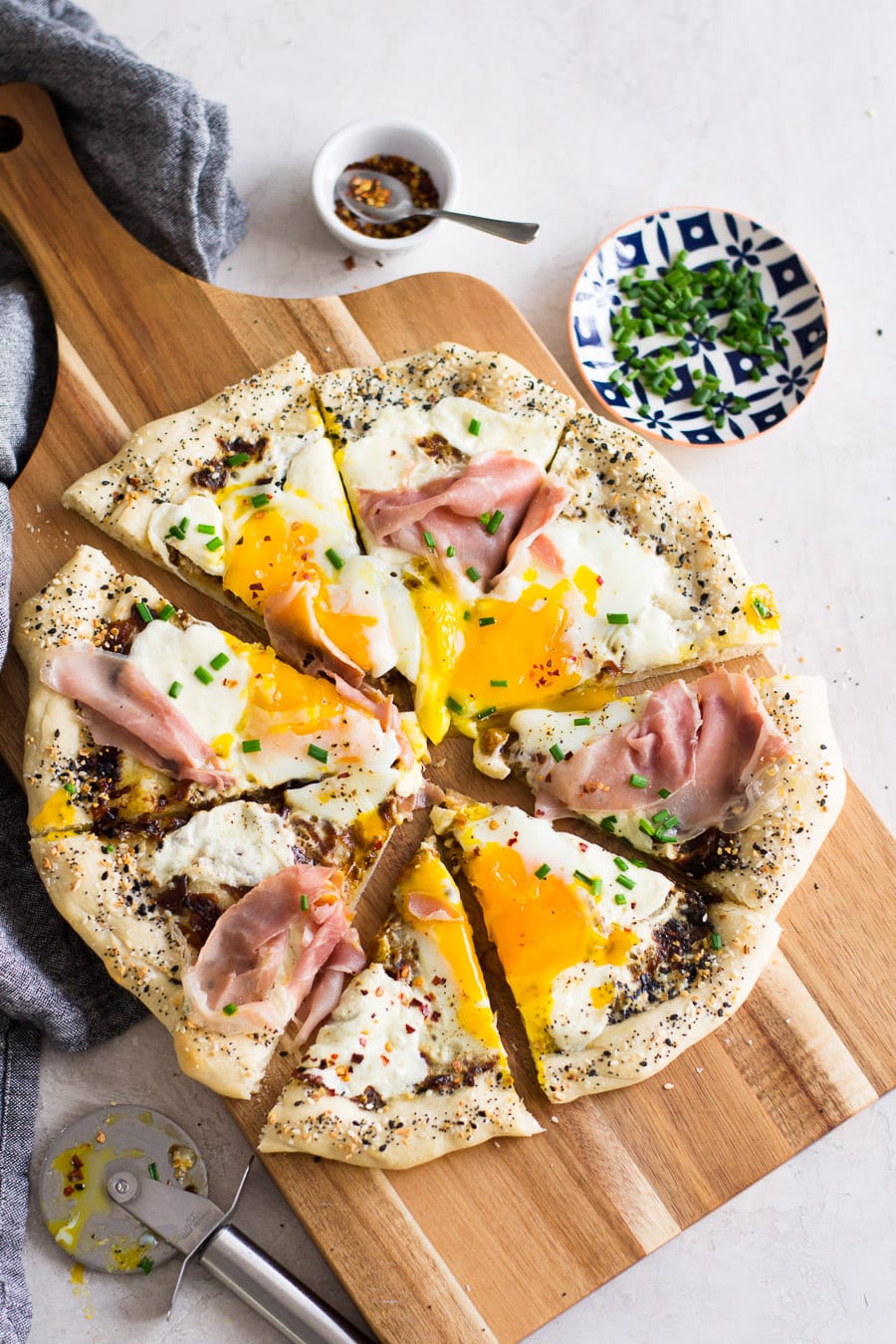 This weekend I turn the big 3-5. To celebrate a birthday a few years ago, I did a big month of pizza. I kicked off the month of March with how to make pizza dough three different ways: no-knead, yeast, and cauliflower crust. They are still some of my all time favorite posts.
Pizza would most likely be my favorite food. Or tacos. Or pasta. I guess what I am saying is I love all my faves the same.
It's like picking a favorite child. Can't do it!
This year for my birthday, just one pizza—an epic pizza at that! Thirty five is the official foot through the doorway into being middle-aged. I don't need to be showy or flashy with a whole month of pizza recipes. That's more for somebody in their early 30's.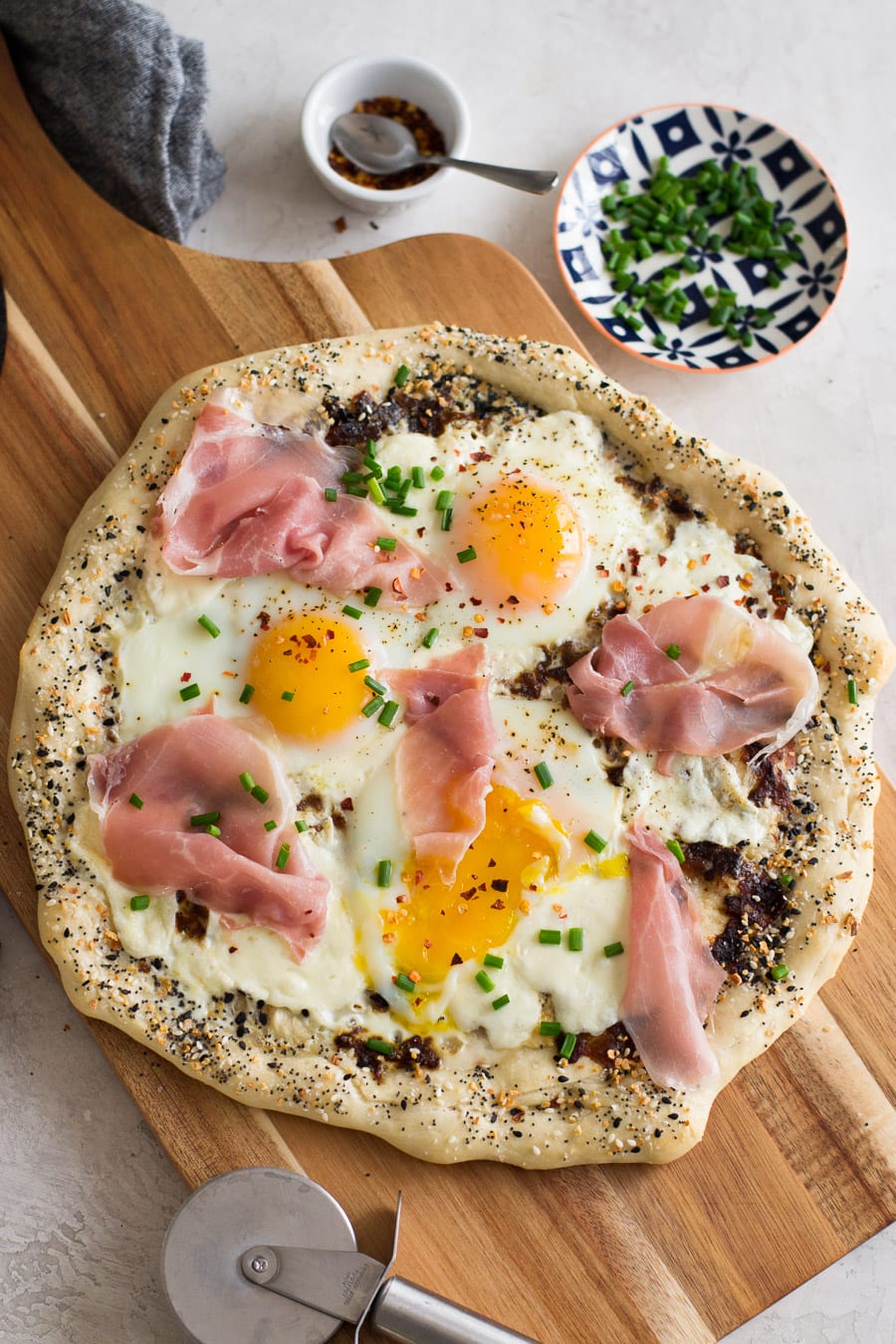 Everything bagel breakfast pizza is basically my own version of Pizzeria Bebu's Bagel Smuggler brunch pizza. Clearly nobody can touch the original but living in the 'burbs, we sometimes need to take matters into our own hands when we want a hipster city pizza.
Everything bagel breakfast pizza is topped with caramelized onions, eggs, prosciutto, fresh mozzarella, and cream.
But the thing that makes this pizza is that everything bagel seasoned crust!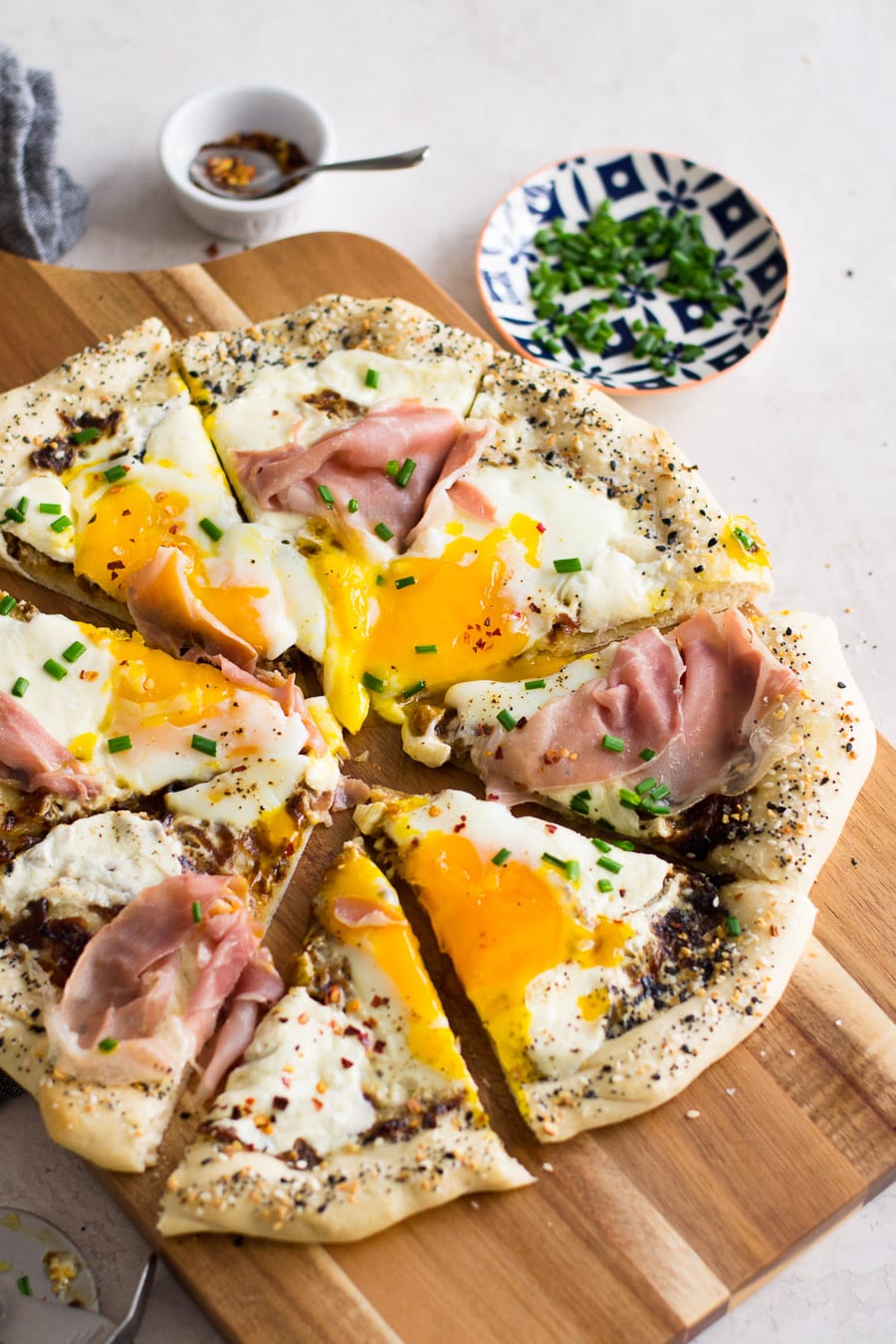 You guys know I love me some eggs, carbs, and a healthy dose of everything bagel seasoning. I literally have three bottles of Trader Joe's Everything but the Bagel Sesame Seasoning Blend in my pantry so I never run out.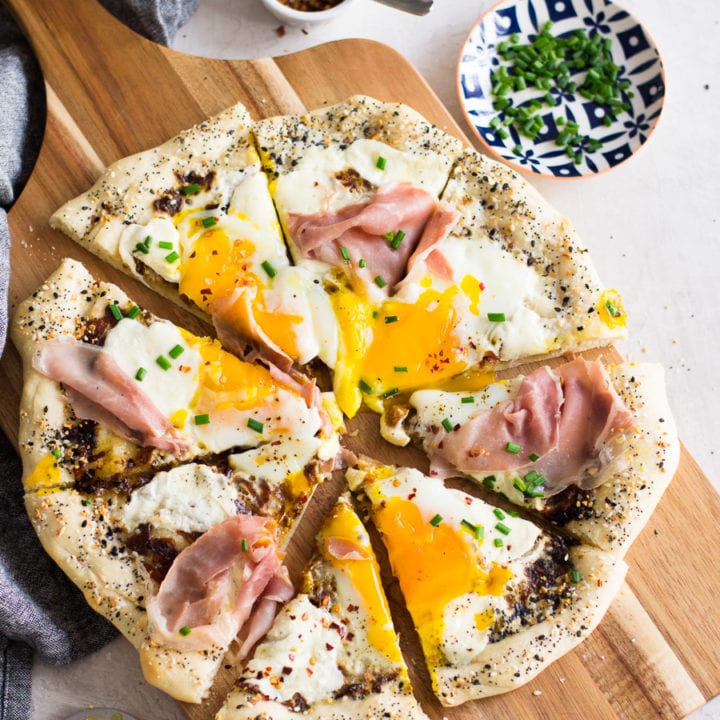 Everything Bagel Breakfast Pizza
Yield: 1, 12"-14" pizza

Prep Time: 10 minutes

Cook Time: 30 minutes

Total Time: 40 minutes

Thin crust pizza topped with caramelized onions, mozzarella, cream, eggs, and prosciutto with an everything bagel crust.
Ingredients
2 yellow onions, thinly sliced
1 tbsp extra virgin olive oil
2 tbsp unsalted butter
1 fresh mozzarella ball, thinly sliced
3 large eggs
2 tbsp everything bagel seasoning
3oz thinly sliced prosciutto
1 tbsp heavy cream
chopped chives, for garnish
Instructions
Add olive oil to a medium/small pan. Heat for 1 minute over a medium flame. Add onions, stir to coat with oil. Sauté for about 5 minutes. After 5 minutes, add butter, mix until the butter melts. Reduce heat to medium/low, cover with lid and cook for about 15-20 minutes, lifting the lid to stir regularly. Once the onions are a deep brown color, remove from heat.
Follow instructions to make your pizza dough. When the dough rise has 30 minutes left, add a pizza pan or pizza stone to the oven. Preheat oven to 500 degrees F. Allow the oven to heat with the pan in it for at least 30 minutes.
Carefully stretch out the dough as thin as it will go. If using a pizza pan, transfer the dough carefully to the pan and then top. if using a pizza stone, transfer pizza to a pizza peel then top. Top the pizza with the onions, then a few slices of cheese, and a big drizzle of heavy cream. Crack the eggs on top of the pizza.
Dip your fingers into the egg white on the pizza and rub the egg white around the whole crust. Top the crust with everything bagel seasoning.
Bake the pizza for 12 minutes, until the eggs whites are set. this may take longer depending on the size of your eggs. If you like a not runny yolk, at this point break the yolks and return the pizza to the oven for 5 more minutes.
When the pizza is hot, add prosciutto. The heat from the pizza will cause it to sort of melt into the pizza. Top with chives and then slice.
Notes
The quick dough recipe linked above takes an hour to rise. If you prefer to use store-bought prepared pizza dough, make sure to let it come to room temperature before shaping and baking.
Recommended Products
As an Amazon Associate and member of other affiliate programs, I earn from qualifying purchases.