Blood orange jalapeño baked salmon fillet is an easy and pretty dinner. Blood orange juice, honey, and a little bit of olive oil make a perfect glaze for the salmon. the sliced jalapeños add the right amount of spice to balance out the sweet. I highly recommend using leftovers in tacos or salads the next day!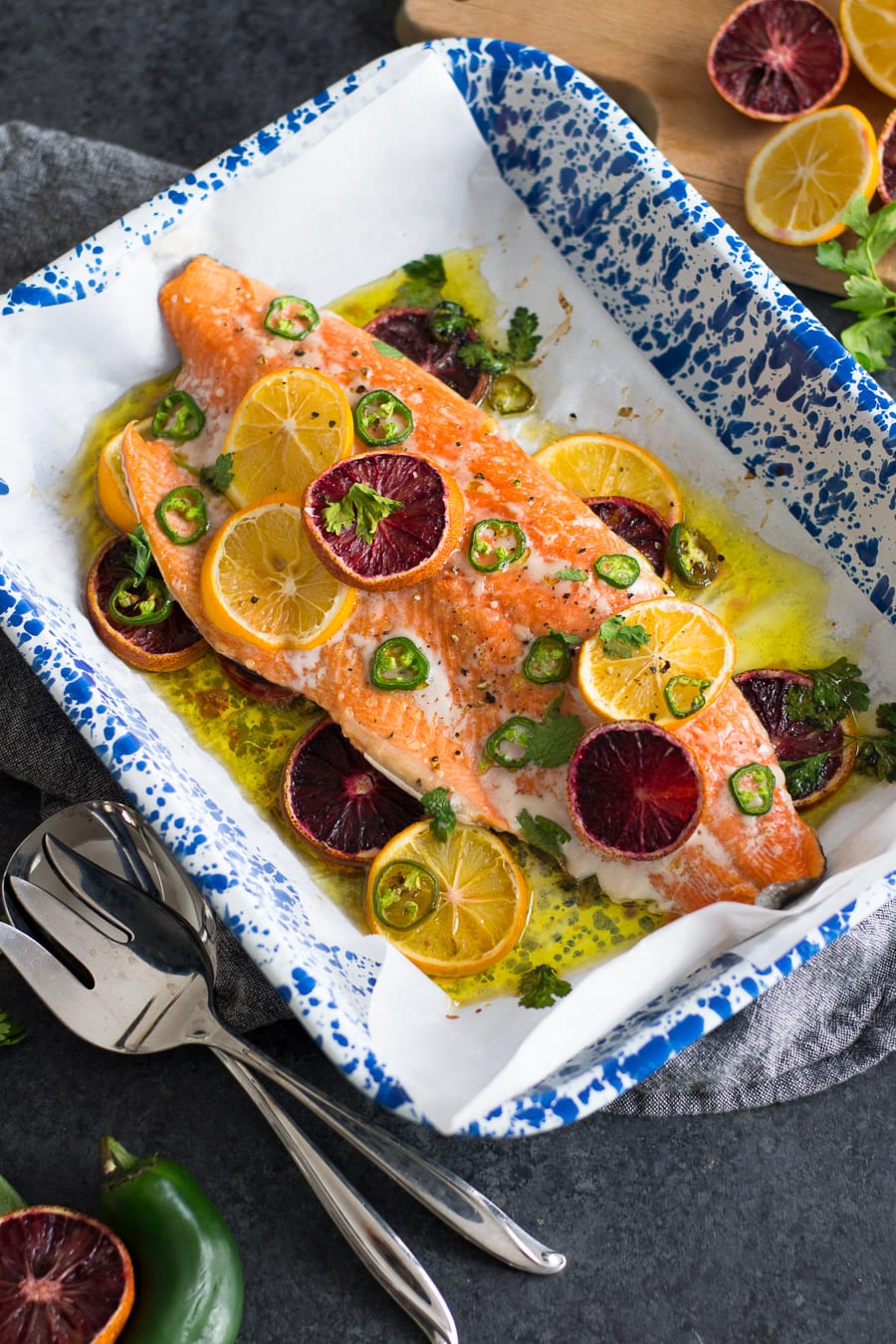 Captain's Log: Day 5 of being solo caretaker for my boys. We are all alive. Lego sets have been destroyed in tantrums and rebuilt with tears (which may or may not have been my own). Temporary insanity kicked in two days ago and I let my 5 year old convince me to paint my nails slime green. One more day. I can see the finish line. Stay strong parents.
Mike has been in Arizona visiting his parents and hasn't seen the boys since Wednesday of last week. I totally got this and he totally deserves a break but dang if I'm not exhausted.
Why can't kids come with volume control?
I didn't want to make a lot of big intricate meals for myself while he was away. I tried to focus on food I could eat for more than one meal. A big batch of chicken noodle soup, bruschetta pasta, and a big salmon fillet is what I planned for the week.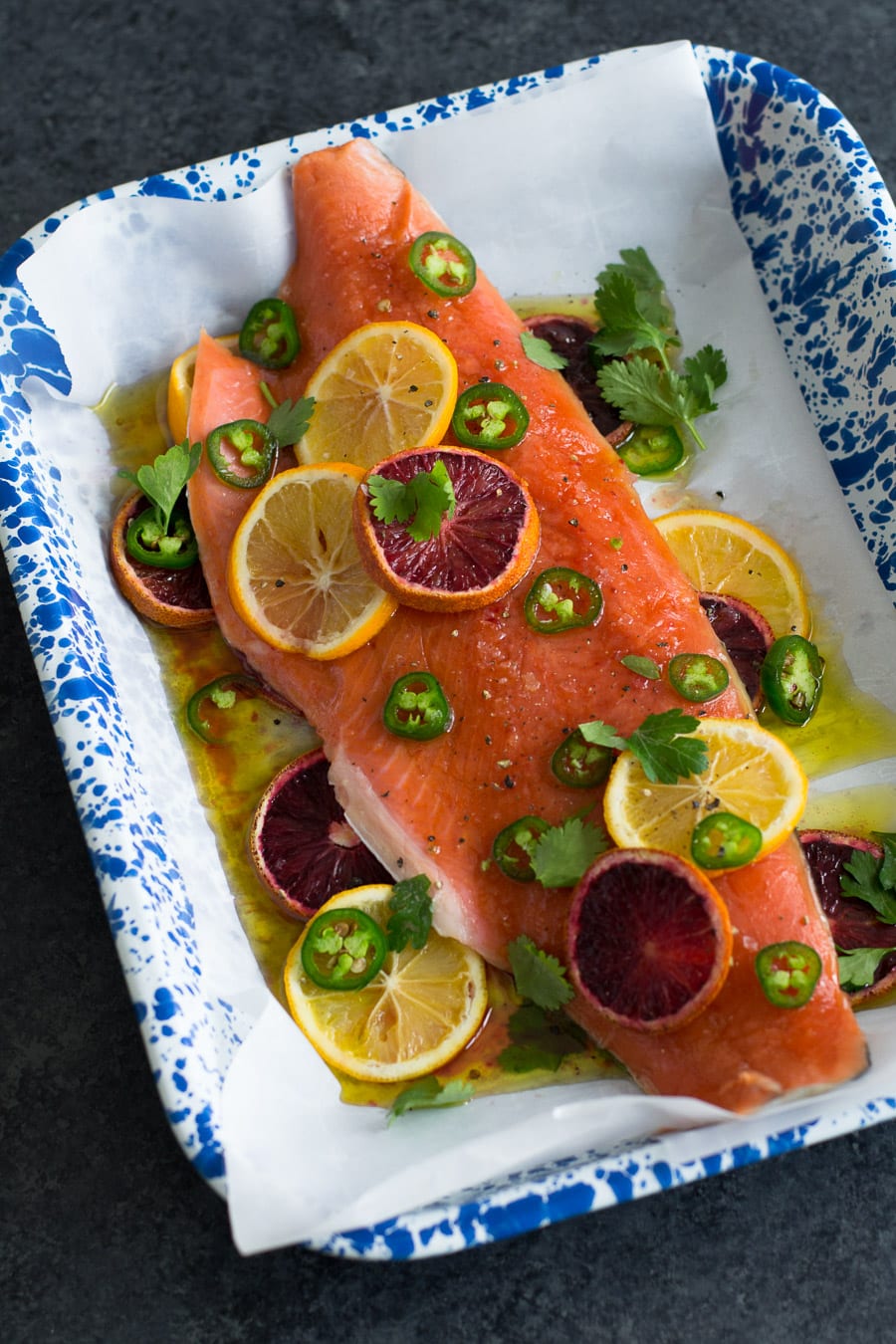 The last thing I wanted from this week on my own was to be standing washing a lot of dishes. Jack hears the water running in the sink, and bless his heart, he comes running up wanting to help. His "helping" turns into playing and then we are in full fledged battle when I say it is time to turn off the water.
I digress.
This blood orange jalapeño baked salmon saved me time and got turned into other meals throughout the week.
I ate a big piece of salmon for dinner one night. The next day I flaked off large chunks of blood orange jalapeño baked salmon into a salad. Then the next days dinner was salmon tacos.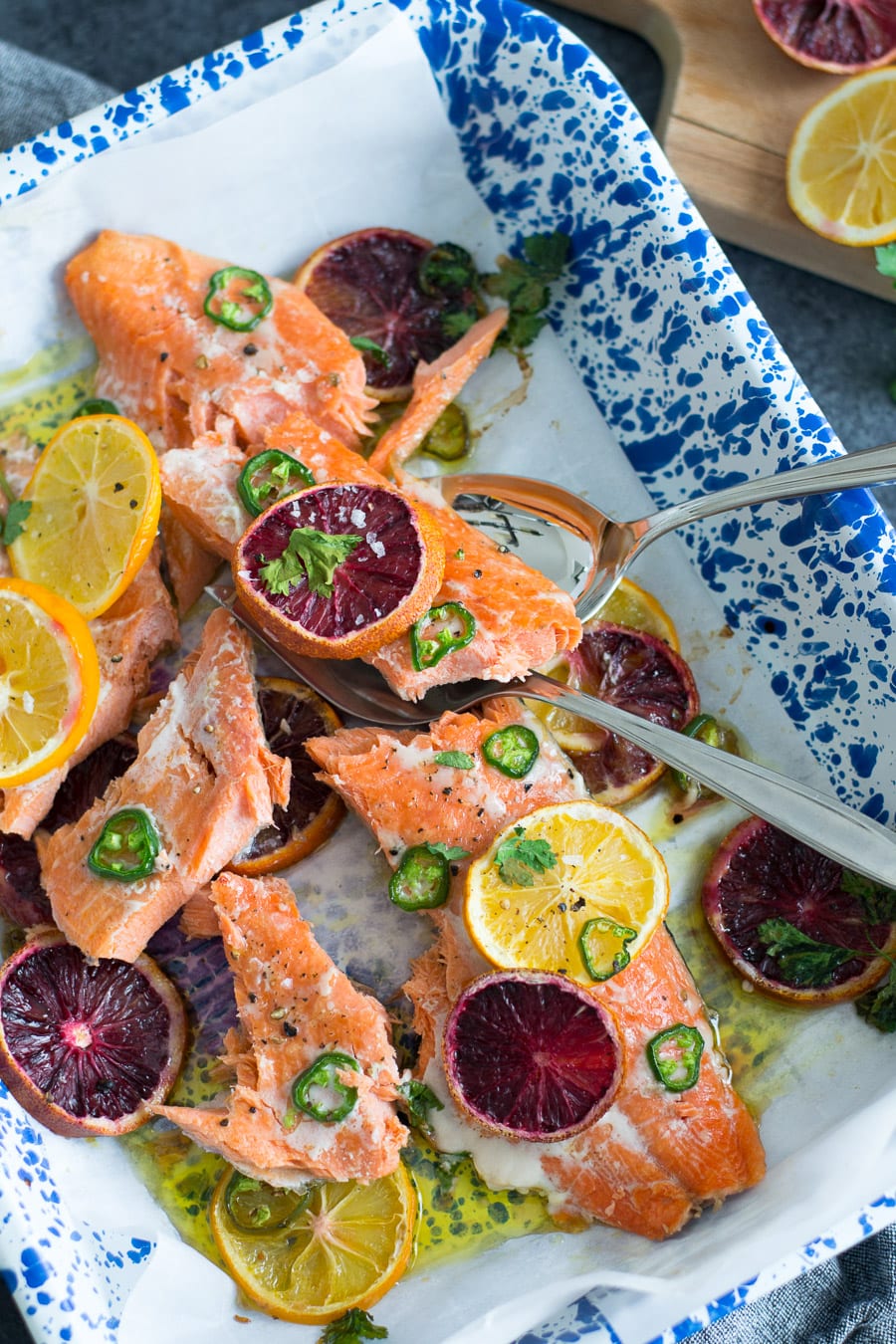 The salmon is topped with jalapeño slices and a bit of blood orange juice, honey and olive oil. The blood orange makes a great sweet and spicy glaze over the fish. I have one more salmon fillet from Copper River in my freezer and I have a feeling this recipe will be on repeat.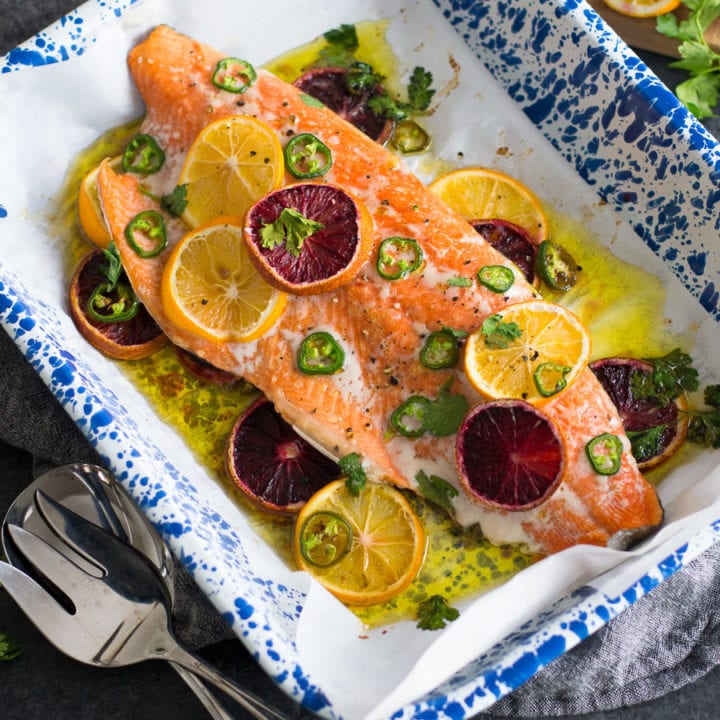 Blood Orange Jalapeño Baked Salmon
Yield: serves 4

Prep Time: 5 minutes

Cook Time: 40 minutes

Total Time: 45 minutes

Baked salmon with a blood orange and honey glaze, topped with citrus and jalapeño slices.
Ingredients
2 meyer lemons, sliced and seeds removed
2 blood oranges, sliced and removed
3/4 cup extra virgin olive oil
1 tsp honey
juice from 1/2 a blood orange
salt and pepper
1 jalapeño, thinly sliced
salmon or sockeye salmon fillet
big pinch of fresh cilantro and parsley leaves
Instructions
Preheat the oven to 275 degrees F. Line a medium baking sheet with parchment paper.
Arrange 1/2 the slices of lemon, blood oranges, parsley, and cilantro on the parchment paper. Lay the salmon fillet on the citrus. Pat the fish dry with paper towels.
Mix the blood orange juice, honey, and olive oil together with salt and pepper in a small bowl. Pour the mixture over the salmon fillet. Place the jalapeño slices on top of the fish along with remaining citrus slices.
Bake the fish for 40 minutes.
Slice the fillet into 4-6 pieces. Transfer to serving plates. Spoon some of the remaining oil mixture on top of the fish.
Disclaimer: I was given product for this recipe. All thoughts, opinions, and recipes are entirely my own. Taking sponsored work helps me keep this blog going. I would never share any product that I myself didn't use or believe in.