Copycat Taco Bell Ground Turkey Tacos are easy to make at home and slightly healthier than the ground beef version. Ground turkey sautéed with all the spices and a little tomato paste to stay thick and juicy!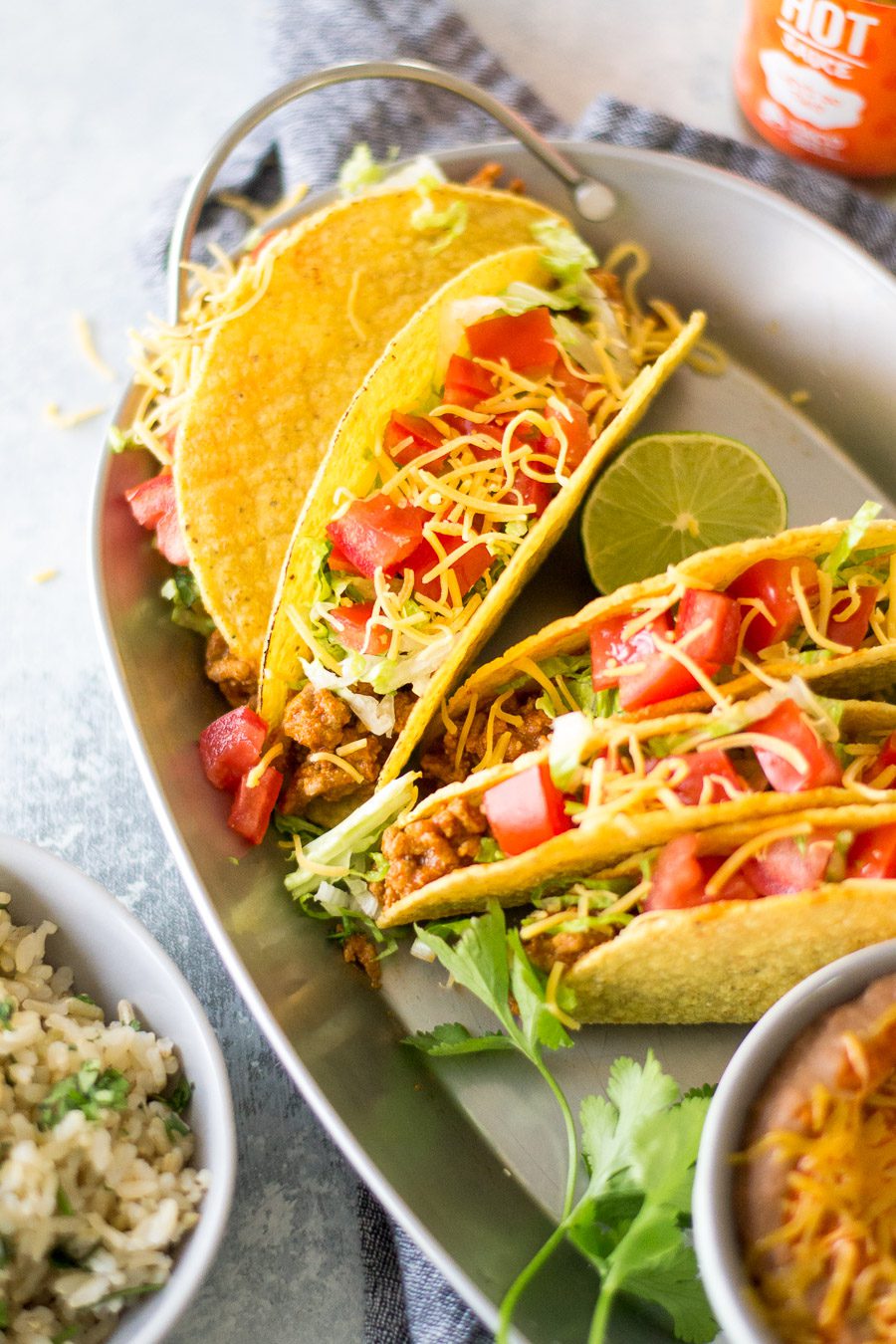 I love Taco Bell.
This isn't the first time and it most certainly won't be the last time I have talk about my love for this old chain fast food joint.
I fell in love with the food in my 8th grade year of school.
We would often pick up a late night dinner there after long volleyball games or tournaments.
Yes, I have heard the rumors and doubt over the ground meat.
Keep in mind for a big chunk of my life, I wasn't eating that meat.
Now though, I don't pass up a good hard shell taco or chalupa.
The great thing about Taco Bell ground meat is that it has almost a sloppy Joe quality to it.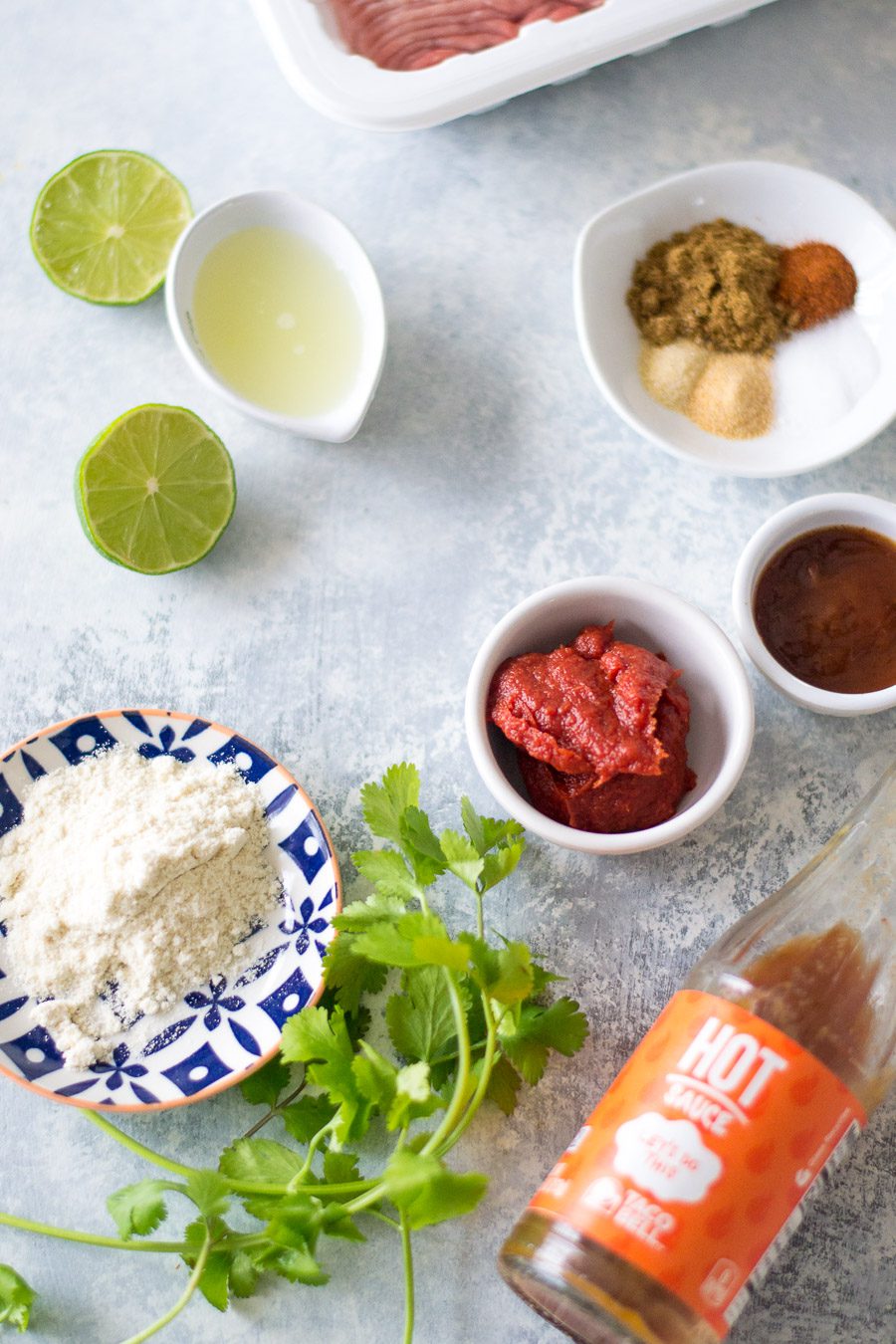 That sauciness allows the meat to easily stay in a hard shell or even in a soft shell to be honest.
I love to add a lot of spices and seasoning to the meat.
Ground turkey has less flavor and fat so the seasonings are necessary.
Here is my arsenal of flavors to bring the meat to life:
ground cumin
salt and pepper
cayenne pepper
chili powder
garlic powder
onion powder
lime juice
hot sauce
The thickening agents I like to add to the meat are tomato paste and a tablespoon of cornmeal or masa de harina.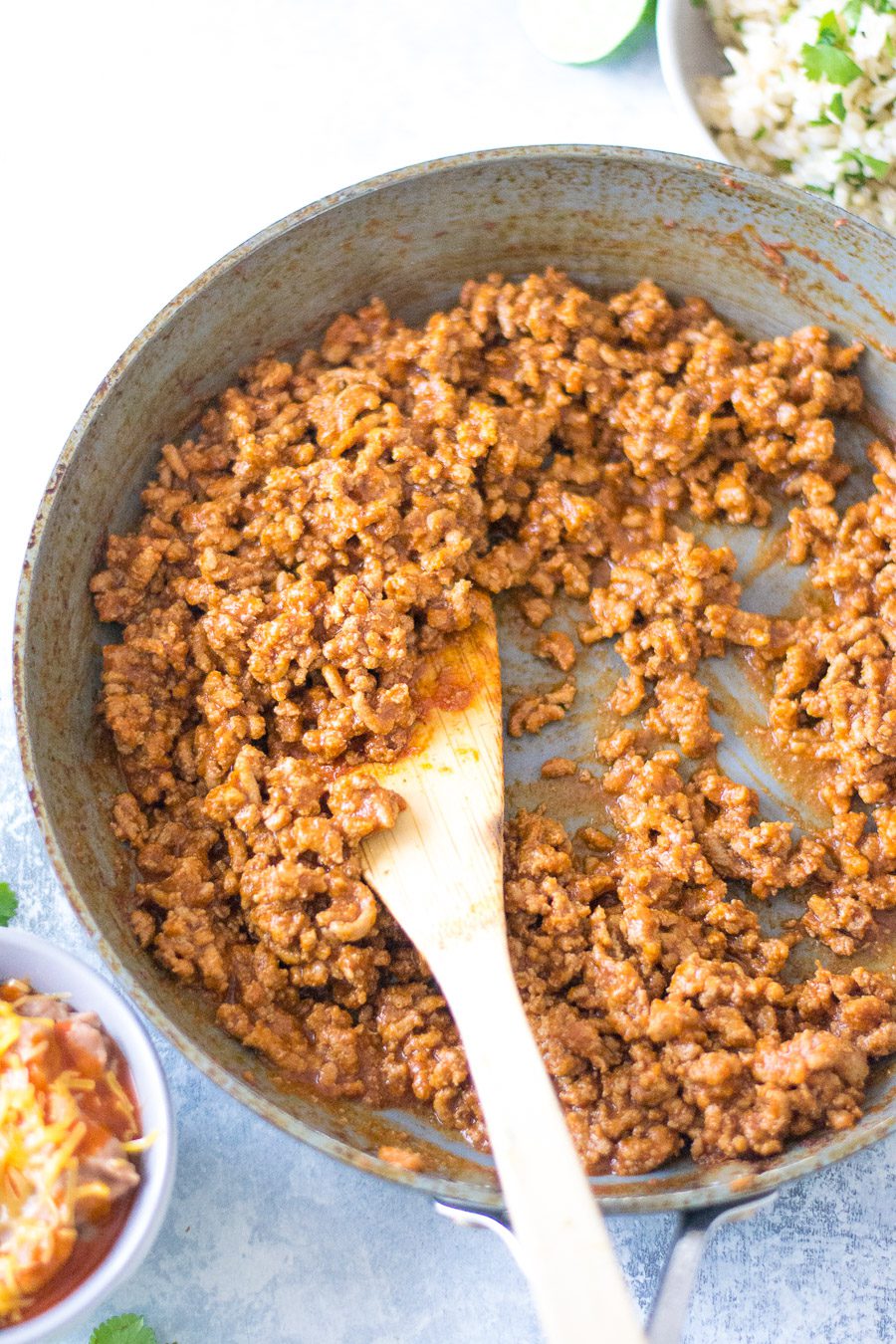 Keep an eye on the meat.
If the meat is looking too thick and not a little saucy, add some chicken stock, beer, or even water to thin it out.
To keep these on brand with Taco Bell hard shell tacos, I recommend to serve them in a hard shell and top with:
shredded lettuce
shredded cheddar cheese
diced tomatoes
Give or take a dollop of sour cream if you want to make it supreme.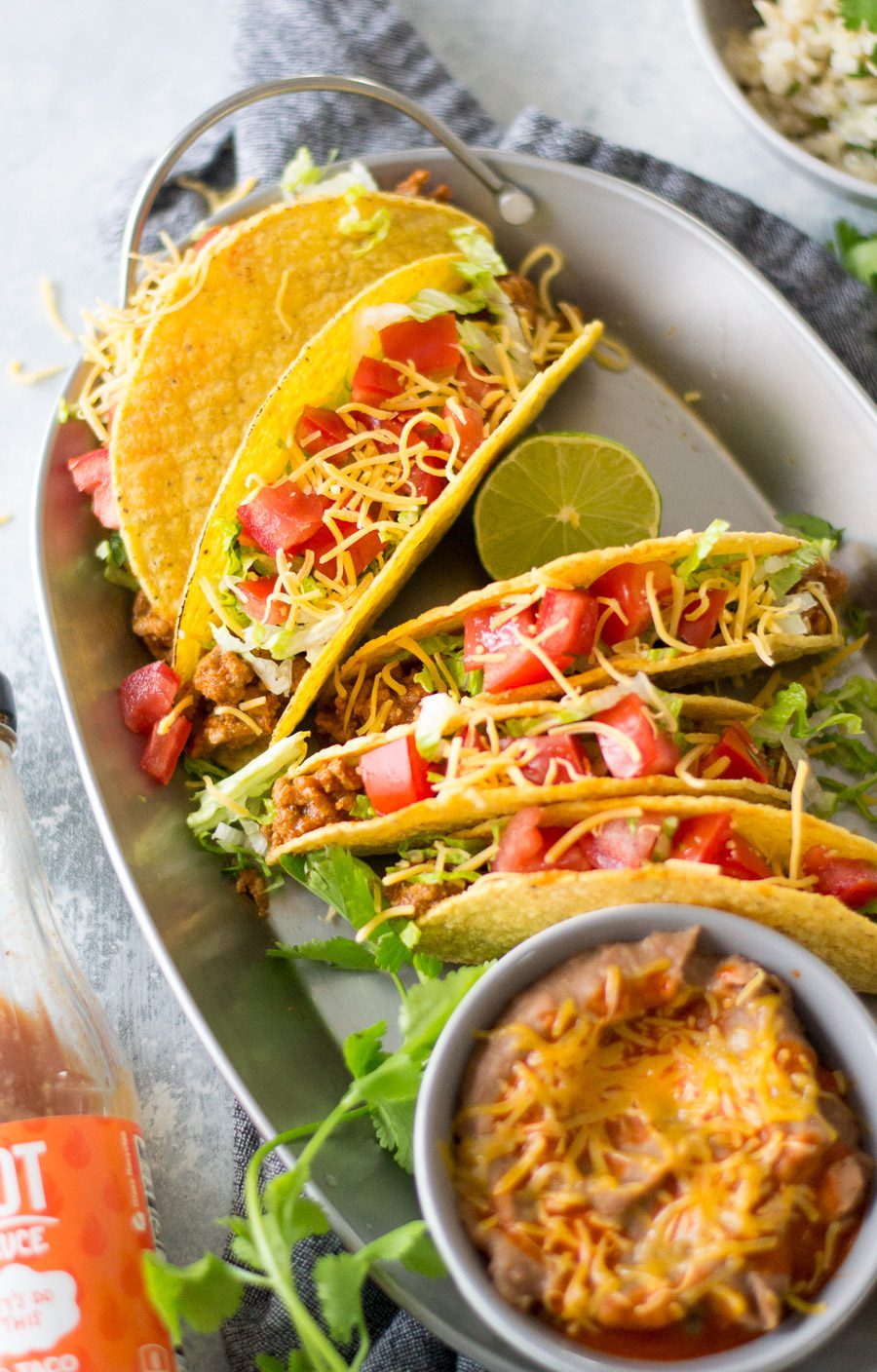 Don't forget your favorite hot sauce too!
You are going to love this newer, healthier version of copycat Taco Bell ground turkey tacos at home.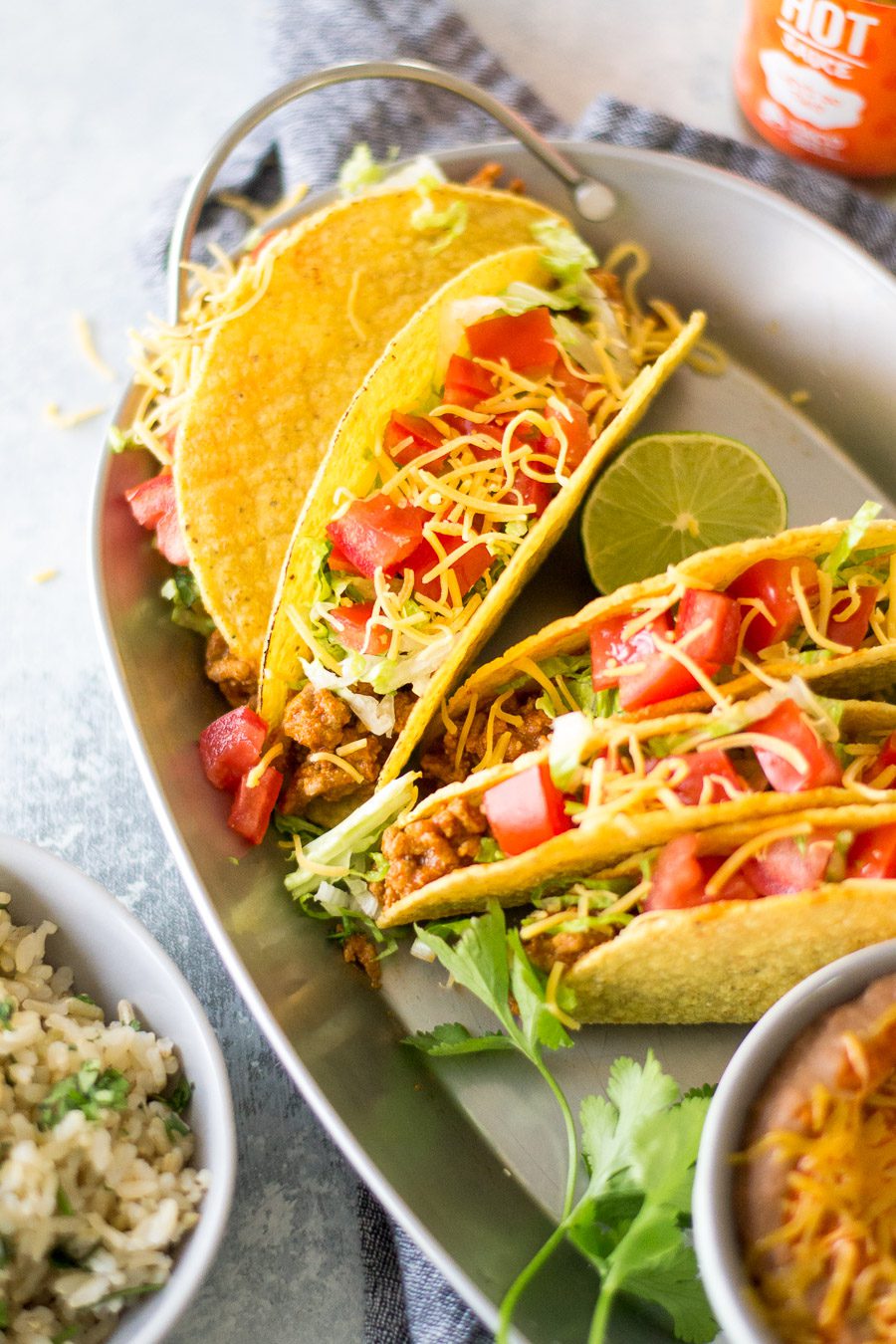 Copycat Taco Bell Ground Turkey Tacos
Yield: Serves 4

Prep Time: 5 minutes

Cook Time: 15 minutes

Total Time: 20 minutes

Lean ground turkey simmered in lots of spices, hot sauce, lime juice, and a thick tomato based sauce. Perfect for hard shell tacos with all the toppings!
Ingredients
2 tbsp extra-virgin olive oil
1 1/2 - 2lbs g
lean ground turkey
1 tbsp ground cumin
1/2 tsp salt, more to taste
1/2 tsp cayenne pepper
1/2 tsp chili powder
1/2 tsp onion powder
1/2 tsp garlic powder
1/4 tsp black pepper
2 tbsp tomato paste
juice from 1 lime
2 tbsp hot sauce of choice
1 heaping tbsp cornmeal or masa de harina
1/4 cup to 1/2 cup chicken stock/beer/water, if needed
10-12 hard shell taco shells
shredded lettuce
diced tomatoes
shredded cheddar cheese
Instructions
Heat a large skillet over medium/high heat for a minute or two. Add the olive oil. Once shimmering, add the ground meat.
Use a wooden spoon/spatula to break the meat into small bits. Season with salt, pepper, cayenne, cumin, chili powder, garlic powder, onion powder. Mix to combine.
Continue to cook until the fat and liquid starts to disappear. Add in the tomato paste. Mix to coat and cook for 3 minutes. Reduce the heat to medium/low.
Once the tomato paste starts to darken, add the lime juice and hot sauce. Mix to combine.
Mix in the masa or cornmeal. Reduce the heat to low.
If the meat and sauce is too thick add a little bit of liquid; beer, water, or chicken stock. Simmer the meat for 5 minutes on low. Taste the meat and add more salt or liquid to thin it out if needed.
Serve the meat on baked hard shell tacos with lettuce, cheese, and tomato.
Notes
You can also make this recipe a true copycat and use ground beef instead. Ground soyrizo for a vegetarian or vegan twist would work as well, but you would need to reduce the cook time and the heat so not to burn.
Recommended Products
As an Amazon Associate and member of other affiliate programs, I earn from qualifying purchases.