Skillet street corn salmon is spicy and easy to throw together in less than 30 minutes. Charred corn and veggies served with Tajin seasoned salmon over rice. All cooked in one skillet!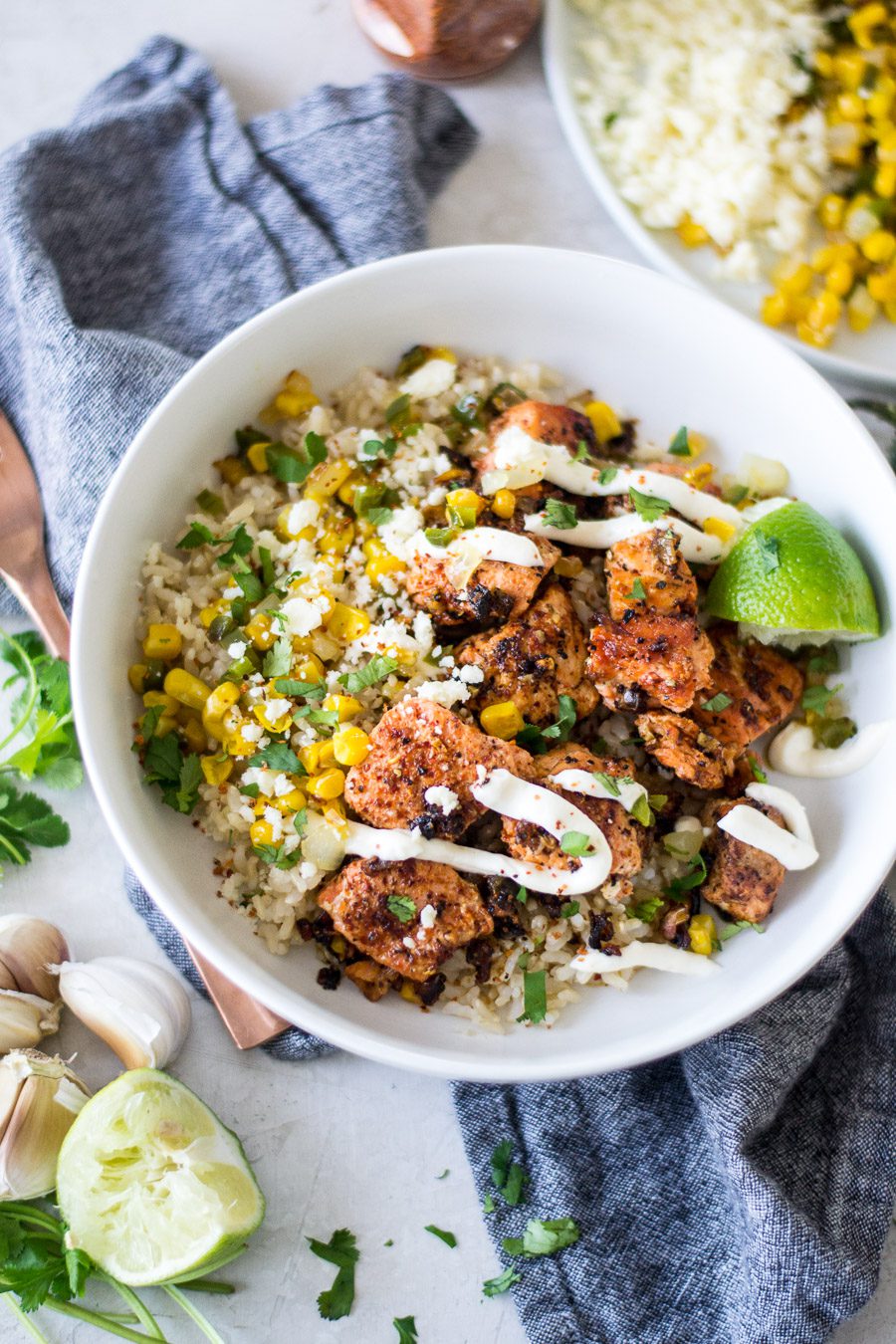 Lenten season is upon us.
If that's a thing you are into.
What are you giving up?
Maybe you're adding in something to benefit your health.
I am giving up my fancy craft beers and trying to not eat meat at least twice a week.
Fridays are hard to not eat meat because I have a bunch of pepperoni pizza lovers.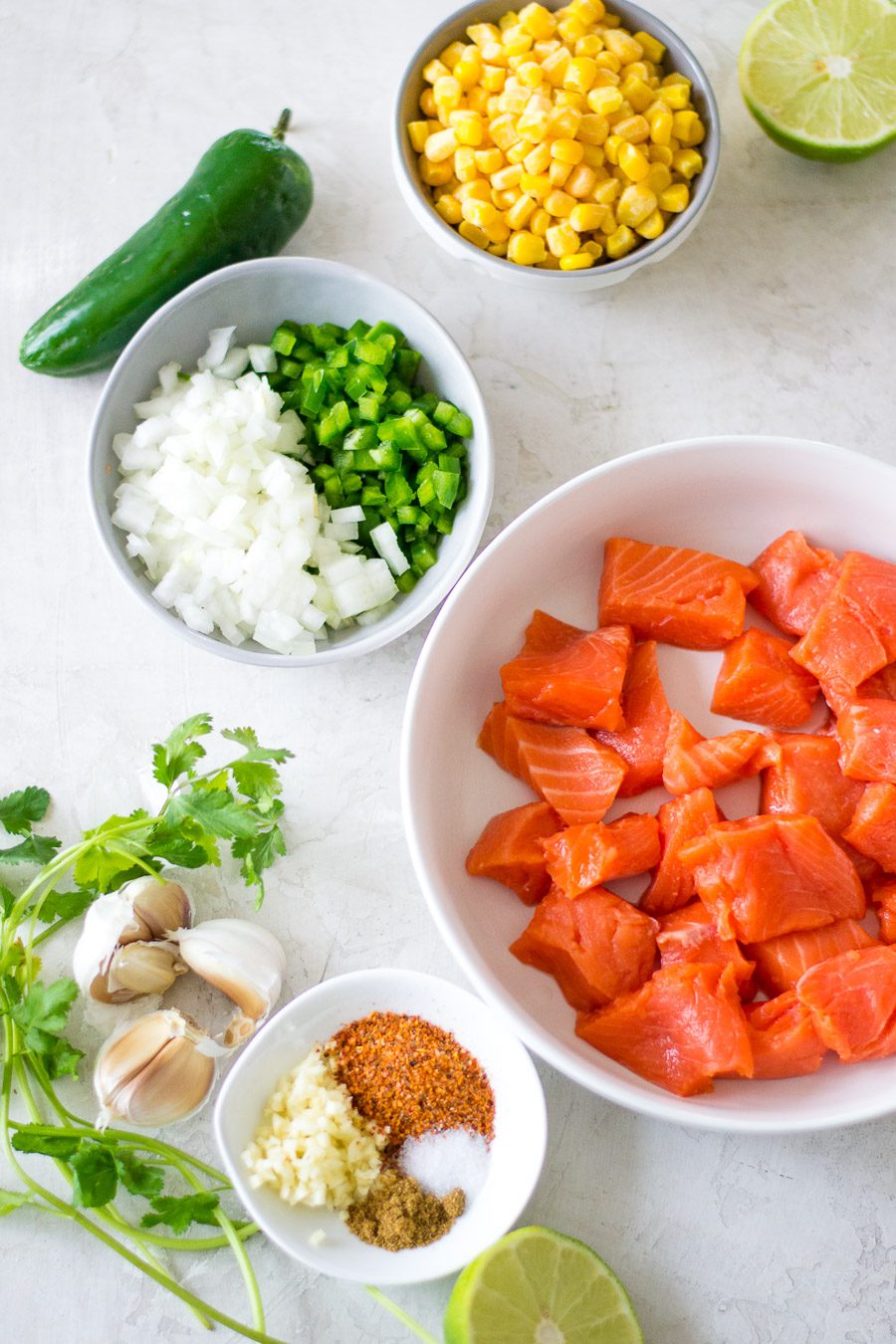 I don't need a whole half to myself for a veggie pizza.
I guess I take one for the team on pizza orders.
Part of me is hoping that as long as you try to not eat meat on another day during the week, it counts as the same thing as not doing it on Friday.
Right?
I have been digging frozen breaded tilapia from Trader Joe's. It is way better than typical fish sticks.
It makes for great fish tacos.
Serve with a side of slaw and meal made!
Skillet street corn salmon is like an elote burrito bowl with salmon.
First, start off charring the corn, jalapeño, and onion in a cast iron skillet.
Remove the veggies once they char. Set them off to the side.
Add your oil, garlic, Tajín, and cumin. This is going to make a flavored oil to cook the salmon in.
PS If you don't have Tajín seasoning blend, just use some cayenne pepper or crushed red pepper flakes and lime juice/zest.
It gives the same balance of spice and sweet.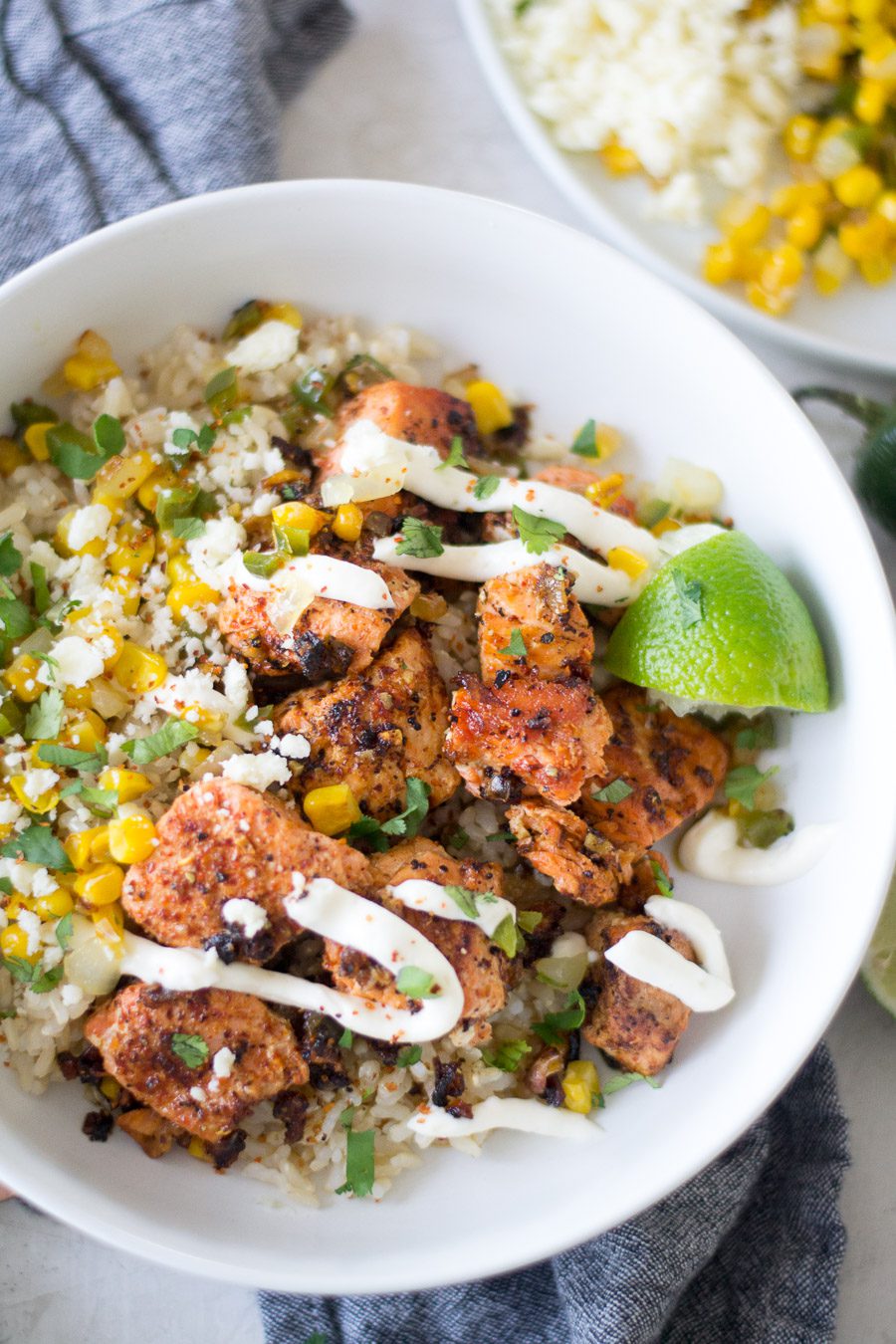 This recipe is super quick to throw together.
The thing that takes the longest is cutting the skin off the salmon and into cubes.
That can always be done the day before to save time.
Salmon cooks quickly.
Remove the salmon and add the veggies in to the pan to warm them for a few minutes.
Serve the salmon and veggies with some of that spicy, garlic infused oil over a bed of rice.
Sprinkle with cojita cheese, more Tajín, fresh cilantro, and a little ribbon of mayo or sour cream.
Just like the traditional street corn, you need either that mayo or sour cream to bring all the spicy flavors together.
This bowl is going to be not only your Taco Tuesday recipe but your Lenten not eating meat recipe.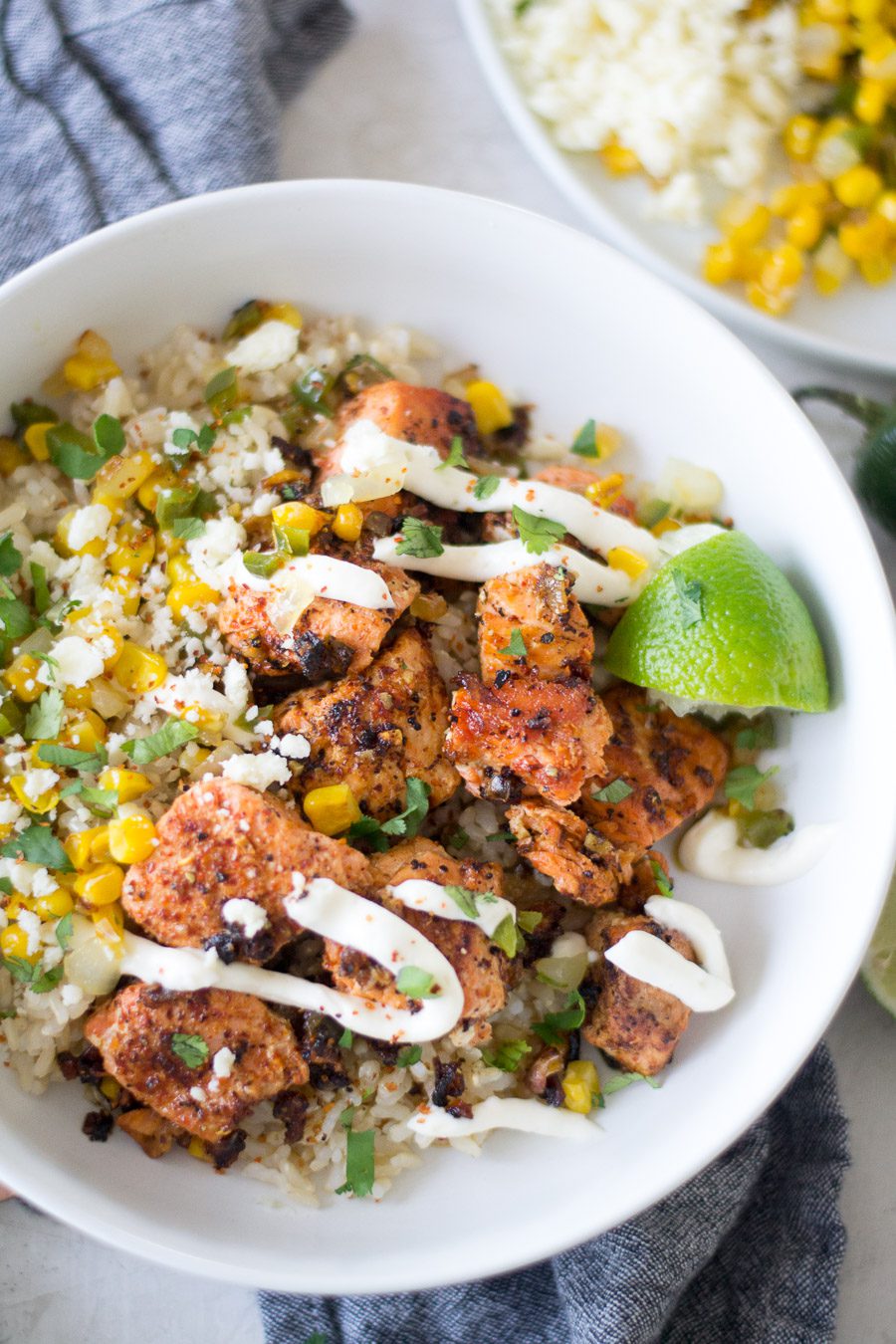 Skillet Street Corn Salmon
Yield: Serves 2-3

Prep Time: 10 minutes

Cook Time: 20 minutes

Total Time: 30 minutes

Spicy and sweet charred corn, jalapeño, and onions served with seared salmon over a bed of rice with cilantro, cojita cheese, a little mayo, and more Tajín.
Ingredients
1/2 tsp extra virgin olive oil
1 1/2 cups frozen corn
1 jalapeño, seeded and diced
1/2 cup diced yellow or white onion
1/4 cup extra virgin olive oil
2 garlic cloves, minced
2 tsp Tajín
1/2 tsp ground cumin
1lb salmon piece, skin removed and cut into 1 inch pieces
1/4 cup fresh cilantro leaves
1/4 cup crumbled cojita cheese
2 tbsp mayo or sour cream
more Tajín for seasoning
2 cups of cooked minute brown rice or jasmine rice
lime wedges, optional
Instructions
Heat a medium cast iron skillet over medium/high heat for 1-2 minutes. Add the olive oil, corn, onion, and jalapeño. Quickly toss to coat. Sprinkle with salt and pepper. Cook until slightly charred and caramelized, about 5 minutes. Once charred, remove and set off to the side.
Add the 1/4 cup of olive oil, garlic, Tajín, and cumin to the skillet. Toss to evenly cook for a minute. Add the salmon and sear on each side until the salmon releases from the skillet. Use a spoon to coat each piece of salmon in the oil as it cooks.
When the salmon is about ready, add the veggies back to the skillet to warm through in the oil for a minute or two.
Serve the salmon and veggies over a cup of rice topped with fresh cilantro, cojita cheese, a drizzle of mayo or dollop of sour cream, and more Tajín. A squeeze of lime juice is an optional topping too.
Recommended Products
As an Amazon Associate and member of other affiliate programs, I earn from qualifying purchases.