Buffalo chicken puffy tacos are not your regular taco. They are spicy, shredded pulled buffalo chicken stuffed into a corn tortilla and then fried up until crispy and puffy. A little extra work for a lot of extra crunch with your buffalo chicken puffy tacos.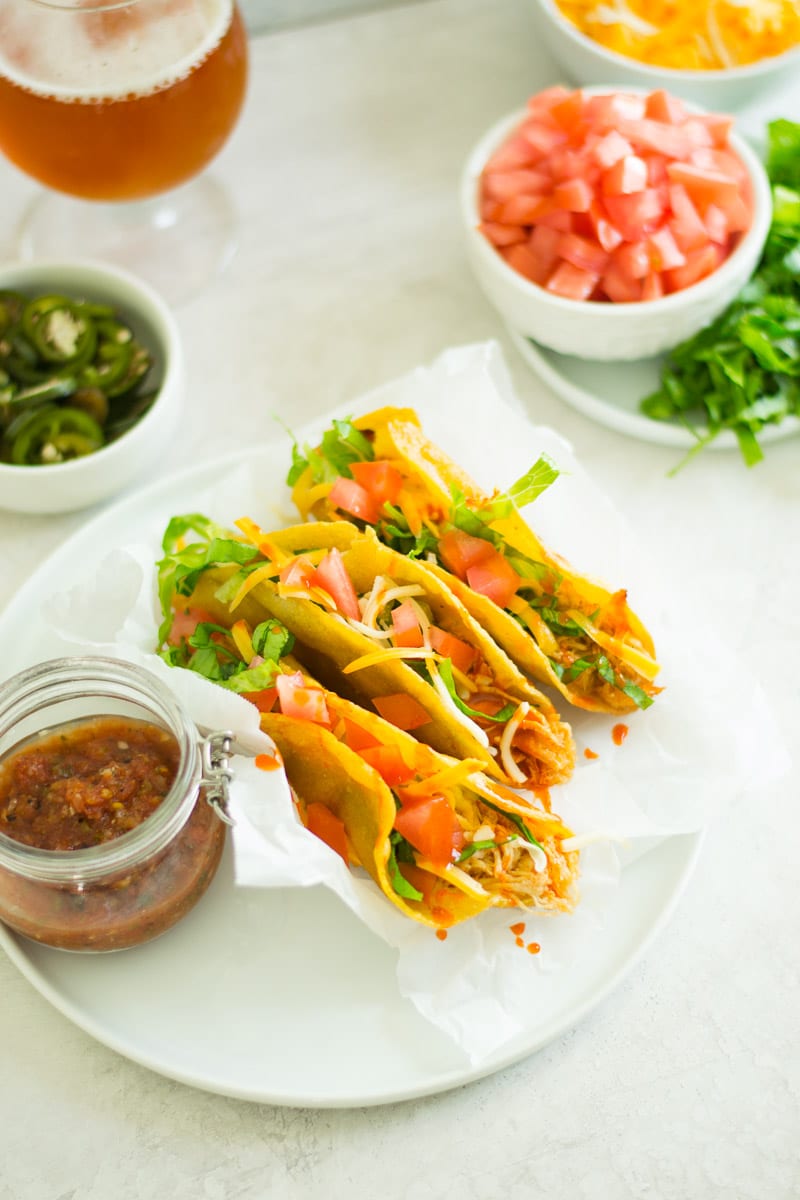 How many ways can you eat buffalo chicken? Let me tell you! It all started back in like year one of ye olde blog. I made this dinosaur of a recipe for pulled buffalo chicken sandwiches in the crock-pot. From there we did flautas and taquitos.
Then I did boneless buffalo wings. I definitely took on too much frying for the Super Bowl that year. I think Mike and I just got married and I was trying to be an impressive little Susie homemaker.
There are buffalo salmon wraps, buffalo chicken salad, buffalo chicken pizzas, even buffalo deviled eggs! Sorry for the link overload. I just thought if you love buffalo sauce as much as we do, then you might need to add a few killer recipes to your repertoire.
To say we love buffalo sauce in this house is an understatement.
Back in the pre kid years, our favorite date was going to Buffalo Wild Wings, ordering tall beers, wings (boneless for my commie hubs and traditional for myself), cheesy potato wedges (a must), and then playing trivia on the screens for a good 3-4 hours.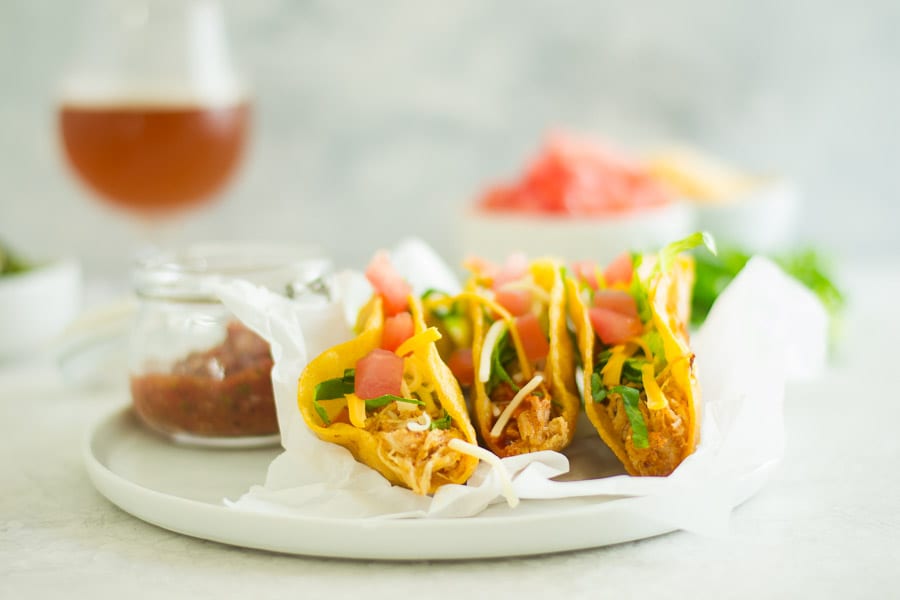 Don't laugh, but I miss those days. Dates were so simple and there was less pressure to always go someplace cool because we always had the option for a date night. Every night!
Now, I fry up buffalo chicken puffy tacos while wielding tongs like a lion tamer to keep my little boys away from the hot oil splatters. I eat standing up while the food is still hot in between solving toddler problems. Ha, and trivia? Well I am lucky if Mike and I get to eat at the same time during the school year let alone have an actual convo!
I know you may be thinking, this is a little bit of a complex recipe, Stef. It really isn't; throw your buffalo chicken in your slow cooker or pressure cooker when you have time. Stash it away in the fridge. Then when you have a little more time to focus on dinner, heat a little oil and fry up some tacos.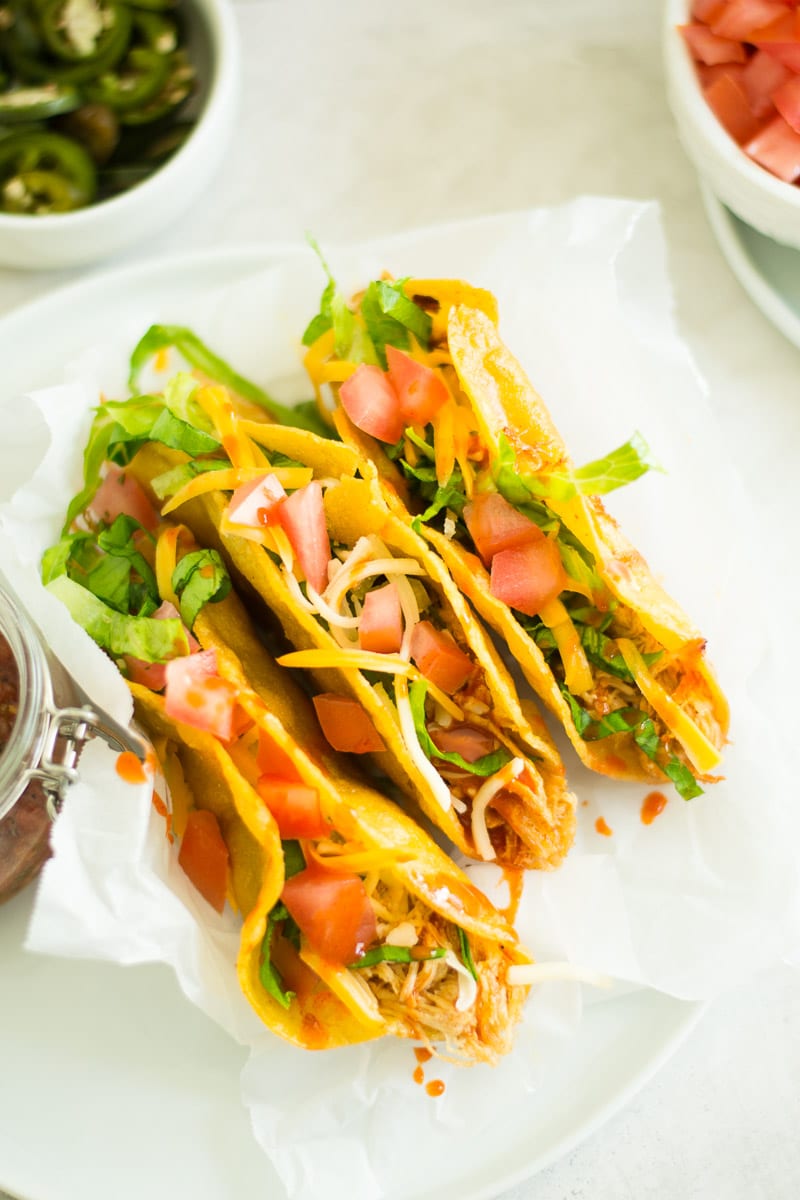 It is a good switch from the regular hard shell or soft shell. Puffy shells for all!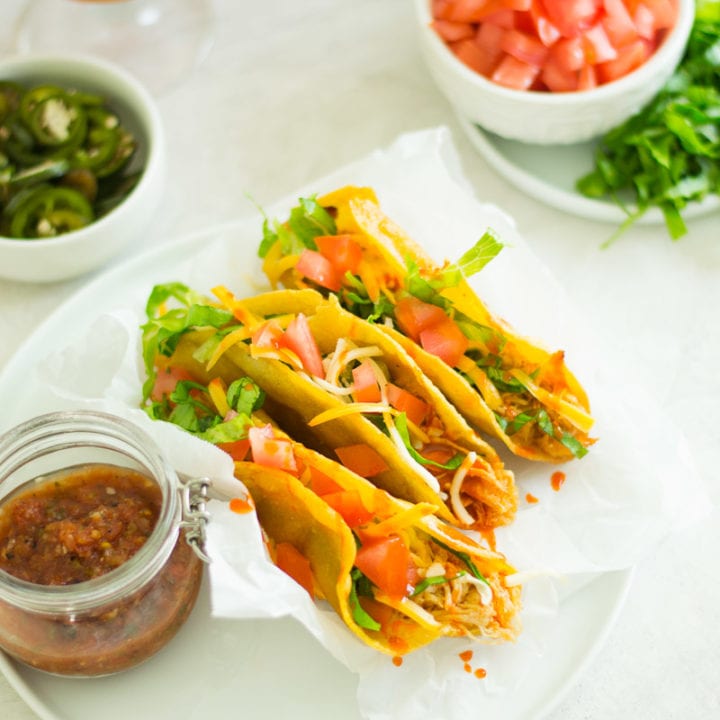 Buffalo Chicken Puffy Tacos
Shredded, spicy buffalo chicken tucked into corn tortillas and then fried until golden and puffy.
Ingredients
2 large boneless, skinless chicken breasts, cut in half
1 tbsp water
1 tbsp unsalted butter
1/2 cup buffalo wing sauce, plus more for topping
1/2 tsp salt
1/4 tsp freshly cracked black pepper
1/4 tsp onion powder
1/4 tsp garlic powder
1 tsp smoked paprika
pinch crushed red pepper flakes
canola oil for frying
8-10 corn tortillas
lettuce, for topping
shredded cheddar cheese, for topping
diced tomatoes, for topping
Instructions
Add the chicken, water, butter, wing sauce, salt, pepper, onion powder, garlic powder, paprika, and red pepper flakes to your pressure cooker. Secure the lid with the steam vent closed, and press "Pressure Cook" until the light is under "high pressure." Adjust time time until the display reads 30 minutes.
Once the timer sounds, quick release the pressure. Remove the lid and use two forks to shred the chicken breasts. Set the chicken off to the side or place in a container with a lid and refrigerate until ready to fry.
Add about 1 1/2 - 2 inches of canola oil to a large heavy bottomed pot or Dutch oven. Heat the oil over medium/high heat for 4 minutes.
Take a few tablespoons of the chicken mixture and place it in the center of the tortilla. Fold the tortilla in half. Carefully place the stuffed tortilla into the oil. Use heatproof metal tongs to press the tortilla shut. Fry for about 2-3 minutes per side of the folded tortilla until golden, crisp, and slightly puffy. Once you get the first one into the oil, you can add 2-3 into the oil.
Once the taco is fried, remove it, shaking off excess oil back into the pot, and then transfer to a paper towel lined plate.
Continue process until all tacos are fried. Top with cheese, lettuce and tomato. Tacos are best 2 minutes after they are done being fried. Once they get cold, they get a little soggy.
Notes
FOR THE SLOW COOKER METHOD: Add the chicken, water, butter, sauce, and seasonings to a slow cooker. Cover with lid and set on low for 6 hours or high for 3. Remove lid and shred chicken using two forks.
Recommended Products
As an Amazon Associate and member of other affiliate programs, I earn from qualifying purchases.