Somewhere between working, menu planning, cooking, and coming up with these witty blurbs to put up on the blog, I seem to have forgotten about one of the most important things in life…

Laundry. (Didn't think that was going to be my answer, did you?)
But, for real. After staying up until midnight doing laundry I started at 3 o'clock, I have learned a few valuable lessons:
Number one, I have waaaaay too many clothes. I must have worn every article of clothing I own in the past month. Or at least tried them on, not liked my outfit choice, and forgot to hang them back up – so many clothes but still nothing to wear.
Number two, I will never wait this long to do laundry again! Yeah. That's probably a lie. But I am going to try.

Number three, I was so happy that I just happened to have some of my favorite slow cooker recipe on hand to share with you this aptly timed Super Bowl related recipe for buffalo chicken flautas!
Ingredients
10-12 Corn Tortillas
Toothpicks
Vegetable Oil for Frying
 
Make sure the pulled buffalo chicken has completely cooled before you start working with it. Drain as much of the excess buffalo sauce out of the chicken as you can before placing it in the tortilla.
Dampen a paper towel, wrap the tortillas, and microwave them for a minute. This will make them easier to work with. Take the corn tortilla and place about 2 tablespoons worth of chicken in a line down the center of the tortilla.

Roll the tortilla closed very tightly and secure with a toothpick. Keep going until you have made the desired amount.
Fill a large skillet about halfway with vegetable oil. Heat the oil to about 250 degrees. Drop in the flautas two at a time. Fry for about 2 minutes on each side until the tortilla is crispy and golden.
 
Place flautas on a wire rack to drain and cool. As you can see my flautas making skills improved as I went along. After they have cooled for five minutes, remove the toothpicks.

Serve these crunchy babies up with some blue cheese or ranch dressing. Maybe a drizzle of buffalo sauce on top and a dash of fresh cilantro, if you want a fancier presentation for your Super Bowl party.
The lesson of the day as said by Ferris Bueller: "Life moves pretty fast. If you don't stop and look around once in a while, you could miss it." Somehow I do not think he did his own laundry.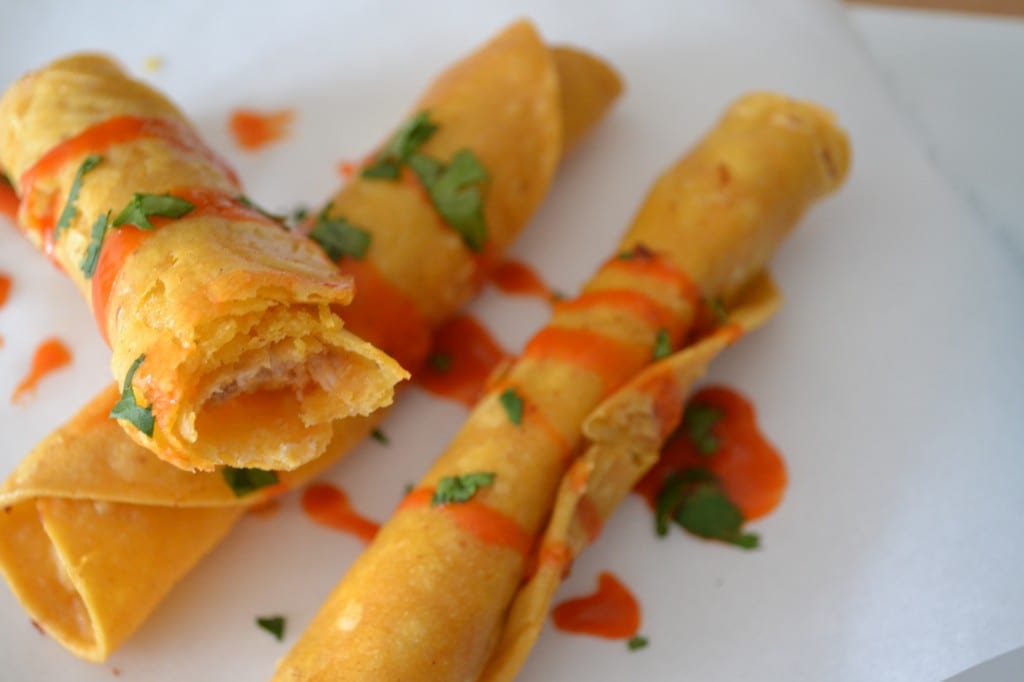 Baum, baum. Chicka, chickahh. (That's my attempt at recreating the music in Ferris Bueller.)
Related posts: