Making tamales is a labor of love. Make it easier on yourself by cutting out the lard and making Instant Pot steamed tamales. Any fillings you like with an easy to follow method.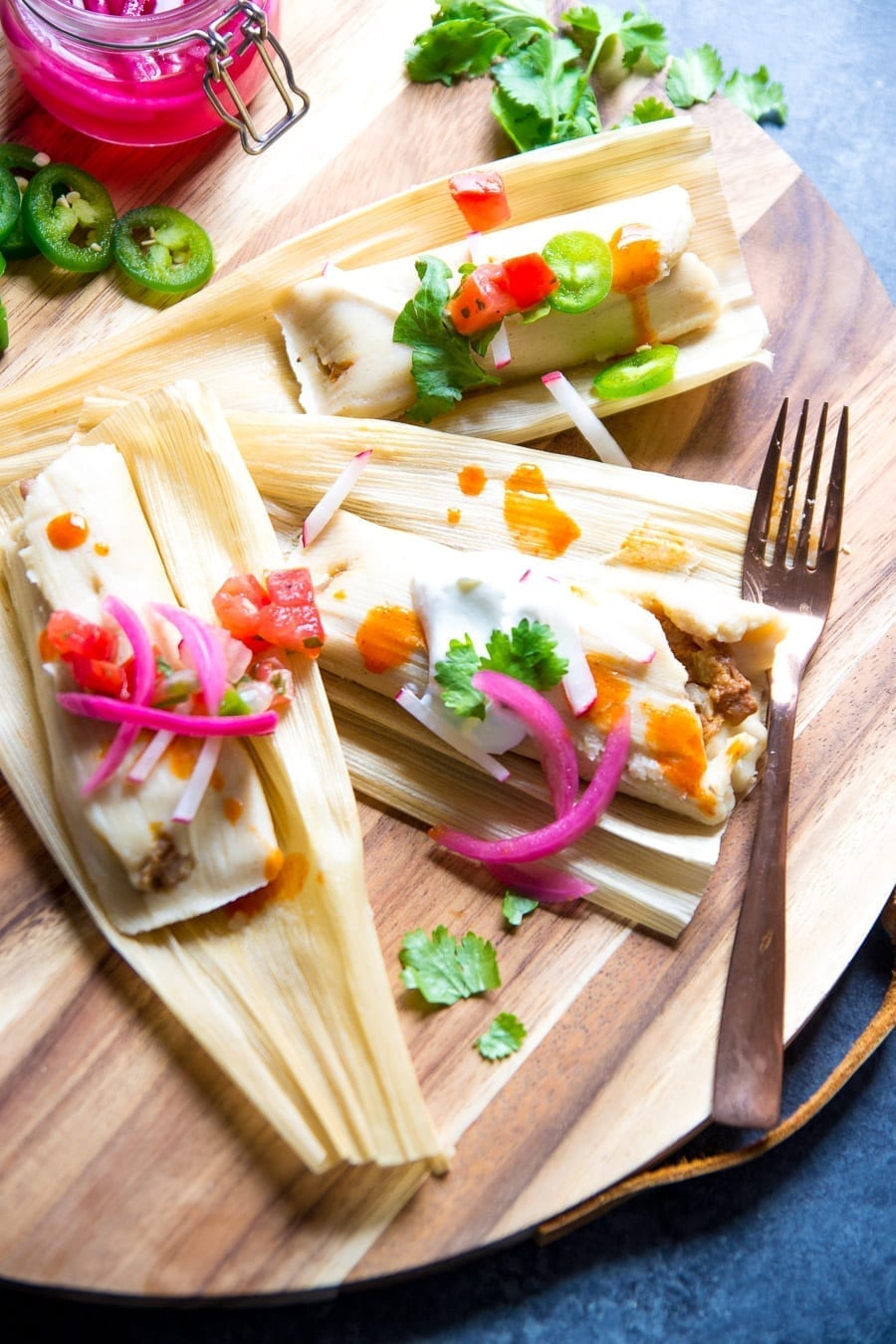 Just in case you haven't noticed, I have been sharing, slowly but surely, most of what was on our Christmas dinner menu. My apologies if you already noticed this and I am just being Captain Obvious right now.
Better late than never!
This year for Christmas we flipped the script and ate everything from pozole to tamales. We had lots of salsa and toppings. I even made a small side of Mexican street corn off the cob in addition to Mexican rice. I would like to say that after this meal I felt satisfied and not the typical roll-me-out-of the-dining-room after dinner sorta full.
That satisfied feeling was in big part to the menu…and also maybe hosting and running around like a loon for a while.
Who's to say?
This recipe for tamales is from my second book, The Big Book of Instant Pot Recipes. It isn't very traditional. There is stock used in the place of the lard/fat. You do also add in a bit of canola oil to the tamale filling so that does help with the moisture factor.
A tamale is a steamed masa dough with a few spoonfuls of a sweet or savory filling tucked inside and rolled together tightly in a banana leaf or corn husk. Captain Obvious here again for some of you.
Normally, the dough is made using pork lard and fresh ground corn. I wanted to make the recipe a bit easier on all of us so I used stock, canola oil, and a bit of water.
The thing I think that makes my version of Instant Pot steamed tamales really pop is the seasoning you add to the masa while mixing it all together. It is another layer of spice and flavor.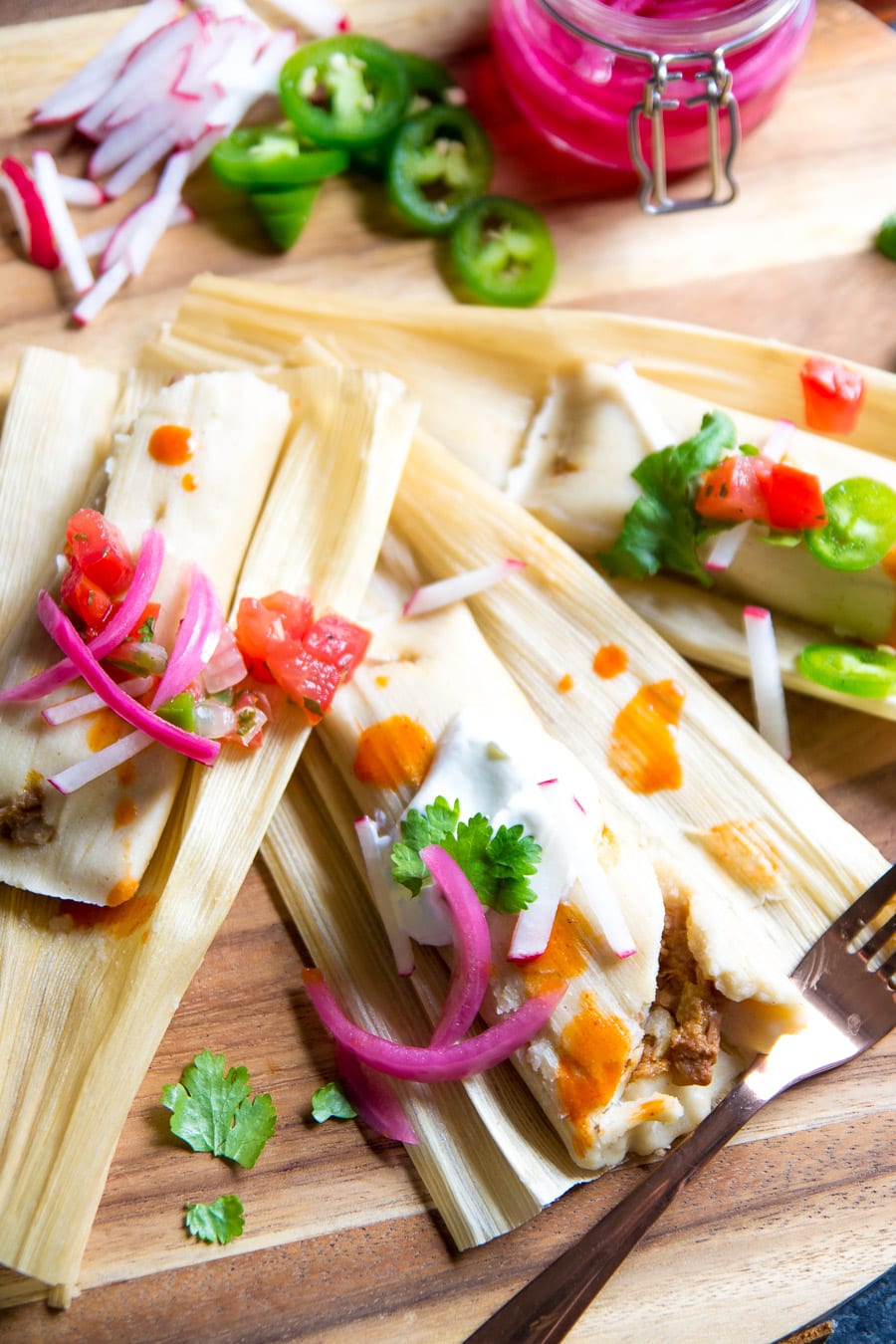 Do not be intimidated to try this recipe!
I try to remind myself after rolling up 30 tamales or so that there are teeny tiny little grandmas/abuelas that make hundreds of these!
Hundreds!
This recipe makes about 40-50. Passing out free leftover tamales is a great way to make friends. You can always stash them in the freezer and serve covered in chili like my Dad.
Filling the tamales is up to you!
Homemade Soyzrizo Hash (for a vegetarian friendly option)
Those are all good options for tamale fillings. Follow along with the instructions below and feel free to reach out with questions. I am here to guide you in the easier ways of tamale making.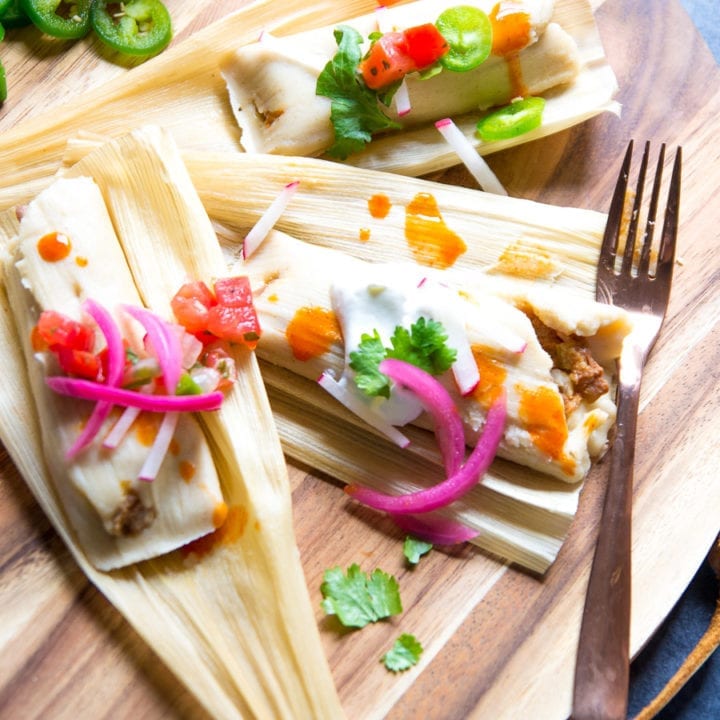 Instant Pot Steamed Tamales
Time to Come to Pressure:
7 minutes
Fluffy steamed tamales with a lot of flavor and less fat made int he Instant Pot. all you have to do is choose the filling!
Ingredients
6 cups (684g) masa de harina
2 tsp salt
1 tsp ground cumin
1 tsp ground coriander
1 tsp baking soda
5 cups (1200mL) vegetable stock
¾ cup (180mL) canola oil
1 package of corn husks
2-3 cups (400-450g) meat or veggie filling of your choice
1 cup (240mL) water
Instructions
Add about 30 husks to a shallow pan and then cover with water. Add a small bowl on top to weight the husks down. Allow the husks to soak for at least 30 minutes.
In an electric stand mixer fitted with the paddle attachment, mix together the masa, salt, cumin, coriander and baking powder.
With the mixer on low, add the stock one cup at a time. Once the cup has been incorporated, add another. Then mix in the canola oil.
Use an ice cream scoop to scoop the masa on to the husk. Wet your fingers with water and press the masa out into a large rectangle. Add 1 or 2 tbsp of meat to the center of the masa rectangle. Fold each side into the center to form almost a tube of masa around the filling. Wrap one side over the other and then fold the bottom of the tamale upwards. Continue that process for all the tamales.
Add 1 cup of water along with the steam trivet to the Instant Pot. Fold a piece of foil into a square and poke several holes in the foil. Place the foil on top of the trivet.
Arrange as many tamales, folded end down, as will fit in the Instant Pot on top of the foil.
Secure the lid with the steam vent sealed. Press "Steam." Use the "-/+" buttons to adjust the time until the display reads 20 minutes.
When the timer sounds, quick release pressure. Remove the lid. Use tongs to remove the tamales.
Wrap tamales in foil and freeze for up to 3 months. To reheat, steam in the Instant Pot the same way as before.
Notes
Use a little dish filled with water to wet your fingers before pressing the masa filling out into the husk.
Recommended Products
As an Amazon Associate and member of other affiliate programs, I earn from qualifying purchases.