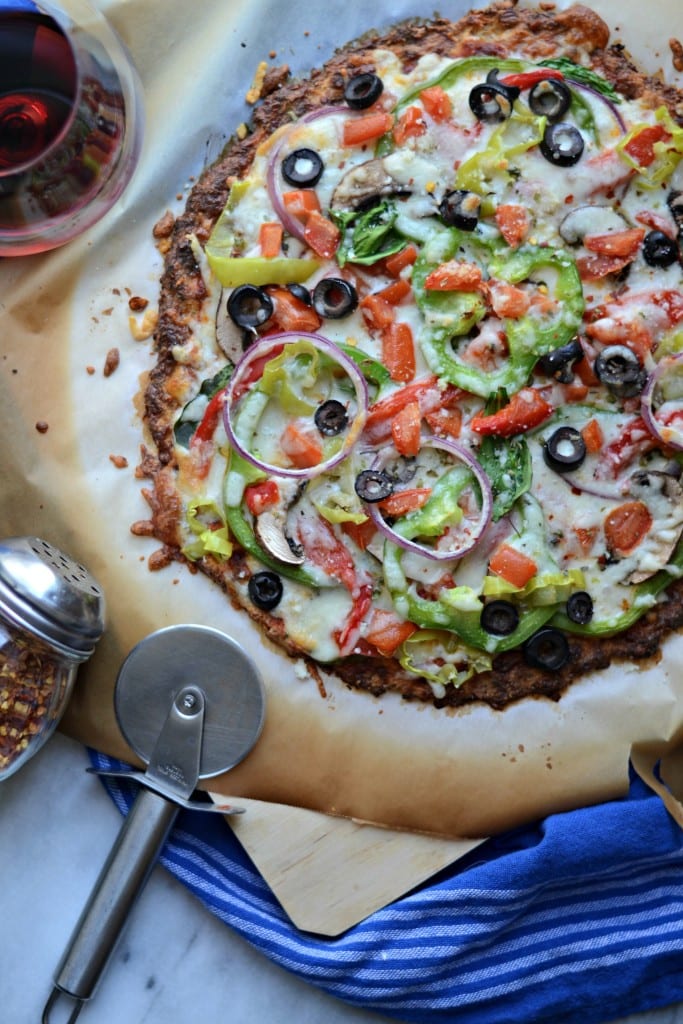 Ah, yes, the return of the cauliflower crust. The good ol' fork and knife pizza. After a month of pizza, I had to switch it up to make myself feel a little healthier about my pizza intake. I felt this was the ultimate crust for the ultimate veggie pizza. This is so not the pizza for Mike. I think I already covered that in my last pizza recipe. Am I right?
I am all for the love of veggies. I love substituting or maybe more like hiding vegetables in foods you normally wouldn't find them. Cauliflower cream sauce, yeah, I can do that. Veggie burgers, totes! Coconut cream whipped cream, heck yeah! I even dabbled in the Boca Hot Dogs and Mini Corn Dogs back in my vegetarian days. Even Mike loves those babies!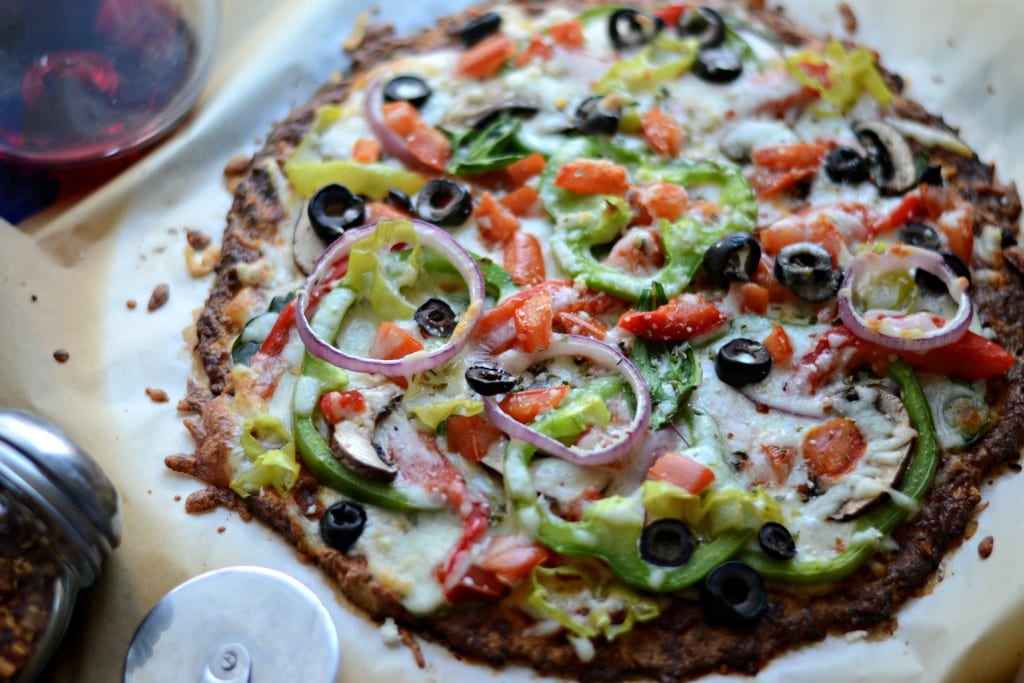 But, the other day I saw (via the internets) a vegan hot dog. I am always trying to think of ways for Andy to get more veggies, so I looked into it a lil further.
And upon further inspection, I saw this vegan hot dog, was, in fact a carrot. Yes, a carrot on a bun.
Something in my mind just does not compute this. That's totally healthy and I am not knocking a vegan lifestyle by any means. I just don't think you can slap a carrot on a hot dog bun and call it a hot dog. This past sentence just made my meat-loving husband's brain explode. I think he would laugh in my face if I said we were having carrot dogs for dinner.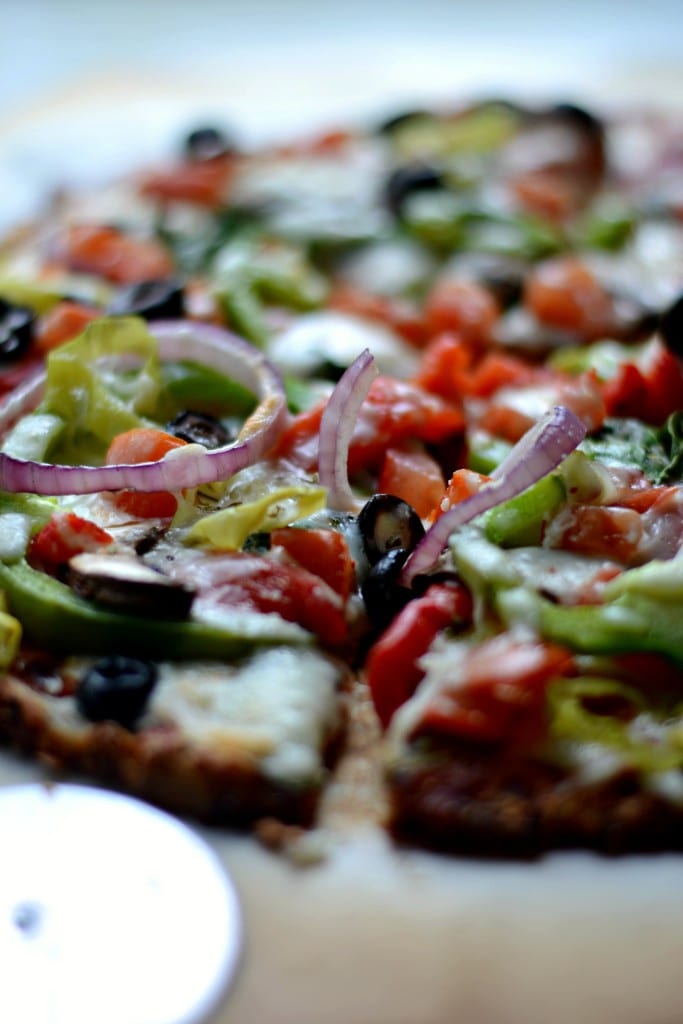 Again, not knocking it, just not my thing.
This cheesy ranch "crust" however, is something I can get behind.  Maybe I am being a food hypocrite. I dunno. At least it is the same kind of texture and shape as a gluten-packed pizza crust.
Veggie Supreme Pizza on Cheesy Cauliflower Ranch Crust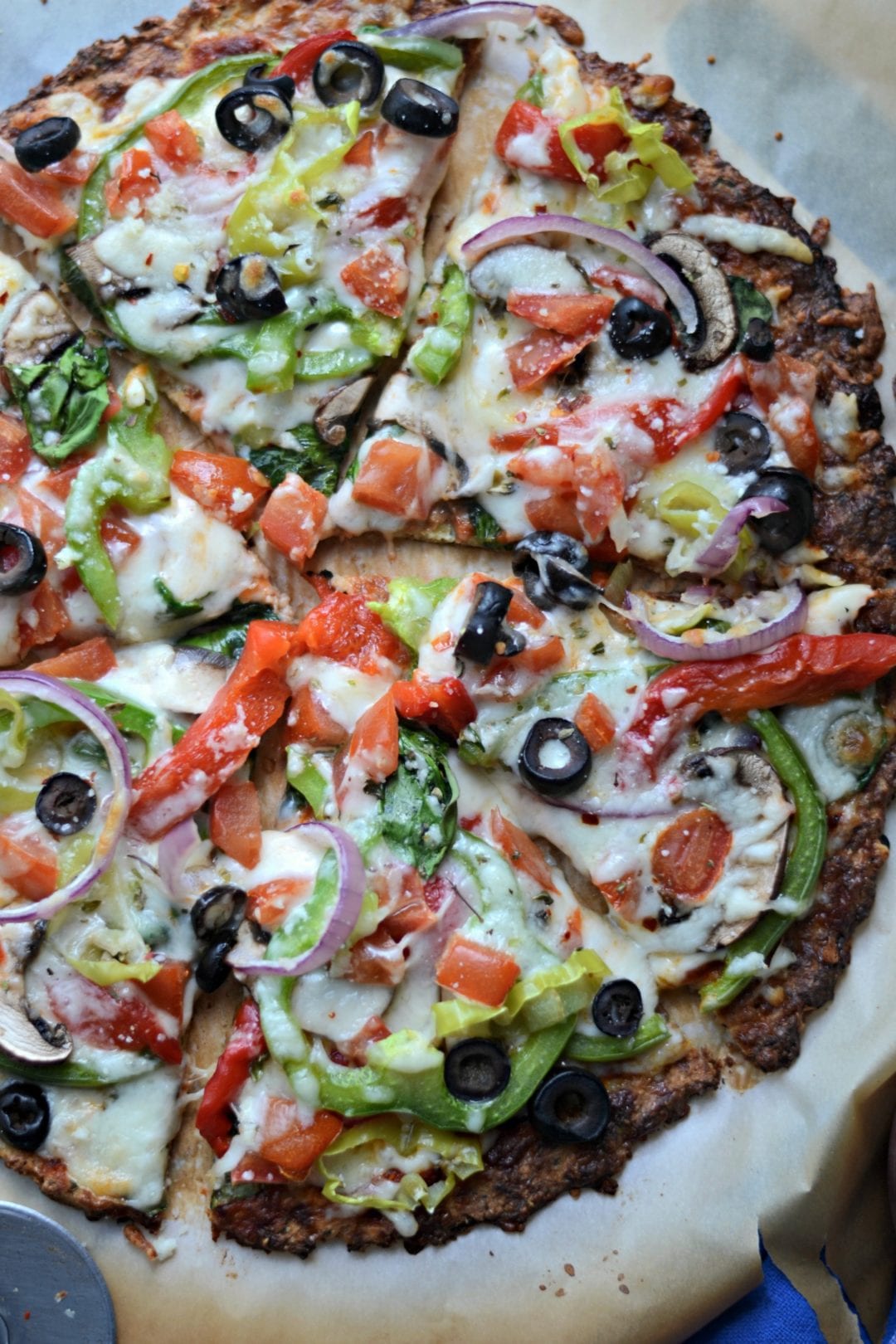 The veggiest veggie pizza with all your favorite toppings on top of a cheesy ranch cauliflower crust.
Yields: 1, 12 Inch Pizza
Cauliflower Crust Recipe found here just add in a packet of Ranch seasoning mix instead of the seasonings listed.
1/2 Cup Favorite Marinara Sauce
1 Cup Shredded Mozzarella Cheese
1 Cup Freshly Grated Fontina Cheese
1/4 Cup Grated Parmesan Cheese
1 Green Bell Pepper, seeded and sliced
1 Jarred Roasted Red Bell Pepper, thinly sliced
Slices of Red Onion
1/4 Cup Sliced Black Olives
1/2 Cup Seeded and Diced Tomato
Sliced Pepperoncini
1/2 Cup Fresh Spinach Leaves
3 Sliced Cremini Mushrooms
Preheat the oven to 450 degrees F. Leave a pizza pan in the oven while the oven preheats.
Mix the cauliflower crust according to directions from my previous post.
Tear off a large piece of parchment paper. Press the prepared cauliflower dough mixture on to the sheet of parchment. Press it into a 12 inch circle that is about 1/4 inch thick. Carefully remove the pizza pan and transfer the parchment and crust to the pan. Return to the oven and bake for 15 minutes.
Remove from oven. Top with sauce, 1/4 of the cheese, all the toppings, and then the remaining cheese. Bake for another 15 minutes.
Top with dried oregano, crushed red pepper flakes, and parmesan cheese.
Preparation time:

25 minutes

Cook time:

30 minutes

Total time:

55 minutes