Tomato bisque with noodles is perfect for those randomly cold, rainy Spring and Summer days. The base of this soup is made with stock, sherry, and canned fire-roasted tomatoes. Puree the soup, add the noodles, and enjoy!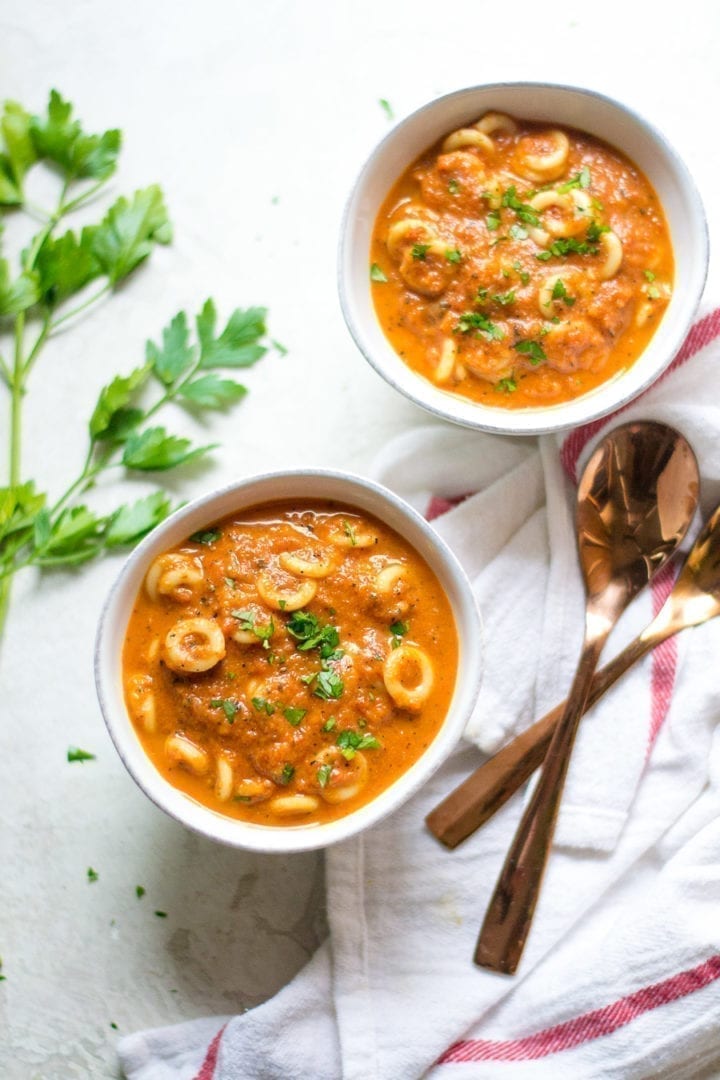 The past week or so, I haven't really felt much like cooking. I could blame all my lack of cooking enthusiasm on the state of the nation. That coupled with rising temps and pure laziness are all factors.
In addition to all of that we have actually been spending most of the week with Mike's side of the family.
Mike and I even got a night alone. Don't get any funny ideas.
I made Mike clean and put a patio set together.
I think the last time we were together without kids and talk of Batman, Mario, or Ultimate Tag was back in February.
We ate some lovely leftover queso for a snack lunch and some turkey lettuce wraps.
I got to read my book in silence. Silence!! From what I remember of silence, it truly is golden.
We enjoyed some lovely weather and now it turned rainy and cool.
Welcome to summer in the Midwest.
It helps to always have a few quick and easy soup recipes for colder days and nights. Summertime is the perfect time for tomato bisque with noodles.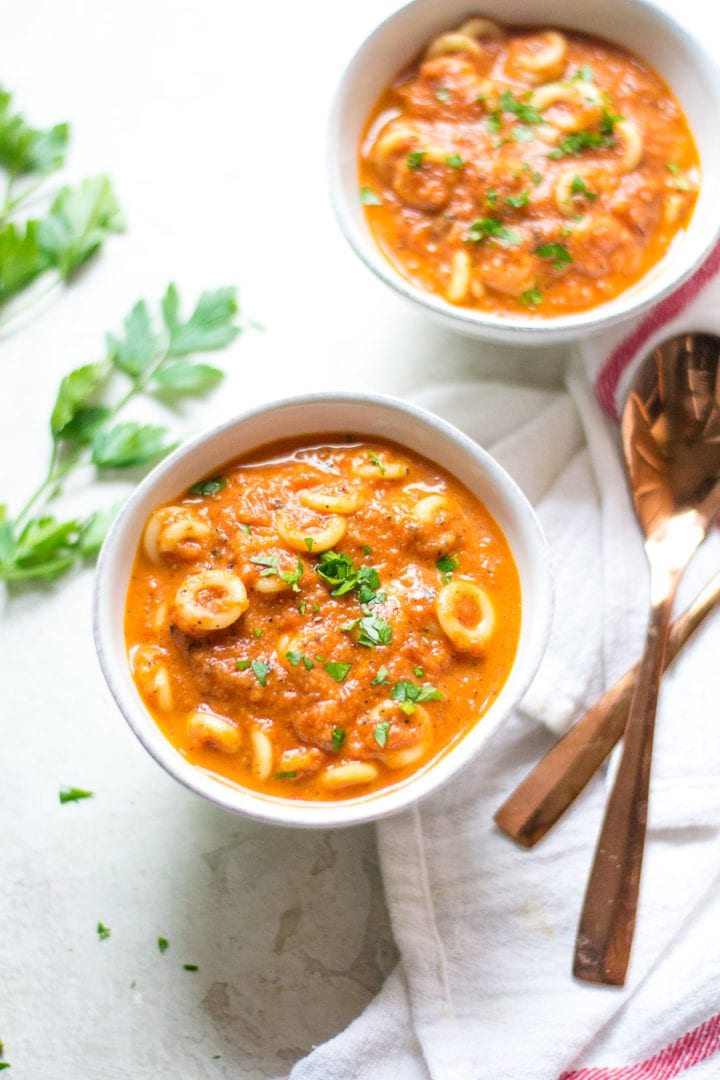 It is heavier and more filling than regular tomato soup. It is creamy and a mix of spicy and sweet. You won't be itching for a grilled cheese on the side.
Another great thing about this recipe is it is made using mostly canned and pantry ingredients.
Puree the soup and then mix in some heavy cream and the cooked noodles. I like to cook the noodles on the side and then add them into the warm soup before serving. That way it doesn't absorb all the soup liquid.
I would also highly recommend switching out the tomato paste for either red curry paste or harissa paste. It adds a whole new level of heat and flavor.
After you make this soup one time, you'll be itching for more rainy cold summer days.
Maybe…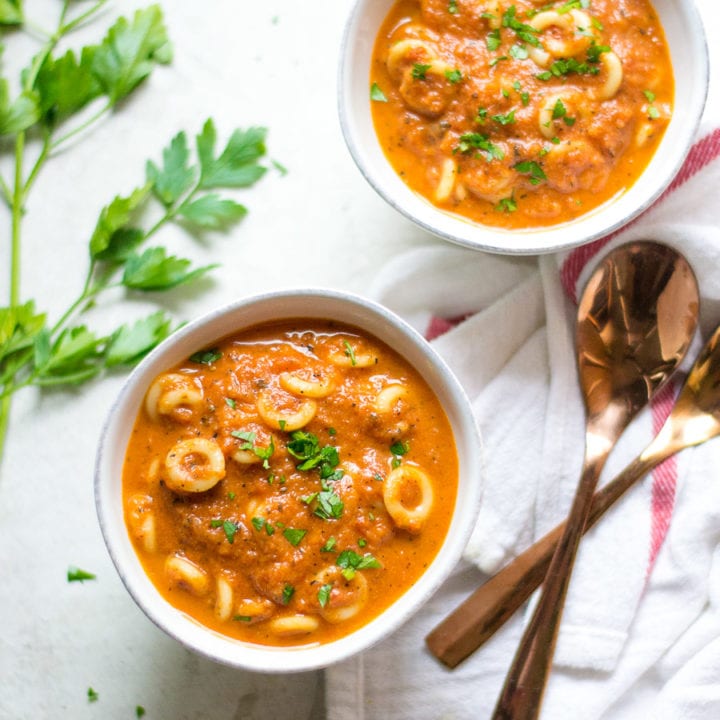 Tomato Bisque with Noodles
Easy tomato bisque with noodles made from canned fire-roasted tomatoes, sherry vinegar, brown sugar, stock, and heavy cream. All that's left to do is add in some cute little noodles.
Ingredients
1 cup small dry noodle like ditalini, anelletti, or macaroni
2 tbsp unsalted butter
2 shallots, thinly sliced
4 garlic cloves, peeled & thinly sliced
2 tbsp tomato paste*
28 oz Canned Fire-Roasted Diced Tomatoes
2/3 cup cooking sherry
3/4 cup chicken or vegetable stock
1 tbsp light brown sugar
1/2 tsp dried oregano
1/2 tsp dried thyme
1/2 tsp salt
1/4 tsp crushed red pepper flakes or black pepper
3/4 cup heavy cream
fresh basil/parsley, chopped for garnish
Instructions
Bring a large pot of heavily salted water to a boil.
Add butter to a large stock pot or Dutch oven over medium/low heat. Once shimmering, add the shallot and garlic. Cook until the garlic is slightly golden. Remove garlic with a slotted spoon and set on a plate off to the side.
Add the tomato paste and cook until it has turned a dark brick red. Be sure to stir often.
Add the garlic back to the pot along with the tomatoes, sherry, stock, brown sugar, and spices. Increase the heat to medium. Mix to combine and incorporate the paste.
Bring to a simmer. Simmer soup for 20 minutes. While the soup cooks, boil the noodles according to the packages instructions. Once al dente, drain in a colander in the sink until cooled.
With the soup over a low flame, use an immersion blender to puree the soup until smooth.
Mix in the heavy cream. Adjust the salt and pepper to taste.
Mix about 1/2 cup of cooked noodles into each individual serving/bowl of soup when ready to serve. Top with fresh herbs.
Store the soup and noodles separate to ensure the soup stays soups and the noodles don't absorb all the liquid when you reheat or cool the soup.
Notes
*Instead of plain old tomato paste, try either a red curry paste or harissa paste for an extra level of flavor and spice.
Recommended Products
As an Amazon Associate and member of other affiliate programs, I earn from qualifying purchases.