Hearty vegetable tomato soup has every vegetable under the sun in a light tomato broth. Cooks up slowly on the stovetop or in the slow cooker.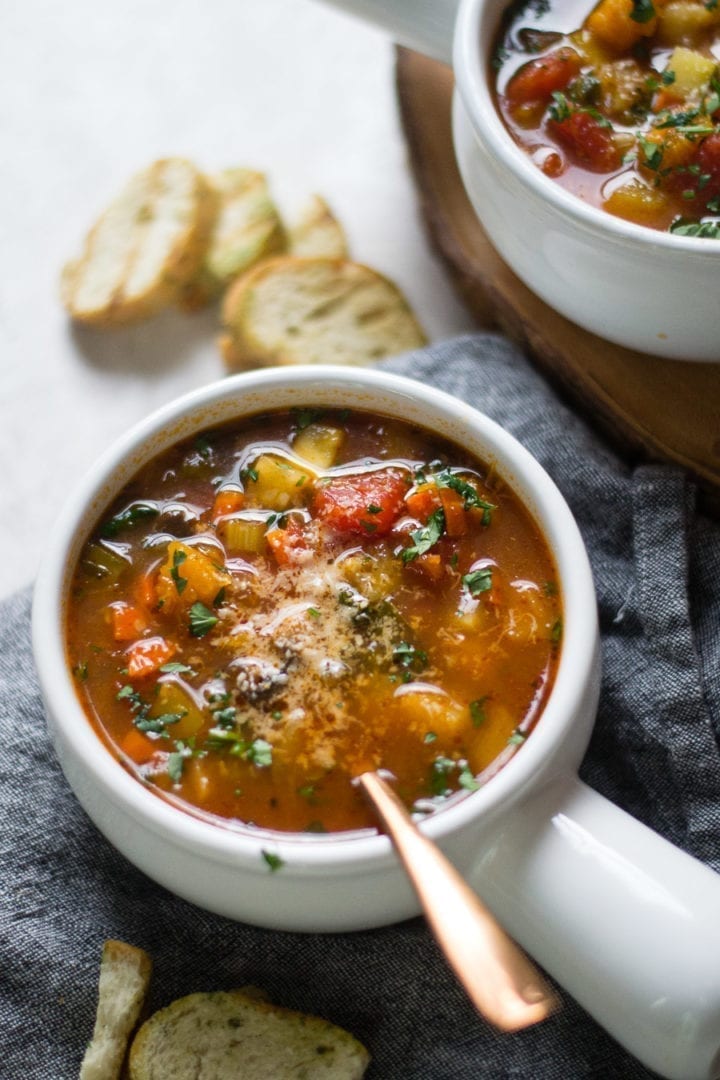 Holiday hangover much?
Are we about ready to banish tight jeans from our wardrobe forever?
I hope you answered yes to both of the above questions.
I also hope you had a safe and happy Thanksgiving.
We stayed local and I am happy to report I didn't really overeat.
Drink a bit too much, yeah, maybe.
Anywho.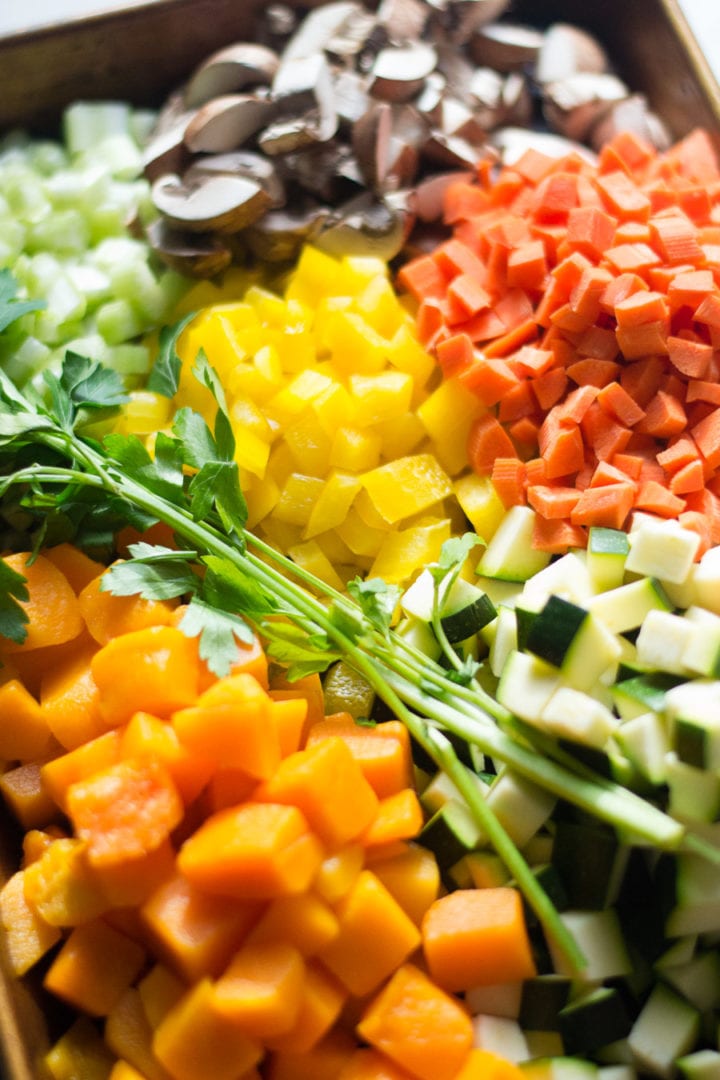 After a weekend, oh let's be honest a full week, of eating butter based heavy foods, I need something lighter.
Make room in your fridge and freezer for the new go to soup of the winter, hearty vegetable tomato soup.
Every vegetable you could imagine in a light tomato based broth. I add a little balsamic vinegar and crushed red pepper flakes for tons of flavor.
Mushrooms, bell peppers, onions, zucchini, potato, butternut squash, celery, carrots, and a can of diced tomatoes cook slowly to make a filling yet light soup.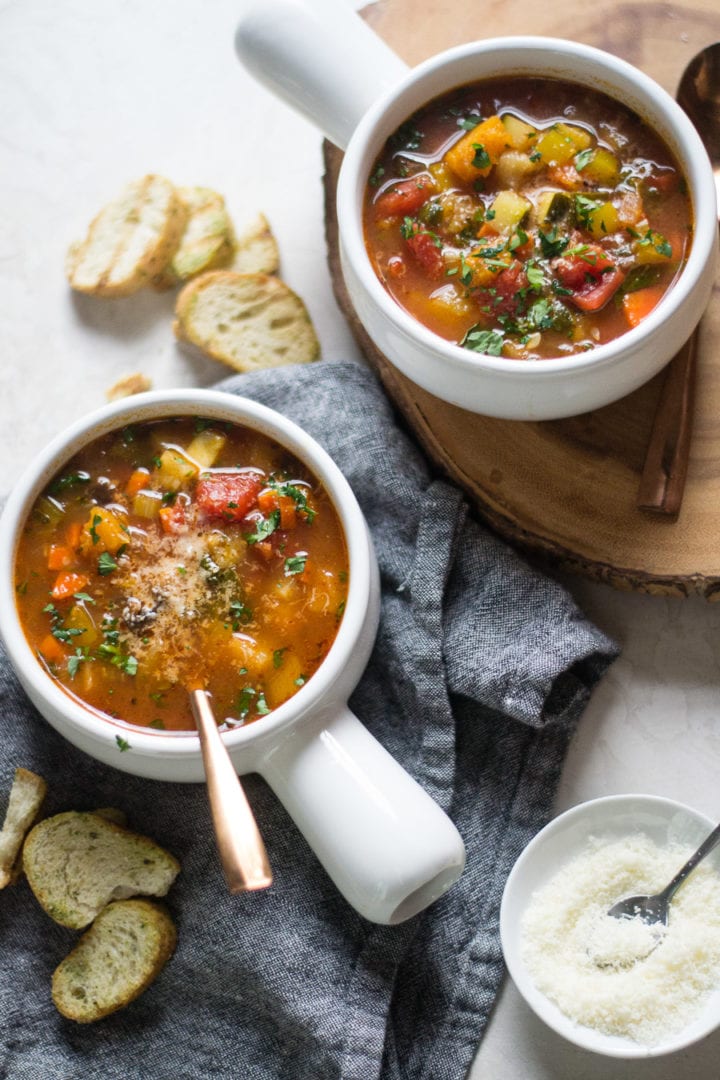 I would say if you wanted you could add in even more veggies, like some kidney beans, green beans, or even some corn.
I have also included the slow cooker version of this recipe below.
Think fo this soup like a minestrone minus the noodles.
This is what I will be eating for lunch for the next few weeks just to get my body used to healthy things again.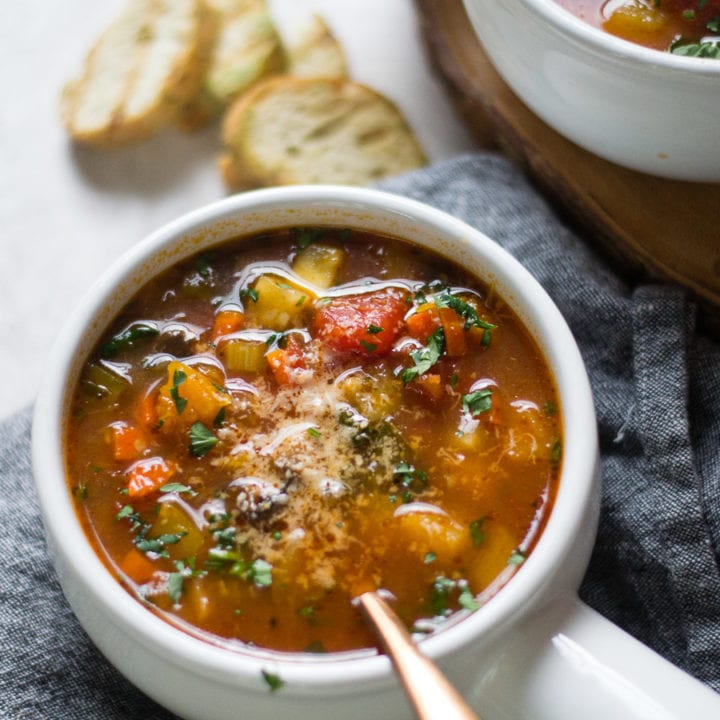 Hearty Vegetable Tomato Soup
Yield: Serves 8-10

Prep Time: 15 minutes

Cook Time: 40 minutes

Total Time: 55 minutes

Hearty veggie loaded soup in a light tomato and vegetable stock based broth.
Ingredients
2 tbsp avocado oil or extra virgin olive oil
1 zucchini, diced
6 baby bella mushrooms stems removed and diced
1/2 yellow onion, diced
2 celery stalks, diced
2 carrots, peeled and diced
6 oz frozen and thawed or fresh peeled and diced butternut squash
1 bell pepper, diced
1 large Russet potato, diced
1 tbsp balsamic vinegar
2 tbsp tomato paste
3 cups vegetable stock
2 cups water
1 tsp salt
1/4-1/2 crushed red pepper flakes
1 tsp dried oregano
1/4 tsp garlic powder
1, 14.5 oz can diced tomatoes
1 bay leaf
1 cup fresh baby spinach, chopped
1 tbsp chopped fresh parsley
Instructions
Heat the oil in a large stock pot or Dutch oven over a medium flame. Once the oil is shimmering, add in all the vegetables. Mix to coat int he oil.
Sauté the veggies for about 10 minutes.
Add the balsamic vinegar. Let that cook down for about 3 minutes. Carefully fold in the tomato paste until all the veggies are coated.
Add the stock, water, seasonings, diced tomatoes, and the bay leaf. Mix to combine.
Bring to a simmer over medium heat. Simmer with a lid on for about 30 minutes until the squash and potato are tender a d cooked through.
Mix in the spinach and parsley. Allow them to wilt and cook slightly.
Adjust salt and pepper to taste. Remove bay leaf before serving.
Notes
SLOW COOKER: Skip the avocado/olive oil. Add the stock, water, tomato paste, and balsamic vinegar to the slow cooker. Whisk to combine the tomato past into the soup. Add the canned diced tomatoes, vegetables, seasoning, and bay leaf. Stir to combine. Set on low for 8 hours or high for 4 hours. Add the spinach and parsley in the last 10 minutes of cooking. Remove bay leave and adjust salt and pepper before serving.
Recommended Products
As an Amazon Associate and member of other affiliate programs, I earn from qualifying purchases.