Easy French onion soup is made with five onions, bourbon, beef stock, and water. Pick a bread, toast it, toss it on top, cover in whatever cheese you like, and then broil. It cannot get any easier!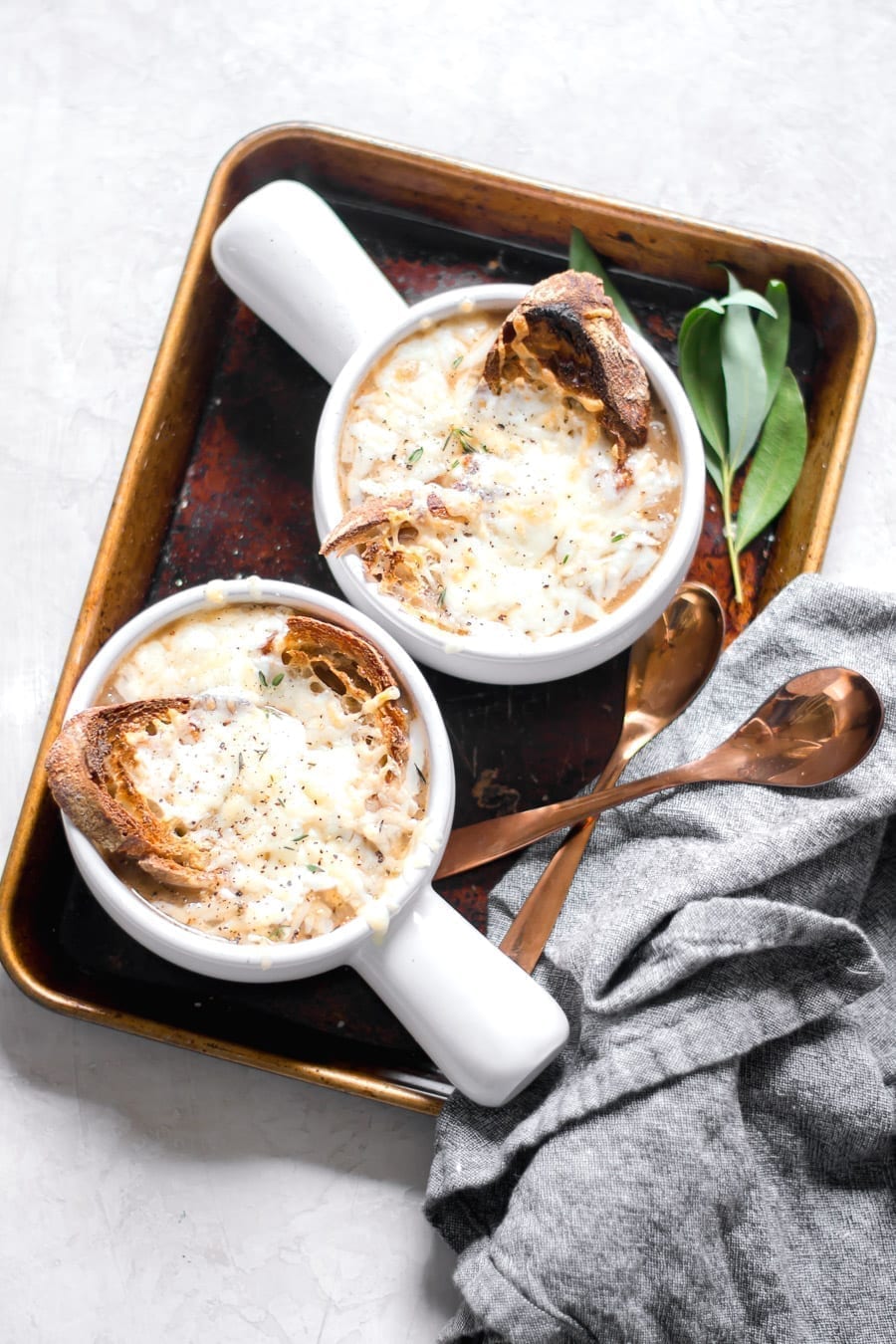 Running a food blog in the time of a pandemic is interesting. Grocery shopping is insane.
I am lucky if the store has things I need just to feed the four of us let alone make fancy blog-worthy recipes.
A lot of the recipes I cooked for the blog before all this started have already been published.
I have no new content stockpiled.
I have been wracking my brain trying to think about what I have on hand, what you maybe have on hand in your house, and trying to work recipes from that.
Normally I would be all over asparagus season, but I don't know if a lot of you have or were able to purchase that from your store.
All of this is just causing me extra anxiety.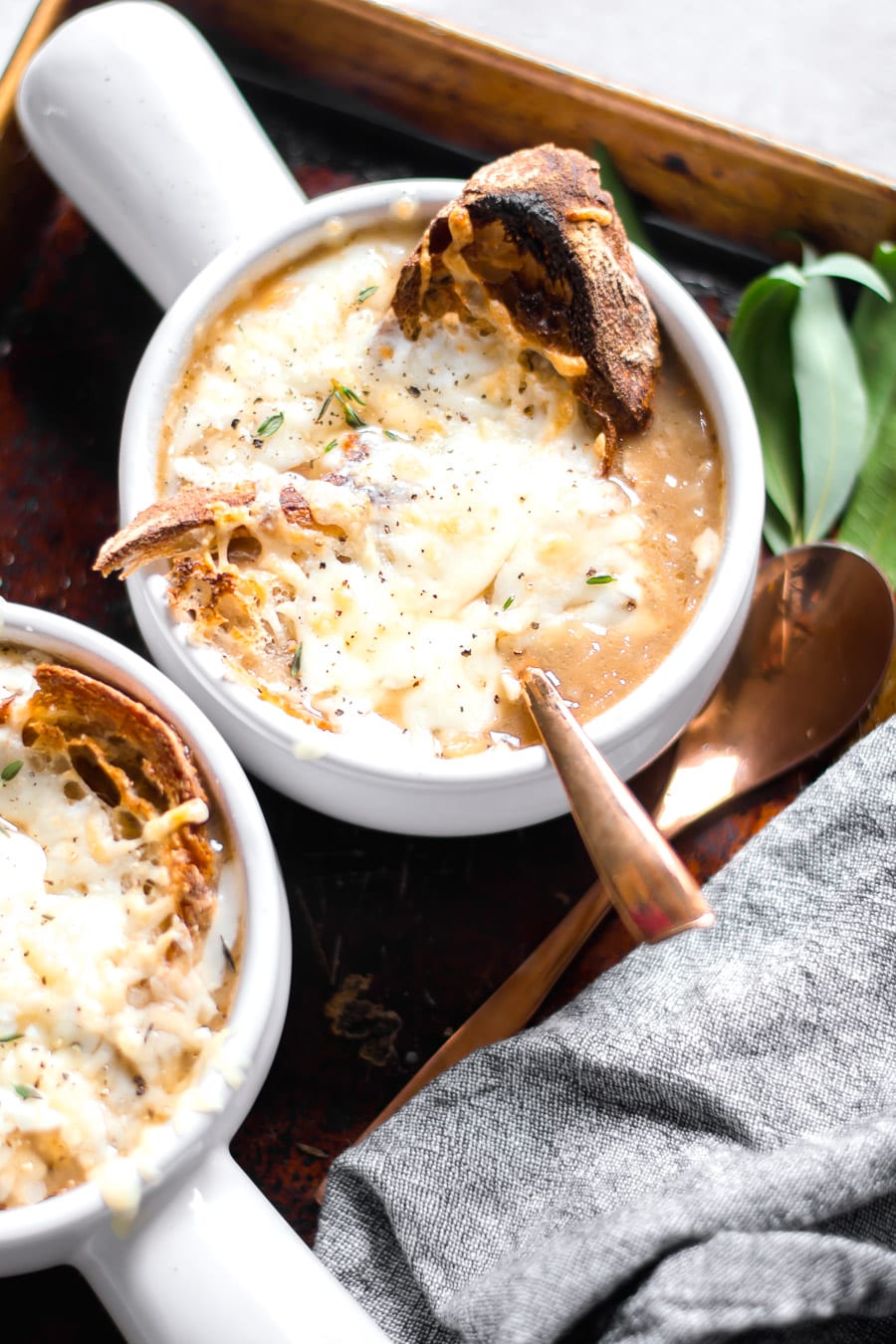 I stayed up really late a few weeks back and watched a ton of cooking shows on Netflix for inspiration and just to calm myself before bed.
On The Chef Show they made this epic French Onion soup that was just calling to me.
You can make this soup with a bag of yellow or Vidalia onions and 6-7 other ingredients. Add the onions to a large pot or Dutch oven and just take the time to let them turn into an almost jammy consistency. That is the majority of the recipe.
Let's face it, we all have a lot more extra time on our hands at home.
Deglaze the caramelized onions with either bourbon, brandy, or red wine. Use what you have.
Add in butter, a little flour to thicken, and then water, and beef stock.
That's seriously it!
You don't even have to do the foo foo fancy toast and cheese on top.
Who are we kidding though?
Of course you need to do the cheese and toast on top!
Otherwise it's just onions.
Find whatever bread you have or even croutons will do. Toss them on top of the soup.
Cover the carb layer with whatever white cheese you have; mozzarella, gouda, Parm, provolone, Swiss, Monterey.
Broil it until golden and crisp.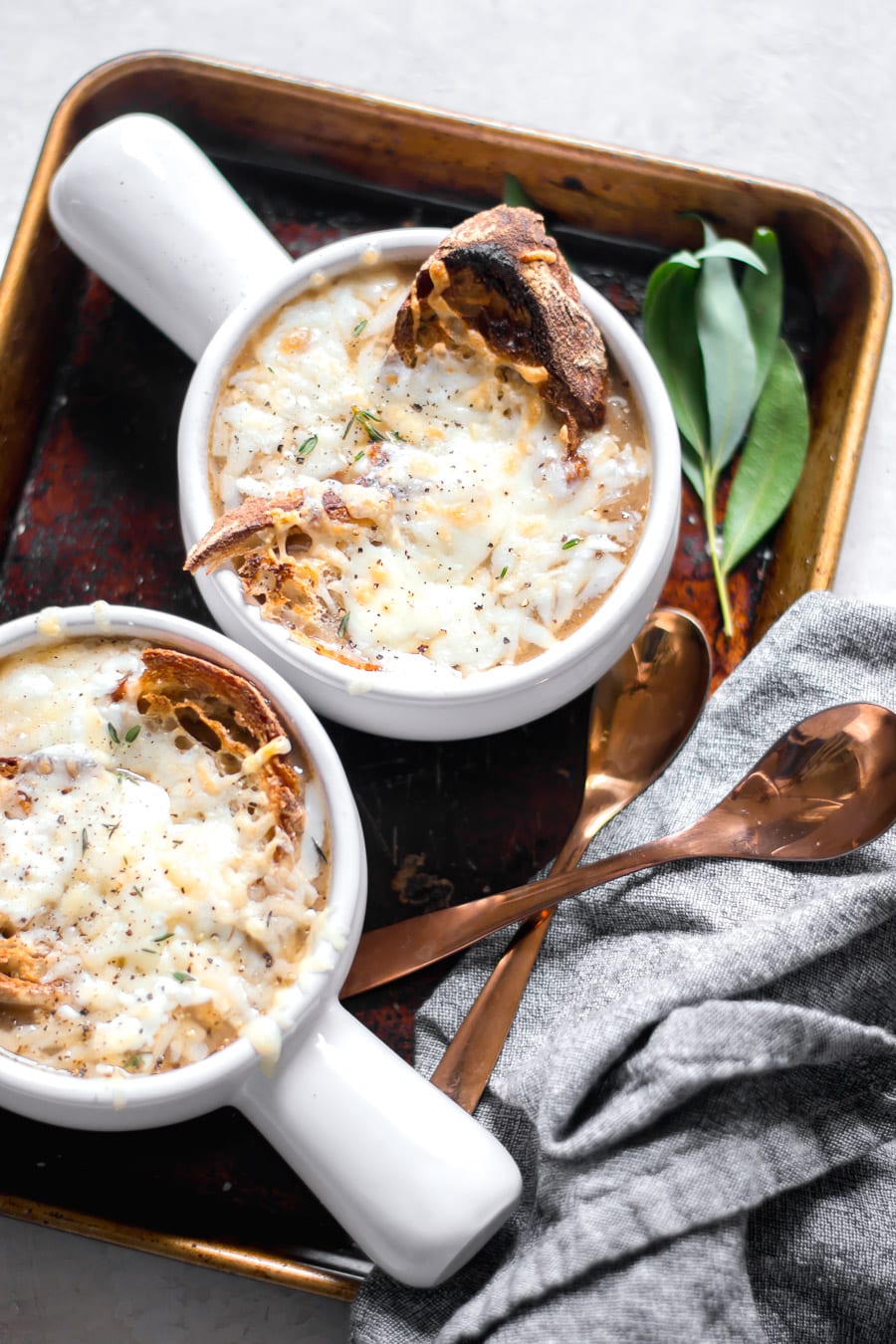 Enjoy!
Make sure to take a moment to revel in this beauty of a soup at the end though.
I hope this recipe offered some inspiration and elegance to your pantry, quarantine cooking.
Hang in there, people.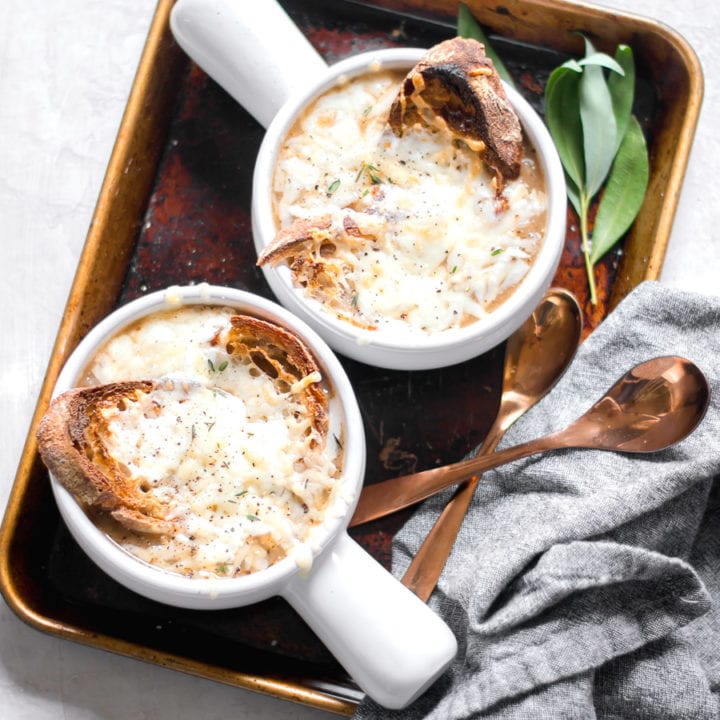 Easy French Onion Soup
Total Time:
1 hour
10 minutes
Easy French Onion soup made from onions, bourbon, stock, butter, and flour. Covered in cheese and a toasted piece of sourdough.
Ingredients
2 tbsp extra-virgin olive oil
4 tbsp unsalted butter, divided
5 large yellow or Vidalia onions, thinly sliced
6 oz Bourbon, Brandy, or dry Red Wine
1 tbsp all-purpose flour or arrowroot powder
4 cups low-sodium beef stock
3 cups water
1 tsp salt
1/4 tsp black pepper
2 dry or fresh bay leaves
4 slices of sourdough, cut in half
1 1/2 cups shredded Swiss or Gruyere or Provolone cheese
Instructions
Add olive oil and 1 tbsp butter to a large pot or Dutch oven over medium/low flame. Once the butter melts, add in the onions.
Stir to evenly coat. Cook the onions for 45 minutes, stirring every so often so they evenly coat. You may have to reduce the heat a little at times to prevent the onions from burning. Be sure to scrape off the bottom of the pot.
After about 45-50 minutes, the onions should be caramelized. Add the bourbon to deglaze. Scape off the good bits from the bottom of the pot.
Add the remaining butter. Once the butter melts, mix in the flour. Let it cook for a minute.
Add the stock, water, salt, pepper, and bay leaves. Increase the flame/heat to medium. Simmer for 10-15 minutes.
Preheat the broiler to high.
Add soup to oven-safe bowls. Top each bowl with two halves of toast. Cover each bowl in equal amounts of cheese. Transfer the bowls to a sturdy sheetpan.
Broil the soups for 2-3 minutes. Until the cheese is bubbly, golden, and melted.
Recommended Products
As an Amazon Associate and member of other affiliate programs, I earn from qualifying purchases.