Best Instant Pot black beans are made from dry beans, garlic, onion, cumin, red pepper, and a bay leaf. Cooked together in the Instant Pot, all those ingredients come to pressure and make these the best batch of beans ever!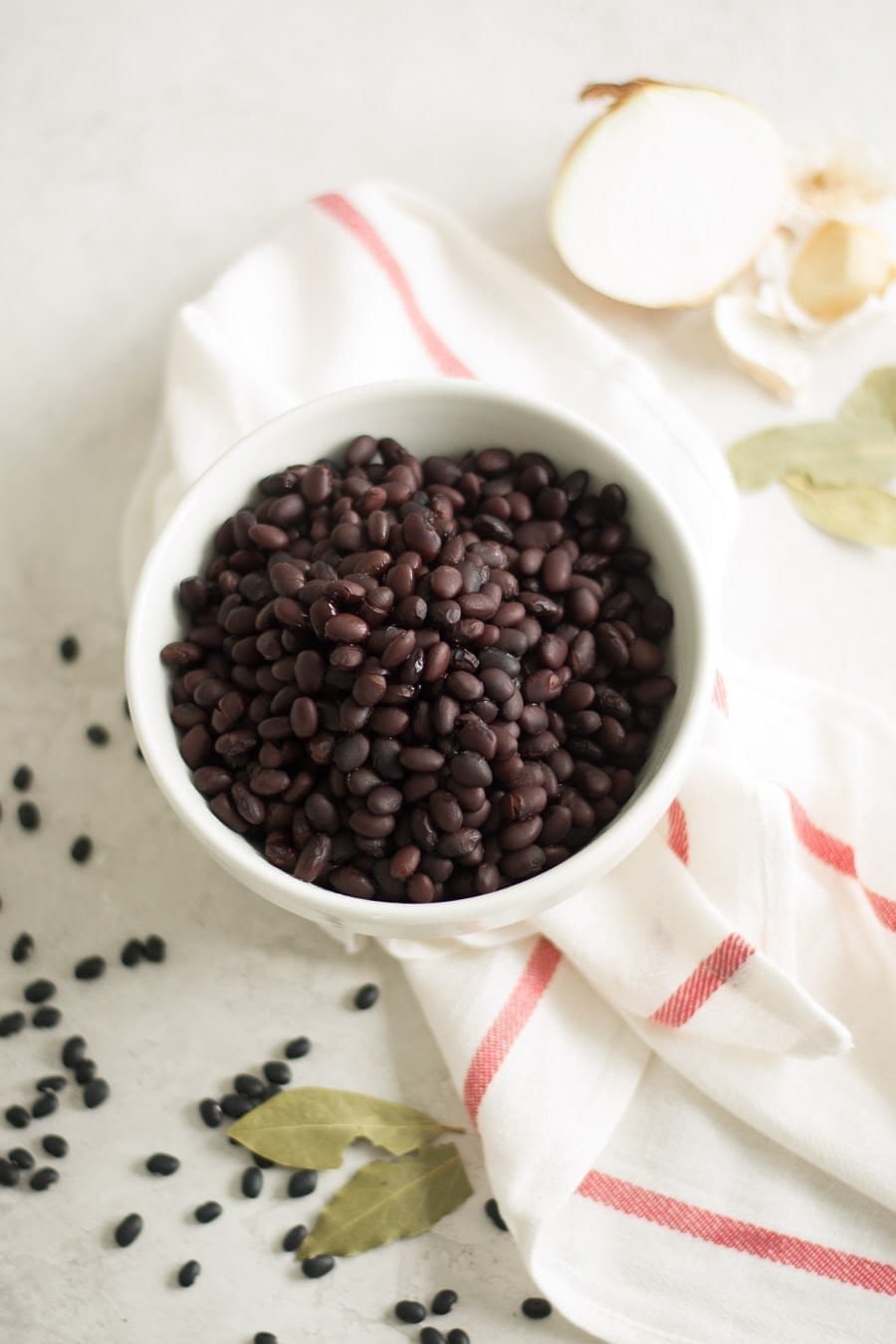 Dry beans are pretty cheap and plentiful. I usually have a bag, or multiple bags with at least a cup or two hidden in the back of my pantry all the time.
During this crazy time, if you can get your hands on a bag of dried black beans or even a cup or two, this recipe and method will work for you.
You will be able to pressure cook beans for your freezer and to eat throughout the week.
The method I use is a no soak method.
It is tested and true!
The recipe first appeared in my Quick Prep Cooking cookbook. Despite the fact that I wrote the recipe, I still reference it all the time.
My copy of my cookbook actually automatically opens to either that page or my bourbon pot roast nachos.
Both of those recipes just happen to go very nicely together.
The gist of the best Instant Pot black beans is you add a pound of dry black beans, 6 cups of water, 2 smashed cloves of garlic, a bay leaf, cumin, red pepper flakes, an onion, and a little salt to the Instant Pot. Pressure cook it for 25 minutes and then boom.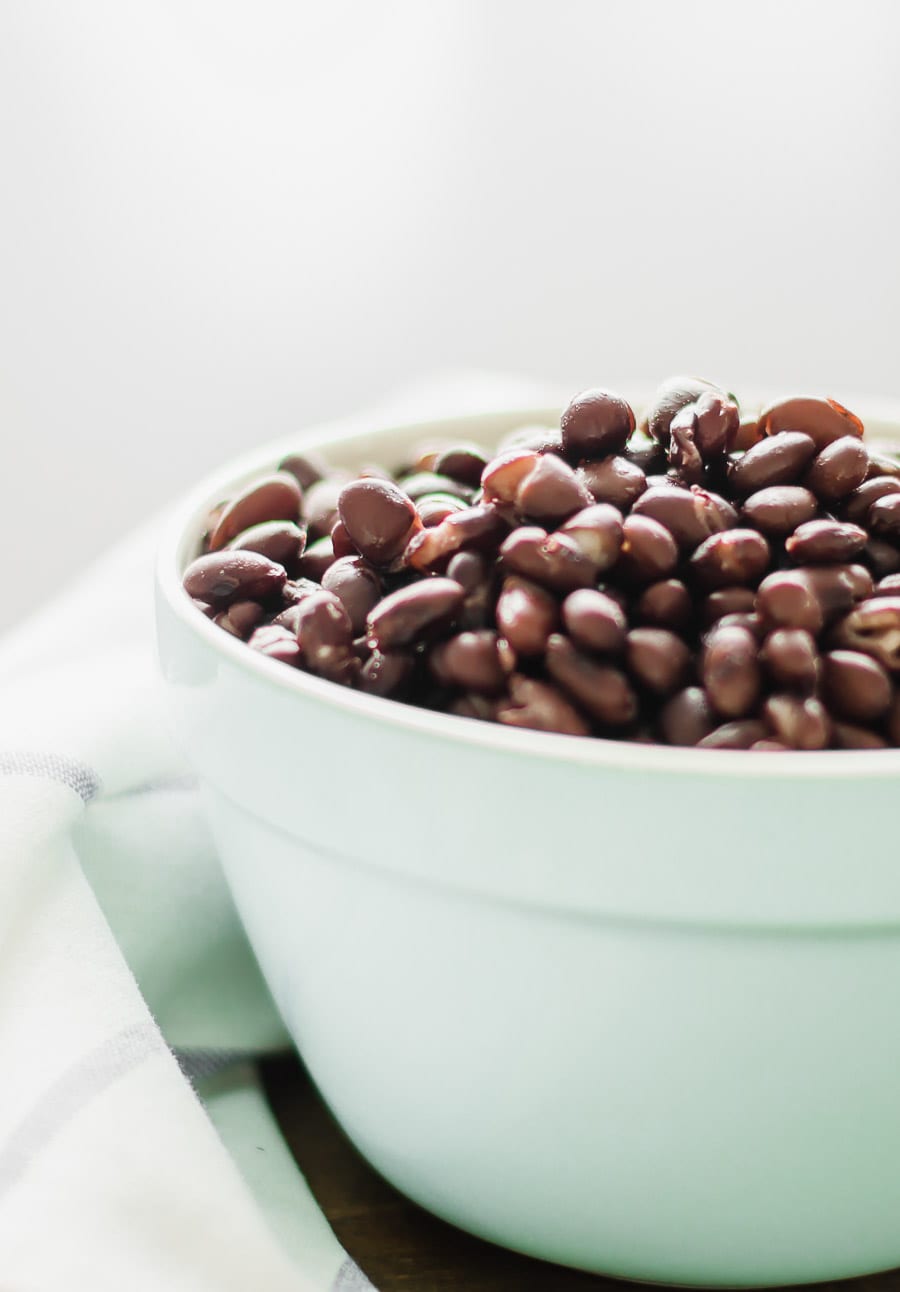 Beans for days!
What will you do with all those beans?
Here are my favorite ideas:
Use them as a side for tacos.
Make 5 ingredient black bean soup.
Have bean dip or black bean hummus for lunch.
We have also been big fans of enfrijoladas lately.
No Instant Pot, no worries! Soak the beans overnight in a large Dutch oven with just enough water to cover them. In the morning, drain the water. Add fresh water, about 8-10 cups.
Add in the same onion, garlic, and spices I list here. Bring the beans to a simmer and simmer for 1 hour and 30 minutes to 1 hour and 45 minutes uncovered.
Once tender, drain off some of the liquid and foam at the top, remove the onion, garlic, and bay leaf.
Let everything cool before adding to jars or lidded containers to store in the freezer.
I hope that helps give you guys a good foundation or side for a few meals coming up!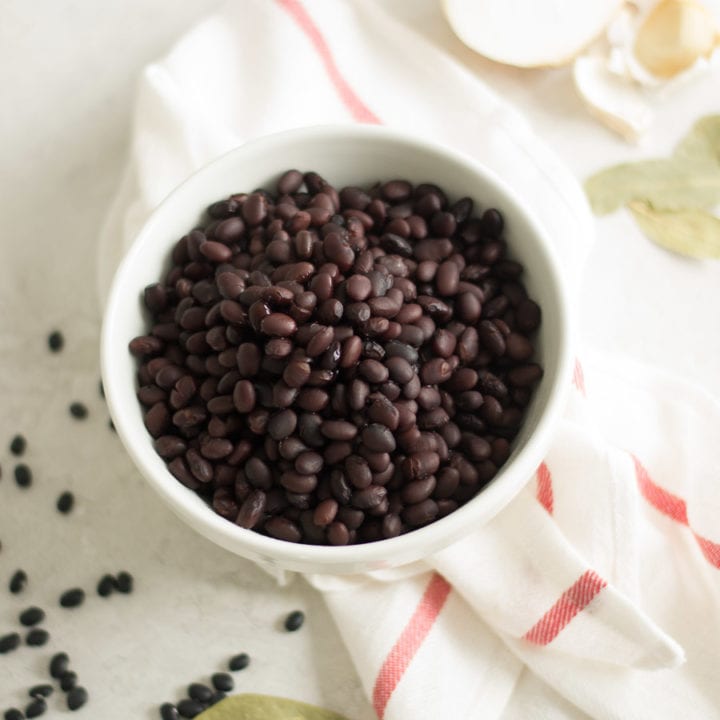 Best Instant Pot Black Beans
Additional Time:
20 minutes
A big old batch of Instant Pot black beans cooked with all the best ingredients like onion, garlic, bay leaf, cumin, salt, and crushed red pepper flakes.
Ingredients
1 lb dry black beans
6 cups water or low-sodium veggie/chicken stock
2 cloves garlic, peeled and smashed
1 dry or fresh bay leaf
1 tsp ground cumin
big pinch of crushed red pepper flakes
1 yellow onion, cut in half
2 tsp salt
Instructions
Add all the ingredients to the Instant Pot. Mix to combine.
Cover with lid and the steam vent in the sealed position.
Press "Pressure Cook" and make sure the display light is beneath "High Pressure." Adjust the time using the "+/_" buttons until the display reads 25 minutes.
When the timer sounds, allow the pressure to naturally release for 10 minutes. After 10 minutes, manually release any residual pressure.
Remove the lid. Remove the onion, garlic, and bay leaf.
Let the beans cool before adding them to freezer safe storage containers with lids.
Notes
The additional time is in regards to the amount of time the Instant Pot takes to come to pressure and release pressure.
Recommended Products
As an Amazon Associate and member of other affiliate programs, I earn from qualifying purchases.