Pressure cooker Bourbon Pot Roast Nachos are so tender and cook in under two hours, including prep and coming to pressure time. The meat is sweet, spicy, and oh so juicy. The pot roast leftovers would also be fantastic on a sandwich, in tacos, or even turned into a fantastic hash the next day.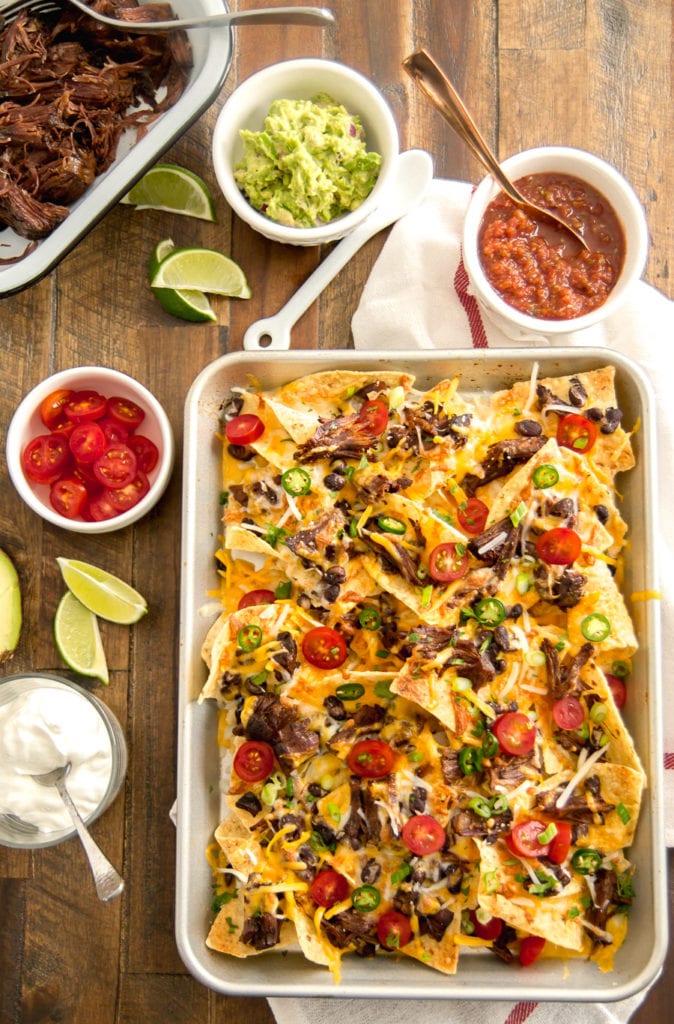 To say I am a little behind on blog work is an understatement. I promised this post to be out for Sunday. In between now and then, I had a lot going on so please forgive me.
Given the choice between binge-watching Schitt's Creek and snuggling with Weezer in silence or popping on the computer to do my promised blog post, I clearly went with silence. My boys were with my sisters-in-law over the weekend for a good ol' fashioned cousin sleepover. Do you now understand why I opted for silence?
It is so rare in this household. They are always talking! However, when the house is quiet, it is weird and I do sorta miss them.
On to the reason you're really here: another freebie from Quick Prep Cooking with Your Instant Pot.
You're welcome.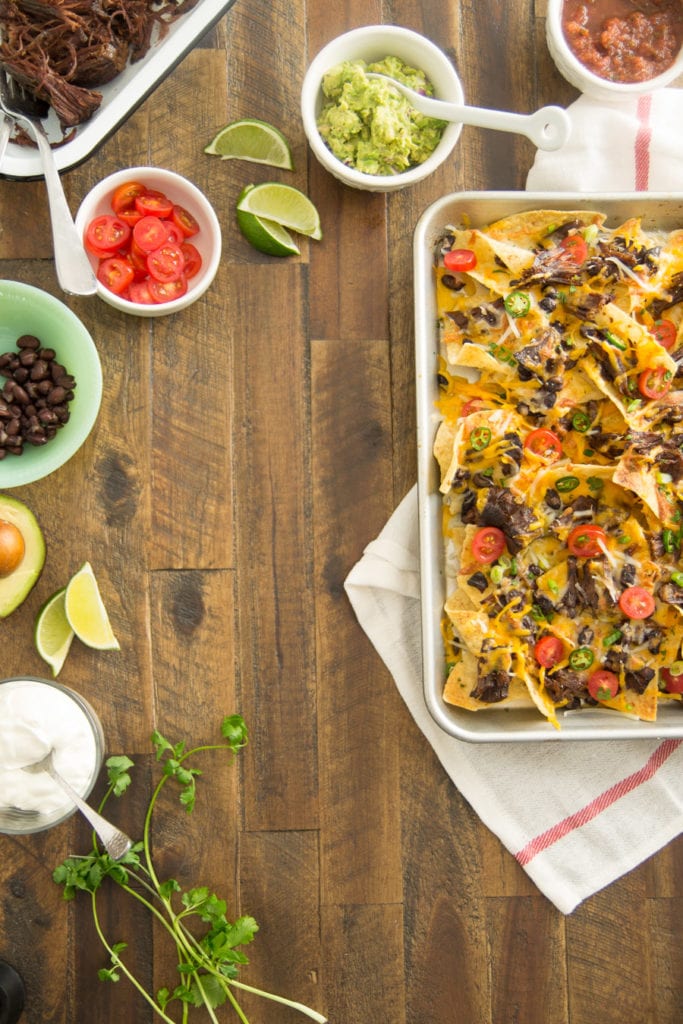 At my book signing this weekend, somebody asked, "What is one of your favorite recipes from the book?" I have so many. Like I have said so many times, choosing just one is like having to pick a favorite child. I can't.
The bourbon pot roast from the book is my love letter to Ditka's Restaurant in Chicago from back before I knew about Ditka, the man, and some of his questionable statements about religion, politics, and well, life in general. The man still makes a mean pork chop and some of my favorite nachos ever! I have an old, old recipe for something similar.
But the recipe in the book is version 2.0 and is PERFECT!
If you are ever there for brunch, they make a mean pot roast hash and Bloody Mike too! I think I just gave you (and myself) another idea what to do with these leftovers.
Bourbon pot roast nachos not only has bourbon in it, it has maple syrup, red wine, ketchup, horseradish, and Worcestershire sauce. So many different flavors all play off each other to make the most beautiful crust and juice around this beef pot roast.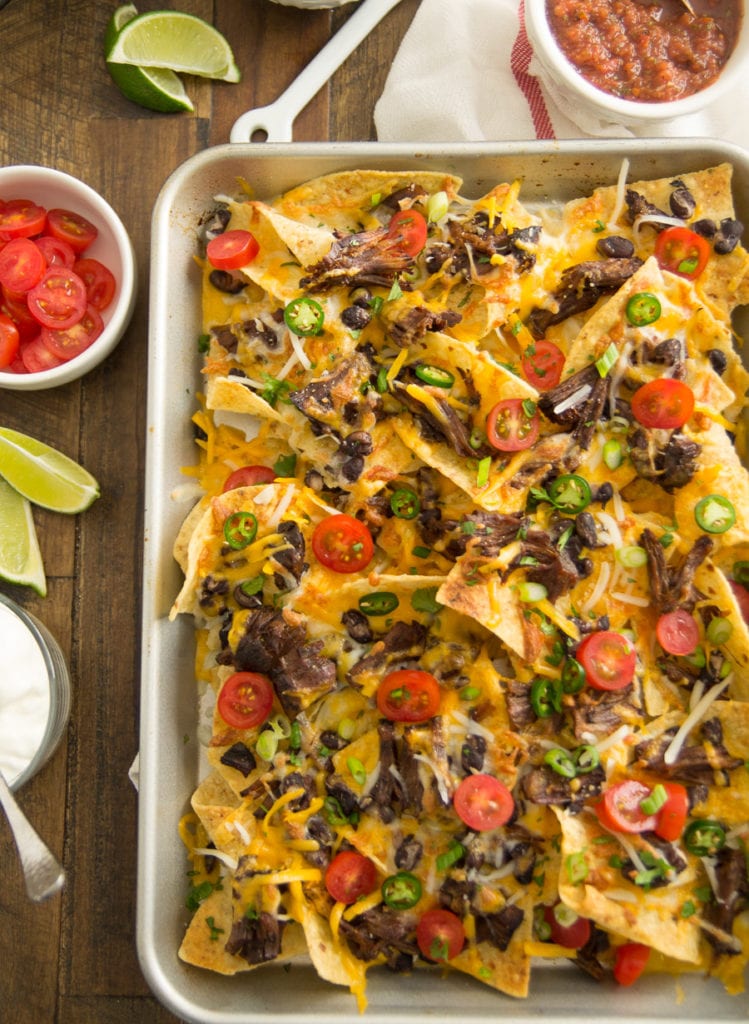 Thank you all for asking me to share this recipe. It will not let you down. You will be greatly rewarded for your patience, waiting for me to get my posting act together!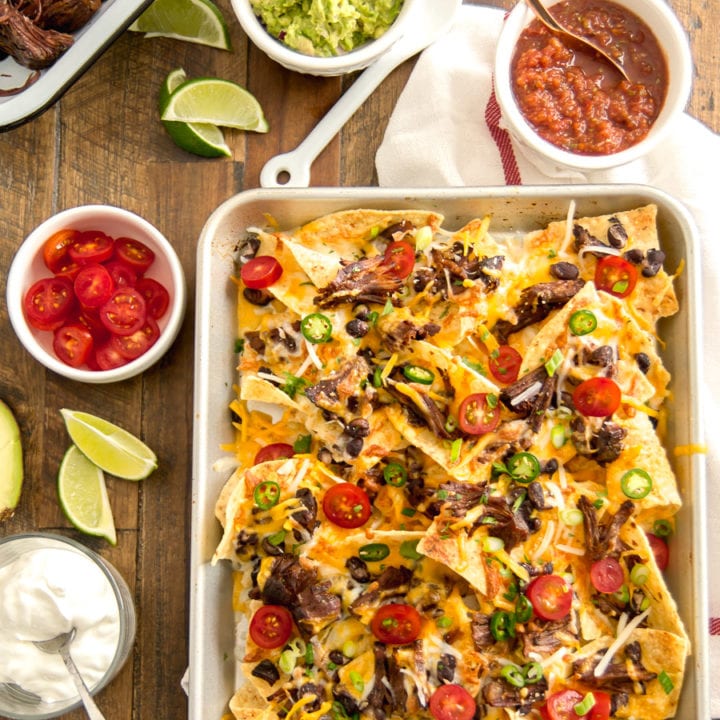 Bourbon Pot Roast Nachos
Cook Time:
1 hour
10 minutes
Time for Pot to Come to Pressure:
7 minutes
Total Time:
1 hour
32 minutes
Instant Pot bourbon pot roast ina sweet, spicy, bourbon sauce shredded and served over chips with melted cheese and all the fixins!
Ingredients
FOR THE POT ROAST:
2 1/2 lb chuck-eye beef roast
1 tbsp salt
1 tsp freshly ground black pepper
1 tsp onion powder
1 tbsp olive oil
FOR THE BOURBON GLAZE:
1/4 cup red wine
1/3 cup bourbon
2 tbsp ketchup
1/4 tsp thyme
1 tsp salt
1/2 tsp freshly ground black pepper
1 tbsp maple syrup
1/2 tsp prepared grated horseradish
1 tbsp Worcestershire sauce
2 garlic cloves, grated
FOR THE NACHOS:
8oz corn tortilla chips
3/4 cups black beans
2 cups shredded bourbon pot roast meat
1 1/2 cups shredded sharp cheddar cheese
1/2 cup shredded mozzarella cheese
1 jalapeño, thinly sliced
2 green onions, chopped
1/2 cup diced tomatoes
chopped fresh cilantro, for garnish
sour cream, optional topping
guacamole, optional topping
salsa, optional topping
Instructions
Blot the roast dry with paper towels all over. Season evenly with salt, pepper, and onion powder.
Whisk together all the ingredients for the bourbon glaze in a medium mixing bowl. Set off to the side.
Press "Saute" and let the Instant Pot heat up for a minute or two. Add the olive oil. Add the seasoned roast. Sear on a few sides for a total of 10 minutes. Once the sides are browned, remove the beef and add to a plate off to the side.
Press "cancel" and pour half of the glaze into the pot. Use a wooden spoon to deglaze and scrape up all the bits off the bottom of the pot. Return the beef to the pot. Pour remaining glaze on top of the roast.
Secure the lid with the steam vent sealed. Press "Pressure Cook" until the display light is beneath "high Pressure." use the "-/+" buttons to adjust the time until the display reads 60 minutes.
While the pot roast cooks, assemble your nacho ingredients.
Once the timer sounds, quick release the pressure. Remove the lid and use two forks to shred the beef, mixing it with the glaze. remove and discard any big pieces of fat.
Preheat your oven broiler to high. Arrange a layer of chips, beans, then 3/4 of the beef, then cheese, the remaining beef, jalapeño. Place under the broiler for about 5 minutes until the cheese melts.
Top with green onion, cilantro, and any additional toppings you so desire.
Notes
Leftover bourbon pot roast is great on sandwiches, in tacos, burrito bowls, or in a breakfast potato hash.