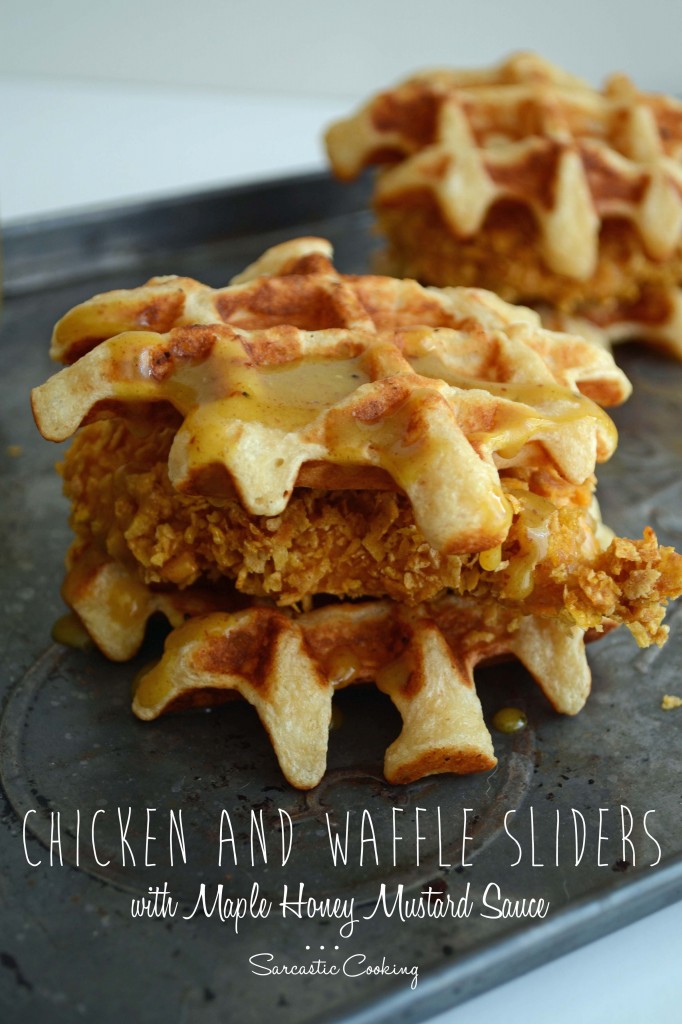 I am a huge fan of comfort. I love the comfort of my home. I love comfy clothes. I am now, in my older age, an even bigger fan of comfortable shoes. I love comfort food. For me, nothing says comfort more than something fried, something full of carbs, or some kind of soup. Weird grouping, I know. But, hey, to each his own, right?
You know what is not comfort? Sorry fellas, I am about to go on a tangent here. Bridesmaid dresses! Now, I know, I probably have a little more disdain for these dresses than most at this seven months pregnant point in my life. Let me tell you a little story. A while ago I alluded to an awful experience with a bridesmaid dress fitting. Now, with the wedding of my dear, dear friend coming up this weekend, I feel like I have come to terms enough to tell you this dumb story.
Note: I love my dear friend and am so honored to stand up in her wedding. I think it speaks volumes about how much I love her that I am willing to put my big belly into this dress and be photographed in it as well, just to be a part of her special day. Just in case my favorite friend is reading this…
When first approached with ordering a dress, I was a little nervous. I have not been pregnant before. I had no idea how big my belly was going to be or how much weight I would gain in seven months. While speaking with the dress sales rep, she told me to order a size 22 and extra length. At the time, I was a size 12. No shame. I didn't think much of it.  She's the professional, right? I don't know how she thought I would go up five dress sizes in that time and grow a foot, but dummy me, I trusted her.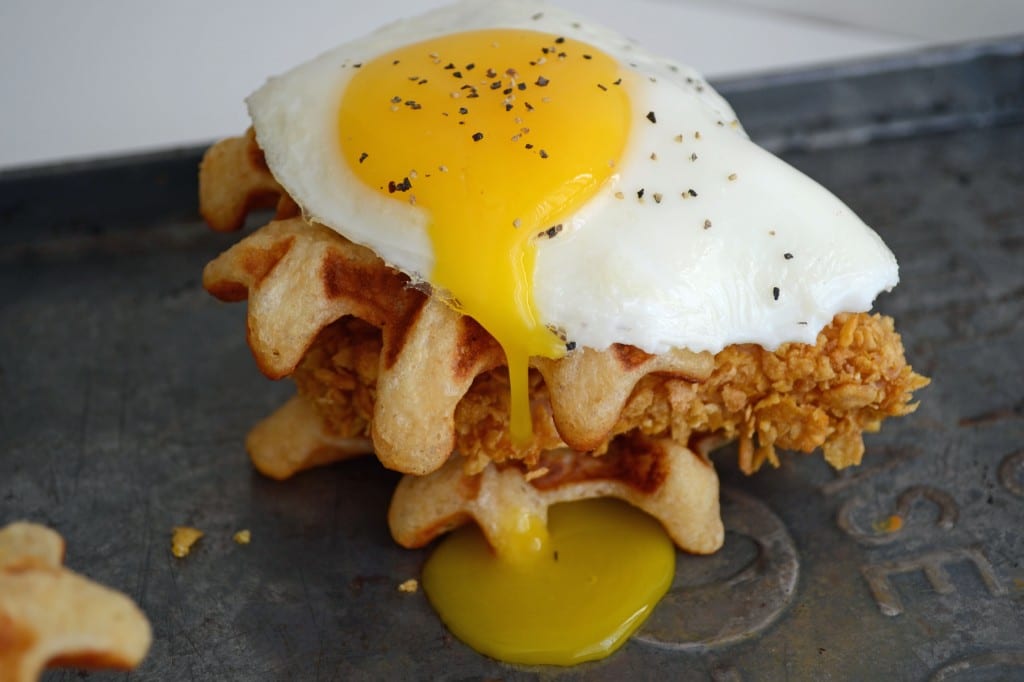 The dress came in last month and, to my horror, you could literally fit two people in the dress. The one boob cup was as big as my head, and I have a rather large head!!! Not cool. The dress has three layers and is long and pink. My stomach was turning over on itself thinking about how expensive this alteration was going to be.
Fellas, in case you didn't know it yet, you are lucky you just rent a tux and call it a day. Us ladies not only have to endure whatever dress choice the bride picks, we have to then have some skinny lady with a tape measure tell us how we are actually a size 275, not a size 12, in their dresses. If only girls could figure out some dress rental system. Note to self: I could make millions off that idea!
Ok, so my dress has been altered and is still rather large and puffy, but like I said, I'm all in for this wedding so I'm over all that. Well, now that I vented yet again to all of you.
So, while I am out tearing up the dance floor with my big pregnant belly and my pink moo moo, I hope you all will be eating this ultimate comfort food, chicken and waffle sliders. I made whole wheat waffles and baked the corn flake crusted chicken in the oven to save you some guilt. You're welcome. Please eat these accompanied by this maple honey mustard dipping sauce, wearing sweat pants, with your feet kicked back, in the comfort of your house. Please? Do it for me, for me and my pink dress.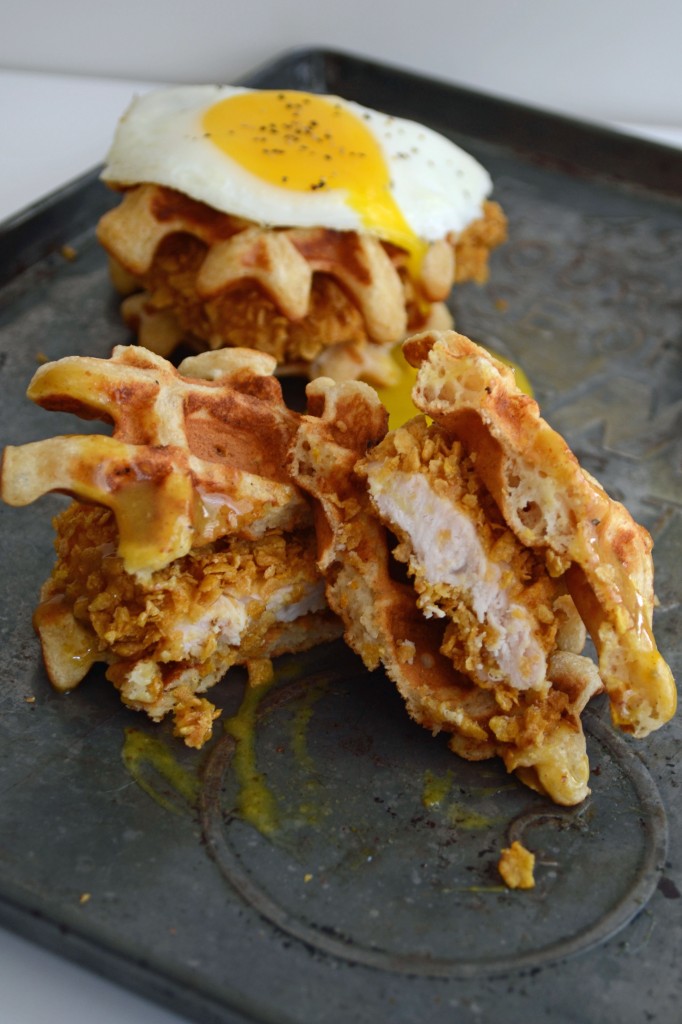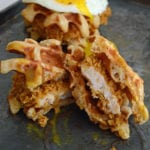 Chicken and Waffle Sliders
Ingredients
For the Waffles:

1

Cup

Whole Wheat Flour

½

Cup

All Purpose Flour

2

Teaspoons

Baking Powder

½

Teaspoon

Salt

2

Tablespoons

Sugar

1

Teaspoon

Vanilla Extract

1

Large Egg

1 ¾

Cup

Skim Milk

at room temperature

5

Tablespoons

Unsalted Butter

melted and cooled

For the Chicken:

3

Boneless Skinless Chicken Breasts

cut into 3rds

1

Cup

Buttermilk

1

Large Egg

3

Cups

Finely Ground Corn Flakes

Salt and Pepper
Instructions
Preheat the oven to 350F. Line a large baking sheet with a wire rack.

In a large bowl, whisk together the flours, baking powder, salt, and sugar.

In a separate smaller bowl, whisk together the vanilla, egg, milk, and butter. Add the wet ingredients into the dry ingredients and whisk until lump free and combined. Set off to the side for at least ten minutes to rest.

Now bread the chicken. Add the corn flakes along with some salt and pepper to a medium bowl.

In a separate bowl, mix together the buttermilk, egg, salt, and pepper.

Dip each piece of chicken into the buttermilk mixture, drain off the excess, toss in the cornflakes top coat, and then place on the wire rack. Continue until all pieces are breaded. Bake chicken in the oven for 35 minutes.

While the chicken bakes, make the waffles.

Heat the waffle iron until it is hot. Add about three tablespoons of batter to the hot waffle iron to make one side of the slider. You will want to make at least two mini waffles at a time. Cook the waffles for about 2-3 minutes until golden and crisp.

Add waffles to some tin foil and wrap to keep warm. Continue that process until you have two mini waffles for each piece of chicken.

Best eaten on day they are made. Chicken can be reheated in the oven along with the mini waffles to make sure they stay crispy.