After yesterday's embarrassing-my-husband-by-pointing-out-his-lack-of-cooking-skills story, I promised him that today wouldn't be so brutal. We did enjoy a nice at home date night, so I don't want to ruin that.
Last year, a new restaurant opened nearby. From the outside it looked amazing. It was all brick and had an outdoor fire pit and bar on a patio. We don't have any restaurants with that charming décor around our house, so we became very curious about what it was actually like on the inside.
One night, instead of hitting up one of our standard date night haunts, we were daring and ventured outside of our comfort zone. We decided to try this new restaurant.
The moment I walked in the place I hated it. We were greeted by a girl wearing short cut-off jean shorts and half of a shirt. It was like a classy (that is not saying much, trust me) version of Hooters. Now when I say classy, I mean the building not the staff or food.
Then it got worse. Looking over the menu made me want to barf. 16 ounce beers were called "man size."  All of their food had some kind of gimmicky relation to men.
Our waitress came to take our order. She informed us that she likes to get to know her customers and sit in the booth next to them. I swear I must have given her a look of death that said, "Lady, if you try that with me I will take that "man-sized" beer glass and break it over your Hooters-wannabe head," because she never attempted to sit with us.
I ordered a 16 ounce beer to start out. Our waitress corrected me and said, "You mean, man-size." Barf! I remember thinking, as I looked around at all the men with their tongues hanging out, is this really what men want?
After having a long discussion about what it said about the two of us to be dining at such a place, we finally decided to order some safe cheese burgers.
When I was done eating, I couldn't take it anymore, so I asked my husband the question I had been thinking for some time. "Is this really what men want in a restaurant?" I asked.
My husband, God bless his soul, looked up from his burger, and with half a mouth full of cheese burger said, "Guys just want a good beer and a good burger." He shrugged his shoulders and went back to eating.
After almost a week of cooking dude food, I know that certainly is not what most bachelors want from their food or restaurants. They may have weird palates and eating habits, but they definitely have more class than this place!
In sticking with my husbands "a good beer and a good burger" mantra, I have taken those two key ingredients to bachelor life, and made a simple yet still delicious recipe for MAN SIZED Guinness chili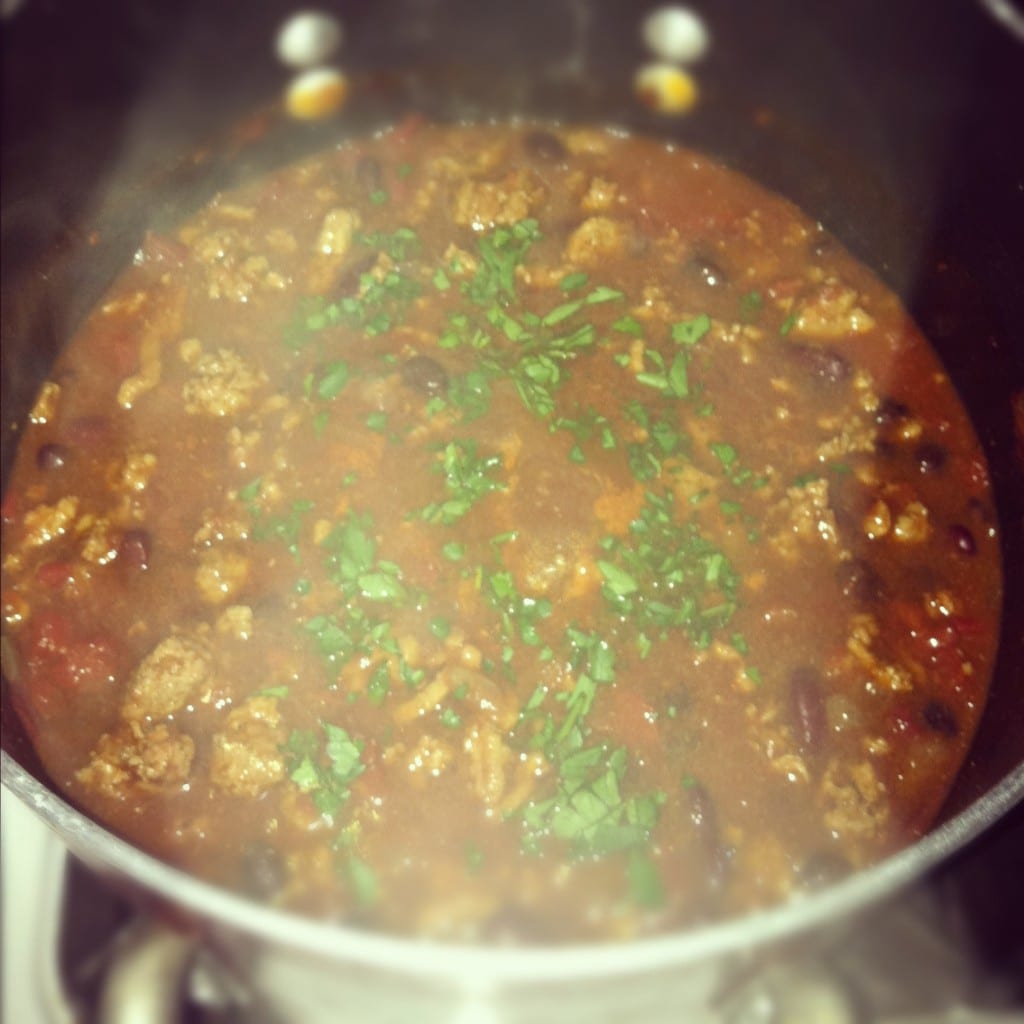 Ingredients
1 can of Crushed Tomatoes
1 Can of Black Beans, drained and rinsed
1 Can of Kidney Beans, drained and rinsed
1 ¼ lb of GroundTurkey
½ Cup Diced Onion
1 pint of Guinness
1 TBSP Chili Seasoning
1 TBSP Hot Sauce
1 TBSP Salt
1 TBSP Pepper
1 TSP Grated Garlic
1 TSP Crushed Red Pepper Flakes
1 TBSP Cumin
1 TBSP Fresh Cilantro, chopped
1 TBSP Olive Oil
 
Add the olive oil to a large pot. Dice the onions and then add them to the olive oil. Cook the onions over medium heat until they are translucent and soft. Add the garlic to the onions. Stir garlic and cook for two minutes. Add in the ground turkey. Add all of your seasonings and hot sauce. Turn the heat up to high and cook the turkey until it has browned.
 
Pour the can of Guinness into the pot. Using a rubber spatula, stir the turkey and onions. Make sure to remove all brown bits from the bottom and sides of the pot. Let the Guinness boil for five minutes.
 
Pour the cans of beans into a strainer. Rinse them under cold water. Pour the crushed tomatoes and beans into the pot.
 
Simmer chili over medium heat for 20 minutes. Remove from the heat and add the fresh cilantro. Stir chili to evenly distribute the cilantro.
 
Get a man sized heaping portion and top it with cheese, sour cream, or tortilla chips (or all three if you like). Grab a spoon and enjoy this chili that puts all canned chili to shame!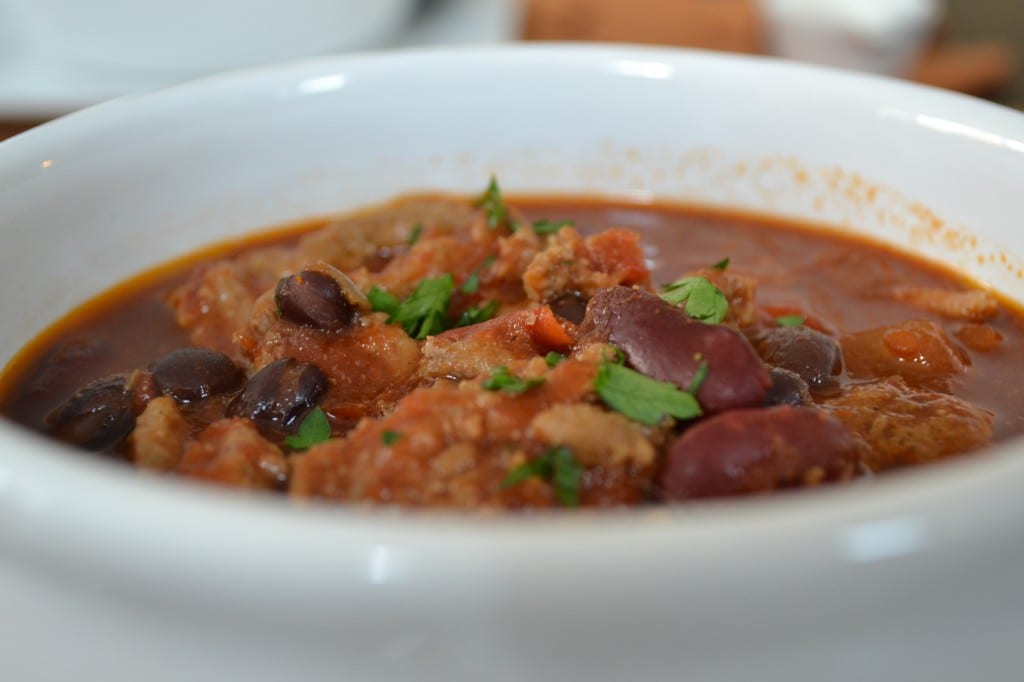 Related posts: