Bacon and potato chowder is a creamy and decadent winter soup. Loaded with bacon, bitesize potatoes, celery, and onions in a creamy cream cheese-based broth. It is not for those on a diet.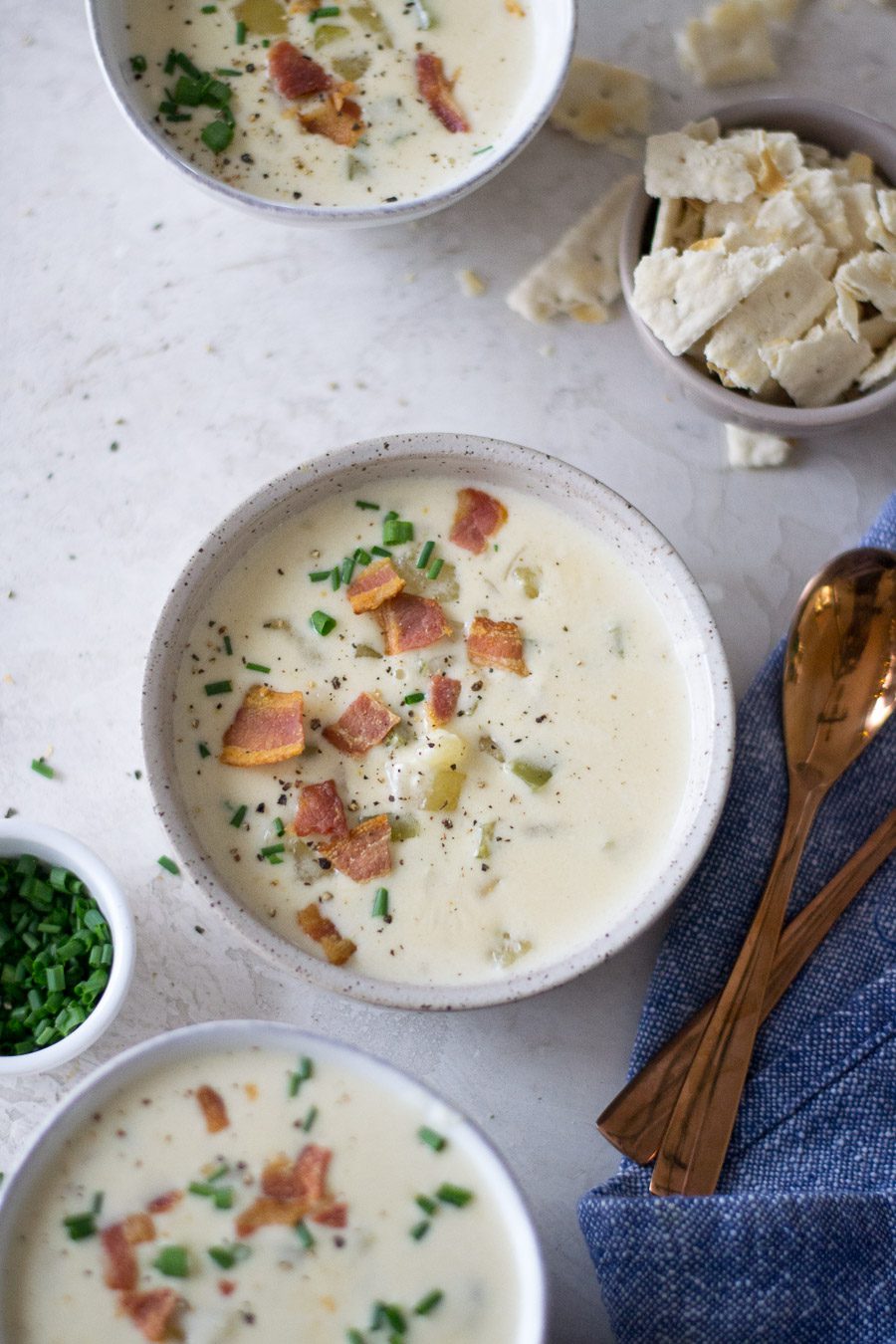 Every time I read or hear the word chowder, I think of The Simpsons.
Anybody else?
Am I just showing you that I am a child of the 80's and 90's?
Chow-daaaahhh.
I was originally setting out to make a clam chowder but something about canned clams and clam juice made me take pause.
Not that there's anything wrong with those things.
I just wasn't feeling it.
Potatoes are pretty cheap and plentiful, so I went with those.
This isn't a loaded baked potato soup.
It is similar. Instead of shredded cheddar, I use a little cream cheese to make the soup velvety at the end.
The soup starts with crisping up some bacon.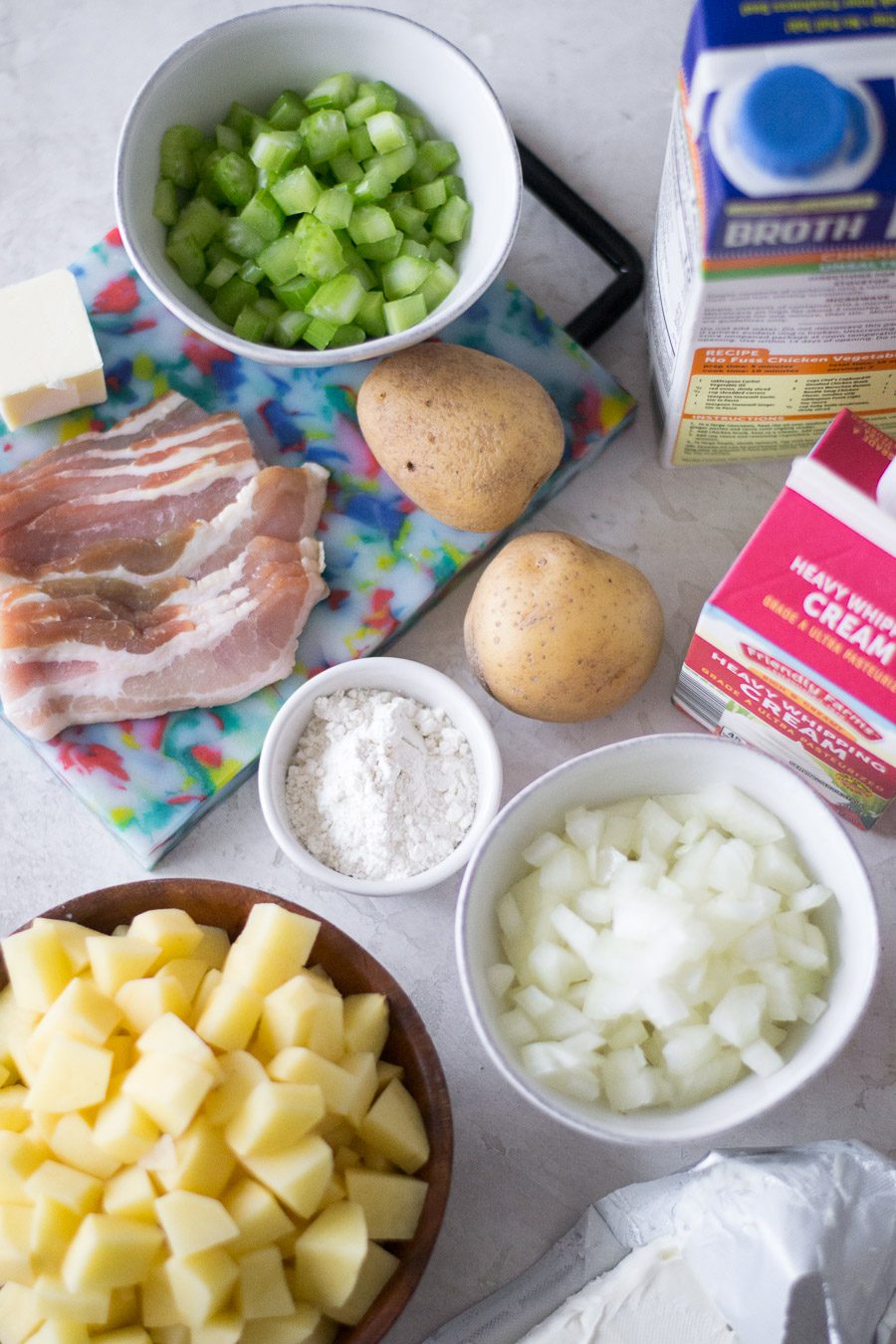 Add in some butter and then sauté up your celery, onions, and potatoes.
You should only cook them until the onions are soft and translucent.
Next, add in a little flour for extra thickening power.
The chicken stock gets added in next. The potatoes get a 10-15 minute simmer until they are nice and fork tender.
Add in the cream and cream cheese.
Keep stirring and simmering until all the cream cheese melts into the soup seamlessly.
Once the soup is thick enough to your liking, take it off the heat.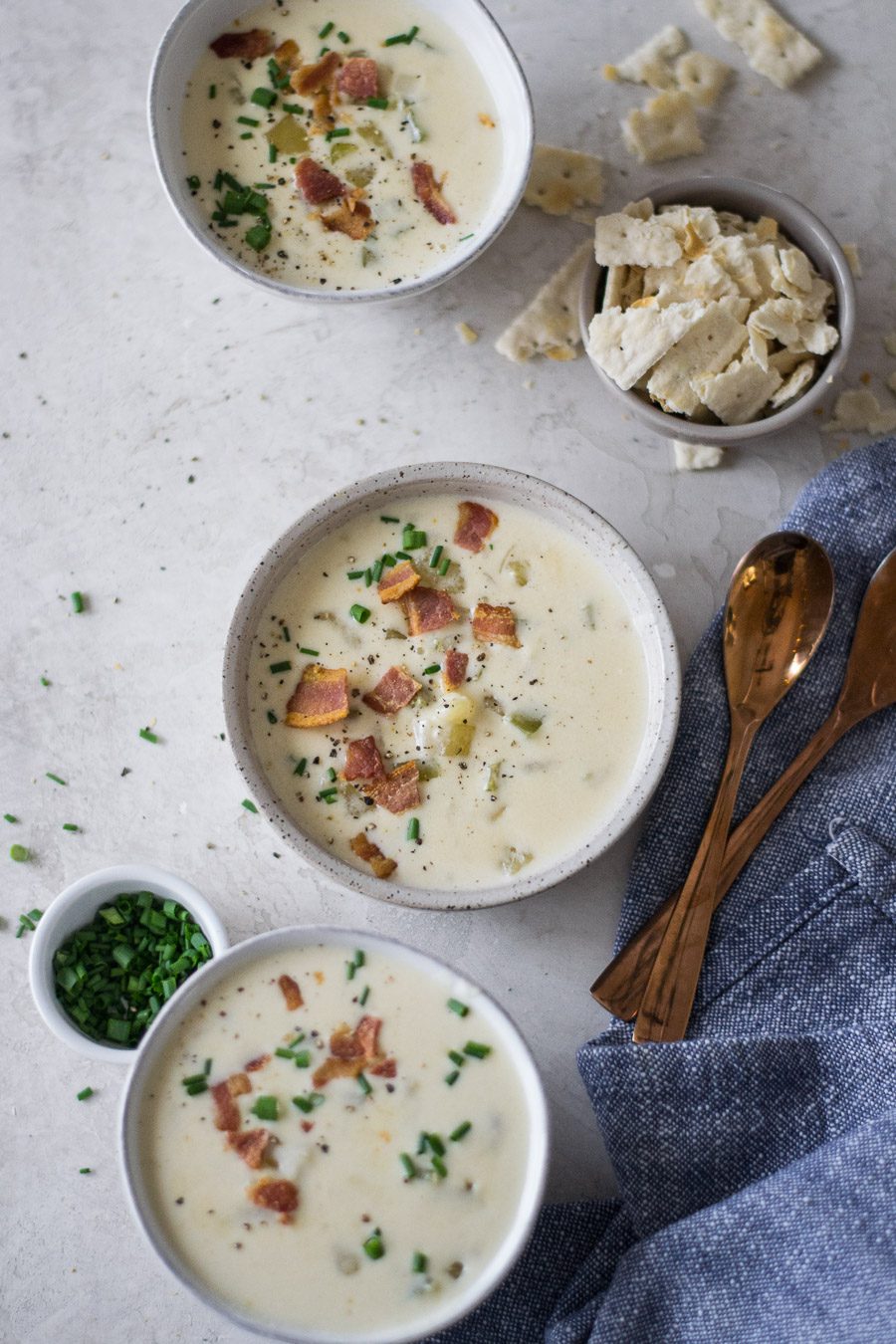 Serve up big bowls of soup with lots of crackers, a few grinds of black pepper, and a big pinch of fresh chopped chives.
Enjoy this soup pre-New Years Eve.
It is not for those of you/us on diets.
Which means bacon and potato chowder is the perfect cozy winter chowder.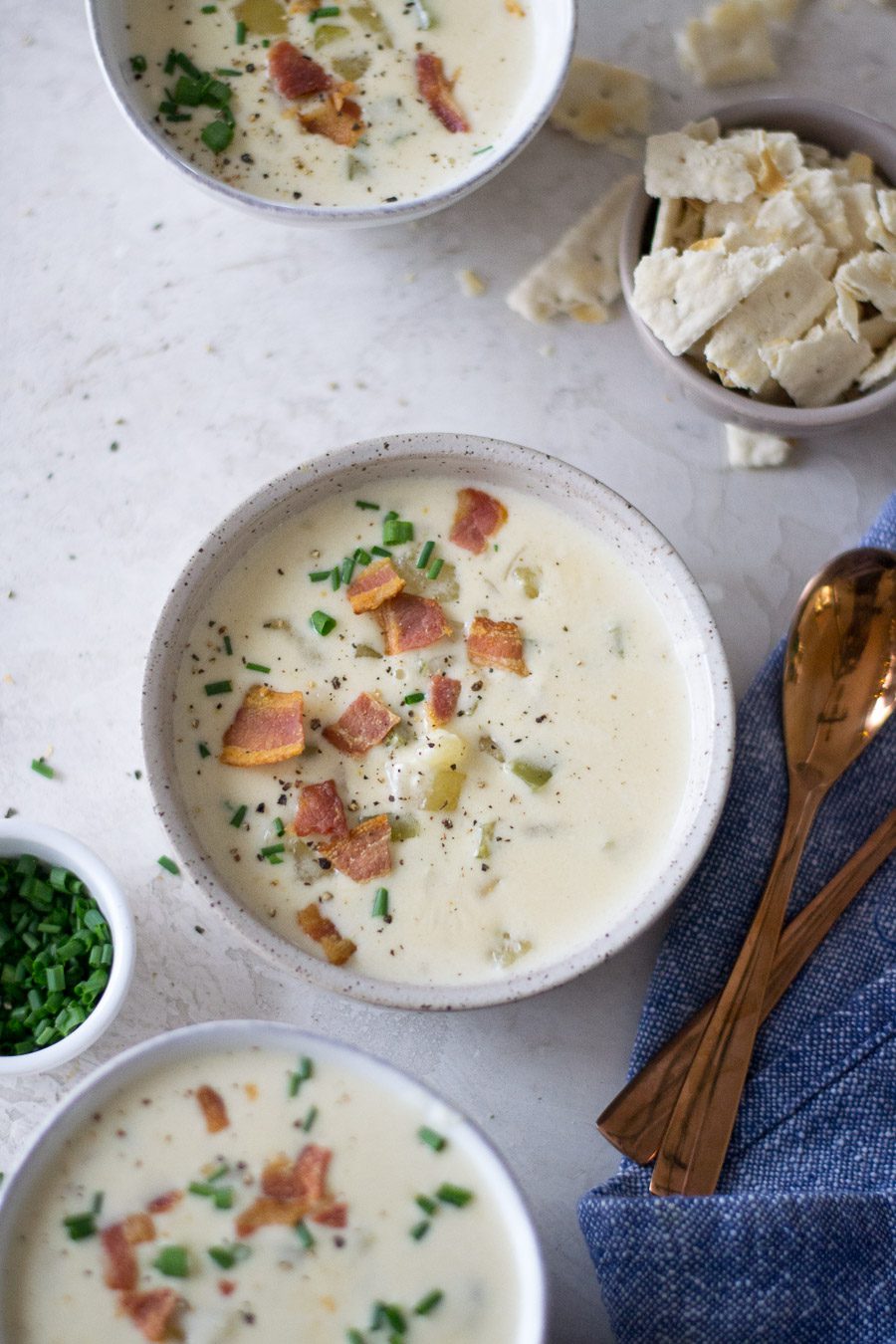 Bacon and Potato Chowder
Yield: Serves 4

Prep Time: 10 minutes

Cook Time: 25 minutes

Total Time: 35 minutes

Bacon and potato chowder is loaded with lost of potatoes, onion, celery, a creamy cream cheese based broth, and of course lots of crispy bits of bacon.
Ingredients
4 bacon slices
2 tbsp unsalted butter
2 celery stalks, diced
1 yellow onion, diced
4-5 medium/small Yukon Gold Potatoes, peeled and cut into 1/2 inch cubes
2 tbsp all-purpose flour
3 cups low-sodium chicken stock
1 1/2 cups heavy whipping cream or half and half
4 oz cream cheese, cut into cubes
1 - 1 1/2 tsp salt, to taste
fresh chopped chives, for topping
black pepper, for topping
Instructions
Heat a Dutch oven over a medium/high flame. Add the bacon once the pot is hot. Cook until crispy on both sides. Reduce the heat to medium/low. Transfer the bacon to a paper towel lined plate.
Add the butter to the pot. Once melted, add the celery, onion, and potatoes. Season with a little salt. Stir to evenly coat. Sauté for 5 minutes until the onions are translucent.
Mix in the flour until it is no longer visible. Cook for one minute.
Pour in the chicken stock. Mix until all the flour is incorporated. Cover with a lid. Bring the soup to a simmer over medium. Simmer for 10 minutes un til the potatoes are fork tender.
Remove the lid. Mix in the heavy whipping cream. Bring back up to a simmer. Add in the cream cheese. Stir regularly and simmer the soup for about 10 minutes, until the cream cheese is totally incorporated into the soup and no visible bits remain. Taste and add more salt if needed.
Serve the soup with lots of fresh chives and black pepper. Don't forget to crumble the reserved crispy bacon and top each bowl of soup with it.
Notes
If the bacon gets too cold while the soup cooks, add it to the microwave for 20-25 seconds to warm and crisp it back up.
Recommended Products
As an Amazon Associate and member of other affiliate programs, I earn from qualifying purchases.