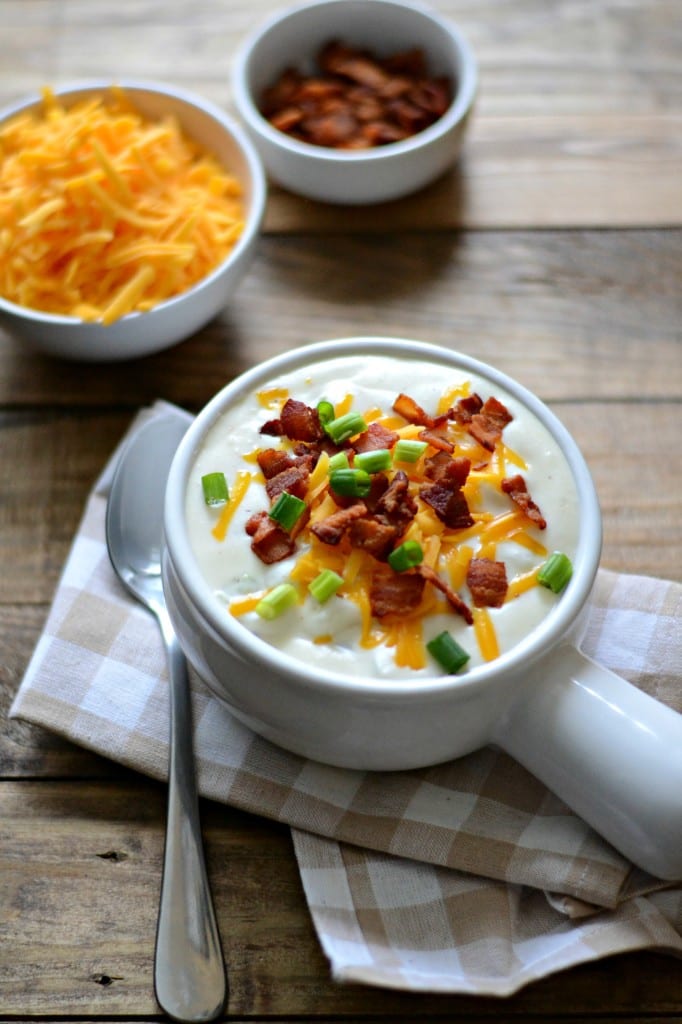 In over three years of blogging I have never posted a recipe for this soup! Whaaaaa?!?!?! Can you believe it? I know, I know, every food blog out there has a similar or different recipe for this soup. I had to throw my hat into the ring too.
The first time I had this soup was at Bennigan's. Remember those? Remember that this is my least favorite restaurant on the planet? Not that it was bad food or anything. It was just that we went there every other Sunday with my Grandma. I don't care what kind of restaurant it is. If you go there that often the food kind of gets boring.
My Dad and Grandma could eat at the same restaurant every week. My Mom and Dad order from the same places every weekend. For me, eating the same things every week (except for our traditional Lou Malnati's Sunday) just gets boring.
But, there young Stefanie was, happily eating the same plate of crispy chicken tenders along with a bowl of loaded baked potato soup every other Sunday. Not too shabby.
This soup was even my go to when I was a vegetarian. I had it evolve with me. I would order it with no bacon. It is still good as a cheesy potato soup. I dropped the chicken tenders and replaced it with a salad. Even their salads were topped with bacon, so I had to make sure to order no bacon on that too.
What a sad life. Having to utter the words "no bacon." It makes me shudder to think about it now. Ha!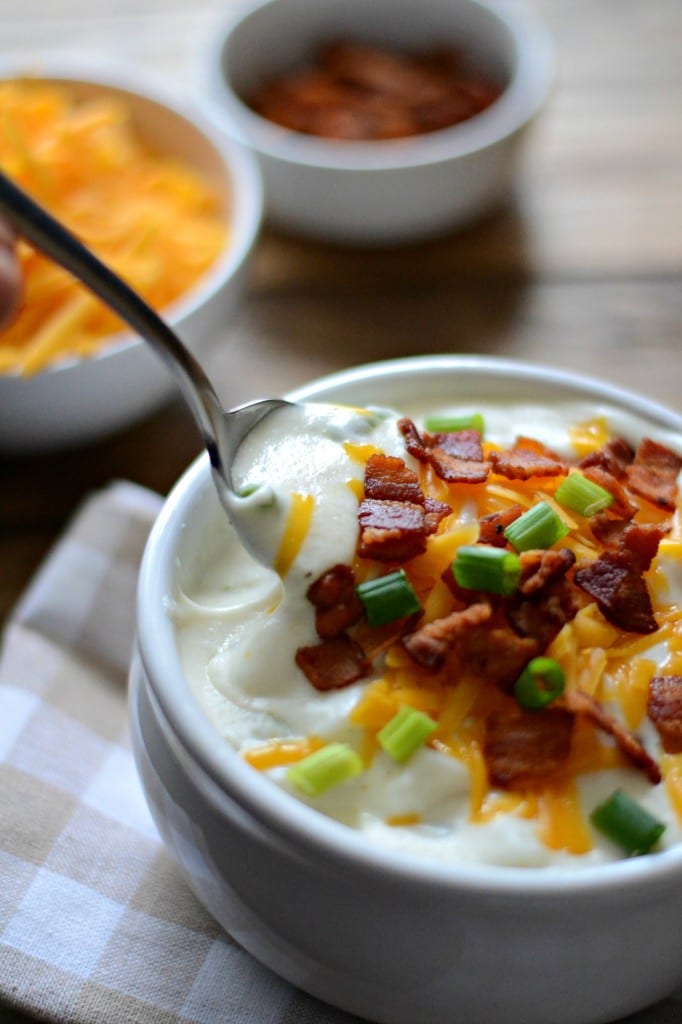 After all these years, me and my favorite soup have been reunited on this here blog for your viewing and eating pleasure. I am going to warn you. This recipe is not for the faint of heart,  or vegetarians, or anybody on a diet.
While looking around at other recipes, I noticed, most of them would have you crisp up some bacon, take it out of the pot, drain the fat, and then add in butter. In my head I thought, why discard the fat from the bacon. So, I kept it in there. Save your butter for cookies!
The bacon fat adds a smoky and salty flavor and even cuts down on the amount of salt you add to the soup. Give it a go! The soup is ready in thirty minutes.
PS My favorite way to eat this soup is to keep all the cheese, bacon, and green onions out of the soup and use them as a topping put on right before you eat. That way the star of the show, the bacon, stays crispy.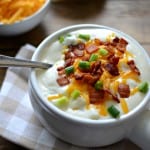 Loaded Baked Potato Soup
Classic loaded baked potato soup with a bit of spice from horseradish and a little smoke from utilizing bacon fat!
Ingredients
1

Tablespoon

Olive Oil

4

Slices

of Bacon

cut into thin strips

¼

Cup

All Purpose Flour

½

Teaspoon

Prepared Horseradish

4 ½

Cups

Milk

3

Russet Potatoes

peeled and cut into small cubes

½

Cup

Sour Cream

Salt and Freshly Ground Black Pepper to taste

1

Cup

Shredded Cheddar Cheese

4

Green Onions

chopped
Instructions
Heat the olive oil in the bottom of a Dutch oven or large stockpot for a minute over medium/high heat. Add the bacon to the pot and cook for about 7-10 minutes until crispy. Use a slotted spoon to remove the bacon and place it off to the side on a plate lined with a paper towel.

Turn the heat down to low. Mix in the horseradish. Add the flour to the pot and whisk to combine with the bacon fat to make a roux. Slowly pour in the milk, whisking to combine the milk with the roux. Increase the heat to medium/low and bring to a simmer.

Add potatoes to the pot, cover with lid, and let simmer for about 20 minutes until the potatoes are fork tender. Stir occasionally while simmering.

Once the potatoes are tender, stir in the sour cream. Once it melts into the soup, add two of the chopped green onions, and salt and pepper to taste. Stir to combine.

Remove from heat, allow to slightly cool before serving. If you want a thinner soup at this point add either more milk or a little chicken stock to thin it out.

Top each bowl of soup with a heap of cheddar, some bacon, and some chopped green onions.

To reheat the soup, add a little milk or chicken stock to make sure it doesn't get too thick or clumpy.