Bet you thought that based upon the last few recipes I have posted I was going vegetarian again? Sorry 'bout cha, but no such luck. This here recipe is a real Fred Flinstone pleaser!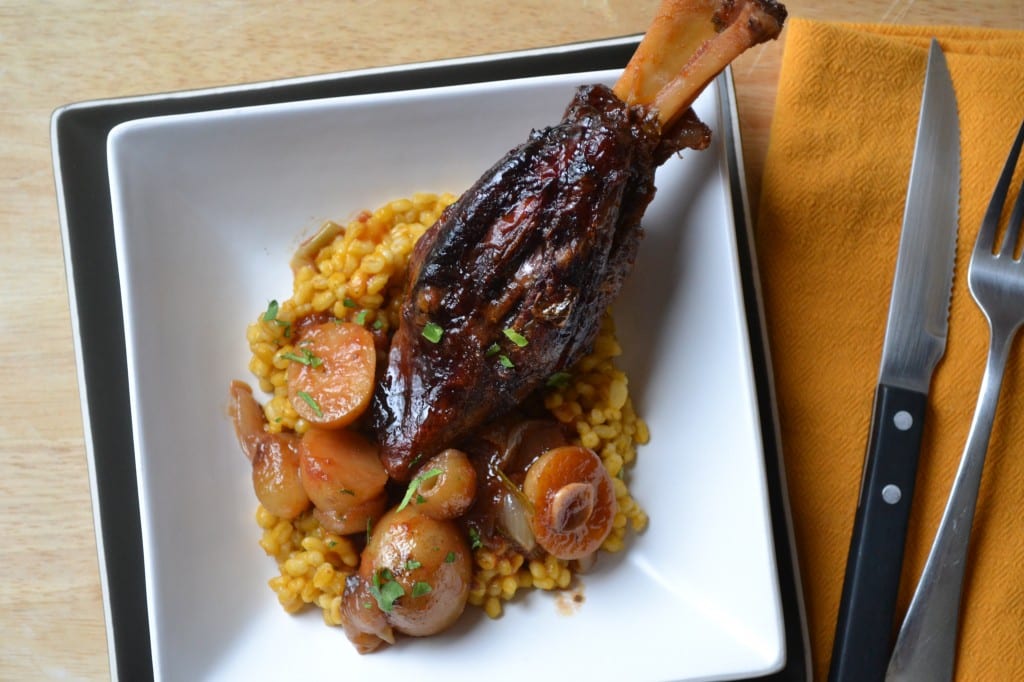 Today I am here to tell you the tale of the mystery meat which is also known as the story of "The Three Slightly Inebriated Stooges."
Growing up, my dad always ordered lamb, duck, venison and other gamey meats at restaurants. My brothers and I would get grossed out and then proceed to taunt our dad with "You killed Lambchops." We were very clever children.
In between all the taunting and harassing each other, we never really got a taste, let alone a look at the meat he was eating.
Cut to years later….
The three of us are at a fancy New Years party in a hotel/banquet hall. We are having a grand old time going from station to station sampling the food and reporting back to one another.
"Nick, did you try the pasta station yet? They have this wonderful vodka cream sauce that is to die for!"
"Stef, did you see how many different wines and champagnes they have at the center table?"
"Zack, did you hit up the chocolate fountain yet? Why is everything on your plate so plain?" (Zack is the youngest sibling. I had to throw that little jab at him in there. It is my obligation as the eldest. He always waits like fifteen years to try something new. For example, guacamole. Nick and I have been eating it for years. He waited until he decided it was good, then tried it, and now he loves it.)
This went on for quite some time. I am sure our significant others were very pleased when we finally sat down at the table to eat.
My brother Nick picked up this little piece of meat with a long curved bone on it. He took a bite out of it then nodded and said "This is good."
I asked, "What is it, a pork chop?"
"I have no idea. I don't think it is pork, it isn't light colored." Nick stated. He then passed the meat to Zack for him to taste test.
"Hmmm… No clue." Zack said.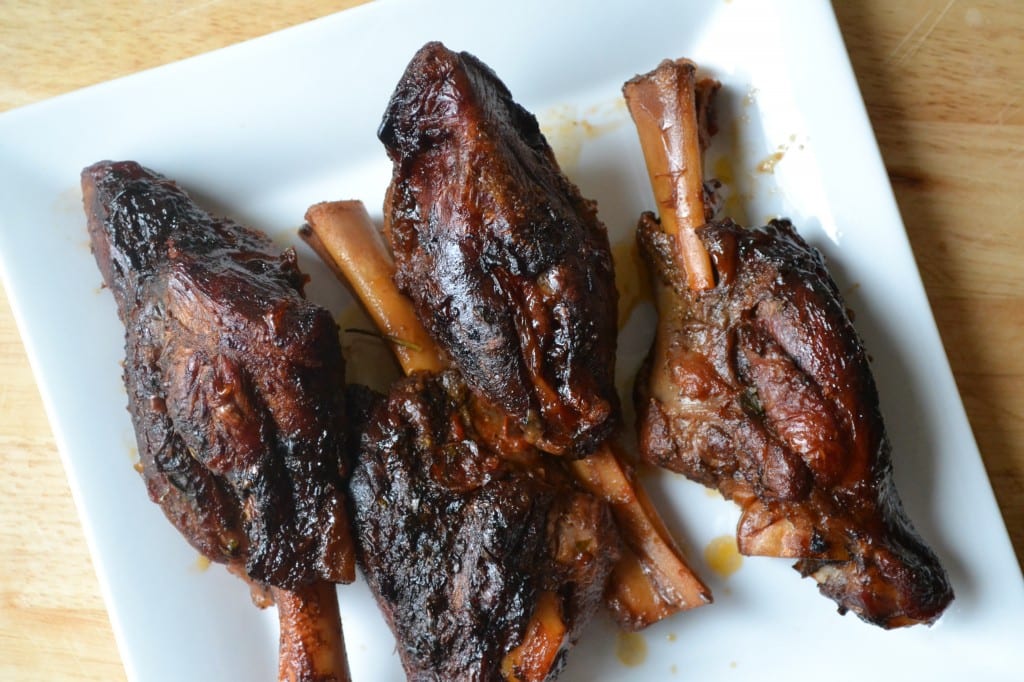 We tasted about four pieces of this mystery meat before somebody at the table (I forget who) informed us it was lamb.
All three of us looked at each other. I am pretty sure we were all having images of our Dad laughing at us while holding a lamb shank in his hand Medieval Times style, saying, "I told you it was good!" flashing through our heads.
Maybe the fact that there were no signs posted, along with our judgment being slightly clouded by alcohol, was a good thing in this situation. Otherwise, we would have never touched the rack of lamb, and missed out on tasting a great meat.
Ingredients
4 Lamb Shanks
1 Teaspoon of Salt
1 Teaspoon of Pepper
1 Tablespoon of Olive Oil
10 Pearl Onions, slice the larger onions in half
2 Cloves of Garlic, thinly sliced
½ lb. of Baby Dutch Yellow Potatoes, sliced in half
1 Teaspoon of Fresh Oregano, chopped
1 Teaspoon of Fresh Parsley, chopped
1 Sprig of Rosemary
¼ Teaspoon of Crushed Red Pepper Flakes
2 ½ Cups of Red Wine
1 ½ Cups of Crushed Tomatoes
Preheat the oven to 325 degrees.
Season the lamb shanks with salt and pepper. Heat the olive oil in a large dutch oven over high heat. Add the seasoned shanks to the pot. Sear for two minutes on each "side." You want to turn the shank at least four times to get a good sear on as much of it as you can.
After the shanks are seared, remove them from the pot. Turn the heat to medium. Add the pearl onions and sauté them for three minutes. Add the garlic and sauté another minutes or two.
Then add in the potatoes and sauté them for about three minutes until they start to get a little golden.
Next, add in the oregano, parsley, rosemary, and red pepper flakes. Give the veggies a good stir.
Pour in the wine. Turn the heat up to high. Let the wine simmer for a minute or two while deglazing the pot. Using a rubber spatula scrape all the cooked on bits off the bottom of the pot.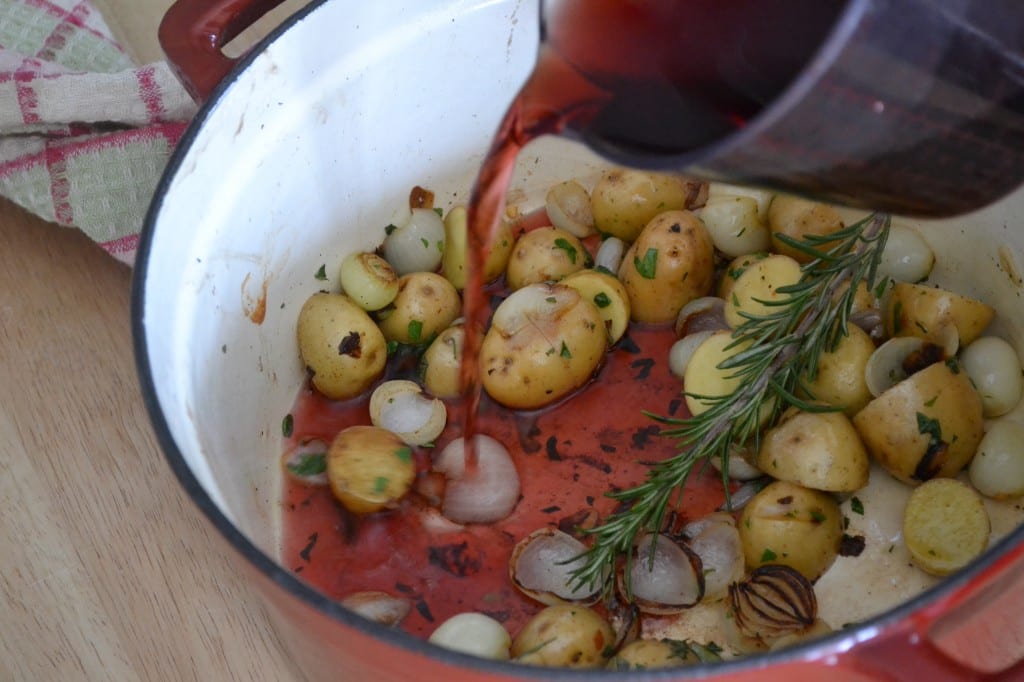 Then add in the crushed tomatoes and lamb shanks to the pot. Place the pot in the oven and cook for three hours. (This dish also translates well to a slow cooker. Cooking on low for eight hours is about that same as cooking in the oven for four hours.)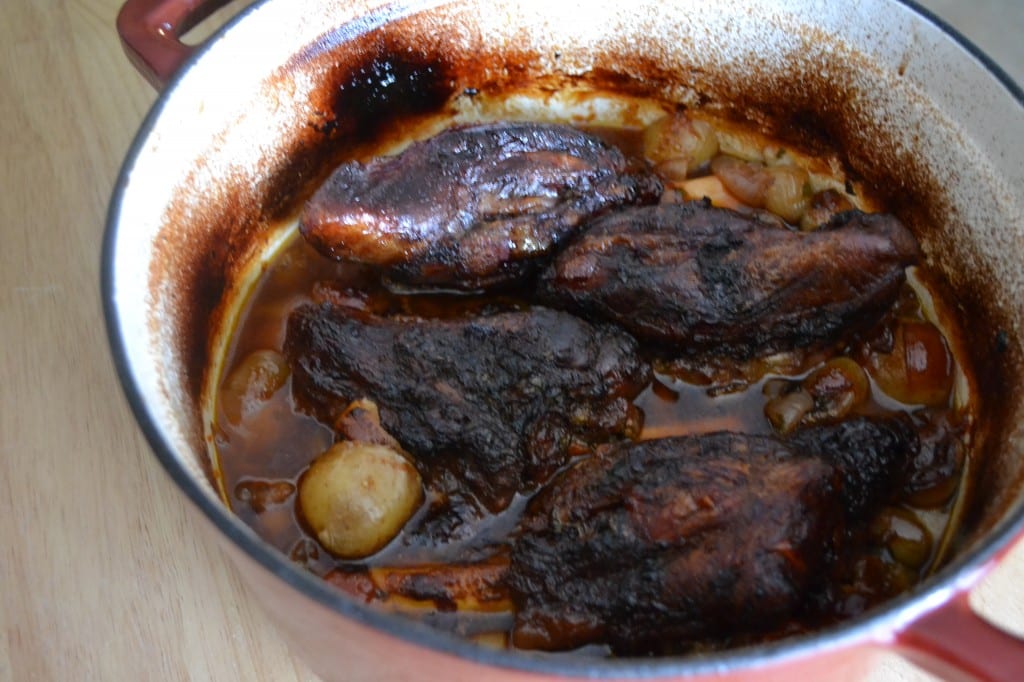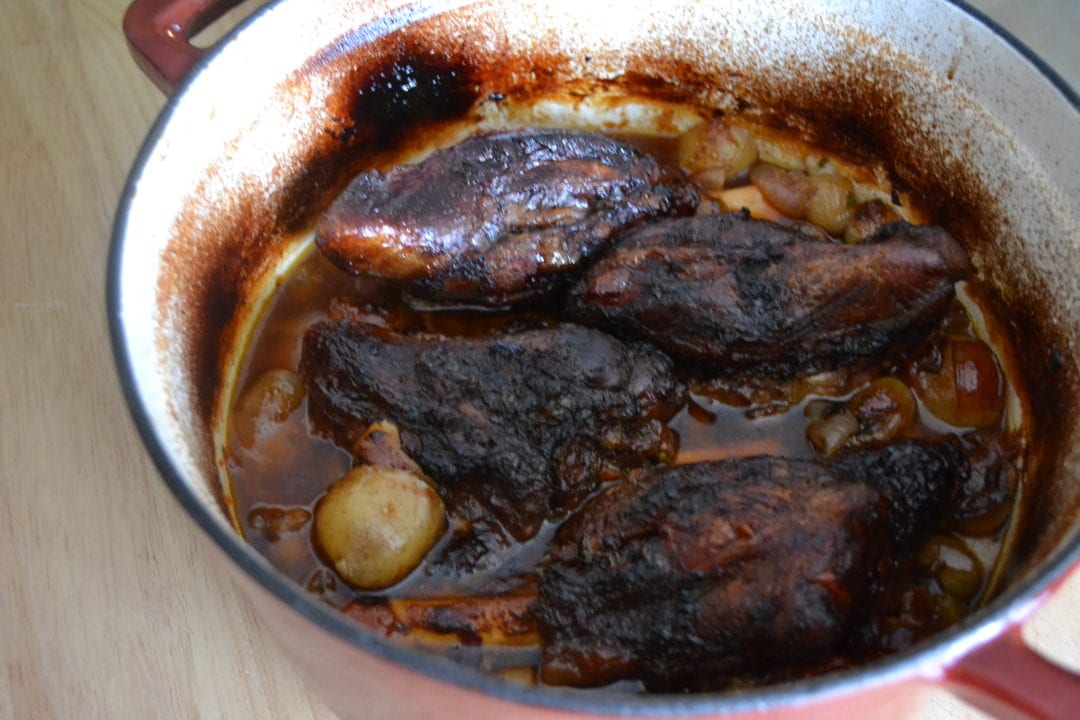 Let the stew cool for about ten minutes before serving it. You can either keep the shanks whole and plate one per person or you can remove the meat from the bone and add it back to the pot for an easier eating experience. Either way you still maintain that cooked on the bone tenderness and juiciness.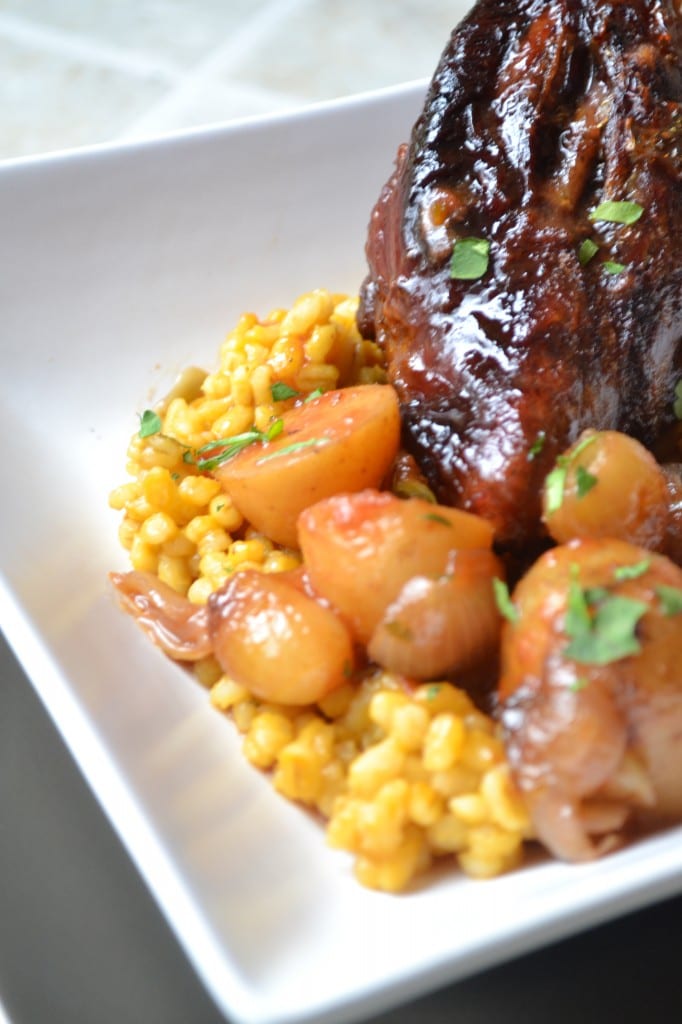 I like to serve this up over some hearty brown rice or barley. It gives a little texture to an ultra luscious dish.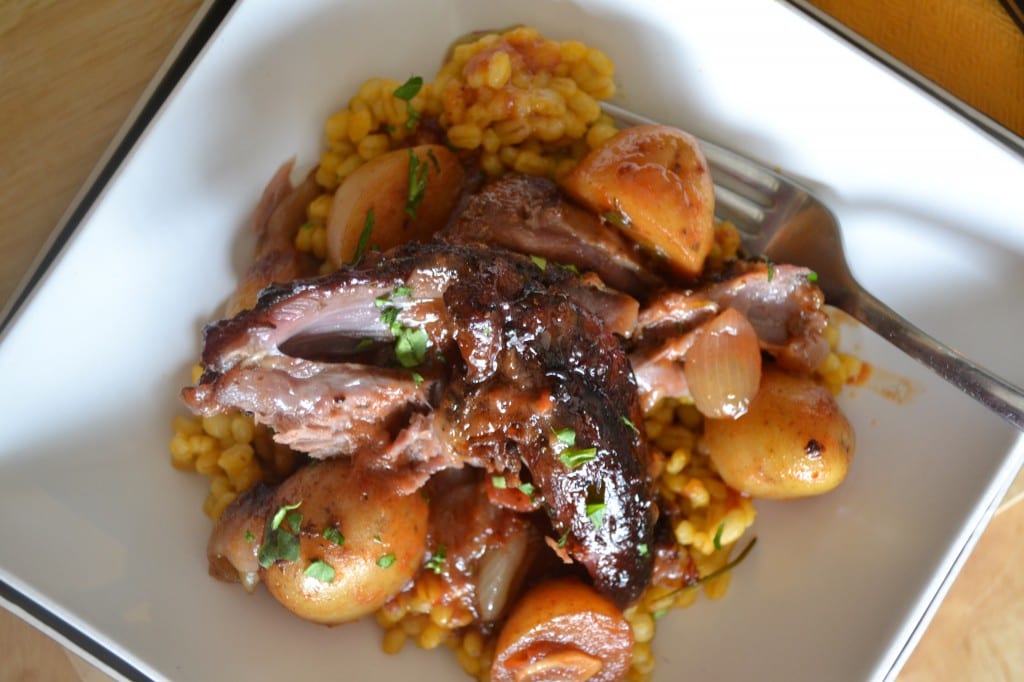 Once again, an easy dish that would be good for a weekend night, a weekday slow cooked meal, or an impressive holiday dinner.