Slightly smoky and spicy roasted eggplant pureed with tomatoes makes a hearty base for couscous. Roasted eggplant, tomato, and couscous soup is a smoky, spicy twist on the regular tomato soup.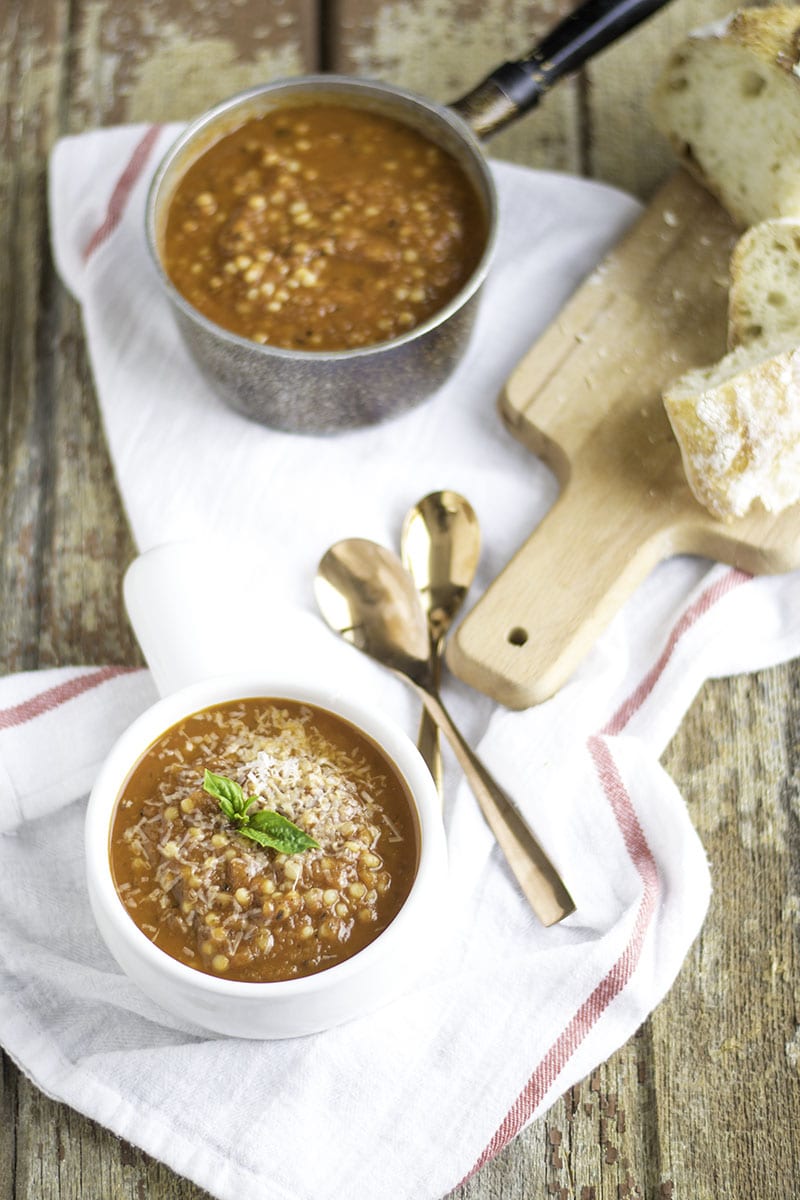 It's official. I have a little boy on my hands. I mean, I was there for his birth, so I always knew he was male. It's just now he is full blown boy. Let me explain.
Andy started watching super heroes and old school Power Rangers episodes. Basically anything with a good guy versus bad guy kind of deal.
He is all in on Star Wars, Batman, DC Comics (like he even fully understands what that is or means), and the Mighty Morphin' Power Rangers. To me, this just skipped him into kidhood. No more little boy on my hands here.
He likes to plan battles and make these elaborate stories about who is fighting whom and why. He usually has several of the bad guys turn good, which I guess is a good thing. He can see the good in all people, even the bad guys like Darth Vader and Jabba the Hut.
So we are doing something right?
Roasted eggplant, tomato, and couscous soup is smoky roasted eggplant pureed with tomatoes and mixed with perfectly tender cooked couscous.
I am not going to lie, I kiiiind of hate it. I had always hoped he would be artistic and want to draw and paint with me. He is imaginative and creative, just not on paper. Playing Power Rangers and fake fighting is not my jam. But, like any other mom in this kind of situation, you grin and bear it and do it to make your kid happy, right?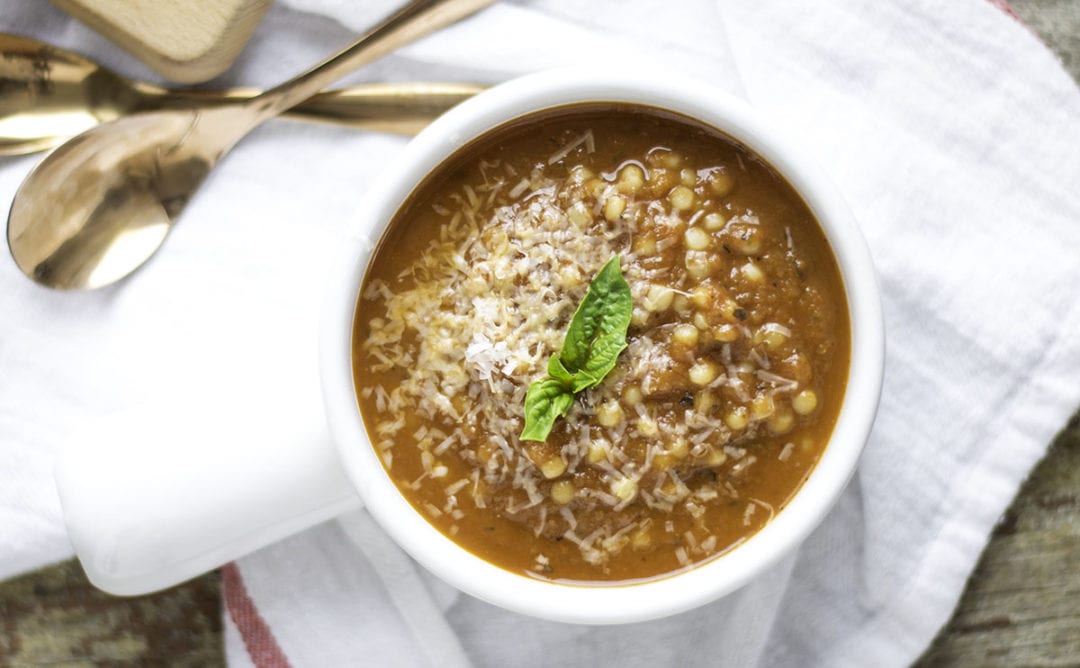 Luckily, all this super hero and Power Ranger lingo is not lost on me. I grew up with two brothers. Me and my middle brother were a little too old for Power Rangers when it came out, but my youngest brother was the perfect age for that show.
We would all get home from school, kick off our shoes and untuck our uniform shirts, then kick back and watch an episode together. Me and my middle brother would laugh at the fight scenes but our youngest brother just ate it all up. As weird as it was to look forward to that show, that time together created some of my best growing up memories.
Watching those old episodes with Andy now is hilarious. I texted my little brother to tell him we were watching it. My other brother has a son older than Andy so the Power Ranger phase has already swept his house. That show is so awful. It's a good awful, though.
I guess.
Whatever makes him happy—as long as he isn't taking it too seriously. If only this soup made him happy. It did make Mike, the vegetable hater, happy. I guess I have to hope that if the evolution of boy shows goes cars, trains, and then super heroes, the food evolution has to sort of follow suit, right?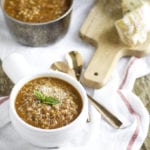 Roasted Eggplant, Tomato, and Couscous Soup
Slightly spicy and smoky roasted eggplant and tomato soup with Israeli couscous.
Ingredients
1

Tablespoon

Extra Virgin Olive Oil

1

Cup

Israeli Couscous

1 1/4

Cups

Water

1

Large Eggplant

sliced into 1/4 inch thick half moons

1

Tablespoon

Olive Oil

1

Yellow Onion

diced

2

Garlic Cloves

peeled and minced

1/4

Teaspoon

Smoked Paprika

1/2

Teaspoon

Dried Thyme

Pinch

of Cayenne Pepper

Pinch

of Ground Cinnamon

1, 28

Ounce

Can Crushed Tomatoes

3

Cups

Low-Sodium Vegetable Stock

Salt and Pepper to taste
Instructions
Preheat the oven to 425 degrees F. Line a large baking sheet with a wire rack. Arrange the slices of eggplant on the wire rack. Season with salt and let sit for 15 minutes. Blot each eggplant and gently press down to release any excess liquid. Roast eggplant for 20 minutes. Flip and then roast for an additional 10 minutes until golden and crispy.

Once the eggplant is slightly cooled, cut into smaller pieces.

Add olive oil to a small pot. Heat the oil over medium/low. Add couscous, mix to evenly coat, and toast for two minutes stirring constantly.

Add water to couscous. Bring to a simmer over medium/high heat for 10-12 minutes until tender. Drain through a fine mesh strainer. I find that cooking the couscous separate keeps the soup the consistency I like and keeps the couscous from getting mushy.

To make the soup base, add oil to a large Dutch oven. Heat over medium. Add onions and saute until translucent, 5 minutes. Add garlic, dry seasonings, and cook an additional 2 minutes.

Pour in the tomatoes, vegetable stock, and the roasted eggplant. Bring to a simmer over medium heat. Simmer for 20 minutes.

Using an immersion blender, puree the soup until smooth. Season with salt and pepper to taste.

Add the couscous to the pot and stir to combine. Add more salt and pepper if needed.

Store in the refrigerator in a sealed container for up to a week or in the freezer for up to one month.