You know how there is that episode of Sex and the City where they all talk about their strange single girl behaviors? Carrie says she likes to read fashion magazines while eating crackers and jam standing in her kitchen. Charlotte says that she like to use one of those magnifying mirrors and stare at her pores for hours.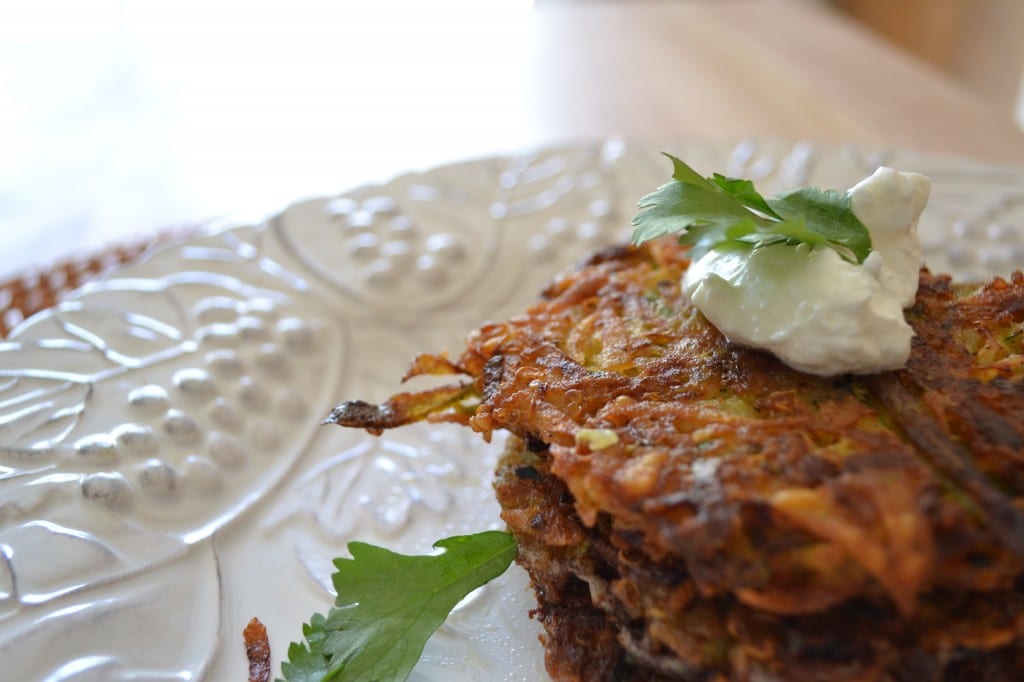 Well, even though I am not a single girl, I still partake in some strange single girl behavior. Whenever my husband heads out for a night with the guys, I cue up my Lisa Loeb or Alanis Morisette and get to work.
I do the standard girly things like read gossip mags and paint my nails but I also create little food masterpieces. I like to make small and delicate food for one!
I take the time and care and try and make sure every ingredient looks perfect because I am not under a crunch since I am just cooking for myself. I am in no hurry.
I love to make these little smoky pancakes. I take the time to shred the potatoes and zucchini. I carefully drain out all the liquid, add all the seasonings, and delicately mix everything together with my hands. I have no one to impress.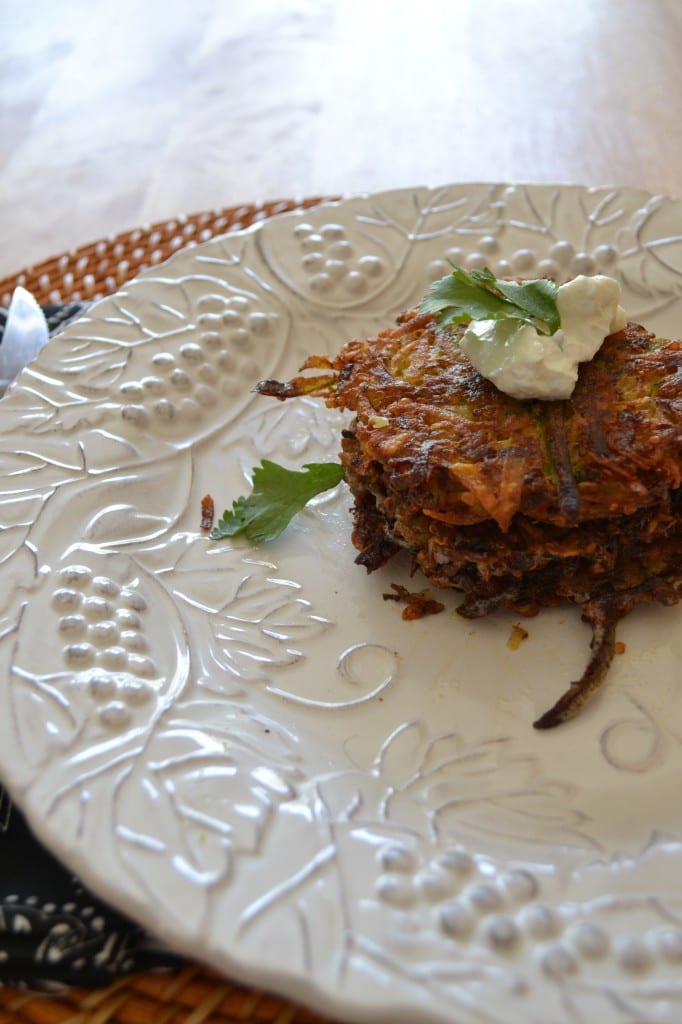 I fill my house with the sweet smell of browning butter. I place a little dollop of the mixture in at a time. I gingerly press the edges of the pancakes to try and make a perfect circle.
I am a generally slow moving person. This hour so that I pour into these tiny little cakes is my strange single behavior. I slow down and enjoy my alone time.
I highly recommend you do the same thing. There is something really gratifying about eating pretty little food on a big pretty plate with a fancy napkin.
Ingredients (Makes 8 Cakes)
½ Cup Cooked Quinoa
2    Potatoes, Grated
1    Zucchini, Grated
1    Green Bell Pepper, cut into long thin strips
½ – 1 Teaspoon Chipotle in Adobo Sauce (depending if you want it to be just a little smoky or with some real heat)
½ Teaspoon Salt
½ Teaspoon Pepper
¼ Teaspoon Paprika
¼ Teaspoon Garlic Powder
¼ Teaspoon Onion Powder
1 Egg
4 Tablespoons Butter
2 Tablespoons Olive Oil
Place the grated potato in the middle of a dish towel. Squeeze out all the liquid from the potatoes. Do the same with the grated zucchini.
Add the cooked quinoa, grated potato, grated zucchini, bell pepper, chipotle, salt, pepper, paprika, garlic powder, onion powder, and egg to a large mixing bowl. Use your hands and combine all the ingredients together. Remember, if you do not like a lot of heat, only add a ½ a teaspoon of chipotle. The pancakes will be just a little smoky tasting. If you want more heat, add a full teaspoon.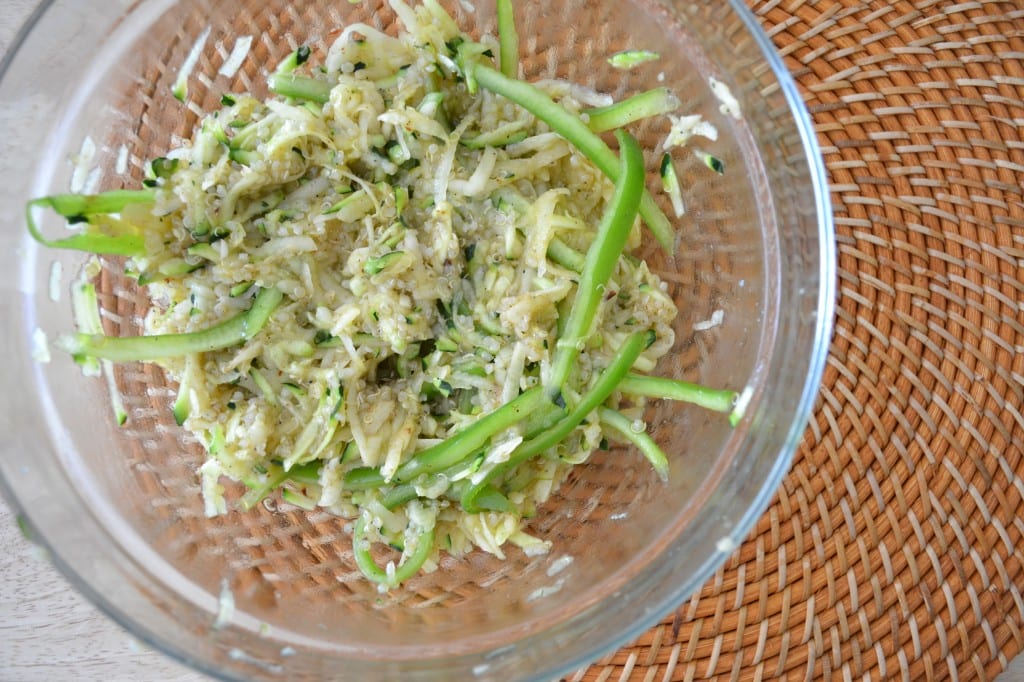 Add the butter and olive oil to a large skillet. Melt the butter over medium heat. Once the butter has melted, scoop out about a 1/3 cup size of the mixture into the pan. Press the pancake down to flatten it into a circular shape.
Cook two pancakes in the pan at a time for about five minutes on each side. The pancakes will be crispy and a dark golden brown.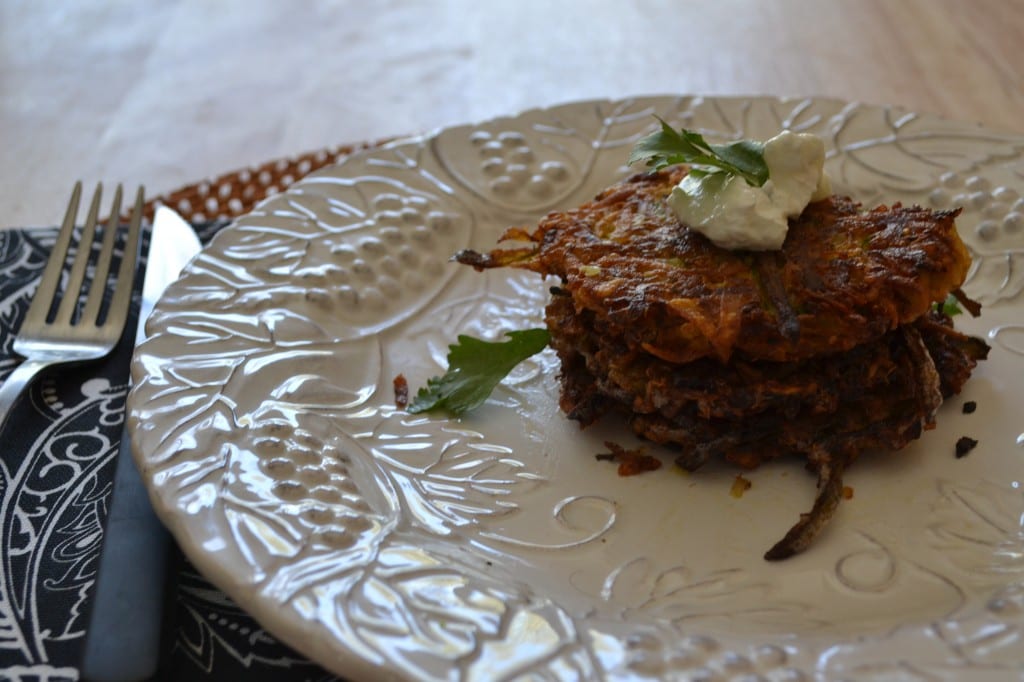 Serve with a little dollop of sour cream and a few leaves of fresh cilantro. Perfect meal for one. Or if you feel like sharing, it is a great dish to share at brunch.
Related posts: