As you all know, I recently got married. Going through all of the wedding planning and stuff was great, but I could not wait until the honeymoon. The one thing about the honeymoon I was nervous about was not traveling to Mexico or flying.  I was totally fine with all of that. I was worried about getting drunk on the honeymoon.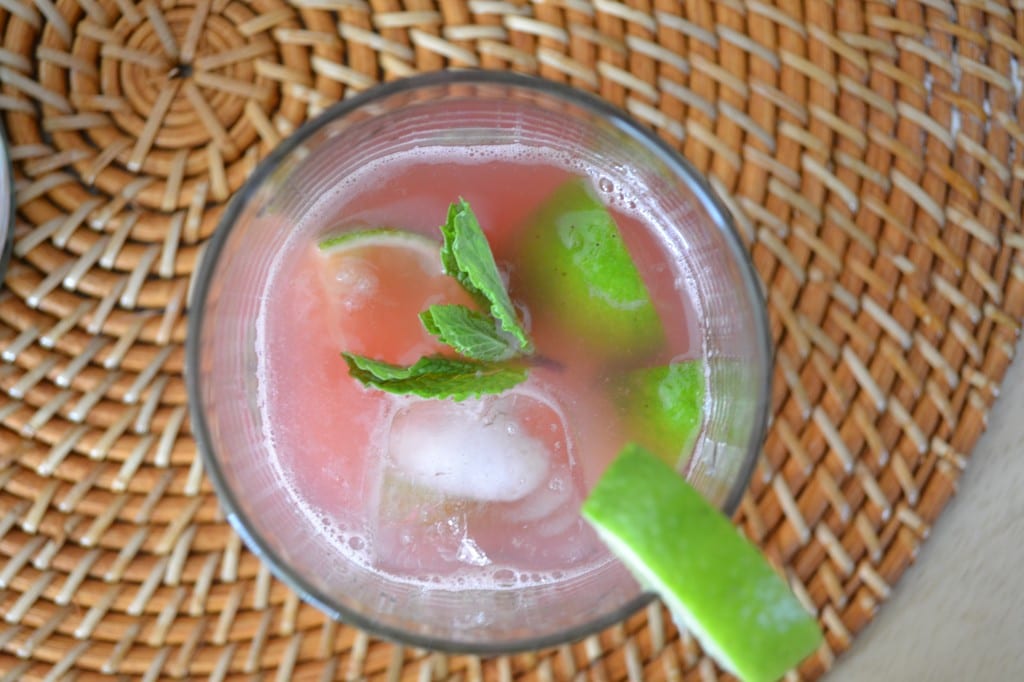 I know that sounds dumb, but you don't want to be drunk on your honeymoon. A little buzzed on fruity drinks is ok, but drunkitty-drunk-drunk is not what you want to be as a newlywed. You want to remember everything and enjoy every moment. Besides that, you do not want to be hung over on your honeymoon.
Well, I think I jinxed us, because the second day we were there, we got daaa-runk! We did not intend to get drunk, it just happened. We were drinking Nalgene bottles filled with beers and Caipirinhas (Pronounced Kai-purr-een-Yuh, which is just rum, sugar, and limes) all morning and afternoon down at the swim up bar.
At about five, we decided we better go back up to the room so we could get in a quick nap and get ready in time for dinner. When we got back to the room we passed out, contacts still in and all. Next thing we knew, it was eight-thirty.
We tried to hurry up and get ready for the buffet, because it was Mexican night and we did not want to miss that. Our version of hurrying up got us down to the buffet at nine-fifteen.
On the way down to dinner, we joked about our afternoon and how we would not be doing that again. We turned the corner to head down the final hallway to the buffet when, out of the corner of my eye, I saw pictures of a couple that looked strangely similar to us plastered all over this little kiosk.
"Miiiike! Oh my God! When did we take pictures?" I asked in a panic, looking around for the guy selling these pictures who was nowhere to be found. The pictures were cute. There was one of us kissing, a few of us not looking sober at all, and some really nice ones of us laughing and having a nice relaxed time. Apparently, drunk Mike and Stef had a little photo shoot at the pool.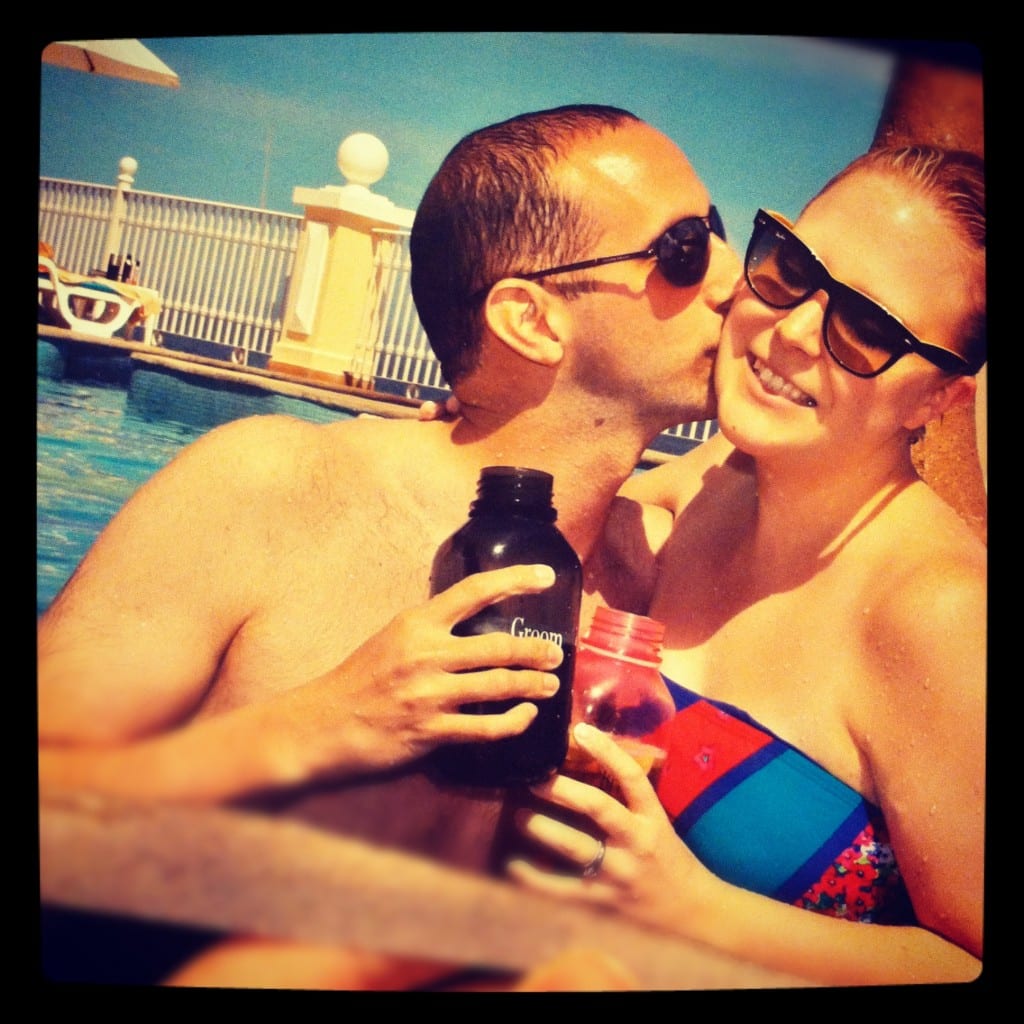 We had completely forgotten all about these pictures!!! I know that is not something to be proud of (sorry Mom), but at the time, all we could do was laugh and pay this guy five bucks for every picture he had of us two goofballs.
So, although this drink may sound simple and easy to handle, it is sneaky and makes you want to have a poolside photo shoot with your husband. Practice caution if you are headed out on a honeymoon this summer and be sure not to consume your alcoholic beverages in giant Nalgene bottles. Rookie mistake.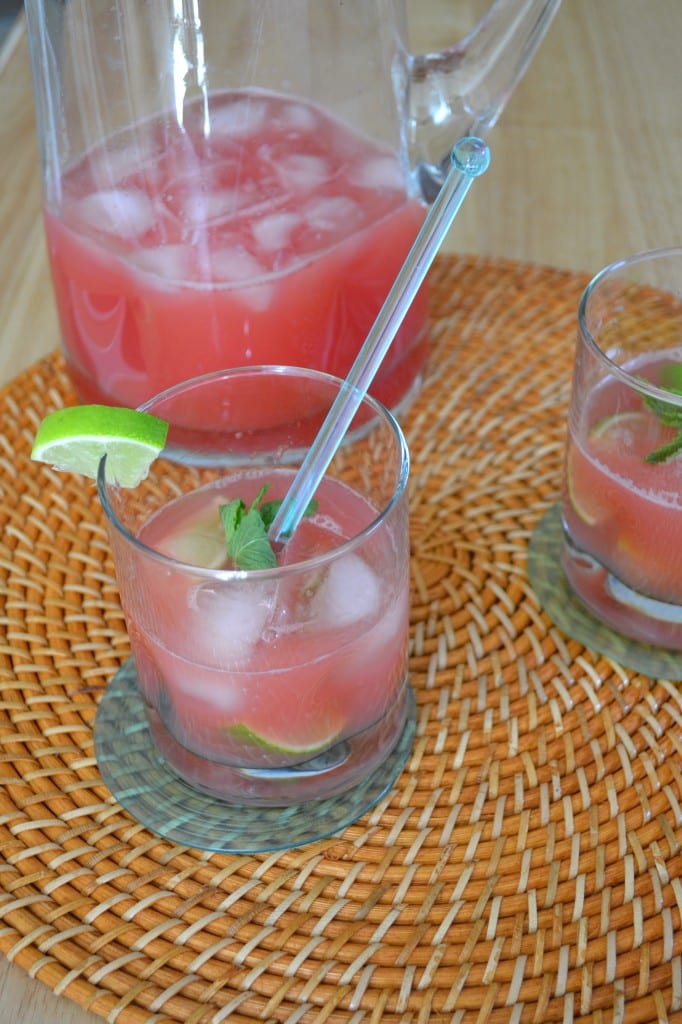 Ingredients (Makes about four cocktails)
¼ of a Fresh Seedless Watermelon
1 ½ Cups Light Rum
10 Large Ice Cubes
1 Lime, sliced into 12 wedges
4 Teaspoons Sugar
A Spring of Mint or a Slice of Lime for Garnish
First, cut the watermelon into fourths. Remove the rind, and cut into small cubes. Place the small cubes into a blender and puree until liquefied, about two minutes.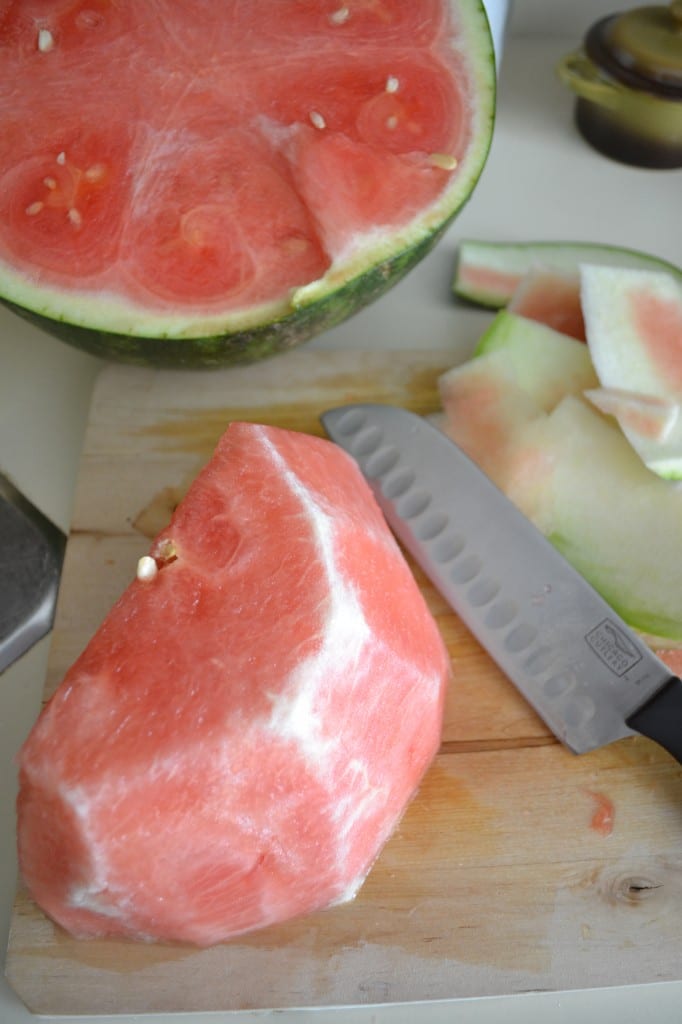 Place a strainer or piece of cheesecloth over a pitcher. Slowly pour the contents of the blender into the strainer. You might have to empty the pulp and seeds out a few times in order to strain out as much liquid as possible. In the end you should end up with about three cups of fresh watermelon juice.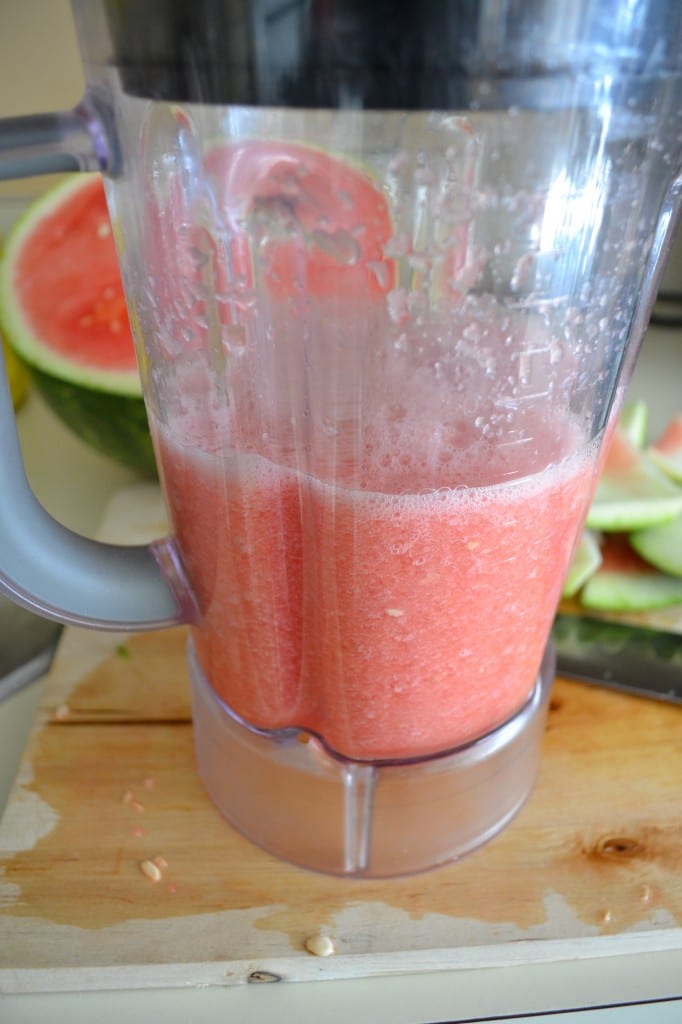 Pour the rum into the pitcher with the watermelon juice. Stir to combine. Toss in the ice cubes and let them chill for a few minutes until ready to serve.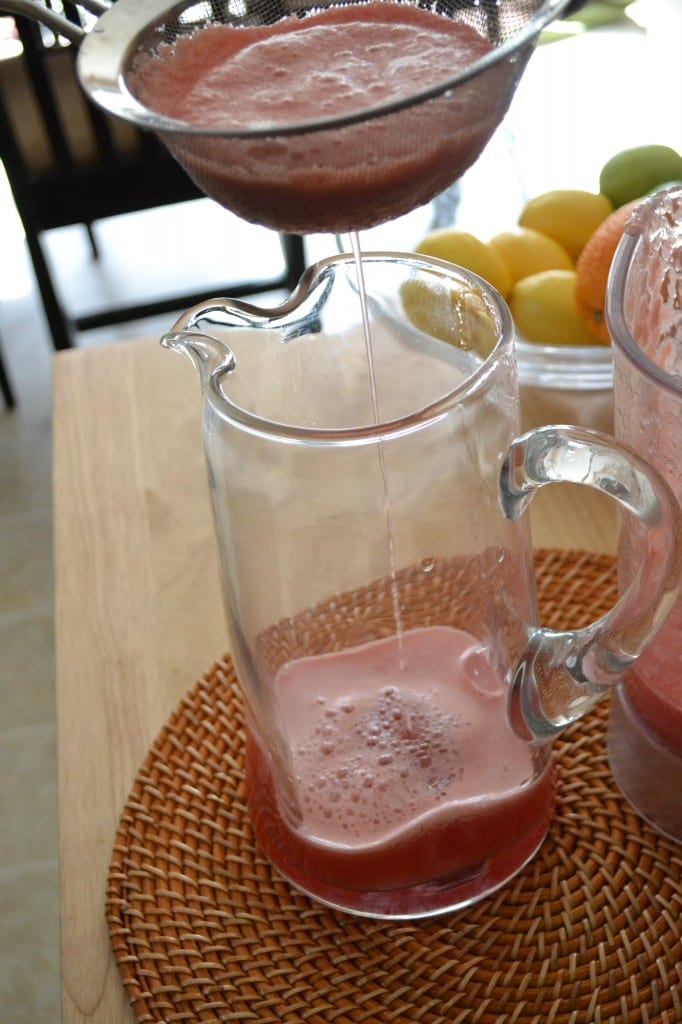 Place a wedge of lime and a teaspoon of sugar in the bottom of each glass. Muddle the lime until all the sugar is dissolved. Pour the watermelon and rum into the glass. Fill about ¾ of the glass.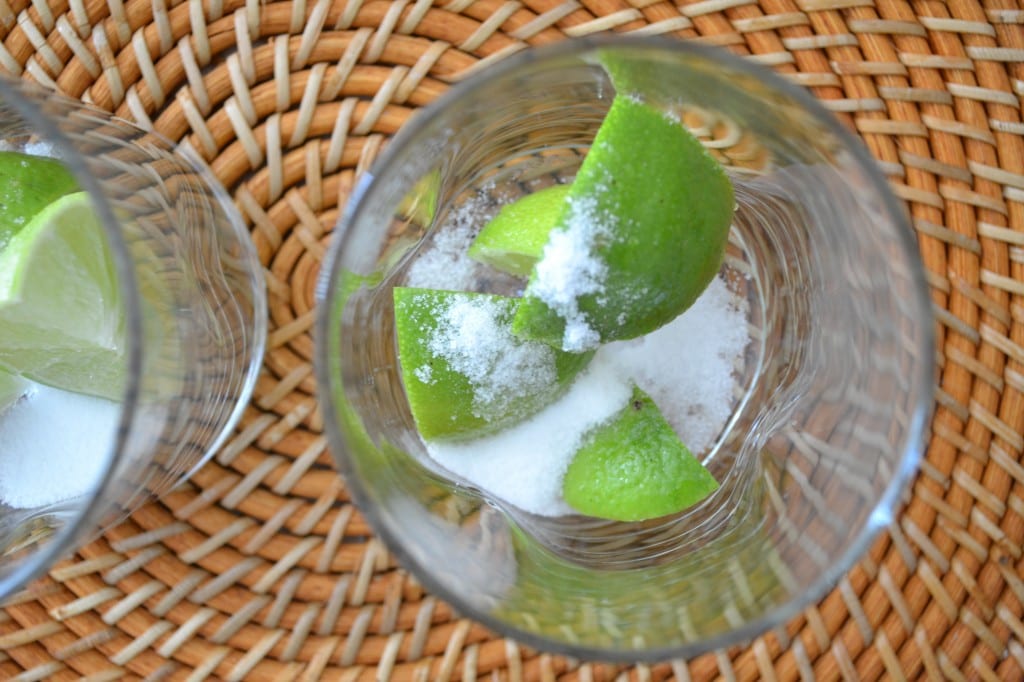 Garnish with a spring of mint or a small wedge of lime.
I know I was all worried about getting drunk on our honeymoon, but I have to admit, looking back, it turned out to be one of our better stories from the trip, and the pictures are frickin priceless!