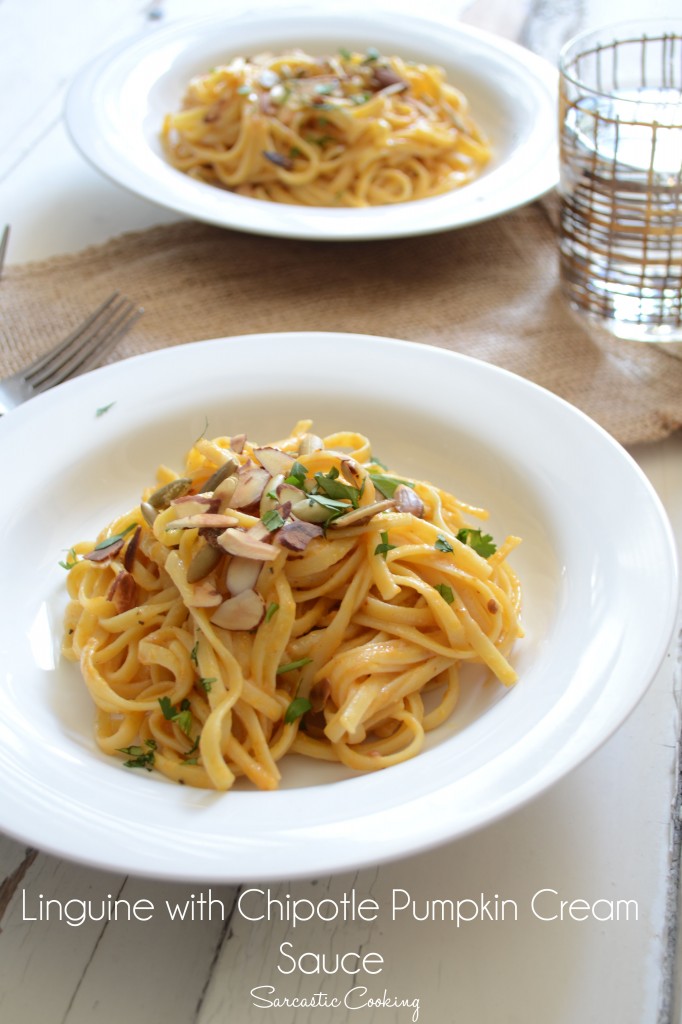 It is officially October. Time for me to bust out the pumpkin! I just couldn't, or more like, wouldn't let myself hop on the bandwagon before there were even any real pumpkins in the stores. With all the pumpkin goodness that has been overtaking Pinterest, I am proud that I stuck to my guns and waited.
Hopefully you aren't all sick of pumpkin by now. And hopefully this is a different use that will inspire your fall cooking.
In our house, I am all over fall. Mike, on the other hand, is all complaints about fall. He is mad at life during fall. I swear if I have to listen to him complain about how it is cold out but super hot in his car one more time, I might chuck a mini pumpkin at his head. Because you know I am all about mini pumpkin centerpieces right now.
Just to mess with his fall hating head, I made him this pasta for lunch. I sent it off to school with him without explaining what the sauce was made of. If he knew it was pumpkin he would already have had a negative opinion formed before he even tried it.
I waited until he got home and saw him put the licked-clean Tupperware container in the sink to ask how his lunch was. He said it was really good and when my devious smile grew to large proportions, he asked me, "Was there pumpkin in that?"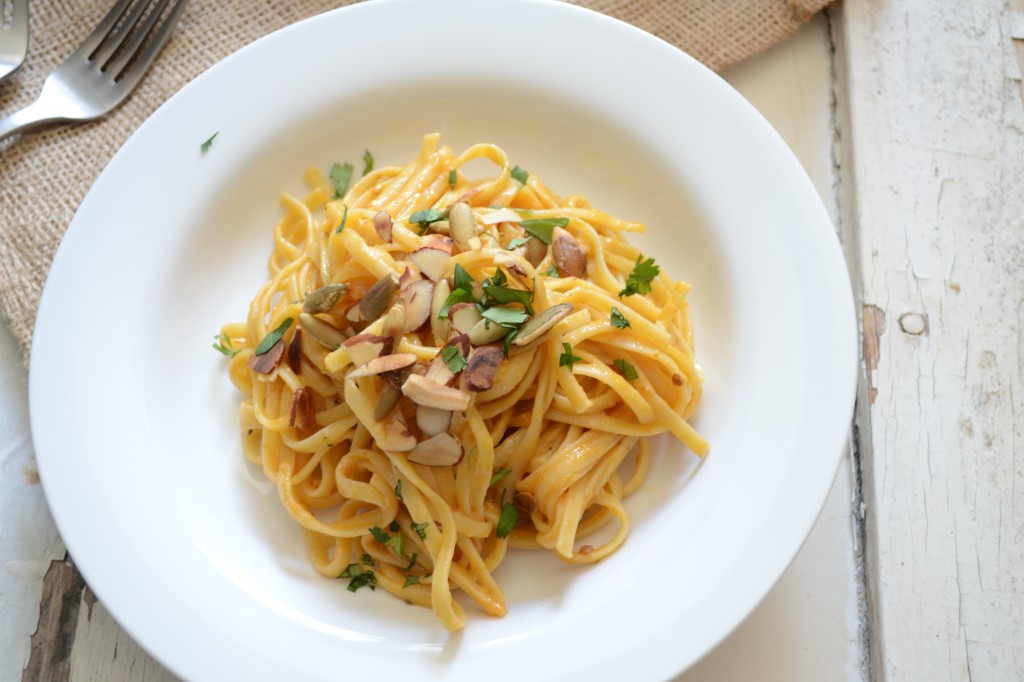 Haha! Fall wins this round, Mike! And, now that I know he likes this, we are so eating this all throughout the month!
Make this. I know you are probably in need of a break from all the pumpkin bread and cupcakes you have been eating since mid-September. Throw some toasted pepitas (pumpkin seeds) and almonds on top and you have the perfect fall dinner. This is totally a healthy vegan sauce too! If you serve it up with some vegan or gluten free noodles, you can please two different special dietary groups.
Linguine with Chipotle Pumpkin Cream Sauce
Author:
Prep time:
Cook time:
Total time:
Ingredients
1 Tablespoon Olive Oil
1 Clove Garlic, grated
1 Heaping Tablespoon Chipotle Paste or Pureed Canned Chipotle in Adobo
¾ Cup Canned Pumpkin Puree
1 Cup Unsweetened Plain Almond Milk
Salt and Pepper to taste
½ Pound Cooked Noodles
2 Tablespoons Slivered Almonds
2 Tablespoons Pumpkin Seeds
1 Tablespoon Chopped Cilantro
Instructions
Add olive oil to a large skillet. Heat oil over medium/low heat for a minute. Add Garlic and chipotle. Mix to combine and sauté for one to two minutes.
Spoon in pumpkin puree and whisk to combine. Slowly add the almond milk while whisking. Cook for three minutes over low heat.
Season with salt and pepper to taste.
Cook noodles according to package instructions. Drain and set off to the side.
In a small skillet, toast the almonds and pumpkin seeds over low heat for two minutes until slightly golden.
Add a serving of noodles to a bowl along with 2-3 tablespoons of the sauce. Mix to evenly coat. Top with pepitas, almonds, and cilantro. Serve right away.
Related posts: