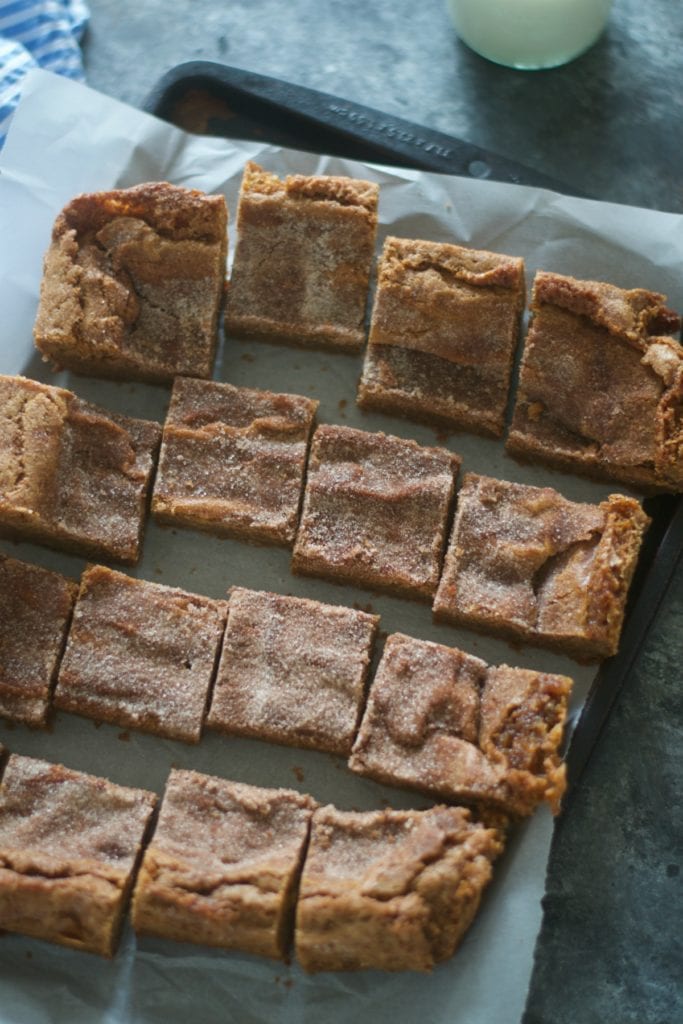 Snickerdoodle blondies. You are the reason I have not vacuumed my basement in two weeks. Yes, a dessert bar is solely to blame.
Let me explain.
If you give a mouse a cookie…wait, wrong story. When you give my children a cookie or chip, they eat like animals. They act as if they take a bite like a normal person and remove the food from their mouth so they can chew, will cause the dessert to suddenly vanish. So, they eat as if their mouth and teeth are a wood chipper. They take small bites, swallow occasionally, and continue to jam the piece of food into their faces.
Part of me is like, oh well, I guess you really like that blondie and you just want to destroy it. Another part of me is like Monica from Friends yelling at Chandler about crummies. Crumbs are everywhere pretty much all the time.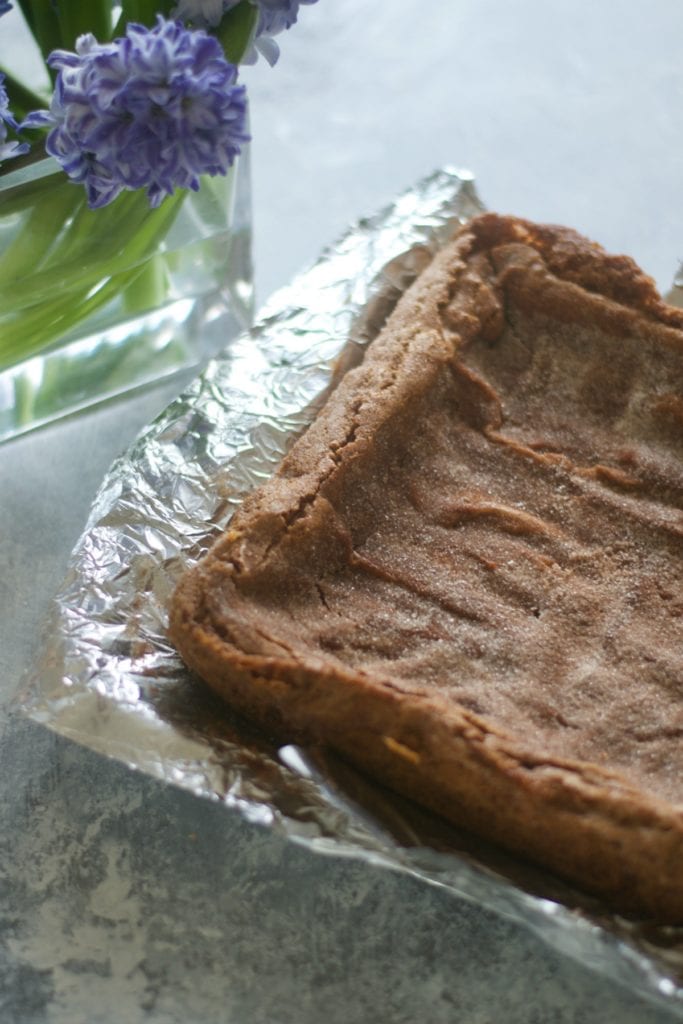 I wish I was a cyborg, like T1000, with arms that could turn into a dustpan and broom or a vacuum attachment. I feel like I am always sweeping. If I am not sweeping, I am walking around barefoot with crumbs stuck to my feet. Gross.
Hence, #momlife and #alwayscleaning.
When I made these blondies, I was so obsessed with the way Andy said "Snickerdoodle!" that I let these kiddos eat blondies everyday (but in the basement only). The last time I got on a huge cleaning kick, I made it through the whole house…every room except the basement.
I figured if there were already crumbs from the last basement picnic we had still lingering around, what's a few more. Plus, if snickerdoodles are lingering around in the house, I might as well wait a little bit longer to get the full sweep of crummies.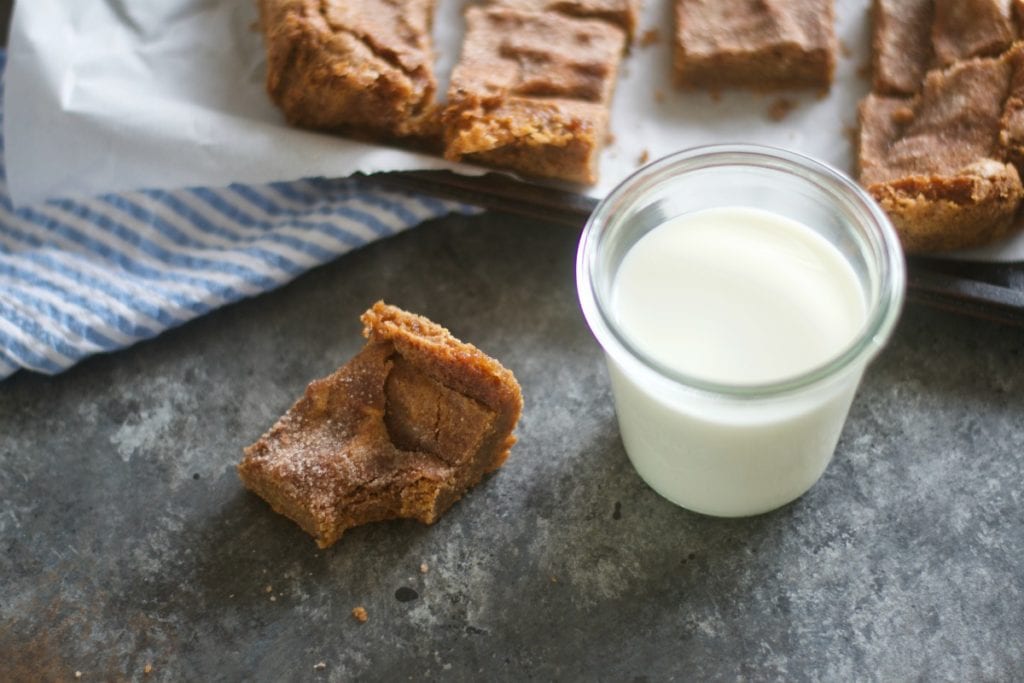 Sidenote: I cannot believe I just wrote a whole post about crumbs. Are you sad you just spent all that time reading it?
Snickerdoodle blondies are chewy bars with lots of butter, brown sugar, and cinnamon. They do not require a lot of ingredients and totally satisfy that random sweet craving we all get. Kids love them. Adults love them. Adults even live amongst crumbs for these bars! I think that says a lot.
Maybe too much.
Snickerdoodle Blondies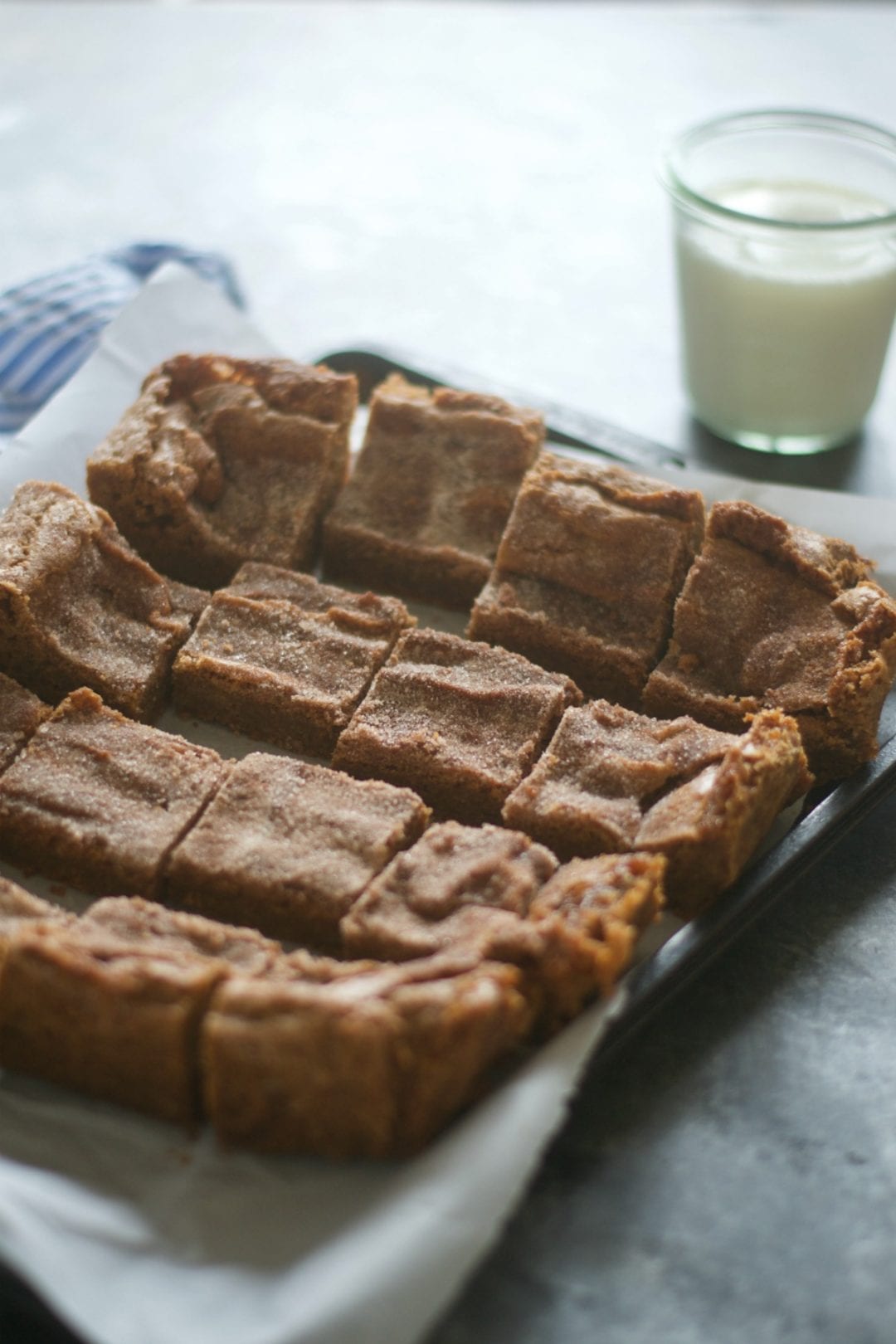 Simple blondies coated in cinnamon and sugar. Crunchy and crusty at the edges and super chewy in the center.
Yields: 12-16 Bars
1 Cup Unsalted Butter, melted
2 Cups Light Brown Sugar
4 Teaspoons Pure Vanilla Extract
2 Large Eggs
2 Cups All Purpose Flour
1 Teaspoon Baking Powder
½ Teaspoons Ground Cinnamon
¼ Teaspoon of Baking Soda
1/4 Teaspoon Sea Salt
Topping:
¼ Cup Sugar
1 ½ Teaspoons Ground Cinnamon
Preheat oven to 350 degrees F. Line and grease a 9x9-inch baking pan with parchment paper.
Add the melted butter and brown sugar to the bowl of an electric stand mixer, fitted with the paddle attachment. Beat until smooth and creamy.
Scrape down the sides, with the mixer on low, add in one egg at a time. Scrape down the sides as needed. Add in vanilla. Mix on medium until well combined.
Add the flour, baking powder, cinnamon, salt, and baking soda to the bowl. Mix on low to combine. Mix until no more flour is visible.
Transfer batter to prepared dish. Smooth out into one even layer.
Mix the sugar and cinnamon for the topping together in a small bowl. Dust the entire top of the blondies with the cinnamon sugar.
Bake for 30-35 minutes until a toothpick inserted into the center comes out clean. Let the blondies cool for at least 2 hours before slicing. The blondies will rise and sink as they cook and cool.
Preparation time:

8 minutes

Cook time:

35 minutes

Total time:

42 minutes
Recipe adapted from What's Gaby Cooking