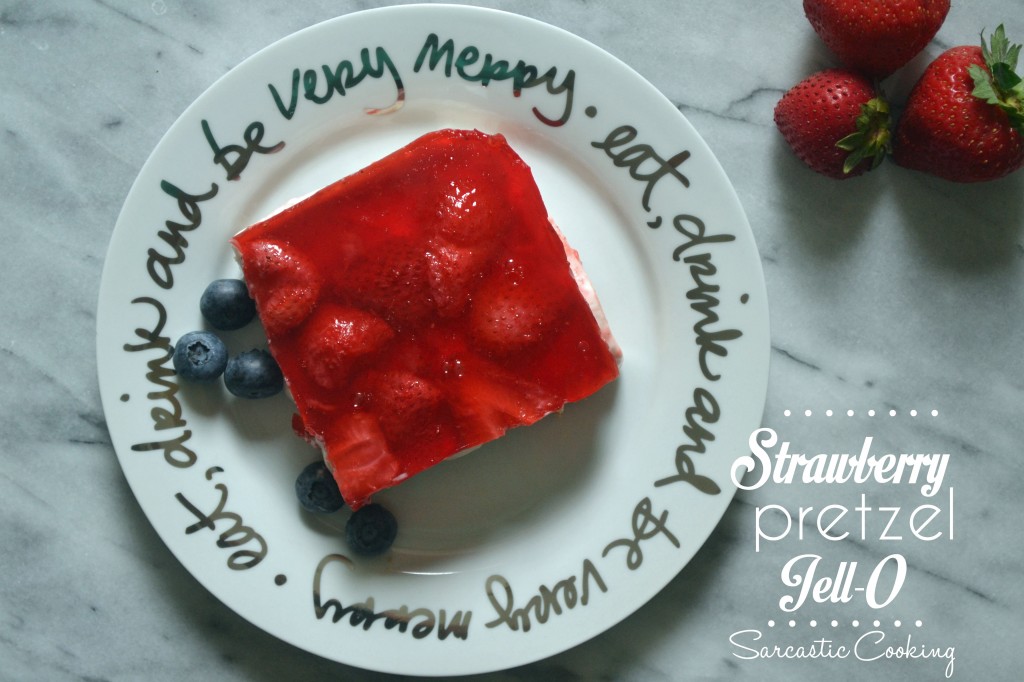 The fourth of July is tomorrow! I made you something red, white, and …. Pretzel. Hey, close enough. I feel like in my old age, the fourth has become another one of those holidays like New Years or Halloween where I feel like I should have plans. I just feel kind of lazy when it actually comes to making and following through on those plans. Maybe it is because the stress of making plans outweighs the amount of fun you have on that holiday. I might be the only one that feels that way though.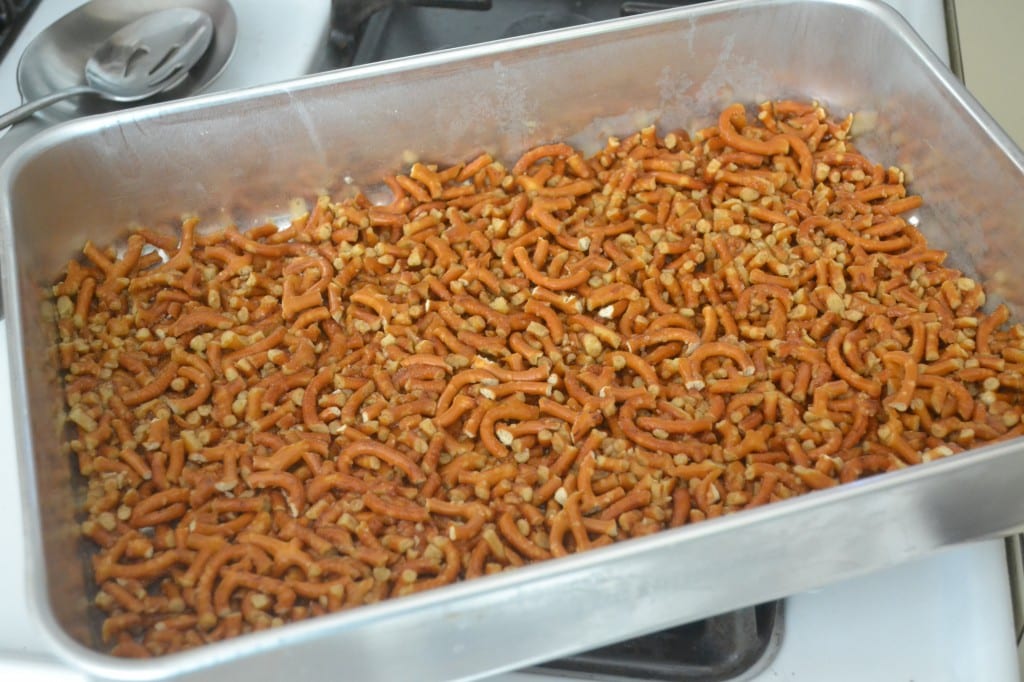 When I was younger, I loved the Fourth! My brothers and I would play in the pool all day. Nick would create a huge wave pool (he was the best wave maker) and Zack and I would climb aboard a raft and dare to make it through the rapids Nick had made. It was very treacherous and usually didn't go on for very long because my dad would get mad that half the water from the pool would spill over the sides.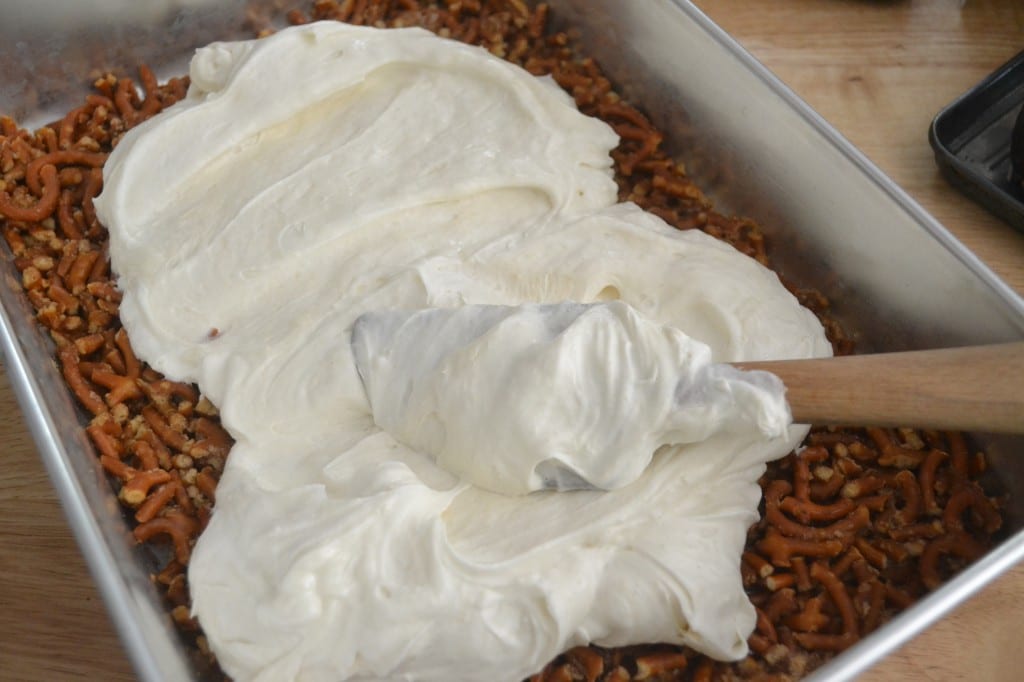 After pool time was over we would hustle to eat whatever my dad had grilled and whatever amazing side dishes my mom had slaved away on in the hot house. One of my favorite foods ever that made appearances only in the summer was my Mom's pretzel Jell-O. I would only eat one portion to make sure that there were leftovers for me for the next few days.
After dinner, we would fit in one last swim before the sun went down. Then, we would get ready for the fireworks. Lucky for us we were able to sit in our front yard and watch a big fireworks show that went one a few blocks away. My parents would clean up and then meet us outside later. My brothers and I would lay on blankets at the very edge of the grass in the front yard and "Ooooo" and "Aaaahh" at the show.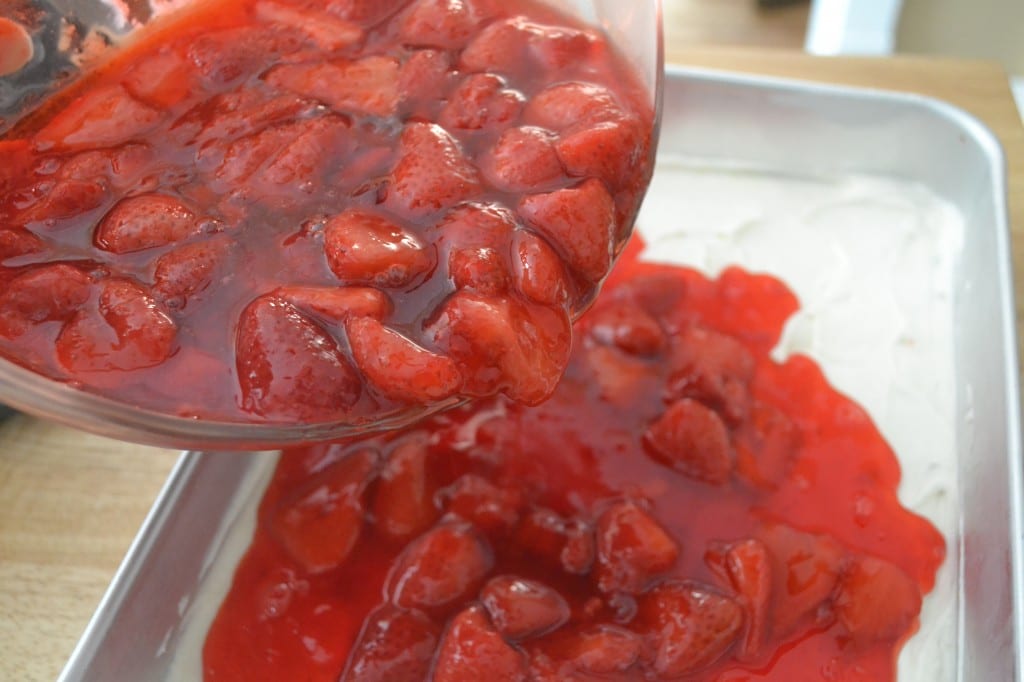 When the show was over, I would try and sneak one more piece of Jell-O before bed. If I didn't get away with that, I would for sure eat a piece for breakfast the next day. This is the perfect combination of sweet and salty with a cream cheese layer in between. It will be the hit of your festive Fourth get together.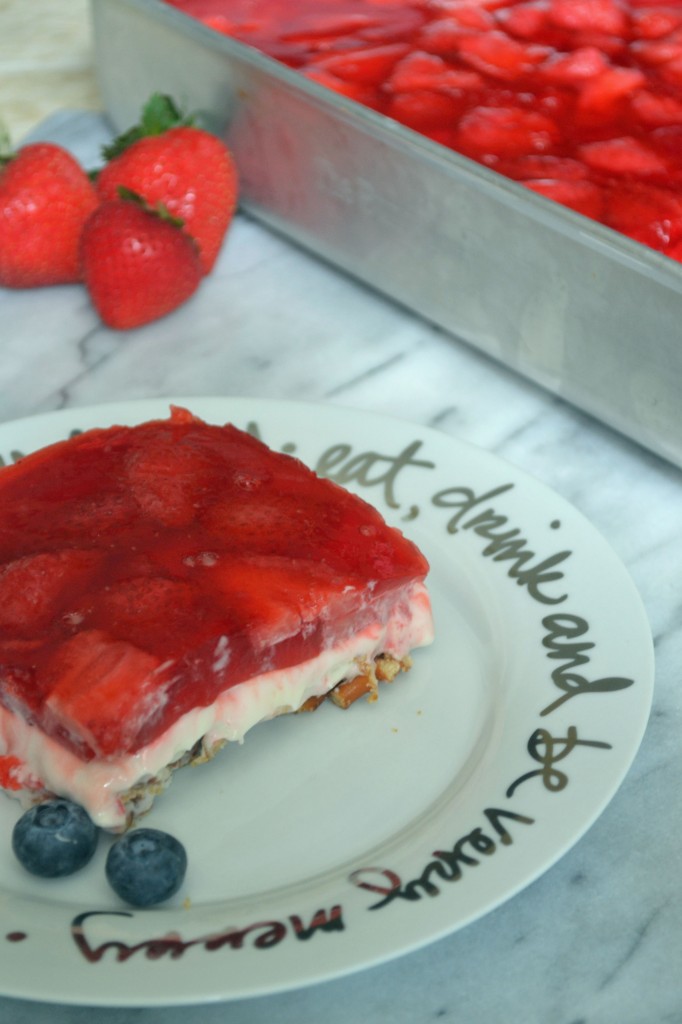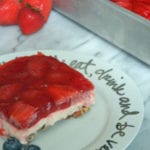 Strawberry Pretzel Jell-O
Ingredients
For the 1st Layer:

2 2/3

Cups

Coarsely Ground Pretzels

1 1/2

Sticks Unsalted Butter

melted

2

Tablespoons

Granulated Sugar

For the 2nd Layer:

1

Package of Dream Whip

made according to the box directions

8

Ounces

Cream Cheese

softened

1

Cup

Granulated Sugar

For the 3rd Layer:

6

Ounces

Strawberry Jell-O

2

Cups

Boiling Water

3

Cups

Thawed Frozen Strawberries
Instructions
Preheat the oven to 375 degrees F. Mix pretzels, butter, and sugar together in a medium mixing bowl. Pat into a 9x13 baking pan. Bake for 10 minutes. Take out and cool. If you cool in the refrigerator it will come to temperature faster.

Using an electric hand mixer or stand mixer, beat together cream cheese and sugar until light and fluffy. Fold the dream whip into the cream cheese until the mixture is smooth. Spread cream cheese/whip cream over cooled crust in one even layer.

Add the boiling water to a large heat-proof bowl. Dissolve Jell-O in hot water then add in the frozen strawberries. Mix and place in the refrigerator to congeal a bit. Let the Jell-O sit in the refrigerator for about twenty minutes, just until the top starts to congeal and the rest is cool but still syrup-like. Pour over cream cheese layer. Refrigerate overnight for best results.