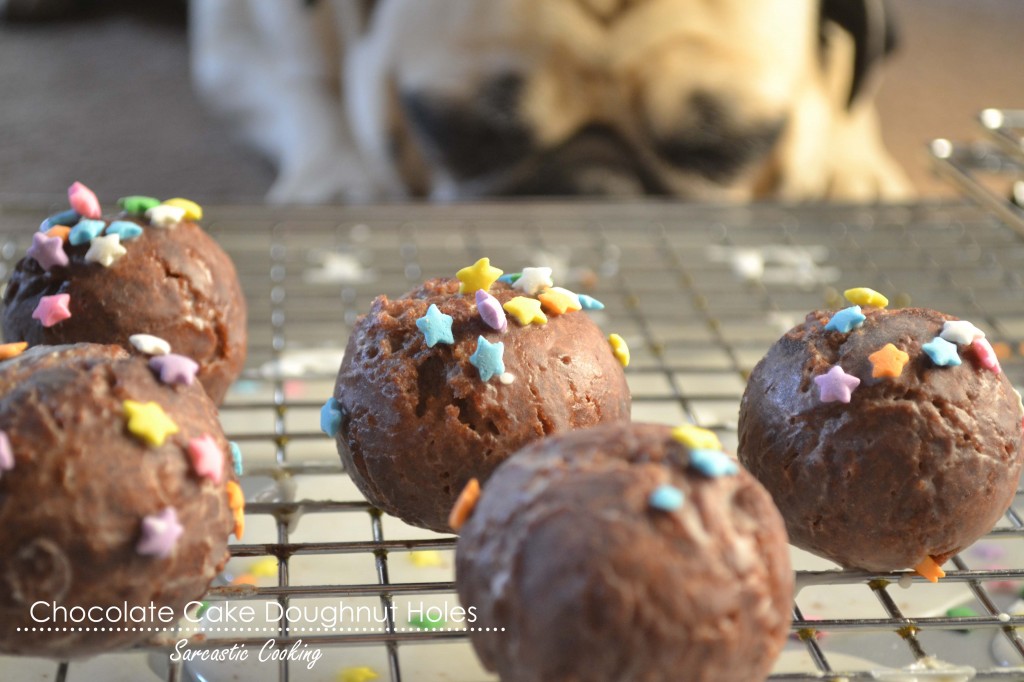 There is a serious trend going around a lot of blogs these days and it is homemade doughnuts. I have seen baked ones, seasonal ones, sugary ones, ones in milkshakes, and some that aren't even real doughnuts!
I, personally, am a huge fan of this food trend. My waistline might not be, but I mentally and emotionally am in! This trend definitely is a return to my childhood. Anytime me or my brothers had friends sleep over when we were younger, my mom would sneak out in the morning and come back with a dozen fresh doughnuts for all of us. She would set them out with a choice of milk or orange juice.
What a good mom, right?
When I heard the news that my four year-old niece broke her leg, I knew I had to bring her some special sprinkled doughnut holes. What kid doesn't love a doughnut hole? It is just their size. They are also the perfect doggy size, even though certain doggies cannot have chocolate.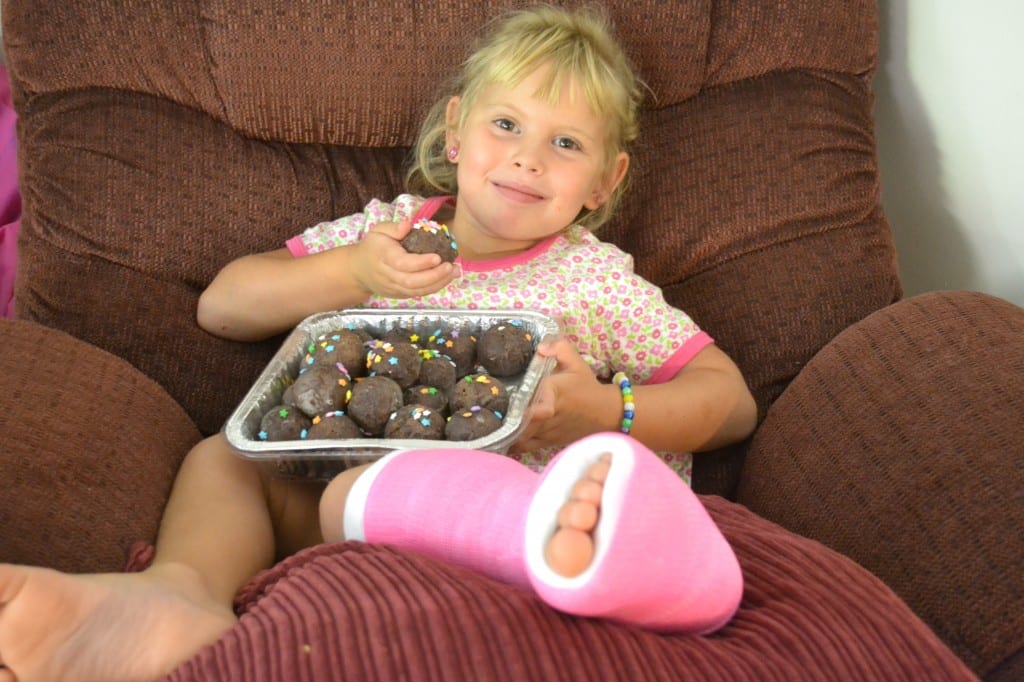 As you can see from my pictures, she totally loved them. She ate the sprinkles off a few doughnut holes then went back for the rest while I signed her cast and drew a pretty butterfly.
I hope this food trend keeps up because I am excited to see what everybody comes up with around the holidays.
Chocolate Cake Doughnut Holes
Author:
Prep time:
Cook time:
Total time:
Serves:
Makes About 3 Dozen Doughnut Holes
Ingredients
For the Doughnut Holes:
2 1/2 cups all-purpose flour
1 cup unsweetened cocoa powder
2 teaspoons baking powder
1/2 teaspoon baking soda
1/4 teaspoon salt
1 cup granulated sugar
3/4 cup buttermilk
2 large eggs
1/4 cup unsalted butter, melted
2 teaspoons vanilla extract
vegetable oil for frying
For the glaze:
2 1/2 cups powdered sugar
4-5 tablespoons milk
1/4 teaspoon vanilla extract
Sprinkles (optional)
Instructions
In a large bowl, sift together flour, cocoa powder, baking powder, baking soda and salt.
In a smaller bowl, whisk together buttermilk, eggs, sugar, melted butter and vanilla extract. Add the wet ingredients to the dry all at once. Stir with a spoon/rubber spatula until the dough comes together.
Line a baking sheet with parchment paper. Lightly dust some flour on to your hands; this will help keep the dough from sticking. Roll dough into balls just smaller than a golf ball in size and then place them on to the parchment lined baking sheet.
Fill a large, heavy-bottomed skillet about 2/3 of the way up with vegetable oil. Heat over medium/high heat. Once it reaches 350 degrees F, add 2-3 donut holes at a time, frying for 2-3 minutes. Use a slotted spoon to turn the holes a few times so they fry evenly. Place fried doughnut holes on wire rack to cool and drain. Continue this process until all doughnut holes have been fried.
To make the glaze, combine the powdered sugar, milk, and vanilla extract in a large bowl. Whisk to combine. Dip each doughnut hole into the glaze and then set each on a wire rack to set up. While the doughnut holes are still wet, sprinkle with sprinkles, if using.
Recipe from How Sweet It Is
Related posts: