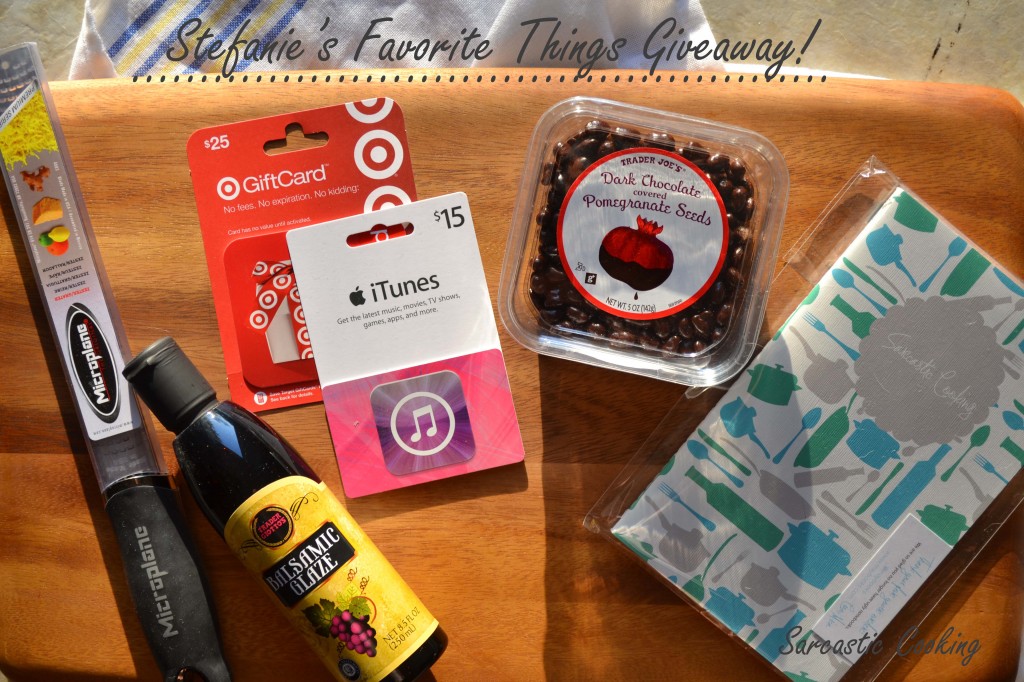 Sarcastic Cooking is one year old!!!
I seriously cannot believe I started this little blog one year ago. I also am still in awe that people want to read what I have to write. Who woulda thought?
Back when I started this blog, I was feeling so miserable and unfulfilled with my work life. I was jumping from job to job and not really fitting into any position. They say that when you truly figure out your passion and what you want to do for the rest of your life, things just kind of fall into place. Once I started blogging and taking pictures of things I had cooked, I knew I found my passion.
So to celebrate the blog turning one, I decided to try and give something back to all of you! This little giveaway is just a few of my favorite things. I know it isn't much and it is no way to even begin to thank all of you for reading every day and pay you back for all you have given me, but if Oprah can do it, so can I.
Giveaway Includes:
$25 Target Gift Card: Duh, Target is my black hole. I love this place and can never leave with just the thing I came there to buy.
$15 iTunes Gift Card: So you too can buy some fancy iPhone camera apps or even maybe a little Plants vs. Zombies. (Don't knock it 'til you tried it! Best game for the iPhone or iPad).
Dark Chocolate Covered Pomegranate Seeds: This is one of my favorite things from Trader Joe's to crunch on.
Trader Joe's Balsamic Glaze: I always have this in my refrigerator/pantry. It is the perfect finish to a fancy salad or an easy way to fancy up a pizza. Plus, it saves you the time of making your own.
Microplane: I use this tool every single day! I use it to grate garlic, grate ginger, and to zest citrus. It is amazing. If you already have one, pass it forward and give it to somebody who is just starting their cooking journey.
Maybooks Notebook: I use these eco-friendly notebooks to house my shopping lists and menu plans. They are so light I keep them in my purse at all times. Head over to the site and design your own, you will love it!
Sorry there isn't a brand new car in the giveaway, if I could I would.
Seriously. Thanks to all of you for being here almost every day for me to talk to and bond with. I like to think if we all lived closer we would for sure be friends!
Thank you to my parents. Even though they still aren't too sure what a blog is or where this is going from here, they still support me none the less. I hope I am making you guys proud. One day I will repay you for all the groceries I have stolen from your house!
Thanks to my husband, Mike. He puts up with a lot. He is always ok being the butt of my jokes or the main character in my stories or even jumping in with a guest post every now and then. Without your support, I would not be where I am today.
Thank you to my friends and my ever-growing family (seriously, you guys have been around to read about the births of two nephews). I love you all so much and am so grateful for the amounts of pride and love you always send my way!
Thank you to all of the other bloggers I have interacted with over the year, be it through Twitter, Facebook, or even in real life. I love this community and I cannot wait to see what year two holds for all of us!
A big shout out to all the businesses that trusted me to represent their brand. Thank you for helping me to bring your amazing products to my readers!
Now, to you, my readers. You will never know how much you have done for me. I was in a job that I felt was sucking my soul out of me every single day. When the first comment came through on the blog, I felt this creativity and passion awaken inside of me that I had not felt in quite some time.
I read your comments. I share my life, triumphs and fails with you all. I want to do better and better for all of you. I am excited to see how much this blog has grown and can't wait to see where we are another year from now!
After all that gushing, now it is time for the logistics of the giveaway….
In order to be entered in the giveaway, just leave me a comment. You can tell me what you would like to see more of on the blog, how awesome you think I am (kidding), or even just tell me the last awesome meal you ate. Those are all just suggestions.
One winner will be chosen at random Monday at midnight Central time. The winner will be notified via email on Tuesday.
Once again, thank you!