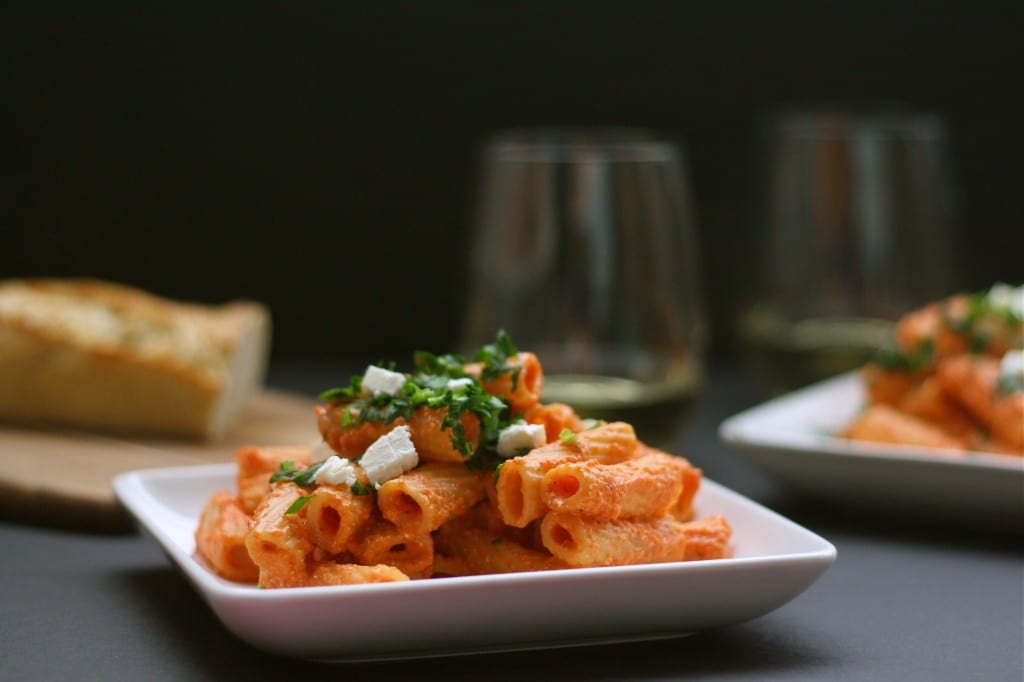 Look at that beautiful pasta! Oh my gosh does today's guest blogger know me so well! The way to my heart is always through carbs and cheese. Maybe throw a glass of wine in and you got me! In fact, for one Valentine's Day, Mike had some bruschetta waiting for me when I arrived. He had it on real plates with candles lit and music playing. I was so excited and impressed thinking he made it himself just for me. Plus, it was cheese, bread, and tomatoes. My heart skipped a beat! Until I found out later that he ordered it from a local restaurant and tried to pass it off as his own.
I guess it's the thought that counts right?
Anyway, today's blogger Maggie from A Bitchin' Kitchen shares my love of carbs, cheese, breakfast foods, and cheap wines. She also has an amazing knack for making people laugh. I love her blog and am so happy we became email buddies outside of the blogs. I highly recommend you read hers and make this recipe.
Hi everyone! I'm Maggie from A Bitchin' Kitchen, and I am so excited to be guest posting on Sarcastic Cooking while Stefanie spends time with her sweet new addition. As a huge pug fan, I didn't think Stefanie's blog could get any cuter…but then she went and had an incredibly adorable baby.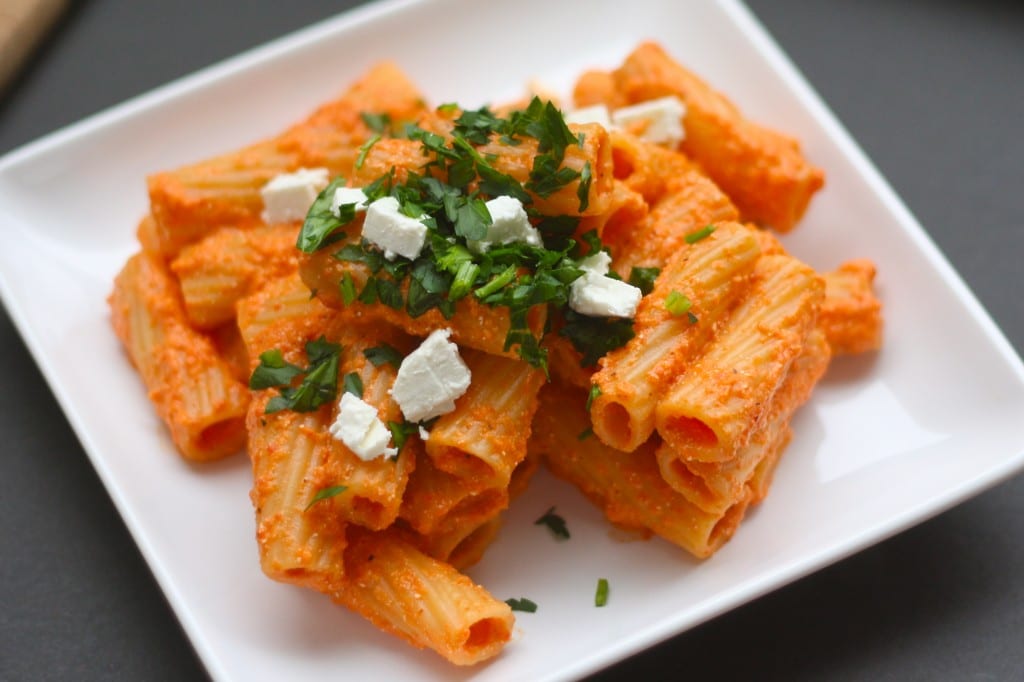 I'll be honest – when Stefanie asked me to contribute, I immediately began racking my brain thinking about what recipe I wanted to share. While I don't have any babies of my own yet, I hear they require a lot of time, so I wanted to make something that could be whipped up in fewer than 30 minutes. I also wanted to make something Stefanie would actually enjoy, so I creepily stalked her recipe archives and determined that she and I may share a love for roasted red peppers.
This pasta recipe is perfect for new moms – or anyone with limited time. It's fast, healthy, and except for the feta, uses ingredients you probably already have on hand in your pantry and fridge. The next time I make this I'm going to fancy it up with some roasted shrimp or grilled chicken, but it's awesome sans meat as well. This is such a nice change from a typical marinara or cream sauce, and I hope you love it as much as I did!
A Bitchin' Kitchen – Rigatoni with Creamy Red Pepper Feta Sauce
Ingredients
2

tablespoons

olive oil

1

small yellow onion

chopped

3

garlic cloves

chopped

1

16-ounce jar roasted red peppers, drained and chopped (about 2 cups)

½

cup

low-sodium chicken broth

1 6-

ounce

block feta cheese

crumbled

1

pound

rigatoni

Salt and pepper

to taste

Finely chopped fresh parsley
Instructions
Heat the oil in a large skillet over medium high heat. Sauté the onions until soft, about 7 minutes. Add the garlic, and sauté until fragrant, about 2 more minutes. Add the roasted peppers and sauté until heated through. Remove from heat, and let cool slightly.

Place the mixture in the bowl of a food processor with broth and all but 2 tablespoons of the feta. Process until combined and smooth. Alternatively, place the mixture in a large bowl, and puree using an immersion blender (this is what I did since my food processor is tiny.) Add salt and pepper to taste. This recipe needs lots of salt, so don't be afraid to keep adding more!

Cook the pasta according to package directors. Drain, reserving ½ cup pasta water. Toss the pasta and sauce, and add pasta water by the tablespoon, if needed. Add additional salt and pepper, to taste.

Sprinkle with parsley and remaining feta cheese before serving.