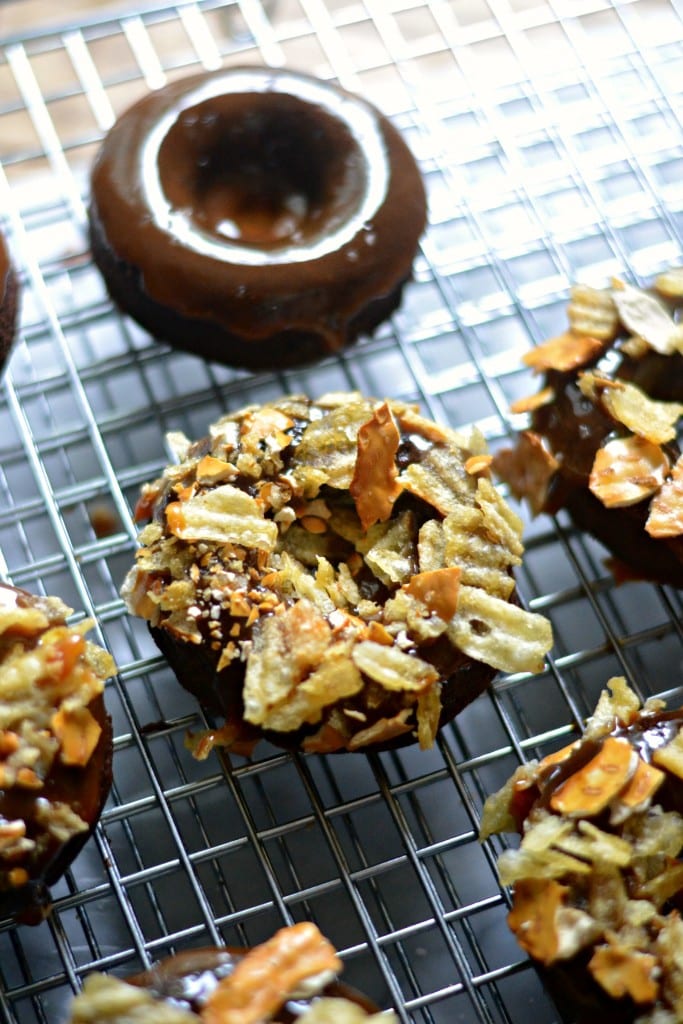 Today, let's talk about something that is near and dear to everybody's hearts; late night food. Or, drunk food, if you wanna call it that too. I know that for me, I don't need to be drunk to be craving or even needing some late night snacks. Lately if I stay up past ten watching a movie, I will be in need of a snack to help keep me awake for the rest of the movie. Yep, mom, I am turning into you!
Some people like some late night Mexican food. I can't do spicy before I hit the hay. Mike is all about late night tacos. There is a certain taco joint around here that stays open 24 hours a day that caters to the late night munchie crowd. You better believe that Mike and all his buddies hit that place up on the reg during the summer. I remember him taking me there when I first came to see his hometown in college too. Sigh, so romantic.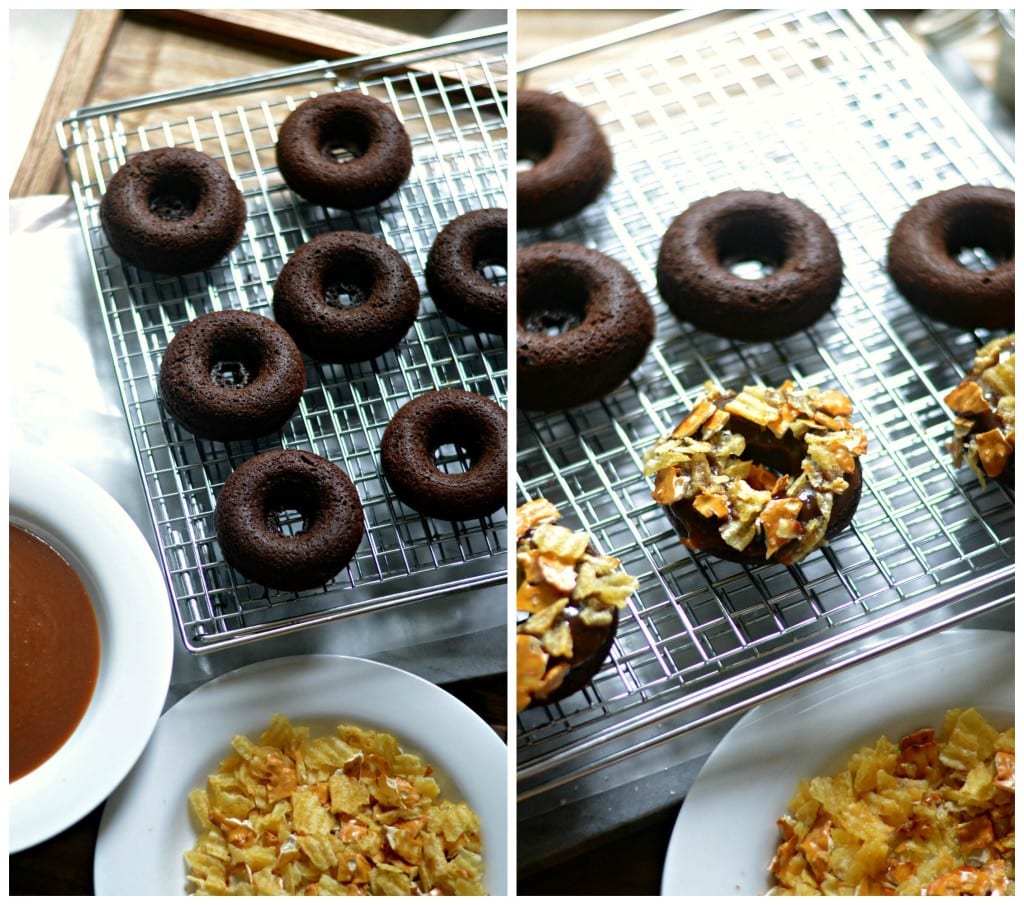 One of my BFF's brother is a lover of Mexican snacks as well. I can remember a very hilarious, yet totally not hilarious at the time moment in which we were DD for him. He asked if we could pull through the T Bell drive-thru before driving him home. He made us pull all the way forward so his rear passenger window was the one right by the microphone to order. I don't know why we didn't think something was weird when he requested this at the time. He proceeded to order a case of soft tacos.
Since we were clearly so young and naive, we thought he was going to share. Then when we pulled up to the payment window, he took the case and then told us he had no money. Whaaaaa?!?!? Yeah, he then ate all the tacos on the way back to his place. Womp, womp.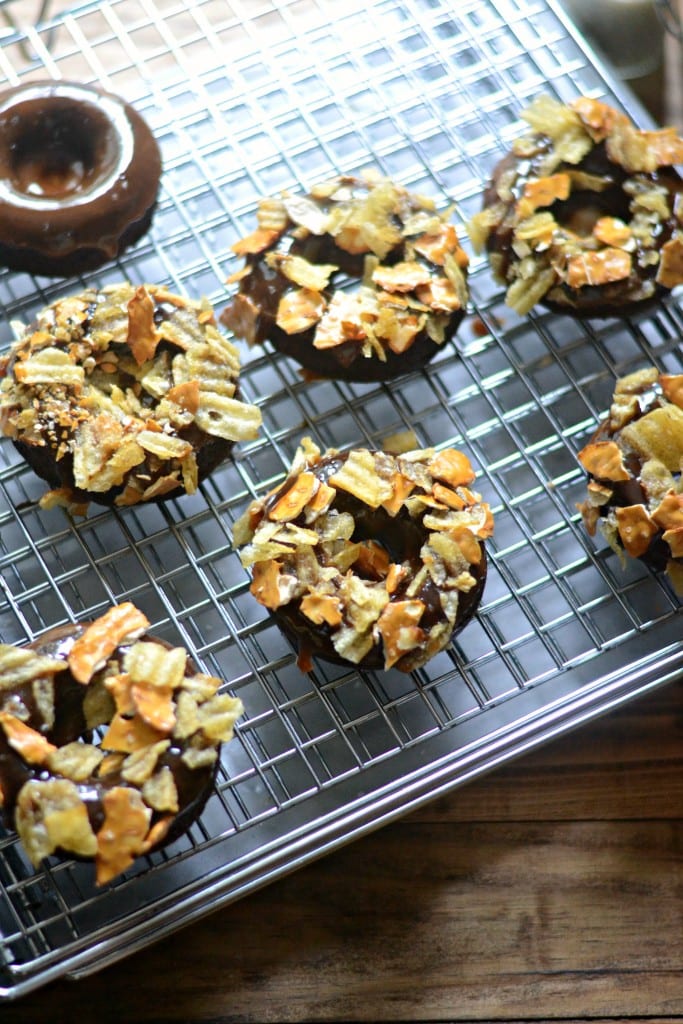 Our staple late night college food was pizza, but more specifically, Pokey Stix! It was like cheese pizza cut into dippable sticks. Glorious! Garlic, marinara, and ranch dipping sauces on the side. You could split this thing with like ten people and all have just enough to absorb whatever needed absorbing and then head off to bed satisfied. They had a size which literally could not fit through a door. So, being the ingenious sorority girls that me and my friends were, we ate it on the front steps and passed out pieces to passersby. Yay, new friends!!!
Going back to visit college, we were all so happy they still have these for delivery. However, our older bodies don't drink as much as we used to, so we were basically eating these sober. Yeah, that right there kind of killed the whole nostalgia attached to the greatness of the Pokey Stick.
Nowadays I am a sweet and salty late night snacker. Gimme some salted caramel anything! I can eat salted caramel sauce from the jar, with a spoon of course. I am not a total slob! I could eat an entire bag/container of chocolate covered pretzels in one sitting. Truth!
I took all my love for sweet and salty snacks and put them in/on a doughnut. Chocolate cake doughnuts covered in sticky salted caramel. The sticky caramel is perfect to grab all the crunched up pretzels and potato chips. Then (because who doesn't need an extra dose of salt?) I topped it off with a little sprinkle of my friend Susan's homemade Vanilla Sea Salt.
It is a messy undertaking but it is so worth it! Who said you can't eat doughnuts late at night???
Chocolate Cake Doughnut recipe adapted from Joy the Baker.
Late Night Munchie Doughnuts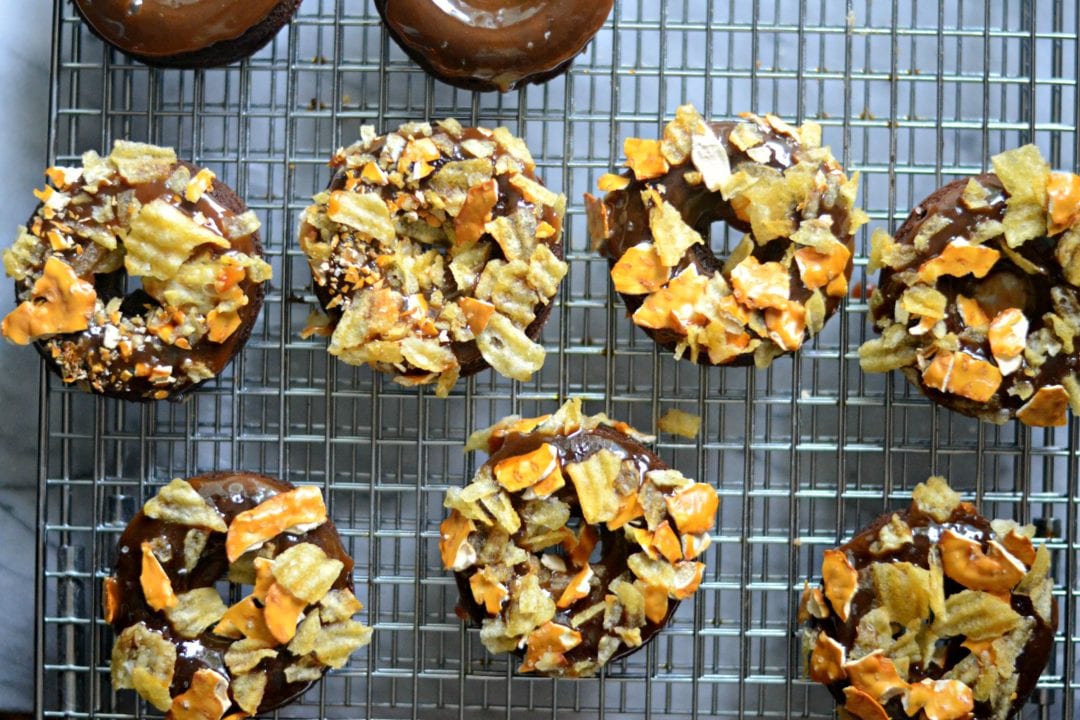 Decadent baked chocolate cake doughnuts topped with sticky salted caramel, crushed potato chips, and crushed pretzels.
Yields: 10 Doughnuts
For the Chocolate Cake Doughnuts:
1 cup all-purpose flour
1/4 cup unsweetened cocoa powder
1/2 teaspoon baking soda
1/4 teaspoon salt
1/2 cup light brown sugar, packed
1/2 cup buttermilk
1 large egg
4 tablespoons unsalted butter, melted
1 teaspoon pure vanilla extract
¼ teaspoon pure chocolate extract
For the Salted Caramel:
1/2 cup granulated sugar
2 tablespoons water
2 tablespoons light corn syrup
1/3 cup heavy cream
2 tablespoons unsalted butter
1/2 teaspoon sea salt
Topping:
1/3 Cup Crushed Potato Chips
1/3 Cup Salted Pretzels (rods or crisps)
Optional: Vanilla Sea Salt
Preheat the oven to 325 degrees F. Grease a doughnut pan with unsalted butter and set off to the side.
Whisk together the flour, cocoa powder, salt, baking powder, and brown sugar in a medium/large mixing bowl until combined.
In a separate smaller mixing bowl, whisk together the buttermilk, egg, melted butter, and extracts.
Add the wet ingredients to the dry and use a spatula or wooden spoon to mix until no more dry ingredients are visible and the batter is completely combined.
Fill each doughnut cavity about 2/3 of the way full with the cake batter. Bake the doughnuts for 11-13 minutes. Let the doughnuts cool for 5 minutes in the pan before inverting on to a wire rack to finish cooling.
While the doughnuts cool, make the salted caramel. Add the sugar, water and corn syrup to a small pot. Heat over medium/high while whisking. Once the sugar is completely dissolved, stop whisking. Let the sugar cook until a medium golden brown color. Reduce the heat to low and carefully whisk in the salt, butter, and cream. Keep whisking until combined. Remove from heat and add to a heatproof bowl to slightly cool.
To assemble the doughnuts, first dip the doughnut into the caramel sauce. Then make sure to let the excess drip off over the caramel bowl before dipping it into the bowl with the crushed chips and pretzels. Add back to the wire rack to completely set up.
Preparation time:

10 minutes

Cook time:

35 minutes

Total time:

45 minutes