Oh chicken tenders, how I love thee! No matter where you go, from dive bars to restaurant chains, you can almost never go wrong with ordering the chicken tenders.

Only problem is that more times than not, they are deep fried and heavily breaded. Now, on the one hand, that is totally awesome and fatty-flavor-licious, but, on the other hand that is totally not good for you if you are trying to watch what you eat.
A few weeks ago I shared my grocery shopping tips and I made mention to a healthy chicken tender recipe that I make once a week.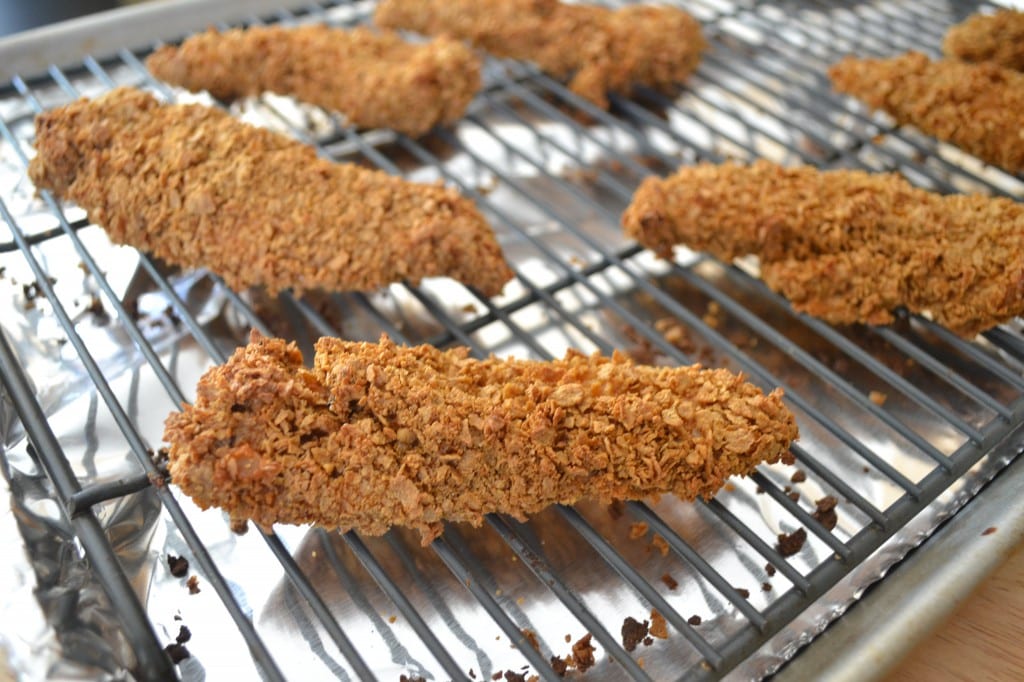 Well, here is the aforementioned recipe!
These are so good and juicy, you will want to eat them right out of the oven, but don't! Have some self respect! At least put the chicken tenders on a paper towel or a piece of parchment paper.
Healthy Baked Chicken Tenders
Author:
Prep time:
Cook time:
Total time:
Ingredients
1 lb. Boneless Skinless Chicken Tenders, at room temperature
1 Tablespoon Taco Seasoning
½ Teaspoon Paprika
½ Teaspoon Onion Powder
½ Teaspoon Garlic Powder
Pinch of Salt and Pepper
2 Eggs, beaten
2 Cups Finely Ground/Crushed Bran Flakes
Instructions
Preheat the oven to 375 degrees F.
Make sure the chill from the refrigerator is out of the chicken before seasoning. Combine all seasonings in a small bowl, mix with a fork to evenly distribute the seasonings. Dust both sides of each tender with the seasoning mix, reserving a tablespoon for the bran.
Pulse in batches, six cups of plain bran flakes, in a food processor until finely ground. If you don't have a food processor, place the bran flakes in a large heavy duty plastic freezer bag and use a rolling pin or mallet to crush the flakes.
Line a baking sheet with a piece of tin foil and then place a heat-proof wire rack on top on the tin foil.
Set out two large mixing bowls. Whisk the two eggs together in one of the bowls. In the other bowl, combine the ground bran flakes with the tablespoon of seasoning, mix well.
Dip one tender at a time into the egg and then into the bran flakes. Place each coated tender on to the wire rack. Continue until all tenders have been breaded.
Bake in the oven for thirty minutes, until the internal temperature of the tenders is 165 degrees F.

Related posts: