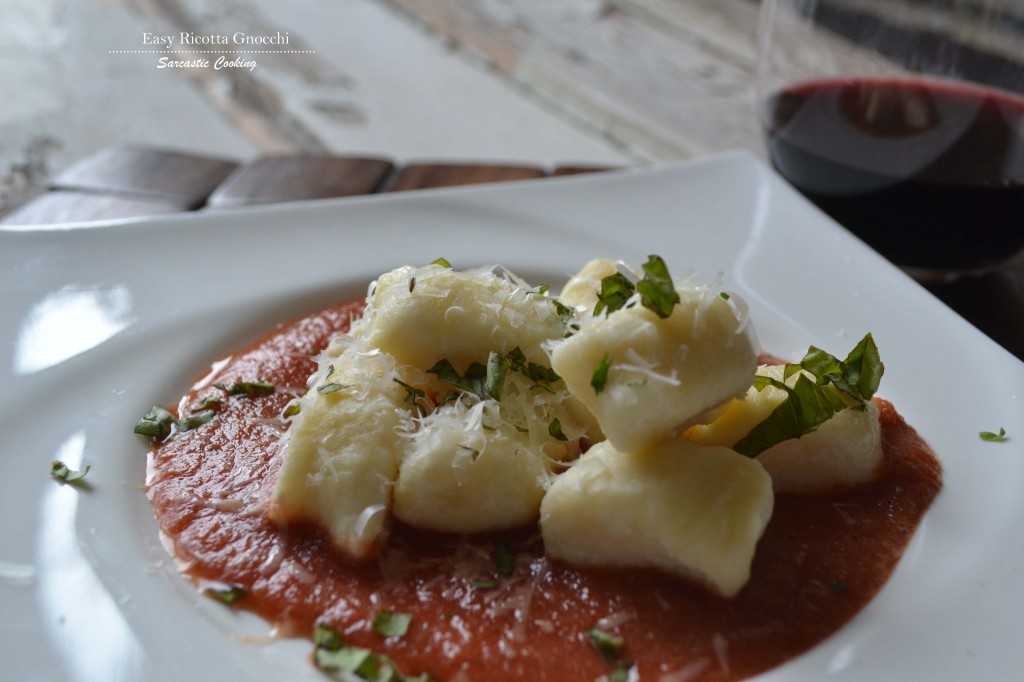 I know many of you are reading the title of this recipe and thinking, "Geez Stef, another recipe that is going to be too hard for me to do on a weeknight…"
But that is not true. I swear to God, it takes 25 minutes from start to finish, especially if you use store bought or premade marinara sauce. Who wouldn't want fresh ricotta gnocchi during the week?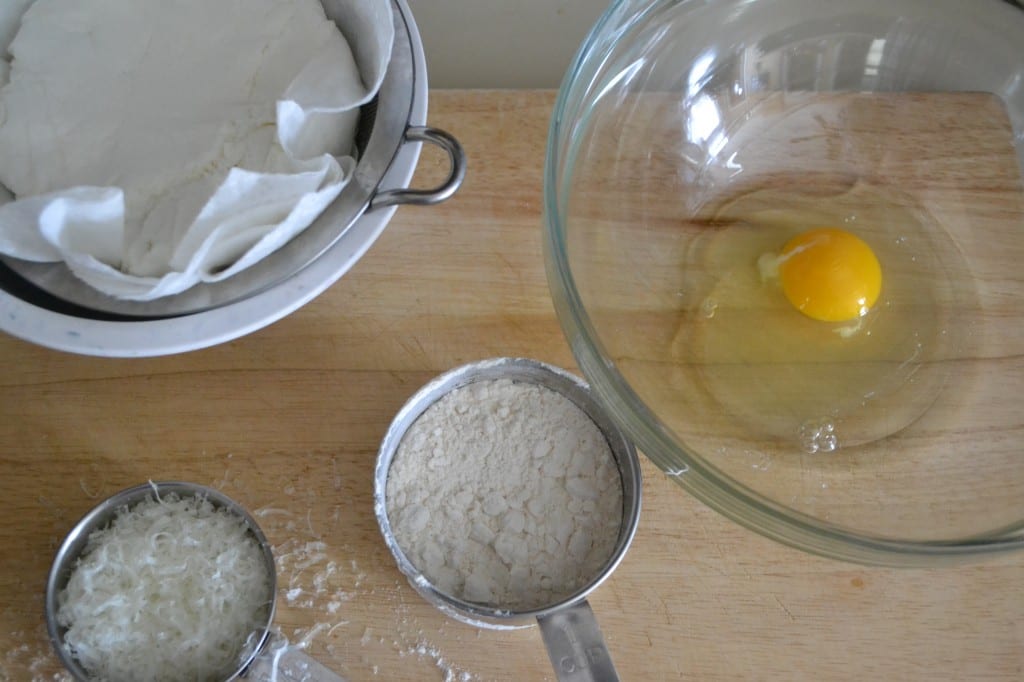 For example, let's say you had a really bad day, but you can't really call it a bad day because it was just a typical Monday, it was just one of those days where you woke up late, didn't have time for breakfast or much more importantly coffee, forgot to get gas until you were halfway to work and all of a sudden your car started beeping and yelling at you…. I am sure you all know what I am talking about. That kind of day or, God forbid week, definitely deserves a special dinner!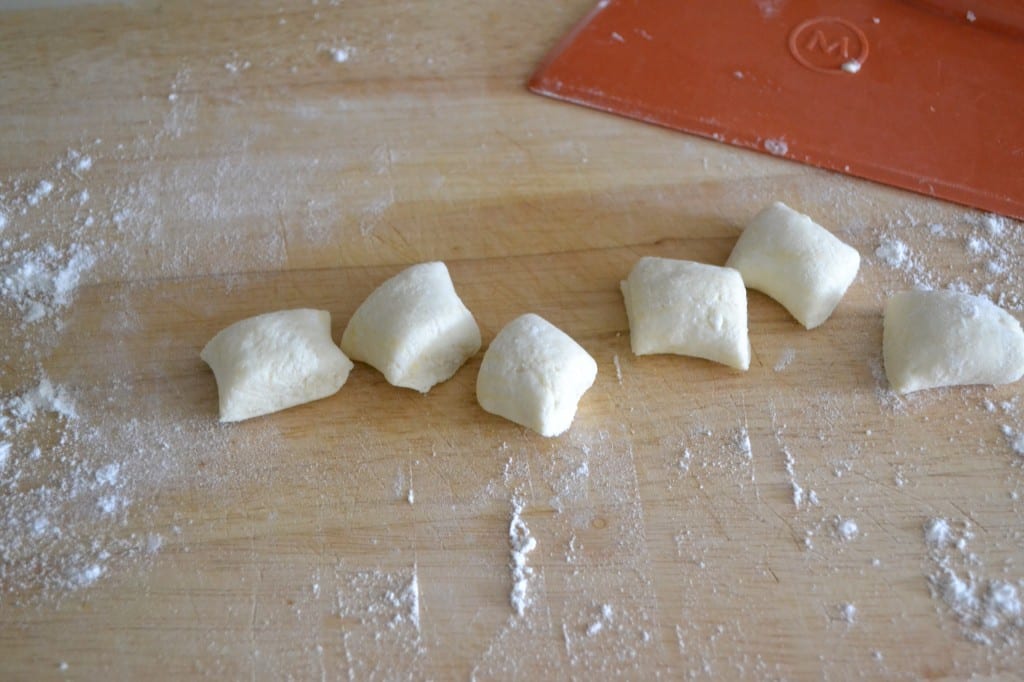 I bet you still don't believe me. I asked Mike, "How can I convince my readers that homemade gnocchi is easy?"
He said, "How can you convince them it isn't delicious?"
So, that really doesn't solve my dilemma. At least it was a nice compliment, right?  Reading it again, I'm not even sure what he was saying…was he even listening?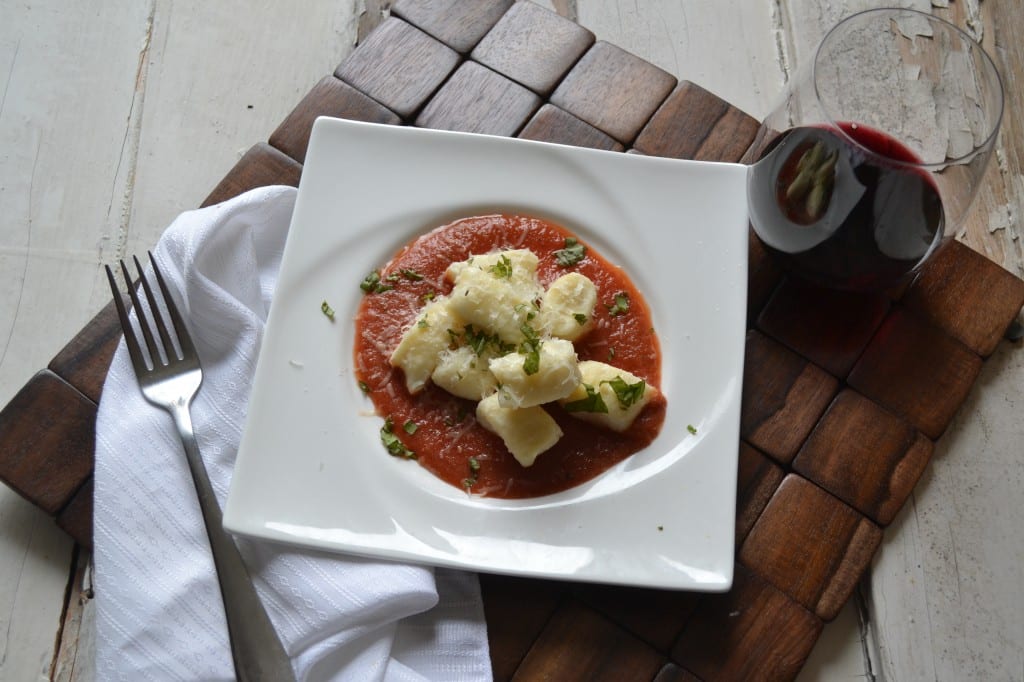 Anyway, I really recommend you guys try this easy homemade ricotta gnocchi recipe. It is so light and fluffy. It is definitely a meal that will brighten up your work week.
Easy Ricotta Gnocchi
Author:
Prep time:
Cook time:
Total time:
Ingredients
One 16-Ounce Container Ricotta
1 Large Egg
1/2 Cup Finely Grated Parmesan or Pecorino Cheese
1/2 Teaspoon Salt
3/4 to 1 Cup All-Purpose Flour
Marinara Sauce
Grated Parmesan/Pecorino and Fresh Chopped Basil (optional)
Instructions
Line a small strainer with three paper towels or coffee filters. Place the lined strainer over a small bowl, empty the contents of the container of ricotta to the lined strainer, let sit in the refrigerator for at least an hour. Do this the night before and leave it until the next day.
In a large bowl, combine the strained ricotta, egg, cheese, salt, and ¾ cup flour. Mix until combined. Refrigerate bowl for fifteen minutes. In the meantime, bring a large pot of salted water to a boil.
Lightly dust a work surface with a bit of flour. Take a large handful of dough and, using your hands, roll it into a long ¾ inch thick log. Use a bench scraper or a sharp knife to cut the log up into ½ inch pieces. Place the cut pieces on to a lightly floured baking sheet. Continue this process until all dough is rolled and cut.
Quickly, drop the gnocchi into the boiling water a handful at a time. Give the water a quick stir to make sure the gnocchi doesn't stick. When the gnocchi rises to the top of the water, cook for an additional two minutes, and then remove with a slotted spoon and transfer to a colander set in the sink to finish draining and cooling.
Serve pasta right away with a bit of marinara and grated cheese. Pasta will freeze well in an airtight container for up to a month. After a month, the pasta loses its freshness quality but is still edible.
Recipe from The Kitchn
Related posts: