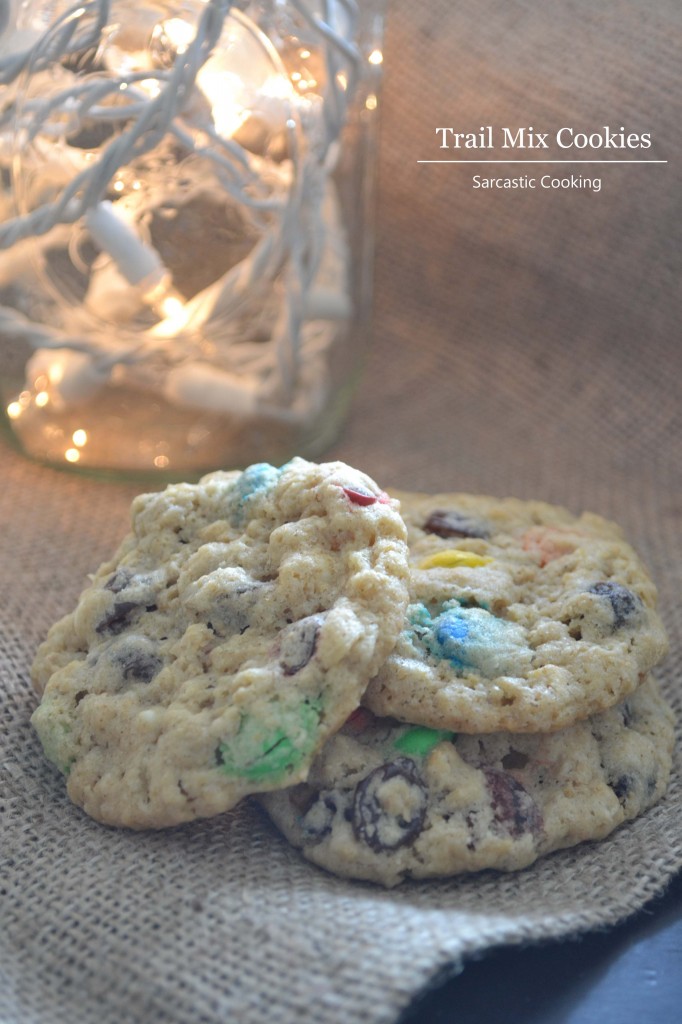 Last night, Mike and I celebrated my Dad's birthday with my entire family. We ate way too much pizza, had so many belly laughs, and then we watched Elf. It was a great night.
When packing up and getting ready to leave my parent's house, my Mom busted out about ten different kinds of packages of chocolate chips. She stocked up for me just in case I didn't already. Isn't she just the best? Luckily, I am slightly ahead of the baking game this year… For now.
I am sure once the realization of how many cookies, cakes, and pies I have to actually bake hits me, it will be a different flour-dusted, stress-filled scene in my kitchen. In the meantime, imagine me cool, calm, and collected whipping up batches of my first holiday treat recipe I am sharing with you, these trail mix cookies.
Trail Mix Cookies
Author:
Prep time:
Cook time:
Total time:
Ingredients
2 ½ Cups Old Fashioned Rolled Oats
1 Cup All-Purpose Flour
1 Cup Whole Wheat Flour
1 Teaspoon Baking Powder
1 Teaspoon Baking Soda
¾ Teaspoon Salt
1 Teaspoon Ground Cinnamon
1 Cup Unsalted Butter, softened
1 Cup Granulated Sugar
1 Cup Packed Brown Sugar
2 Large Eggs
2 Teaspoons Vanilla Extract
1 Cup Peanut Butter Chips/Chocolate Chips
1 Cup M&M Chocolate Candy
1 Cup Coarsely Chopped Salted and Roasted Peanuts
½ Cup Raisins
Instructions
Preheat the oven to 350 degrees F. Line two large baking sheets with parchment paper and set aside.
In a medium mixing bowl, whisk together the oats, flours, baking powder, baking soda, salt and cinnamon. Set off to the side.
In the bowl of an electric stand mixer fitted with the paddle attachment, cream the butter and sugar together until smooth, about three minutes. Add eggs, one at a time, beating on low for a minute in between each addition. Scrape down the sides of the bowl. Add the vanilla and beat until incorporated.
Add the flour mixture to the wet ingredients all at once. Beat on low until just about incorporated. Add the peanut butter/chocolate chips, M&M's, peanuts, and raisins. Beat on low until well incorporated.
Roll heaping tablespoonfuls into balls and place them on the parchment lined baking sheets about an inch apart. Bake for 10 to 13 minutes until golden around the edges. Allow cookies to cool on the baking sheet for ten minutes before transferring them to a wire rack to completely cool.
Store cookies in an air-tight container at room temperature. Cookies will last up to five days.
Recipe adapted from Joy the Baker Cookbook
Related posts: