Classic spaghetti pomodoro from The Bear has become a family favorite. It takes canned crushed tomatoes, onion, butter, and olive oil and transforms it into a delicious, flavor-layered sauce perfect for spaghetti noodles. It just takes a little time.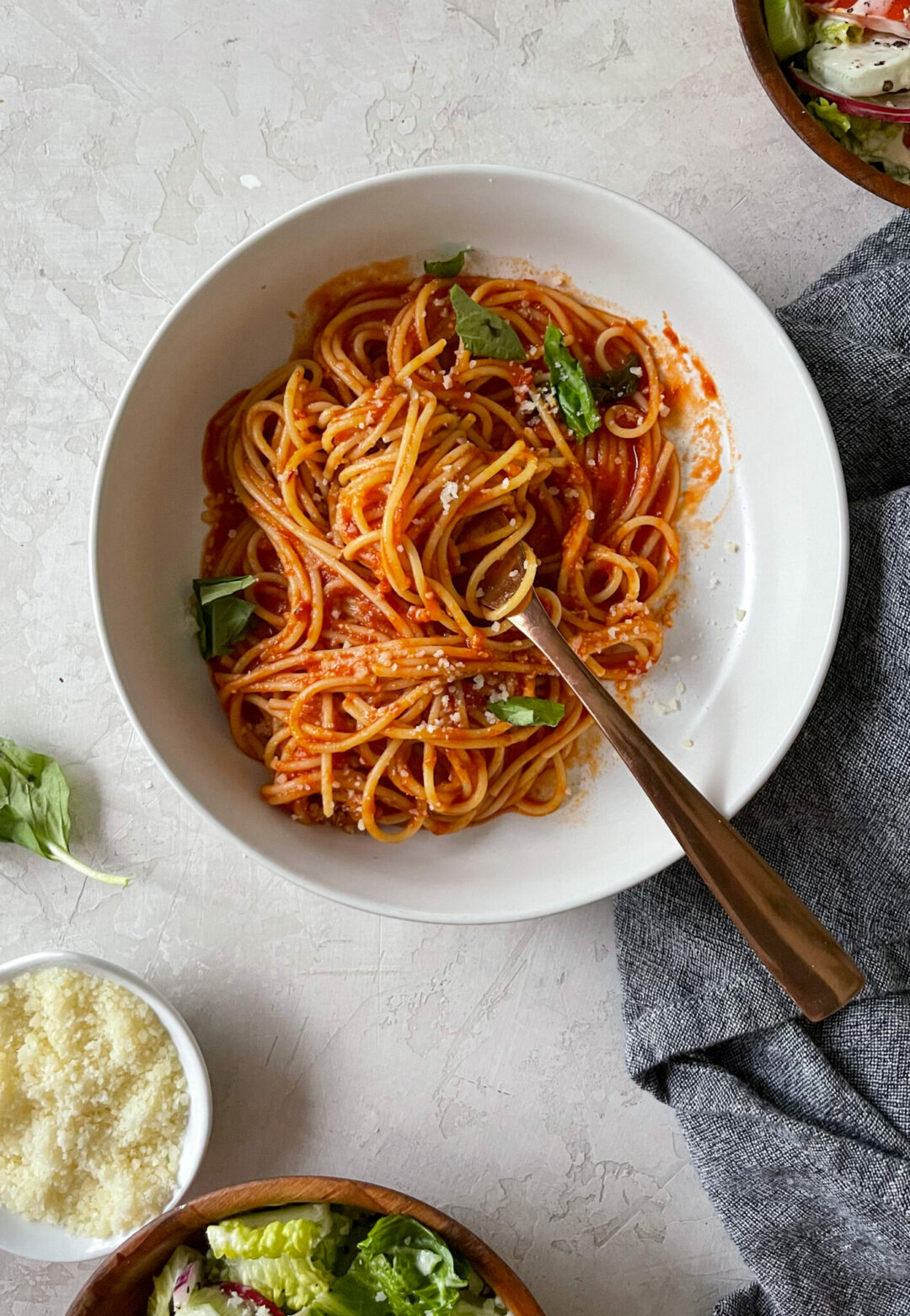 Are you as obsessed with The Bear as we have become?
Yes, Chef!
If you are reading this with a quizzical look upon your face, then you need to start watching Hulu's new-ish streaming show The Bear.
It takes place in Chicago. A talented, James Beard award-winning chef takes over his brother's failing beef sandwich shop.
Drama and hilarity ensues.
I think this show does a good job at capturing certain aspects of Chicago and suburb life.
It also does a lot to showcase the recipes that made these characters and this shop into something drool-worthy and memorable.
The classic Chicago beef sandwich will probably be recreated sometime soon.
Since we are starting a kitchen remodel soon, I decided to keep it easy and make a recipe that I can freeze and then just add to noodles as needed.
The recipe I had to recreate was classic spaghetti pomodoro which the main character made for the staff family dinner.
Here is all you need to make a lot of spaghetti pomodoro sauce:
canned, crushed tomatoes
extra-virgin olive oil
unsalted butter
2 yellow onions
a little tomato paste
salt
garlic
fresh basil
crushed red pepper flakes
spaghetti noodles
The recipe makes quite a bit of sauce. Like for a family of 8-10.
I just transferred about 3/4 of the sauce to a container to store in the freezer until the next pasta night.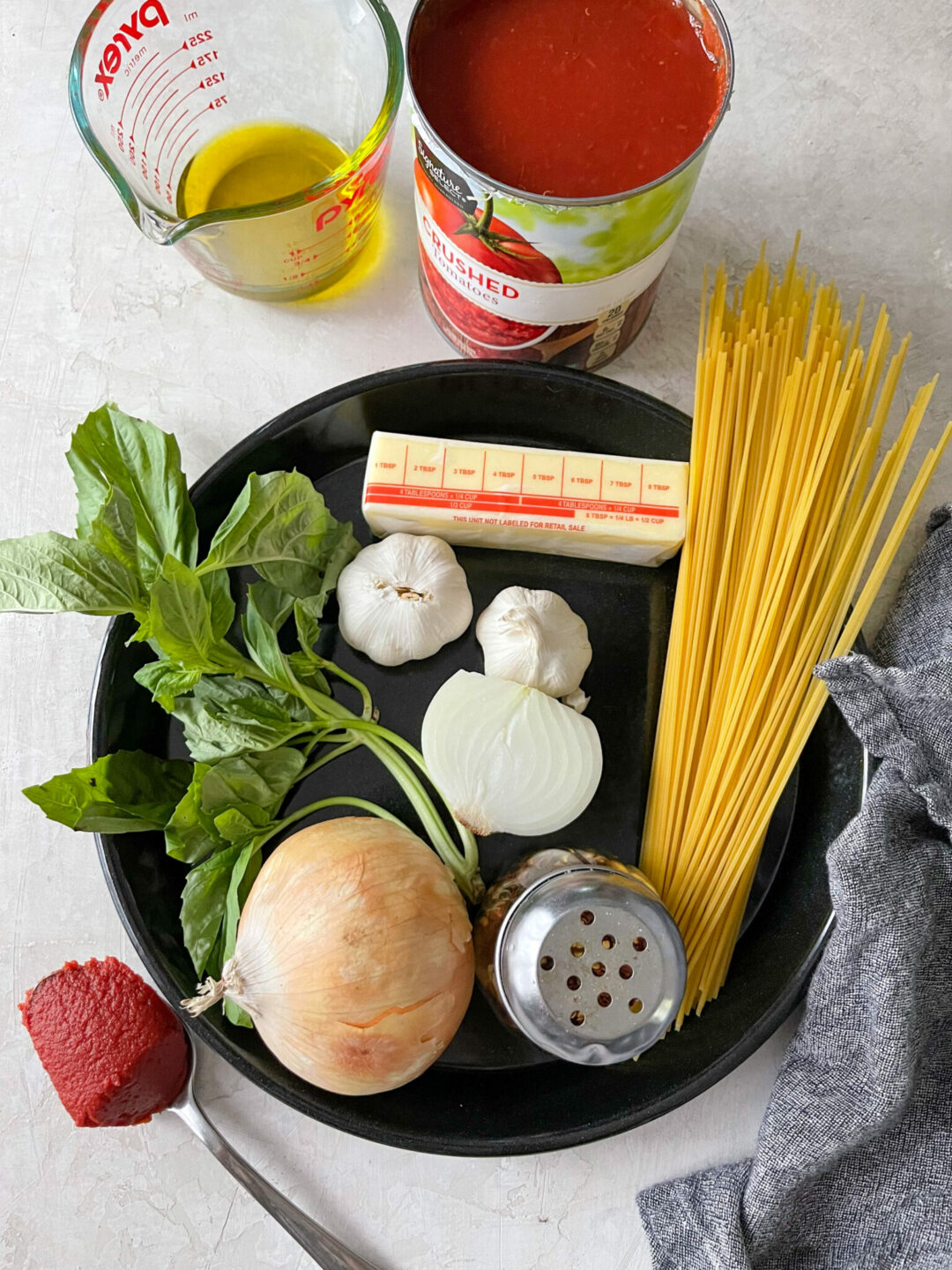 Before we start, something to know is that you have to be adding big pinches of salt throughout the cooking process.
When you add something to the pot, add some salt along with it.
First off, get a big sauce pot or heavy-bottomed Dutch oven.
Heat the oil in the pot over medium.
Add the crushed red pepper flakes and the onions.
The onions only need to be peeled and sliced in half through the root.
They are only adding onion flavor to the dish.
After 5 minutes, add in the butter and garlic.
Cook that until fragrant, then add the tomato paste. Combine the fats and the paste.
It doesn't have to be perfect, because the sauce is a classic sort of rustic sauce that's going to cook for a while.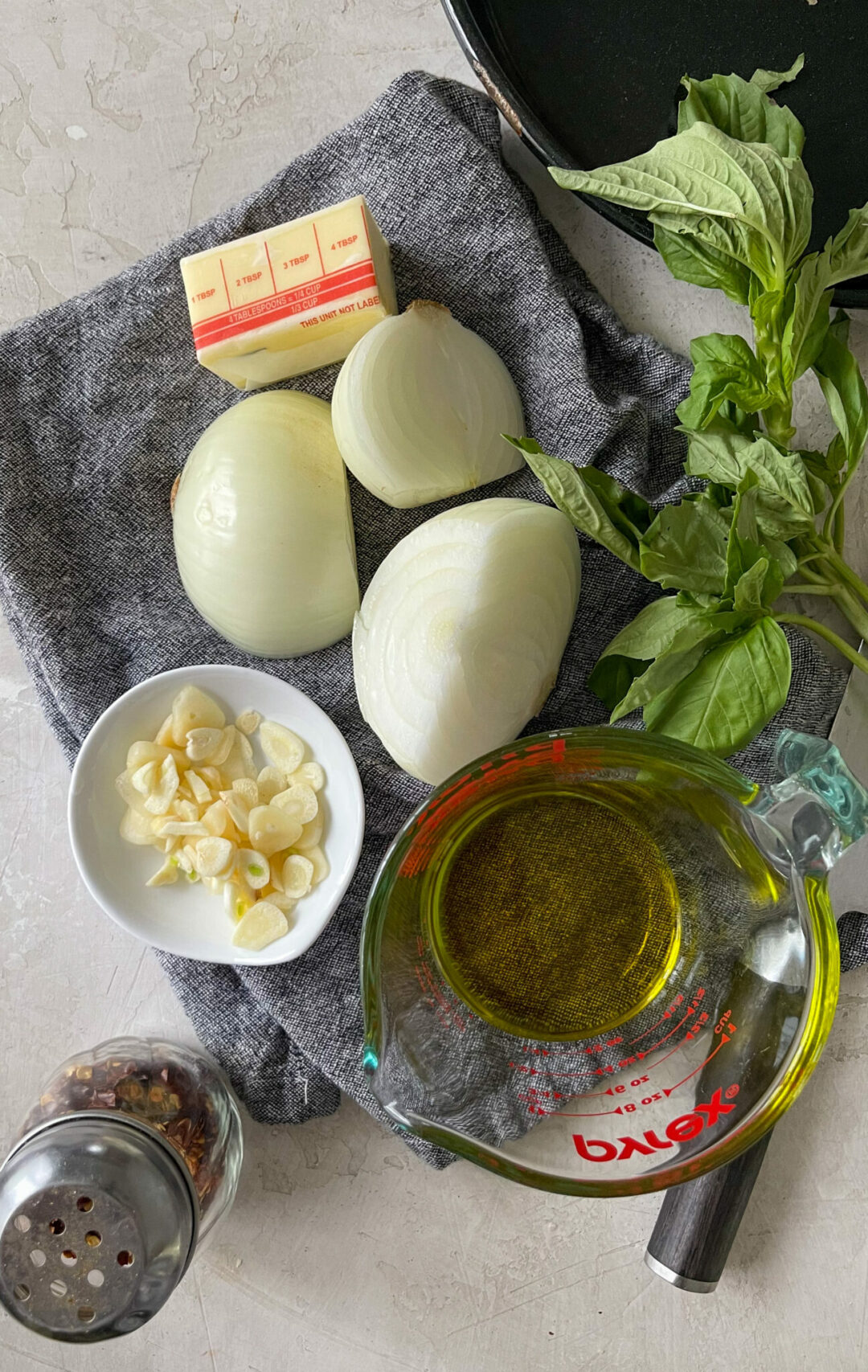 Some people, me included, like to add a handful of fresh basil leaves at this point to infuse the basil flavor into the sauce.
You can also hold off until the end if you like a more fresh basil flavor.
Add the canned crushed tomatoes.
Bring to a simmer. Simmer for 30 ish minutes, stirring occasionally.
When the 30 minutes is up, bring a large pot of heavily salted water to a boil.
Drop your pasta into the boiling water.
Check out the cooking instructions on the box. You want to stop the boiling time about 3-4 minutes shy.
If I am cooking this dish for my family of four, I will remove about 1/2 of the sauce and transfer it to a freezer safe container with a lid.
Kiss the onions from the sauce goodbye and toss them or send them to compost.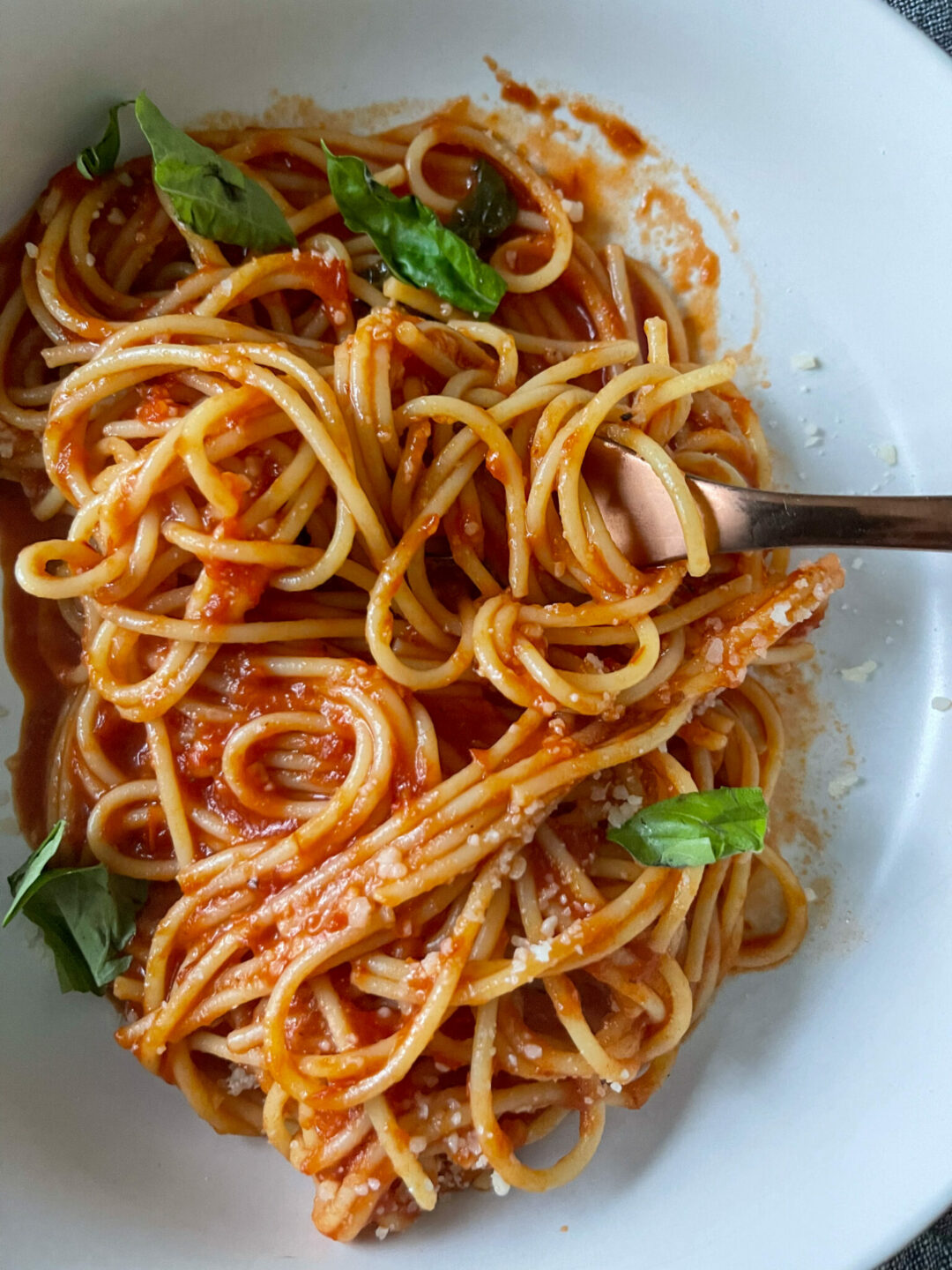 Reduce the heat on the sauce to low. Add a few tablespoons of butter and a 1/2 – 1/4 cup of the pasta water to the sauce.
Use tongs to transfer the noodles to the sauce pot.
Toss the noodles around using the tongs and cook for 4 minutes in the sauce.
Transfer the classic spaghetti pomodoro to bowls using tongs. Be sure to scoop the remaining sauce on top of each dish as well.
Top with fresh basil and some freshly grated Parmesan cheese.
Don't forget the garlic bread on the side.
Enjoy!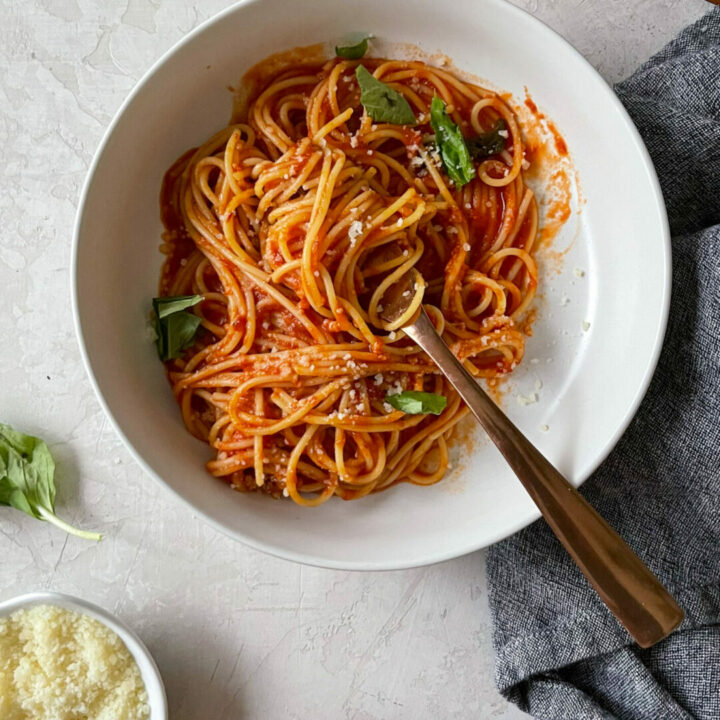 Classic Spaghetti Pomodoro
Yield: Serves 4 with leftover sauce

Prep Time: 5 minutes

Cook Time: 50 minutes

Total Time: 55 minutes

Simple spaghetti pomodoro sauce with spaghetti has such a depth of flavor you won't be thinking there is anything plain or simple about it!
Ingredients
1/2 cup extra virgin olive oil
1/2 -1/4 tsp crushed red pepper flakes
2 yellow onions, peeled and sliced in half through the root
5 garlic cloves, peeled and thinly sliced
10 tbsp unsalted butter
a small handful of fresh basil leaves*
1 heaping tbsp tomato paste
kosher salt
2, 28oz cans crushed tomatoes
1/2- 1/4 cup reserved pasta water
16 oz spaghetti noodles
fresh basil and freshly grated Parmesan for the topping
Instructions
Heat a Dutch oven or large stock pot over medium for a minute or two. Add olive oil. Heat through for a minute then add the crushed red pepper flakes. Add as much or as little as you can handle. Add a big pinch of salt. Stir to combine. After a minute, add the onions cut side down. Cook for about 5 minutes.
Add only 8 tbsp of butter and garlic to the pot. Cook for about 5-7 minutes until the garlic is fragrant. Be sure to stir every few minutes. Mix in a big pinch of salt.
Toss in the fresh basil leaves if you are using them. Stir to combine.
Add the tomato paste and do your best to stir it into the oil and butter. Toast the paste for 4 minutes.
Pour in the canned crushed tomatoes along. Fill one can half way with water and add that to the pot too. Add four pinches of salt. Stir to combine.
Bring to a simmer over medium low. Let the sauce simmer for 30 minutes.
Reduce the sauce to low and bring a large pot of heavily salted water to a boil. When the water is boiling, add the spaghetti noodles and cook just 3-4 minutes shy of completely cooked through.
Remove the onions from the sauce and toss in the garbage or compost. Transfer half the sauce to a freezer safe container with a lid. Store in the fridge or freezer until next use.
Add about 1/4 a cup of pasta water to the sauce. Stir to combine. Use tongs to transfer the noodles right into the sauce. Add remaining 2 tbsp of butter. Toss to combine.
Increase heat to medium low and cook for about 3-4 minutes until noodles are cooked through.
Transfer noodles with tongs to 4-5 bowls. Be sure to spoon excess sauce on top of each serving. Top with fresh basil and Parmesan cheese.
Notes
If let's say your kids don't like seeing green stuff in their sauce, you don't have to add the basil when the bitter and oil are cooking. You can reserve it until the end and just top the pasta with it for a brighter, fresh basil flavor.