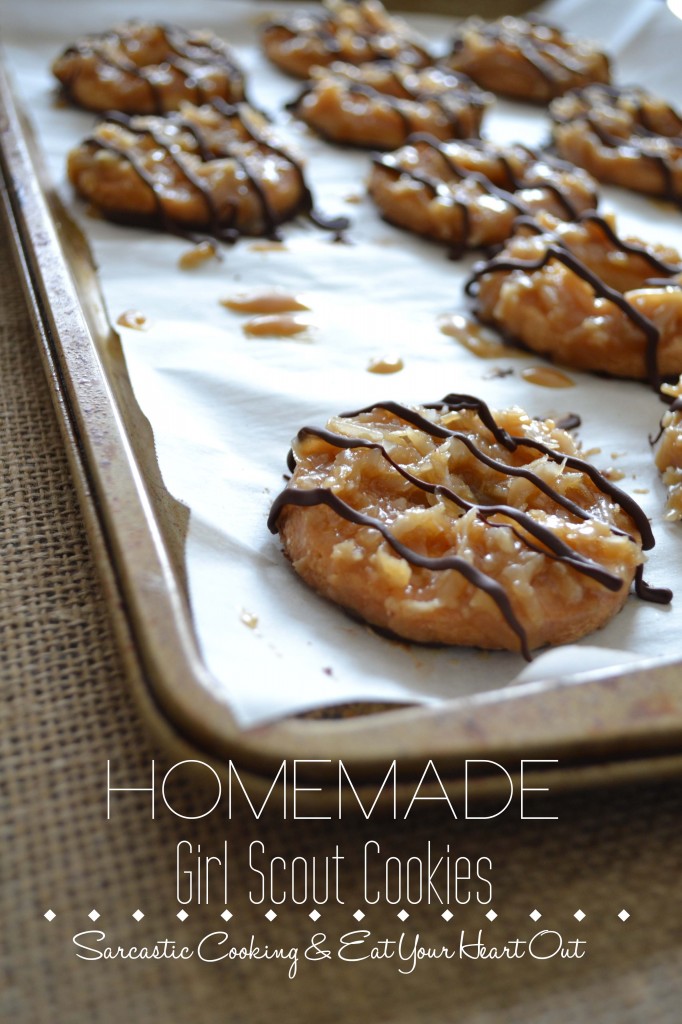 Back when Stephie and I had a chance to cook and bake together over the holidays, we knew we had to make these. Or, more like I insisted we had to make these, because Stephie is a weirdo that doesn't like chocolate. However, she did say her Dad would really like these.
We were like a little Lucy and Ethel cookie making assembly line of two.
I think that I am going to bake some more of these up for Valentine's Day. I think there is no better way to show your appreciation for your significant other or even a friend or family member than with cookies.
It is a great way to say thank you for not always stealing the covers, thank you for not minding my cold ass feet and hands making contact with your bare skin in the middle of winter, thank you for always pouring a glass of wine for me when you pour one for yourself, and thank you for loving me even when I choose not to shower for a day. Clearly those are just, you know, general examples…
Homemade Girl Scout Cookies
Author:
Prep time:
Cook time:
Total time:
Make your favorite Girl Scout cookies at home.
Ingredients
[b] Shortbread Cookies:[/b]
3/4 Cup (1 1/2 Sticks) Unsalted Butter, softened
1/2 Cup Plus 2 Tablespoons Granulated Sugar
1 Teaspoon Vanilla Extract
1 3/4 Cup All -Purpose Flour
Pinch Salt
[b] Coconut-Caramel Topping:[/b]
1 Cup Light Brown Sugar, packed
1/2 Cup Heavy Cream
1/4 Cup (1/2 stick) Unsalted Butter, softened
1/4 Teaspoon Salt
2 ½-3 Cups Shredded Coconut
8 Ounces Semisweet Chocolate, melted
Instructions
In the bowl of an electric stand mixer fitted with the paddle attachment, cream together the butter and sugar for about three minutes until light and fluffy.
Add vanilla, mix, and then scrape down the sides.
In a mixing bowl, whisk together the flour and salt. With the mixer on low, slowly add the flour mixture into the bowl. Mix until dough comes together. Place the dough on a piece of plastic wrap. Press the dough together and form into a flat disc. Wrap and place in the refrigerator for at least thirty minutes.
Preheat the oven to 350 degrees F.
Lightly flour a work surface, remove dough from wrap, and then roll out the dough until it is 1/8 inch thick.
Cut out 2 – 2 ½ inch circles in the dough and make a smaller circle in the center, like a little flat doughnut. Add the shapes to a parchment lined baking sheet and chill in the refrigerator for another fifteen minutes while the oven heats up.
Bake cookies for 18 to 20 minutes until the edges barely brown. Transfer cookies to a wire rack to cool completely. Continue to bake cookies in batches until all are baked.
To make the coconut caramel topping, add the sugar, cream, butter, and salt to a small saucepan. Heat over medium heat while stirring for about six to seven minutes until sauce cooks down and forms a smooth caramel sauce. Fold in coconut until fully incorporated. Remove from heat.
Melt half of the chocolate chips in the microwave. Dip the bottoms of the cookies into the chocolate and then add to a parchment lined baking sheet. Allow chocolate to set up and harden for fifteen minutes.
After the chocolate on the bottom is hard, add a spoonful of the caramel coconut sauce to the top. Spread out in a thin layer on top of each cookie. Place cookies back on parchment for about fifteen minutes.
Lastly melt the rest of the chocolate chips. Add the melted chocolate to a small plastic sandwich bag. Carefully snip off the corner of the bag. Use the bag to drizzle the chocolate over the tops of the cookies. Let sit up for thirty minutes.
Store cookies in an airtight container for up to five days.
Plus being able to make your own Girl Scout cookies makes you able to have them any time of year and not be forced to stockpile and freeze them so they last the entire year.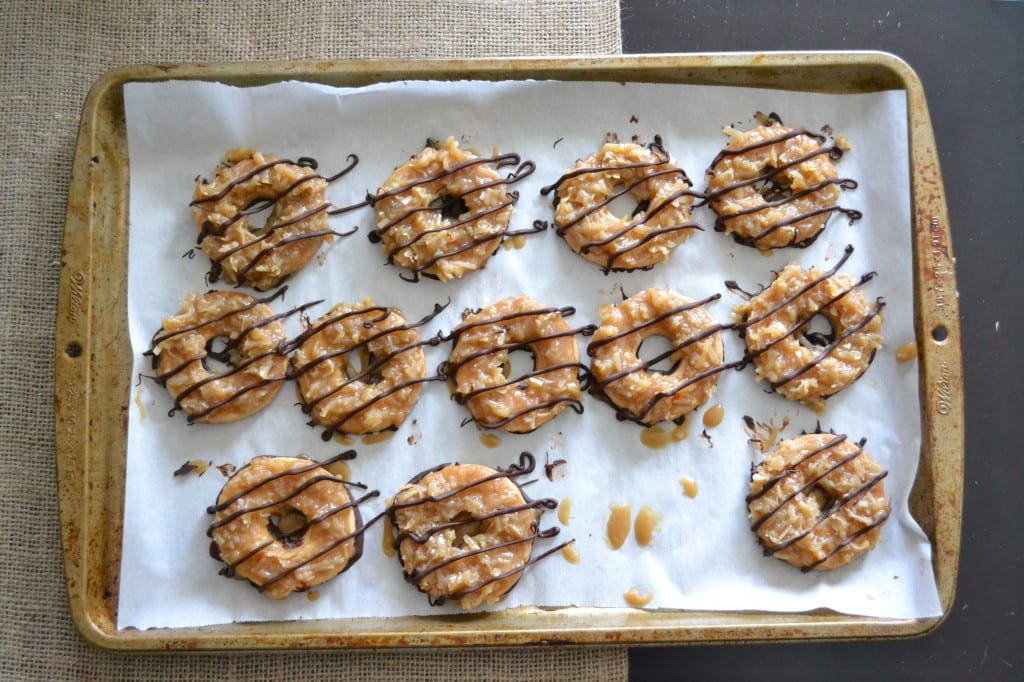 Recipe from Spoon, Fork, Bacon
Related posts: