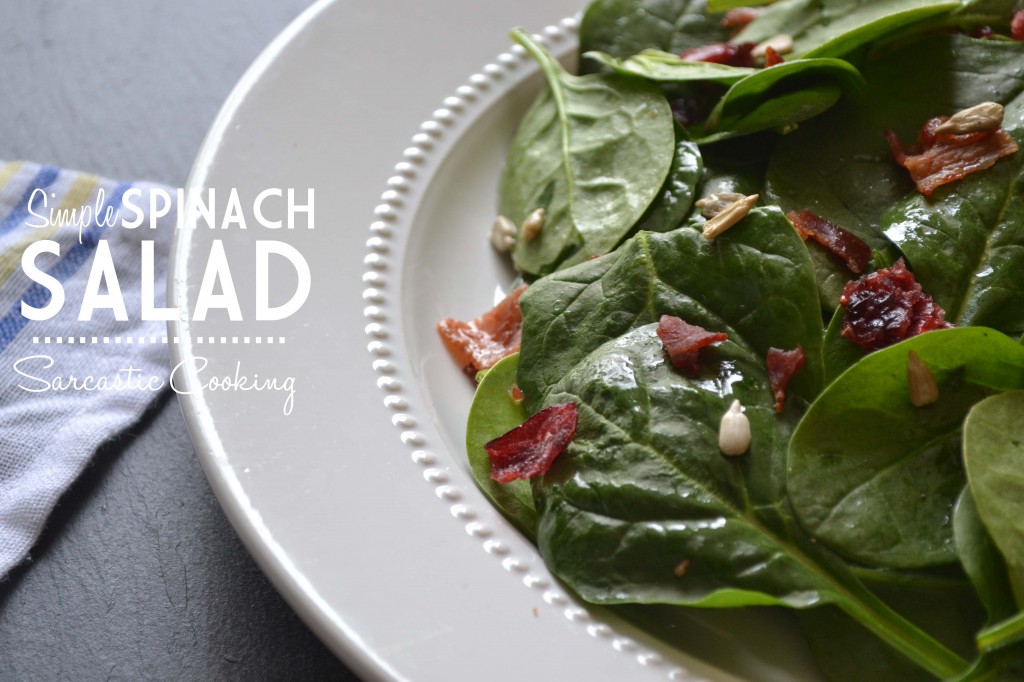 Mike hates salads. He often gets mad at me or grumbles when I make a side salad to go with our dinners. He begrudgingly eats it, leaving behind the tomatoes. Watching him eat a salad makes me sad. How does he not like the crunchy combo I have made for him? Why does he always look like he is in pain when he is eating salad?
You can clearly see how feeding Mike salad is distracting for me.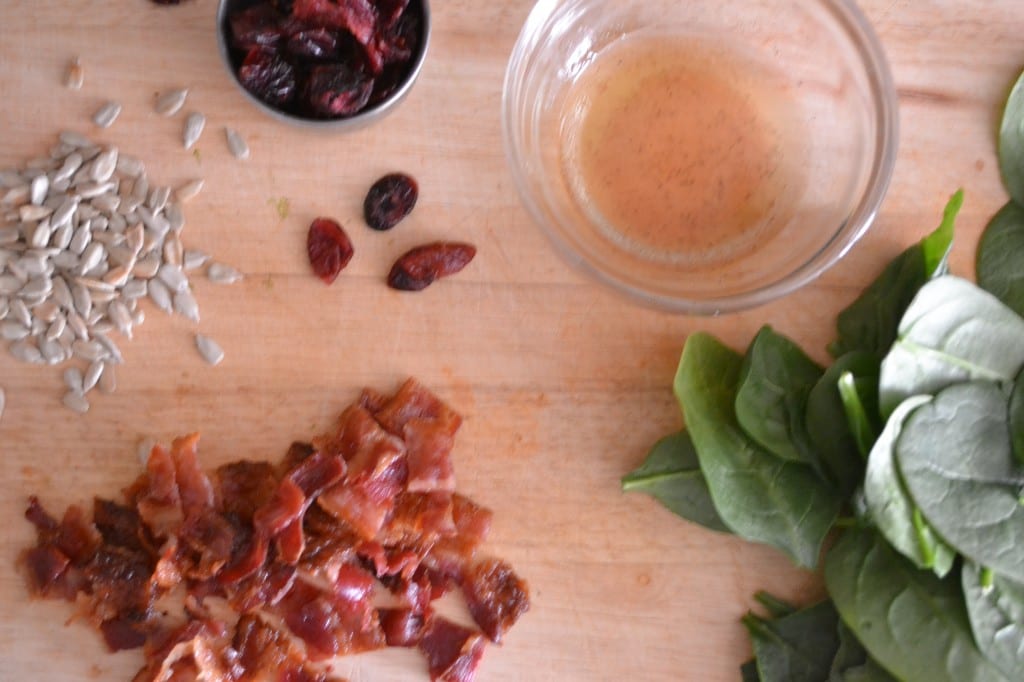 That's why on nights when Mike is not home for dinner, I relish in not cooking and just throwing together an awesome salad. I always make a Seinfeld size biiiiig salad. If it is going to be my dinner, it is going to count.
Last night, I made one of my favorite salads—spinach  salad. My Mom always makes spinach salad for New Year's Day dinner. It is super simple and great for dinner or lunch. I feel bad even making a recipe for this salad because it is so easy.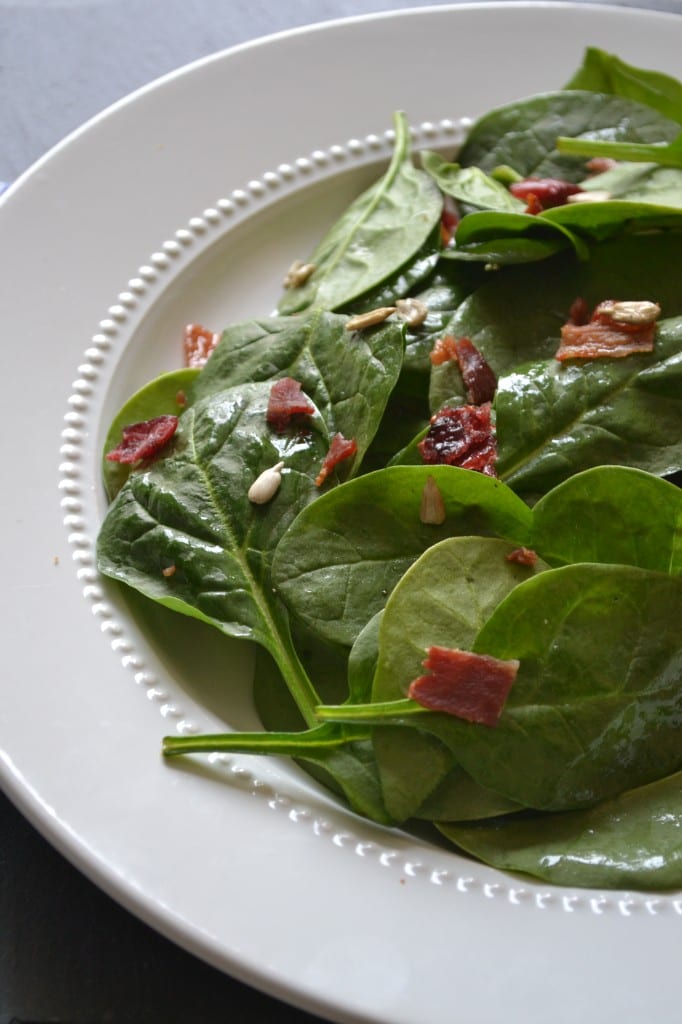 I tweaked my Mom's recipe by adding some toasted sunflower seeds and cranberries. The important ingredients are clearly the spinach and bacon. Feel free to add anything your heart desires.
Eat that salad on the couch while watching anything on the Bravo network and then paint your nails. That's how I treat myself to my faves when Mike isn't around. Yes, a salad can be a treat yo' self situation! It has bacon, duh!
Simple Spinach Salad
Author:
Prep time:
Cook time:
Total time:
Ingredients
[b]For the Dressing:[/b]
1 Teaspoon Bacon Drippings
2 Teaspoons Red Wine Vinegar
1 Tablespoon Olive Oil
Pinch of Salt and Pepper
[br]
[b]For the Salad:[/b]
4 Slices Cooked Crisp Bacon, chopped
8 Ounces Spinach
¼ Cup Dried Cranberries
¼ Cup Toasted Sunflower Seeds
Instructions
Preheat the oven to 375 degrees F. Line a baking sheet with tin foil. Arrange slices of bacon on lined baking sheet. Bake in the oven for 12 to 15 minutes until crispy. This method makes the crispiest bacon, always.
When bacon is cooked crisp, remove and add to a paper towel to drain. Reserve a teaspoon of bacon grease for the dressing. Roughly chop the bacon.
In a small bowl, whisk together the bacon grease, olive oil, red wine vinegar, salt, and pepper.
Toast the sunflower seeds in a small pan until slightly golden.
Add the spinach, bacon, cranberries, and toasted sunflower seeds to a large bowl. Pour dressing into the bowl and toss to combine. Serve salad right away.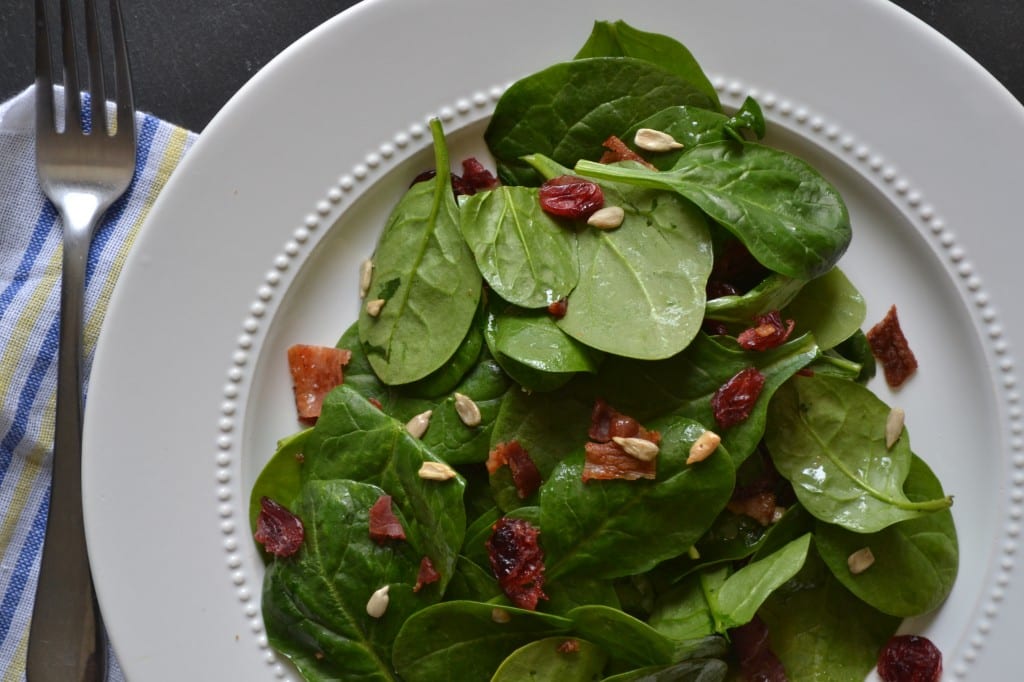 Related posts: