This deli-style marinated tomato and mozzarella salad is made with tomatoes, mozzarella, slivered onions, lemon juice, white wine vinegar, garlic, and olive oil. Let it sit for a few hours and the flavors will remind you of one of your favorite deli salads.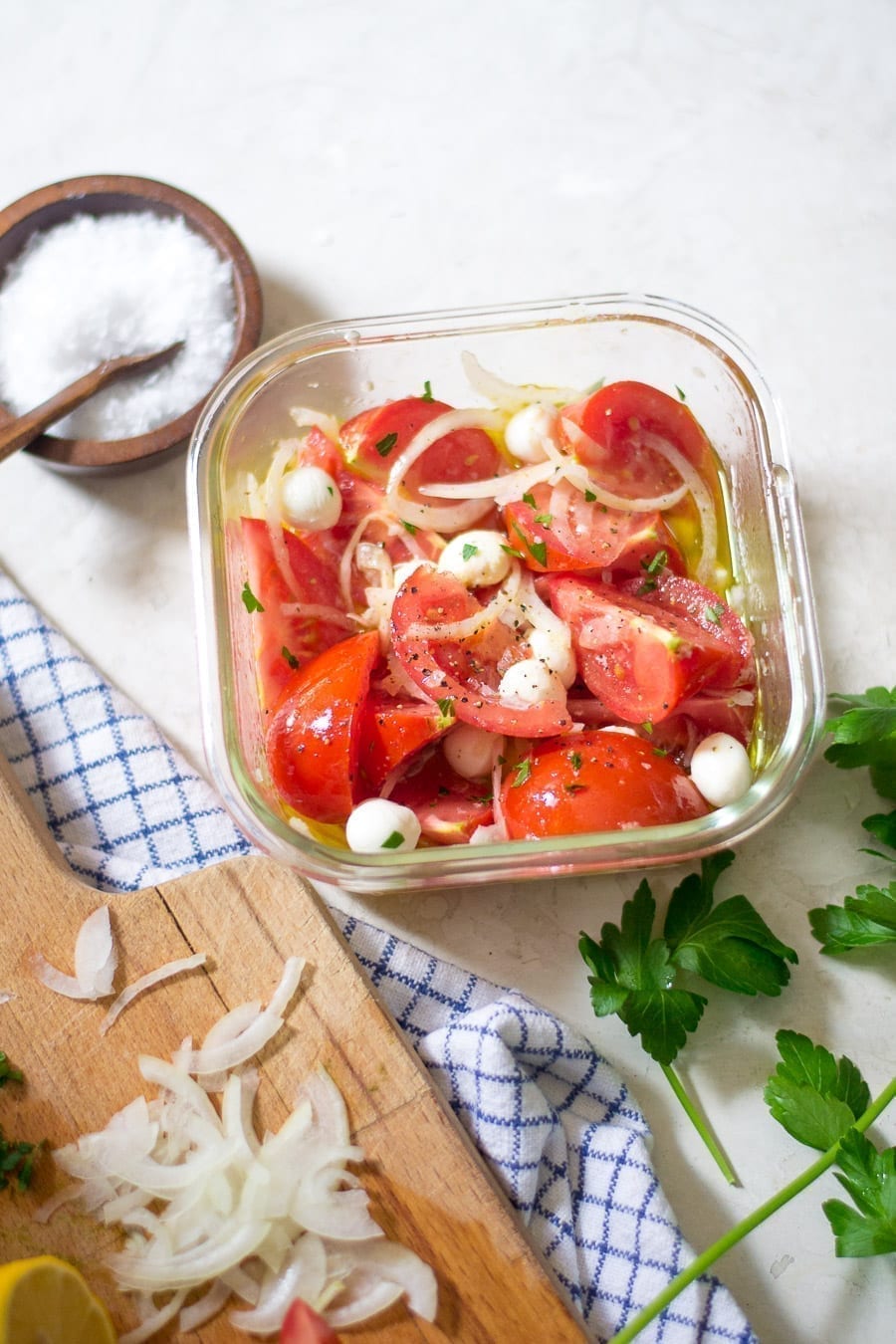 Tomatoes bring me joy. During this time I have been trying to make easy recipes that also make me happy.
Tomato season, my favorite time of year, is right around the corner.
That is a little silver lining I keep looking forward to. It's small, but it is something.
My favorite local Italian deli makes a version of this salad. I could eat the entire 9×11″ pan that sits under the deli case marinating away.
When I was younger, scratch that, to this day, I am the person that can eat a whole tomato like an apple.
Yep.
Like I said, I love tomatoes.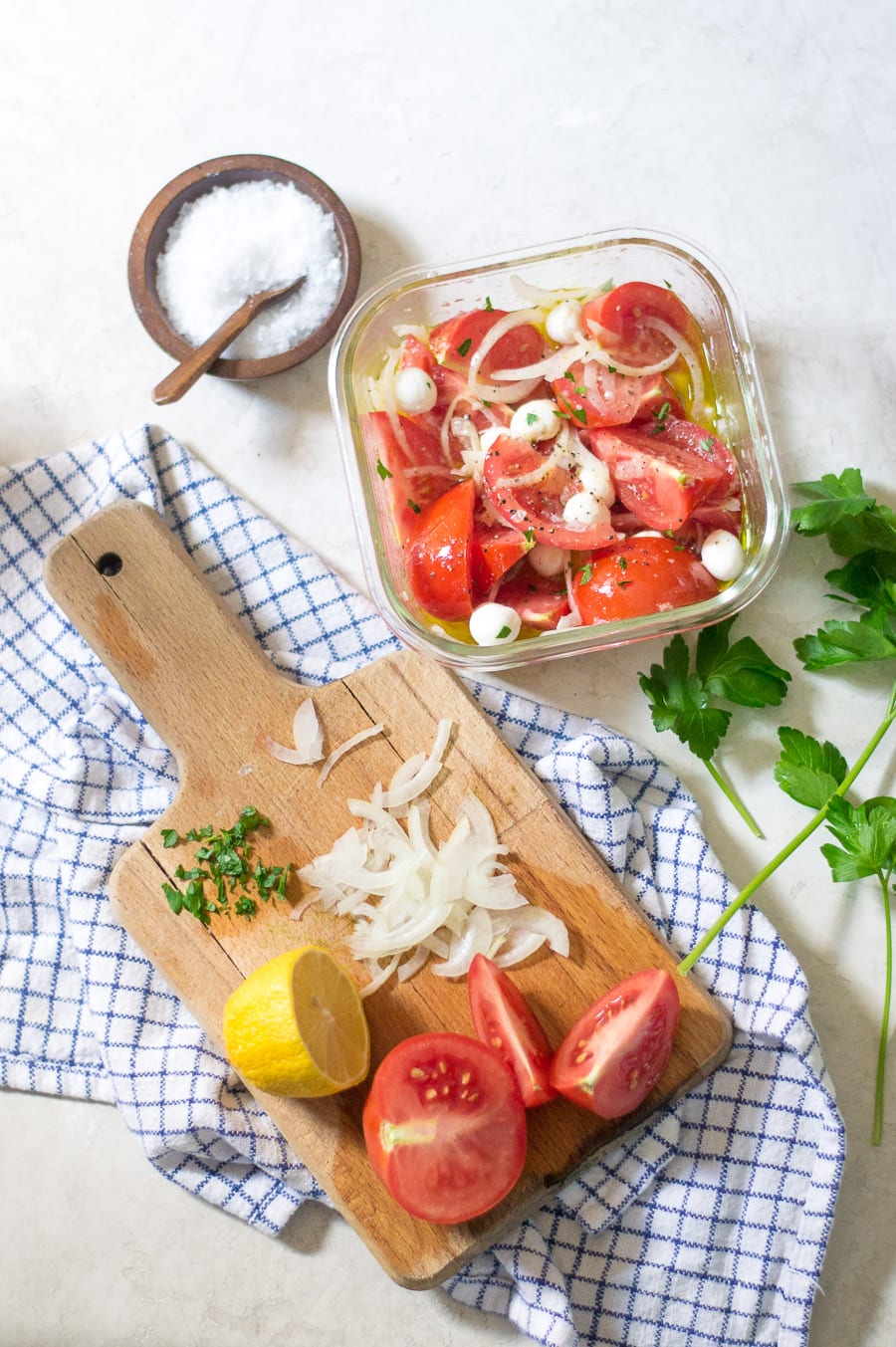 This is a simple salad that just needs a little time to amplify the flavors and take the bite out of the garlic and onion.
Take three big tomatoes and then cut them into wedges. Mix the lemon juice, white wine vinegar, extra-virgin olive oil, garlic, salt, and pepper together in a medium bowl.
I like to use a mandolin to get my onions really thin, like see through thin.
You can use red, yellow, or even white onion for this recipe.
Use what you have!
Same goes for the fresh mozzarella. I used the pearls but you can use larger pieces and just cut them smaller. It all works.
I like to leave the marinated tomato and mozzarella salad at room temp for a little bit so everything can combine. You can also refrigerate the salad and just toss it in the microwave for 10-15 seconds so the oil comes to room temp.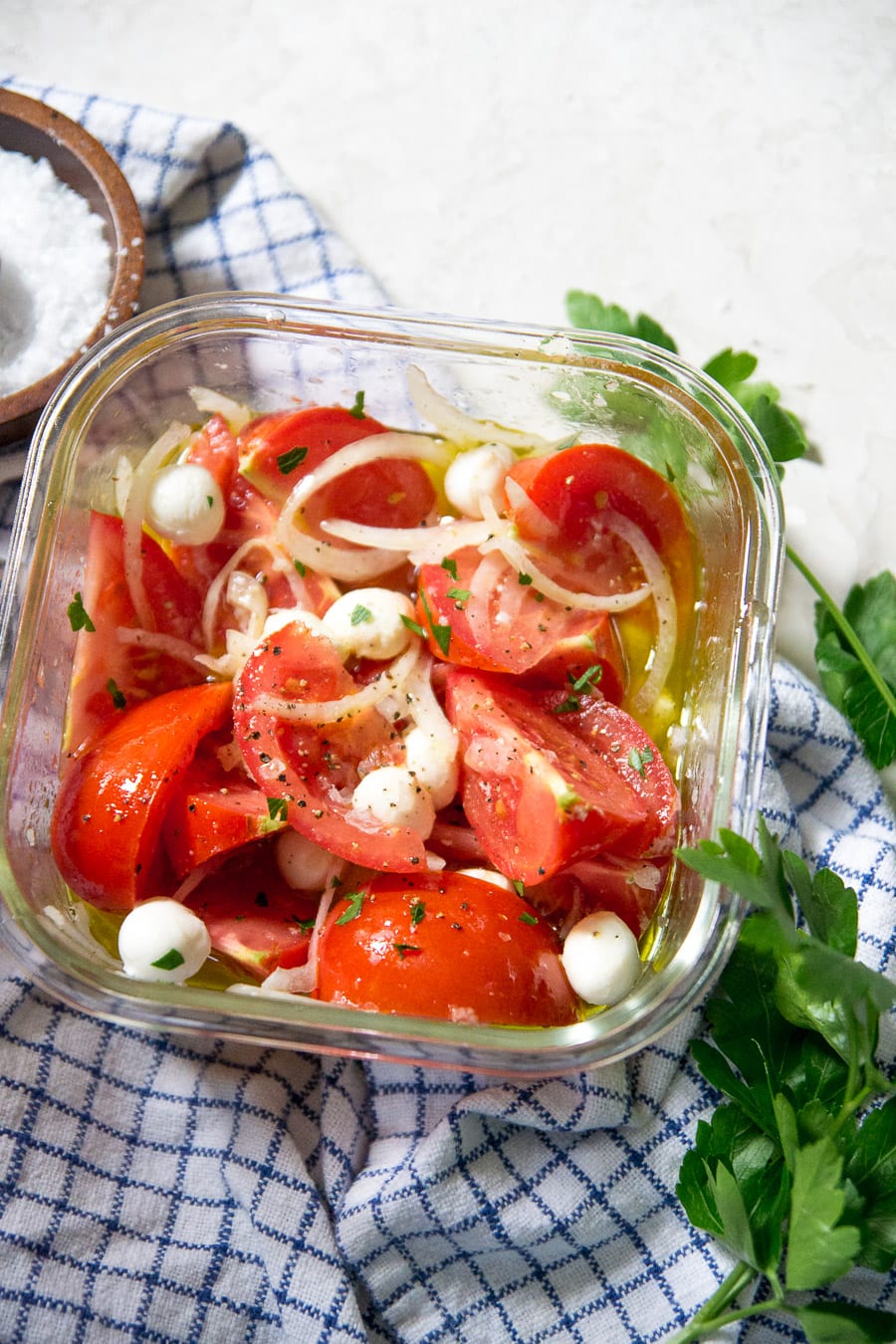 Last year, I made my friend Jenn's marinated cherry tomatoes and I ate the entire batch right out of the jar in one day.
Last summer I also got hooked on my fresh summer tomato salad. Either recipe is a good if you are looking for a dairy free version of something similar.
Cook or marinate in this case, what brings you joy people.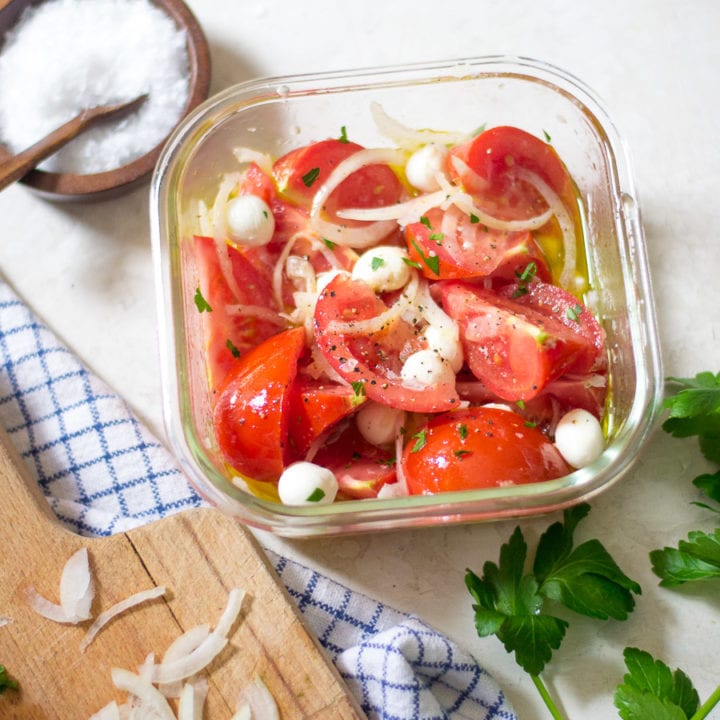 Marinated Tomato and Mozzarella Salad
A simple deli-style tomato, onion, & fresh mozzarella salad marinated in lemon, white wine vinegar, olive oil, and garlic.
Ingredients
1 garlic clove, grated or minced
2 tbsp white wine vinegar
1 tbsp lemon juice
1/3 cup extra-virgin olive oil
1/2 tsp salt
1/4 tsp black pepper
3 large tomatoes or a pint of cherry/grape tomatoes
1/4 yellow/white/red onion, very thinly sliced
1/2 cup fresh mozzarella pearls
fresh parsley,optional
Instructions
Add the garlic, vinegar, lemon juice, olive oil, salt and pepper to a medium bowl or conatiner that has a lid. Mix to combine.
Use a mandolin to slice the onions as thinly as you can. I like them so thin they are sort of see through slivers. Add them to the bowl.
Cut your tomatoes into 6-8 wedges. If you are using cherry/grape tomatoes, slice them in half. Add them to the bowl along with the mozzarella. Mix to combine.
Cover with lid and let sit for 30 minutes to marinate. You can also put it in the fridge during this time if you are more comfortable with that.
Let the salad come to room temp before serving. Adjust salt and pepper to taste. Top with fresh parsley before serving, optional.
Recommended Products
As an Amazon Associate and member of other affiliate programs, I earn from qualifying purchases.