Spanish asparagus revuelto with salami is a spicy and easy scrambled egg dish. It is perfect for those clean out the fridge and toss everything into one pan kind of nights.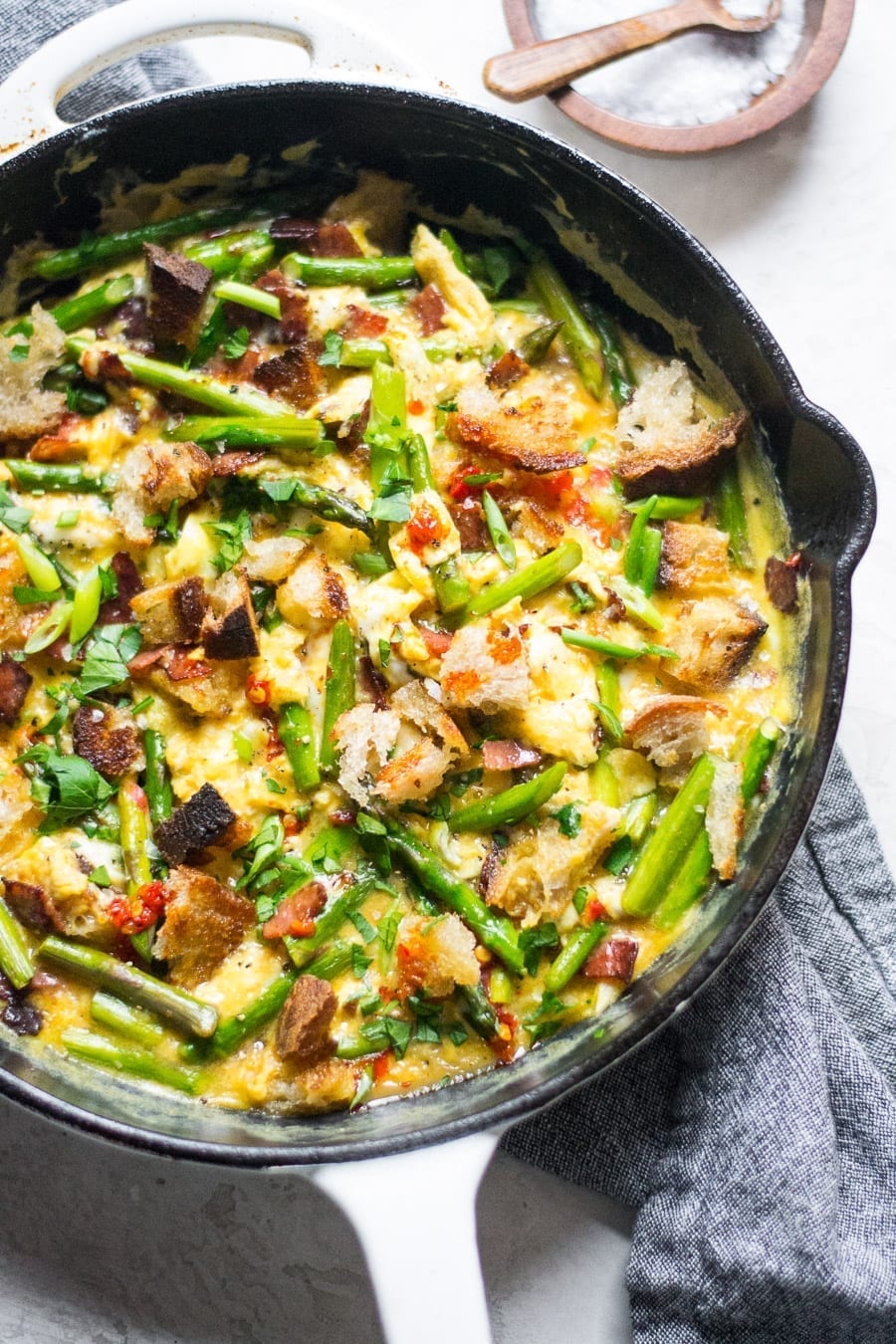 This dish is a clean out the fridge meal for sure!
Crisp up some spicy salami or sausage or chorizo in a pan. Cook the asparagus and eggs in the same pan. Top with some garlic coated croutons and you are in business.
It is pretty much all the food groups in one, convenient pan.
My favorite part of this recipe was the crispy, garlic bread chunks that you sauté first. Do not skip that step.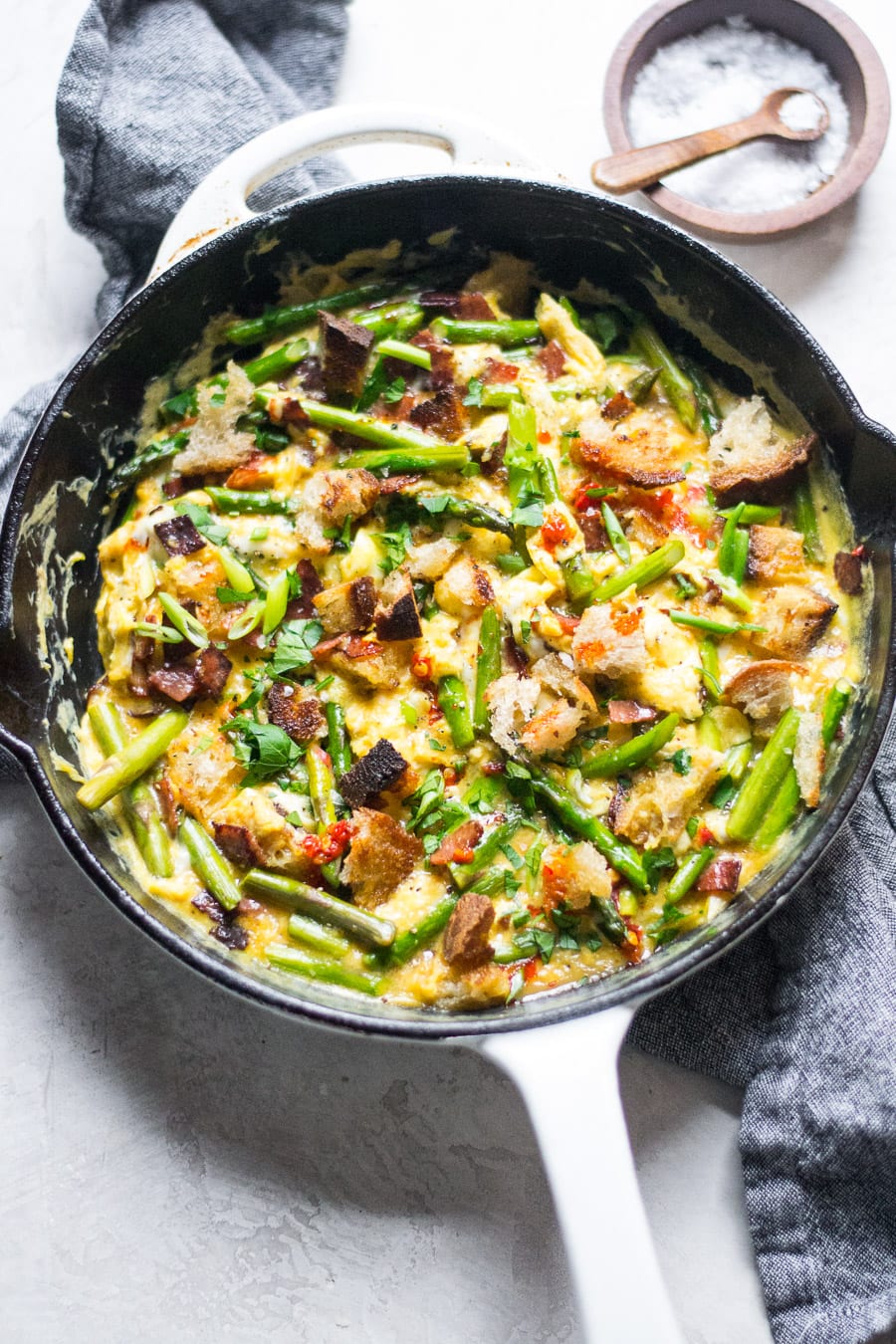 The original recipe from New York Times Cooking called for spicy ground chorizo. I didn't haver that on hand.
I did however have some spicy salami, regular salami, and ham. My guys really like their deli meats.
I honestly think that any of those meats would work great in this dish. It sort of reminded me of one pot crispy salami and spaghetti. It is like the heartier version of this meal.
We ate this big skillet for dinner. I love breakfast for dinner nights.
I didn't even have to listen to Mike complain about a lack of toast on the side.
It is already in there!!!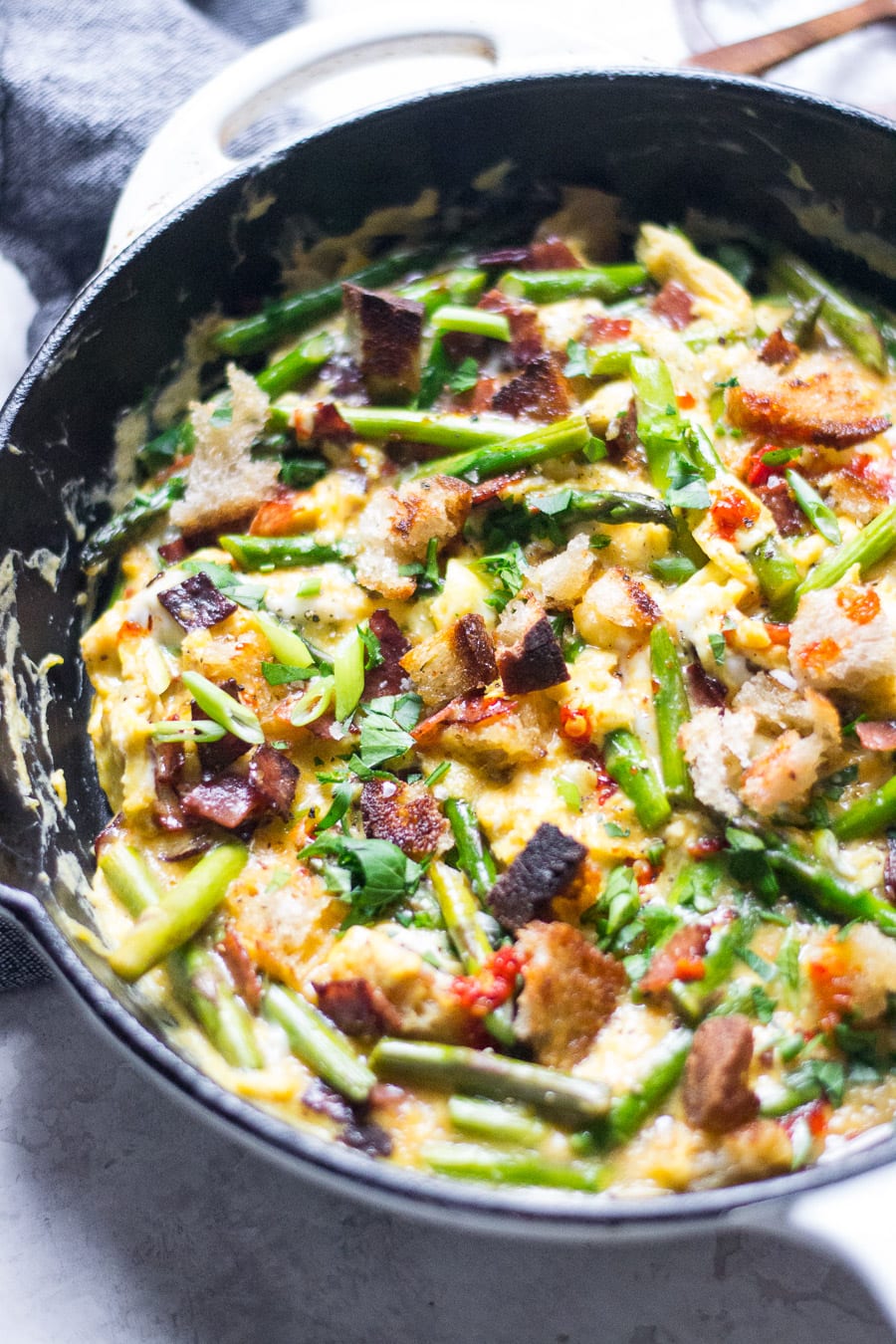 In place of meat in this recipe I could see some mushrooms or just skipping the meat all together.
That garlic oil you start everything off in works wonders for the flavor of Spanish asparagus revuelto with salami.
I was so mad that i didn't get my act together in time to make this for our at home Easter meal. It would have been perfect!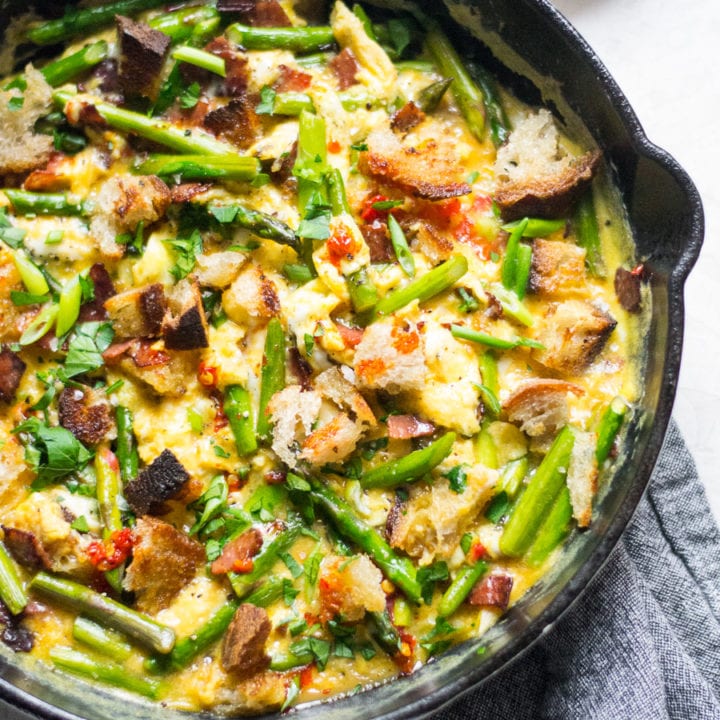 Spanish Asparagus Revuelto with Salami
Soft scrambled eggs cooked in a garlic infused olive oil along with spicy salami and fresh asparagus.
Ingredients
2 tbsp extra virgin olive oil
2 garlic cloves peeled and smashed
1/2 cup torn stale crusty bread, like sourdough, multigrain, or rye
3 oz diced spicy salami
1 bunch thin asparagus, trimmed and chopped into bite-sized pieces
4 green onions, white and green chopped
6 large eggs, beaten
1 tbsp heavy whipping cream
1/2 tsp salt
1/4 tsp black pepper or crushed red pepper
fresh chopped flat leaf parsley
hot sauce
Instructions
Heat the olive oil in a large skillet over a medium flame. Once the oil is shimmering, add the smashed garlic. Cook for 2-3 minutes until golden. Remove garlic with a slotted spoon and set off to the side to cool. Once cooled, mince the golden garlic to add in later.
Add the bread and toast in the oil on all sides for 3 minutes. Remove and set off to the side.
Add the salami and cook until just crisp, about 3 minutes. Add the asparagus and cook for 3 more minutes.
Add the garlic, 1/2 the chopped green onion, and 3/4 the toasted bread. Stir to combine.
Beat the eggs, heavy cream, salt, and pepper in a large mixing bowl until scrambled. Reduce heat to low. Add the eggs in and use a wooden spoon or rubber spatula to push the eggs back and forth until they have just about set.
Remove from heat. Top with remaining green onion, fresh parsley, remaining toasted bread, and whatever hot sauce you like.
Recommended Products
As an Amazon Associate and member of other affiliate programs, I earn from qualifying purchases.