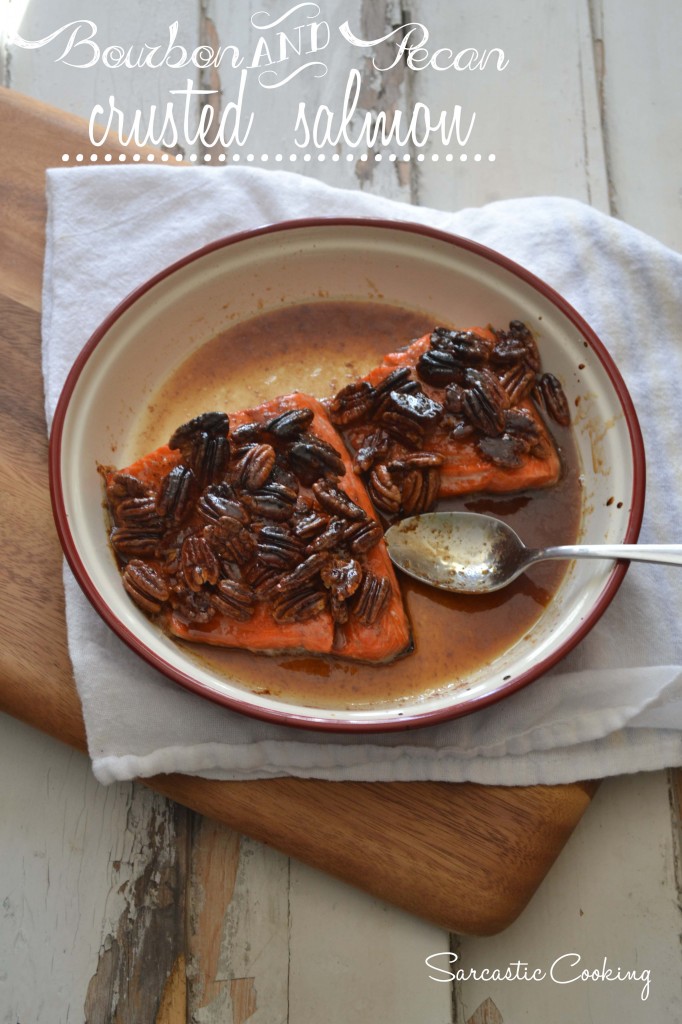 I have had this vision of bourbon candied pecans for quite some time. I don't know how it came to me. Maybe after a night of drinking bourbon? Who knows. Anyway, I really intended on posting this recipe way earlier in the Lenten season so those that follow the rule of "no meat of Friday" would have another new option to add to the fish rotation.
Not that there is anything wrong with fish sticks or Filet-o-Fish sandwiches (Fishay, fishay! Sorry I had to. BTW last year's song was way better!) every single Friday. Just sayin', it could get a little boring. But, thanks to the computer crash of 2013, you are getting it the last day of Lent. Better late than never.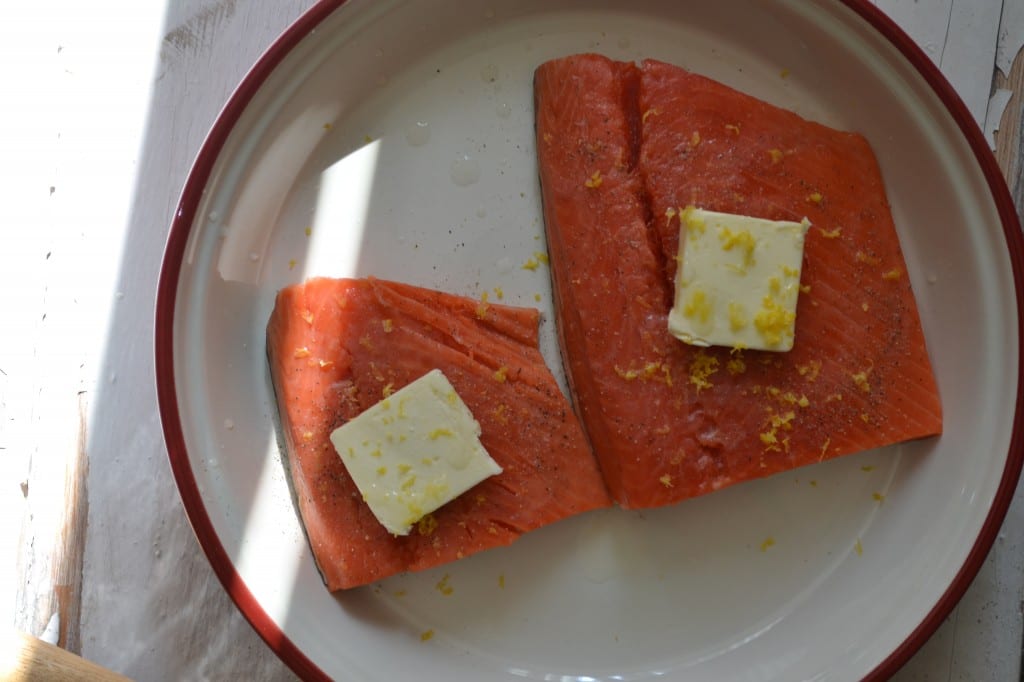 Back to the fish.
So, if you are like Mike, you are probably thinking that I have lost my mind with this one. Fish and nuts? None the less, candied nuts? Well, as per usual, I proved him wrong and I will soon prove all of you wrong. Not to go all car salesman on you, but the crunch of the nuts with the hint of bourbon are the perfect match for the salmon. Trust me.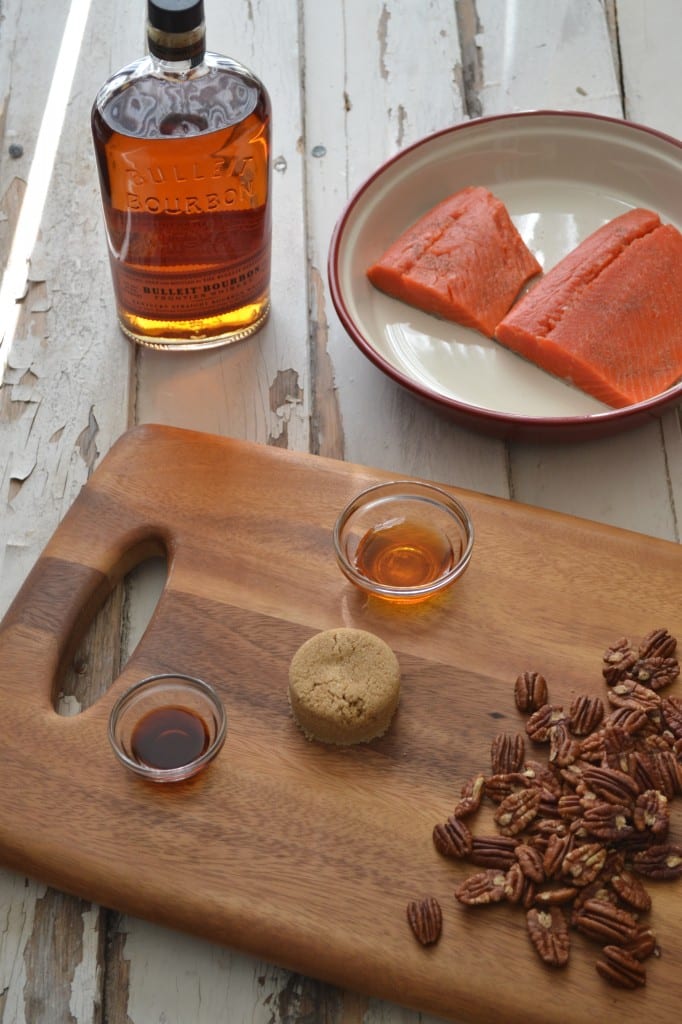 Also, a definite upside to this fresh fish recipe is that it is done in less than thirty minutes! That leaves plenty of time for other things you would rather be doing on a Friday night, like, let's say, getting back into season two of Downton Abbey because you have your computer back and your husband is gone for the night!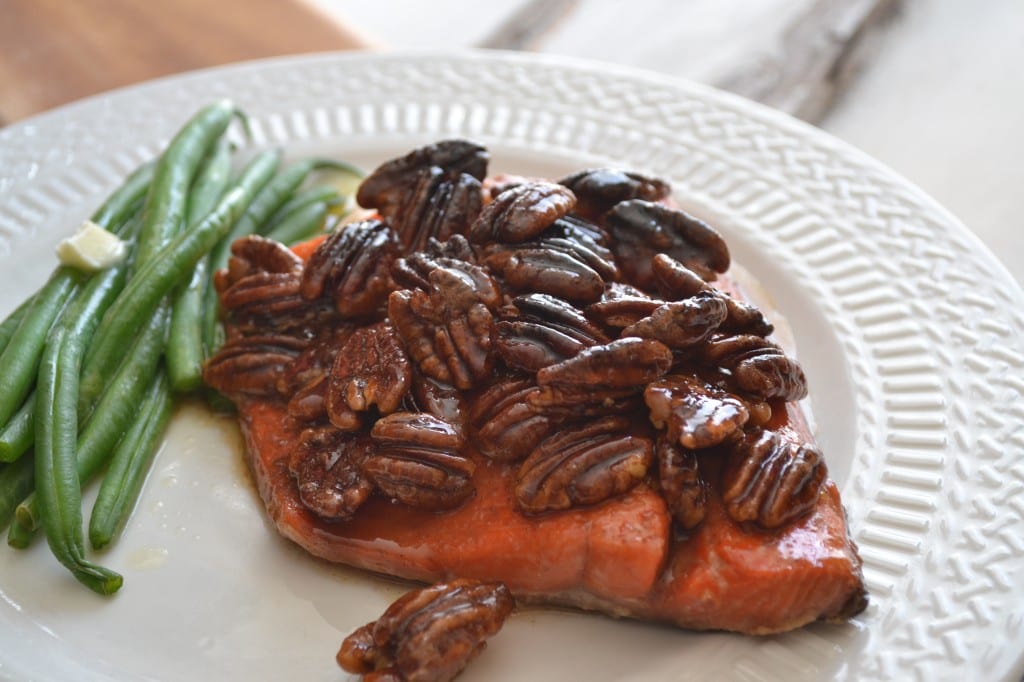 I know, it is an exciting life I live folks.
Bourbon and Pecan Crusted Salmon
Author:
Prep time:
Cook time:
Total time:
Ingredients
¾ Cup Pecan Halves, toasted
½ Teaspoon Low-Sodium Soy Sauce
½ Teaspoon Fish Sauce
1 Tablespoon Agave
2 Ounces Bourbon
¼ Cup Packed, Light Brown Sugar
1 Tablespoon Unsalted Butter, divided
1 Tablespoon Lemon Zest
2, ½ Pound Sockeye Salmon Filet (with the skin on)
Pinch of Salt and Pepper
Instructions
Set the broiler to high.
Add the pecans to a medium skillet and toast over medium heat, flipping a few times until they are slightly golden. Remove pecans from the pan, place off to the side for later, and return the pan to the heat.
Combine the soy sauce, fish sauce, agave, bourbon, and brown sugar in the same pan you toasted the nuts with. Mix until brown sugar has dissolved. Add toasted pecans, stir, and then turn the heat to low. Cook the sauce until it reduces by almost half, about 5-7 minutes. After that time, remove pan from heat.
Place the salmon filets, skin side down, in a baking dish. Top each filet with a half a tablespoon of butter. Season filets with lemon zest, salt, and pepper. Place the fish under the broiler, keeping the oven door slightly cracked open, for five minutes.
After five minutes, remove the salmon from the oven. Top the salmon filets with half of the pecan bourbon sauce and then return the dish to the oven for another three minutes, making sure to leave the oven door cracked open again.
After three minutes, spoon the remaining sauce and pecans over each filet. Use a spoon to make sure as much of the sauce poured over the salmon and pecans to ensure a good caramelization before placing it back under the broiler. Return the dish to the oven for another five to seven minutes, leaving the oven door cracked.
Either remove fish filet from skin with a spatula before serving or serve the fish with the skin on and just eat around it. Serve fish same day.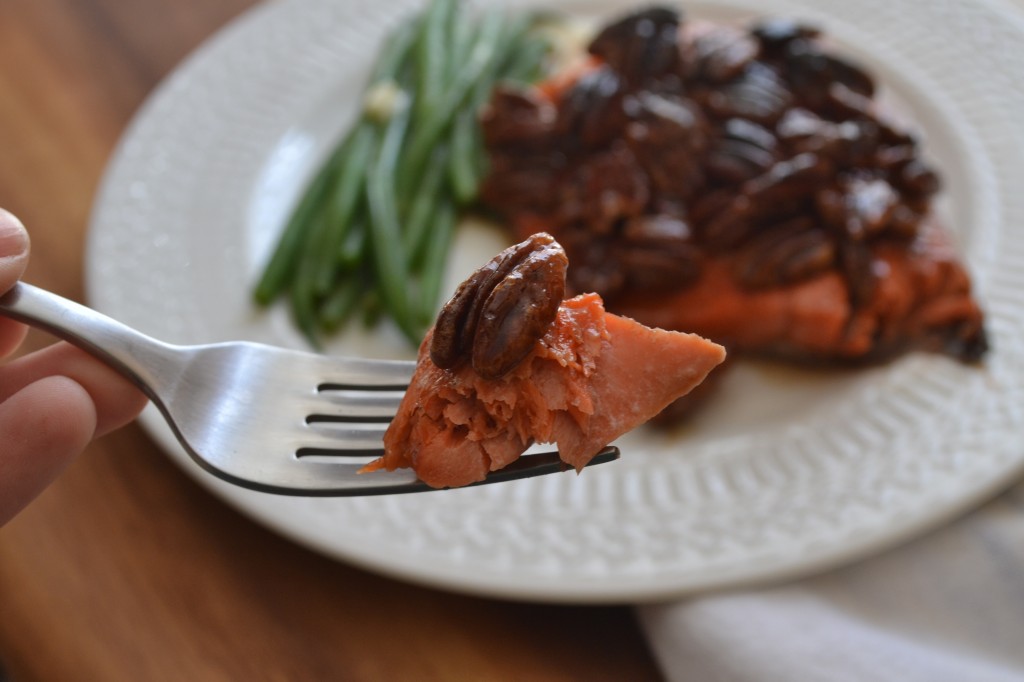 Related posts: