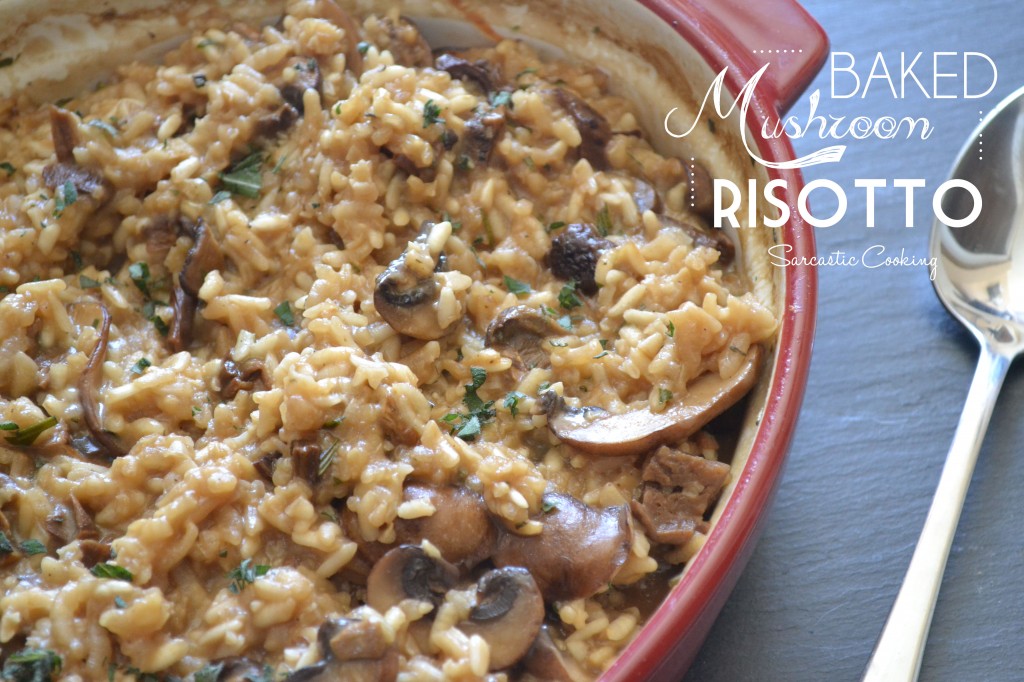 Sometimes, I am the queen of stupid, which happens to be very weird, because I think of myself as a rather smart person. Let me expand on this type of stupid. Sometimes I do stupid things. I can see them coming from a mile away, yet, boom! I still somehow head right into it full force.
When I was in middle school, I played volleyball. During one particularly intense practice, we took a break for water. I ran to get my water bottle which was on the opposite end of the gym. Out of the corner of my eye, I saw a friend gaining on me. I thought she was challenging me to a race. Turns out she was not. She was just very thirsty.
Up ahead near the benches with the water bottles on them, I see the edge of the carpet folded over. Instead of slowing down and approaching this hazard carefully, I gun it full force to get to my water bottle before my friend gets to hers. WHAM! I flew a foot, tripped over that carpet I knew was going to get me. I was so embarrassed by the commotion and attention, as any middle-schooler would be, I started balling. I said I heard a pop in my arm.
My Dad was one of the coaches, so he swooped in and took me out of there. Yes, I was so embarrassed from my stupidity I faked an injury. I totally could have prevented that and the ER visit my parent's insisted I go to in order to check out my "injury."
See? Stupid.
Recently, I have been working on some recipes for a vodka company. While scurrying about my kitchen I am leaving open bottles, knives, and scraps of fruit everywhere in my dust. Who needs to clean as you go when you are on a roll like I am?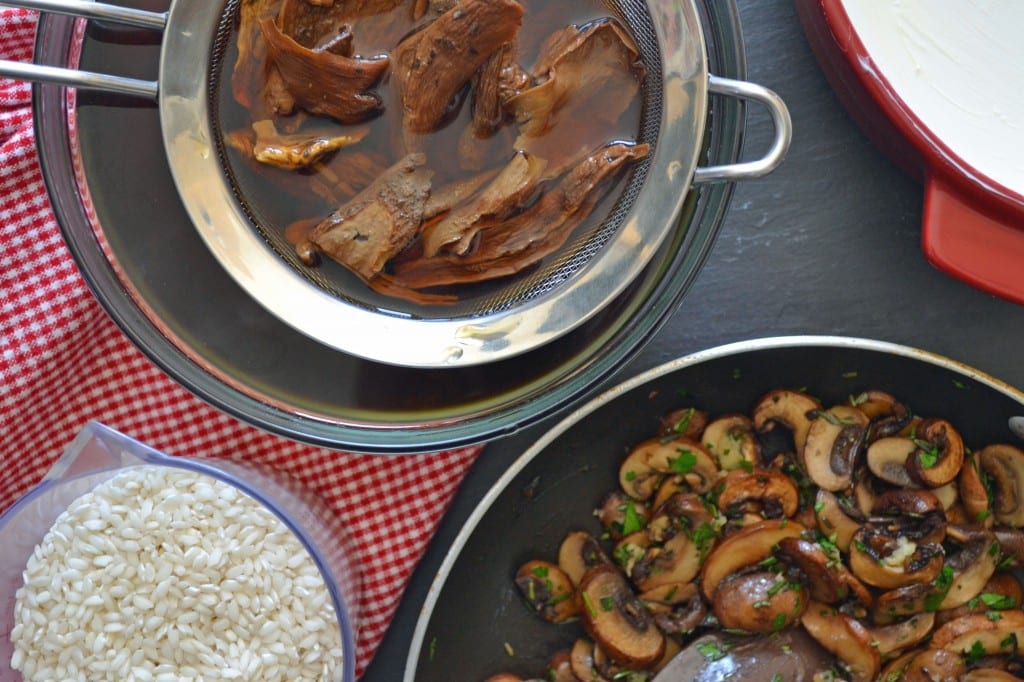 I set up a work station near my cutting board. I left an open bottle of peach vodka in the center of the cutting board as I worked, sliced, diced, and reached around the bottle. I think I even thought to myself, "I should move that." Alas, I did not. It was a vodkatastrophe! The whole bottle spilled all over the floor! My house still smells like peach vodka. Yet again, this could have been avoided.
A while ago, pre computer crash, I had my hopes and dreams set on this easy baked risotto. I had all my ingredients lined up. I was taking photos as I went along. When it came time to add either reconstituted mushroom stock or Trader Joe's boxed vegetable stock, I had to pause.
I wanted this to be very, very mushroomy. The stock from TJ's is an orange color. I knew that color would not convey mushroominess. It would just look orange and unappetizing. Yet, I added it anyway. The dish came out looking more like a carrot risotto than mushroom. I was thoroughly disappointed in the dish and my stupid self for not listening to my smart self!
Ugh! Do you ever have these stupid moments? I hope I am not alone in this. It is like you know better, but you do it anyway. Sigh, it is a mystery to me.
Anyway, lucky for us, my computer crashed and all those yucky orange pictures were taken to a place that erases your stupidity and gives you a chance for a redo while you wait for your computer to be brought back to life. The product from my second attempt was exactly what I wanted to make in the first place.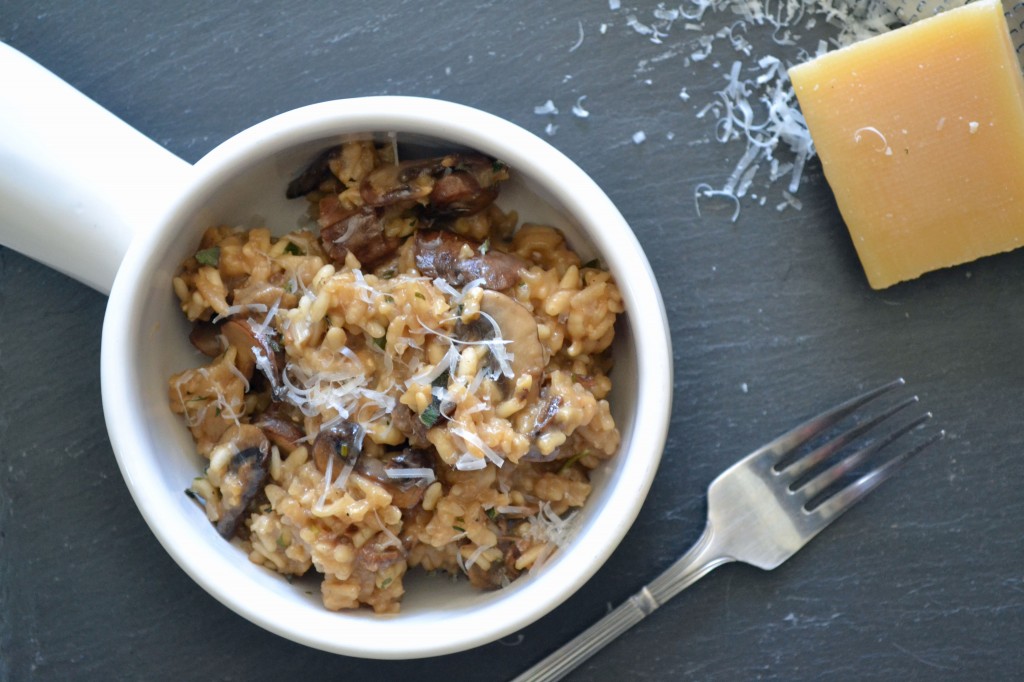 Did I learn any lessons? Probably not. Sometimes we just do stupid things. Hey, at least we have risotto!
Baked Mushroom Risotto
Author:
Prep time:
Cook time:
Total time:
A hands off approach to risotto. Creamy mushroom risotto baked in the oven.
Ingredients
1 Ounce Dried Porcini Mushrooms
42 Ounces Water
1 Tablespoon Olive Oil, plus more for greasing
10 Ounces Cremini Mushrooms, stems removed, cleaned, and sliced
1 Tablespoon Fresh Chopped Rosemary
1 Tablespoon Fresh Chopped Parsley
2 Cloves Garlic, grated
Salt and Pepper
2 Cups Arborio Rice
½ Cup Goat Cheese or Cream Cheese
Instructions
In a medium saucepan, bring water to a boil. Add dried mushrooms, cover with lid, and remove from heat. Let the mushrooms steep for thirty minutes to an hour.
Preheat the oven to 350 degrees F.
In a medium skillet, heat olive oil over medium/low heat for a minute. Add sliced mushrooms and sauté for 7-10 minutes, until golden.
Add the chopped herbs, garlic, salt, and pepper to the mushrooms. Stir and sauté for an additional two minutes. Remove pan from heat.
Remove the lid from the pot with the now reconstituted mushrooms. Place a strainer in a medium bowl. Pour the contents into the strainer. Remove the strained mushrooms, give them a good dice, and then add them to the pan with the mushrooms.
Add the rice to the pan with all the mushrooms in it, stir to combine.
Grease a 9"x13" baking dish with a tablespoon of olive oil. Add the rice and mushroom mixture to the dish. Pour in the mushroom stock. Stir to combine.
Bake the risotto for twenty minutes. After, remove from the oven, stir in the goat cheese, and then return the dish to the oven for another twenty minutes. Serve immediately.
Cooking method adapted from [url href="http://joythebaker.com/2012/03/baked-lemon-risotto/" target="_blank" title="Joy the Baker."]Joy the Baker[/url]
Related posts: