Baked goat cheese is a warm and cozy dip that is made with TWO ingredients! Throw it together last minute and serve with toasted baguette slices.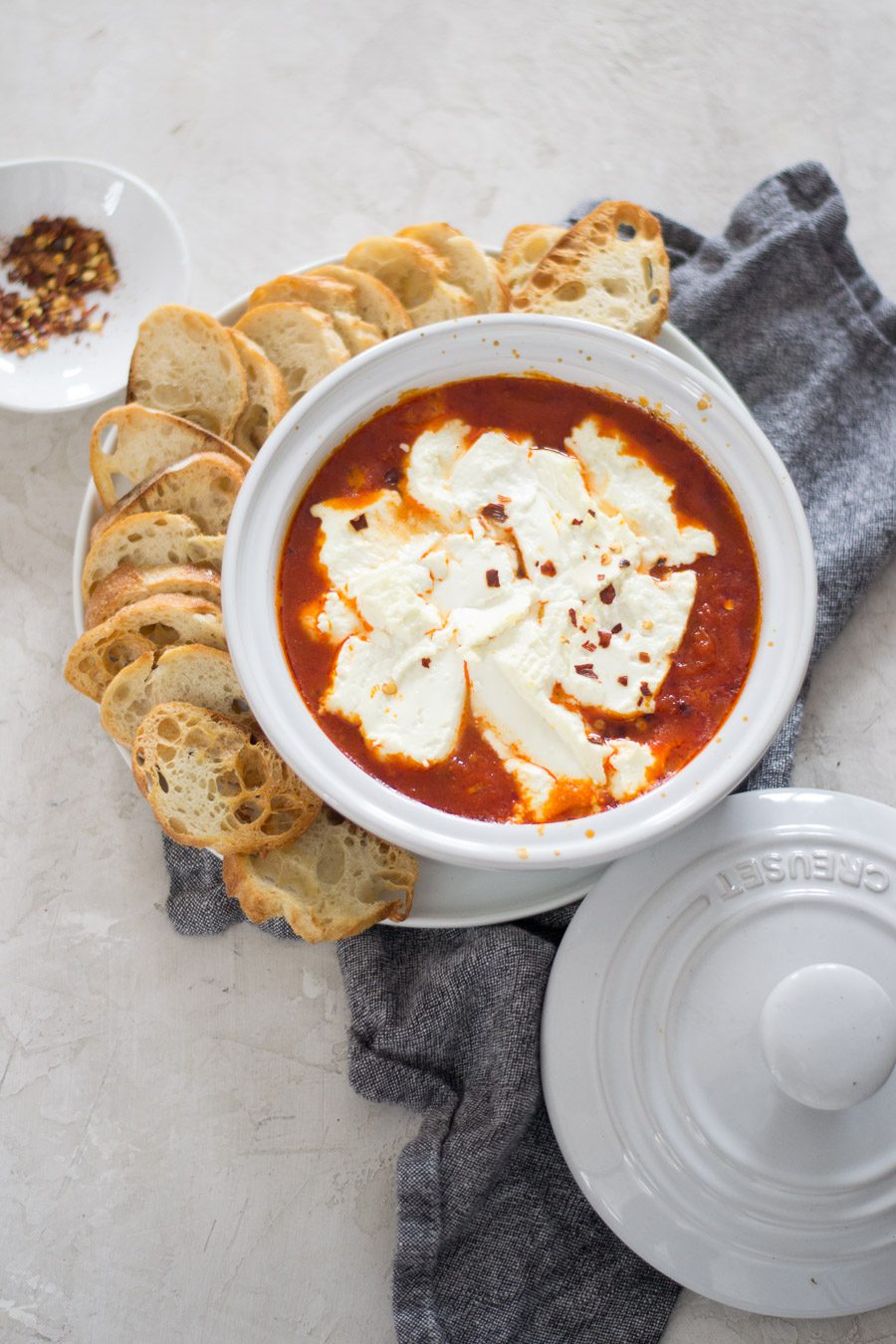 Ready yourselves! You are about to hear the heartwarming story of my engagement to my husband.
I am serving it up over this warm goat cheese dip.A long time ago, a young, beautiful (if I say so myself) lady and her charming boyfriend went out for an unassuming meal at their favorite local, hole-in-the-wall Italian restaurant.
You see, she was so wrapped up in the crappy work day she had that she was none the wiser to her boyfriend's ulterior motives.
As she rambled on about her day over a glass of wine, her boyfriend suddenly excused himself from the table and headed to the bathroom.
Once again, she was in her own little world and thought nothing of it.
When he returned, she made a comment about how the restaurant seemed to be playing all her favorite songs.
Then she made another comment which made her boyfriend laugh nervously: "I don't remember them playing music here before."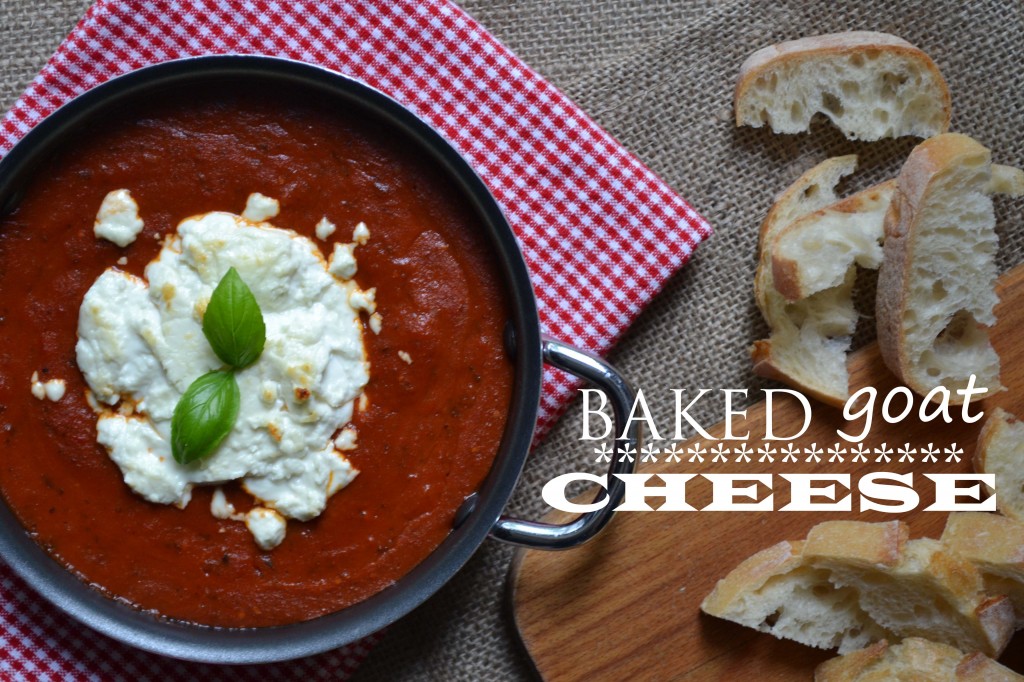 The two picked at the bread and talked about what they were going to order for dinner and their next drinks as they usually did. She went to reach for another piece of bread, he told her to wait.
She thought, What the heck; do I have something on my face, in my teeth, did I have too much to eat already?
He then told her she had waited long enough, slid a ring box on to the table, and as Frank Turner's version of Thunder Road played on in the background he asked her those four special words.
She started crying and was nervous because they had gathered a small audience, so she said, "You son of a bitch."
She said yes of course, the manager sent over a bottle of champagne, the restaurant cheered, and she blushed.
They then proceeded to order their usual baked goat cheese and listen to the rest of the playlist her now fiancé had rigged up in the restaurant.
The two are happily married and still enjoying baked goat cheese to this day!
You can enjoy it too with only two, maybe three ingredients.
Make this warm and cozy dip that tastes like the inside of a stuffed shell for the ones you love.
Ingredients (Serves 2-4)
1 Cup Marinara (store bought works too)
½ Cup Goat Cheese
8-10 Small Slices of French Baguette, for dipping
Preheat the oven to 350 degrees F.
Place the cup of marinara in the center of a small oven-safe dish. Place the large clump of goat cheese directly in the center of the marinara.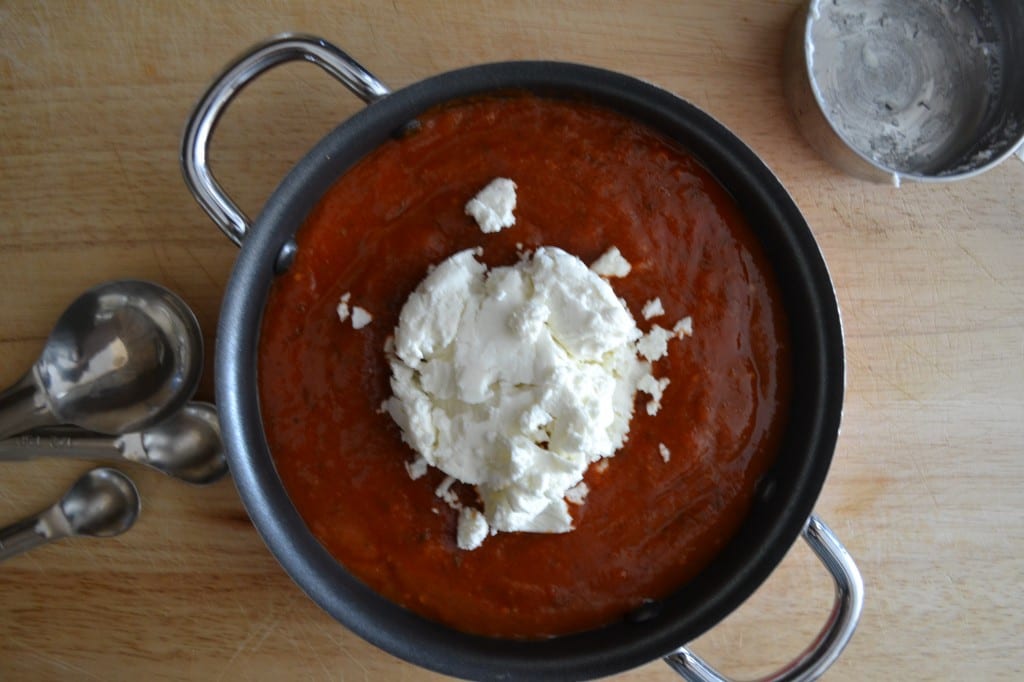 Bake in the oven for 10-15 minutes until the tops of the goat cheese become lightly golden.

Serve with French baguette slices for dipping and a sprinkle of fresh basil on top for garnish.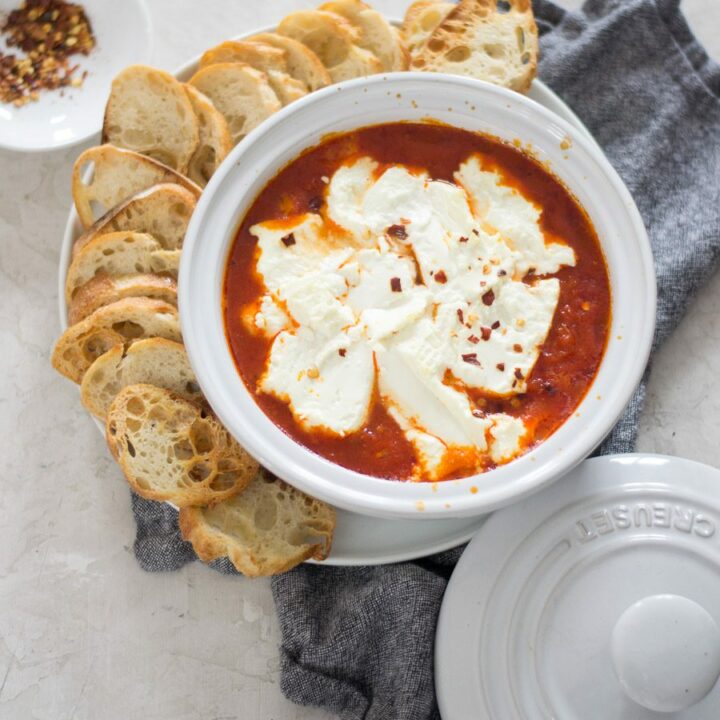 Baked Goat Cheese Dip
Yield: Serves 6

Prep Time: 5 minutes

Cook Time: 20 minutes

Total Time: 25 minutes

Goat cheese baked in marinara sauce and served with toasted baguette slices.
Ingredients
5oz plain goat cheese
1 cup jarred marinara
half a baguette, thinly sliced
Instructions
Preheat 350 degrees F.
Slice the baguette and add it to a large baking sheet.
Add the marinara to an oven-safe baking dish. Top with chunks/slices of goat cheese.
Bake the goat cheese uncovered for 20-25 minutes until bubbly on the edges and the cheese is softened. Bake the bread at the same time, flipping each slice halfway through until golden and toasted.
Carefully remove the goat cheese dip from the oven and let cool for 3-5 minutes before serving with the bread.
Notes
Feel free to add and dried spices of fresh herbs to the top at the end for a fancy garnish. I recommend crushed red pepper flakes, fresh basil leaves, or dried oregano.
Recommended Products
As an Amazon Associate and member of other affiliate programs, I earn from qualifying purchases.