I admit that most of my recipes, although delicious, are not always the healthiest. Today I decided to switch things up. This recipe I am sharing with you today is for my health conscious and vegetarian friends.
I know that sometimes I harp on the vegetarians out there, but that is only because I used to be one so I feel like I have a connection to their plight, which entitles me to make fun of them every now and then. (Come on veg-heads, you know you get a little full of yourselves every now and then, right? Remember I know, because I used to be one of your kind.)
In all seriousness, during the ten years of eating only vegetables and grains, I would get so mad at places for not having some sort of vegetarian option. It was also frustrating going out to dinner and being faced with having an entire meal made up of sides; side salad, side of rice, side of vegetables. You can be more creative than that people!
Think about the time we live in. We have access to wonderful produce pretty much all year long. How hard is it to come up with something flavorful for a vegetarian to eat?
Most places these days have caught on to the healthy, organic, vegetarian, gluten-free movements going on in the world. This is wonderful for not only the dietary selective people, but for the rest of us omnivorously oblivious eaters. It gives us a chance to broaden our food horizons and try something new that might also benefit us in the long run!
Next time you go out, order the vegetarian option, get something gluten-free, or the next time you reach for a jar of marinara in the store try buying fresh tomatoes and making this instead! Trust me. Your stomach, taste buds, and vegetarian friends will thank you.
Ingredients (Makes 4 cups of Sauce)
4 Large Tomatoes, roughly diced
1 lb. Cherry Tomatoes, halved
4 Cloves of Garlic, peeled and halved
1/3 Onion, roughly diced
1 Teaspoon of Salt
½ Teaspoon of Pepper
3 Tablespoons of Olive Oil
A Handful of Fresh Basil Leaves
Remove the core out of the four large tomatoes. Roughly dice them into approximately same-sized pieces. Cut the cherry tomatoes in half length-wise. Roughly dice the onion. Peel the garlic and cut the cloves in half length-wise. Add all the ingredients to a large baking sheet.
 
Season the tomatoes, onion, and garlic with salt and pepper. Let the tomatoes sit for about ten minutes so the salt starts to leach some of the liquid out of the tomatoes. After ten minutes, add the olive oil. Mix the tomatoes, onion, and garlic to evenly coat them in the olive oil and seasonings. Spread the tomatoes out so there is just one even layer on the pan.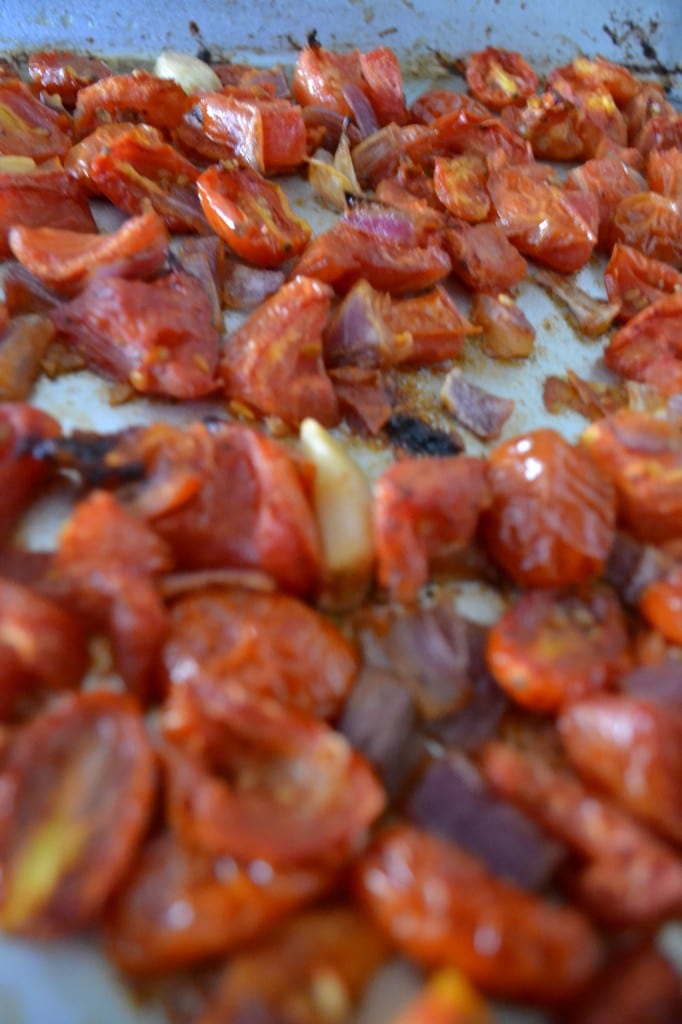 Roast the tomatoes, garlic, and onion in the oven at 325 degrees for two hours*. Every half an hour take the pan out and flip/mix the tomatoes, onion, and garlic to prevent burning.
*If two hours is too long for you, you can always use the broiler on low for 30-45 minutes. Just make sure to keep the oven door cracked open to keep an eye on things so the tomatoes don't burn.
 
When the tomatoes are done roasting, remove them from the oven. Let them cool for about ten minutes and then add them to a food processor or blender. Toss in the basil leaves. Puree the mixture until smooth. (You might have to add some water or olive oil to loosen the sauce up a bit during the pureeing process.)
 
See, that was easy! A bright, flavorful, healthy, sauce that requires little clean-up… These vegetarians have the right idea. Sometimes.