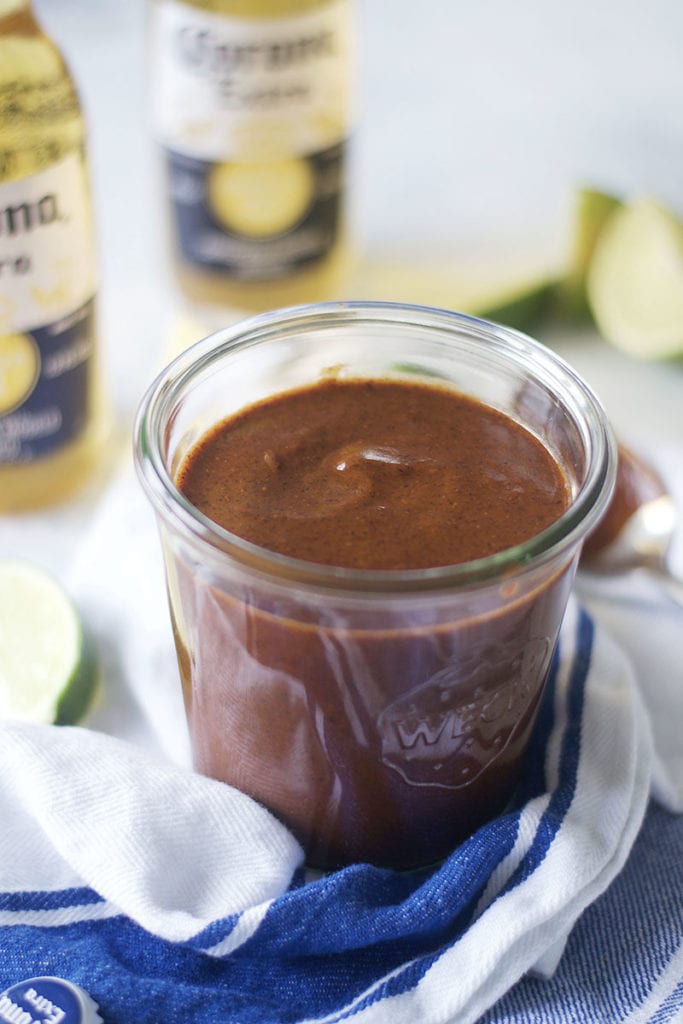 Homemade enchilada sauce is easier than you think. With Cinco do Mayo around the corner, lots of people will be drinking Corona and Lime. Take those classic flavors and layer them over enchiladas with this twist on a classic red enchilada sauce.
Ever since I saw Ali's recipe for homemade enchilada sauce, I have been making my own. Well, as long as I have chili seasoning on hand. Times when I don't have chili seasoning, or enough chili seasoning, I do hit up a store bought jar. I can't lie to you guys!
I always notice the salt in the store bought versions. Yikes. Or the sugar! Blow me down! (Oh my God, did I really just type that? I'm gunna leave it in though. You're welcome).
When you make things from scratch at home, you can control the ingredients. If I had more time and my kids weren't so dang picky all the time, I would cook way more than I do. For now, the old, toss some frozen processed stuff in the oven (with a side of fruit and veggies) will have to do!
Two weekends ago, before the torrential rain got the Midwest, Mike and I were enjoying some Coronas and limes outside on the deck. That is my go to summer jam. Yes, I may be a craft beer snob sometimes, but in warm weather, there is no better combo. Mexican beer makes me want Mexican food. So, while the boys' food cooked, I whipped up this beautiful and easy enchilada sauce. The lime and beer really come through. Don't worry; you won't get drunk on the sauce. The alcohol has time to cook out.
I made a huge batch and kept it in the fridge. I made enchiladas and then the next week I crisped up some carnitas under the broiler with some of this sauce on top. It is versatile enough to even use in place of a mild hot sauce.
I know you will have beer and limes and chili seasoning on hand for Cinco de Mayo. All this recipe requires is a little bit of whisking and then done.
Homemade enchilada sauce for weeks to come.
Related posts: