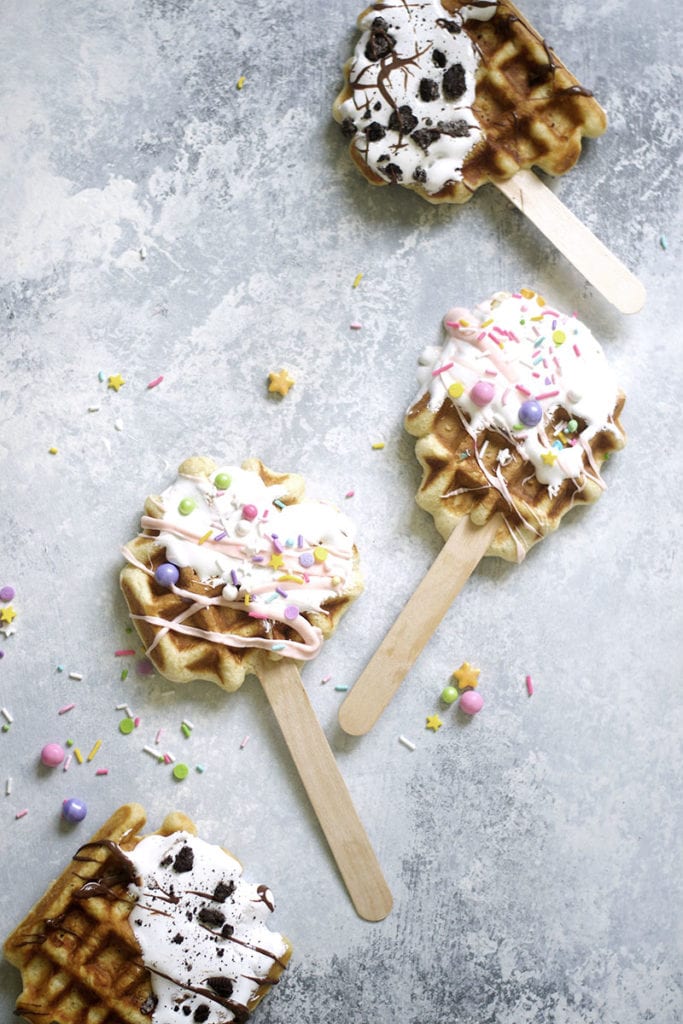 Waffle pops for two. Either a white chocolate, marshmallow, and sprinkle unicorn waffle pop or a crushed Oreo, marshmallow, and Nutella waffle pop. Chocolate and sprinkle lovers will both be satisfied with this breakfast!
My kids are both going to the doctor for check-ups and shots today. Lord help me. Well, I think Andy is due for some shots. Maybe not. It is a preschool physical. I mean, I hope for the best and plan for the worst, right? Isn't that the whole parenting game after all? Try to minimize disasters.
I am gunna hit the kids hard with these waffle pops right when they wake up. Give them the choice between a Unicorn Waffle Pop or a Hazelnut Sm'Oreo Waffle Pop. Either choice is basically sugar and/or candy for breakfast.
In their eyes, I have already won mom of the year… for the day.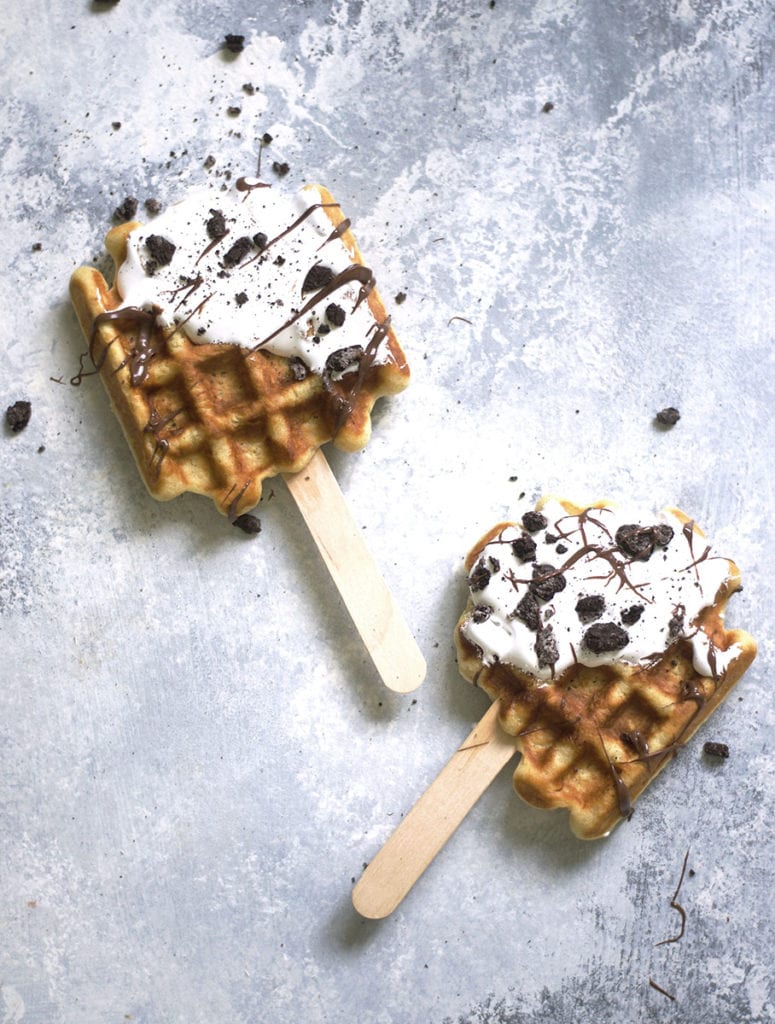 After that, drive thru Dunkin Donuts for some munchkins.  Mainly so I can get a coffee to give me energy for the post doctor's office visit life. The munchkins will be used as bribery to keep my kids from trying to escape the doctor's office room after the nurse says the dreaded word, "shot." Like, why would you say I am going to get the shots ready to a room of toddlers? They may not recognize many words, but for some reason, they know "shots."
Put your shoes on is basically Latin to them…
Kids.
This recipe for waffle pops makes about four. So two for a quick breakfast and then two when you need to calm the post doctor meltdown. That's my plan anyway.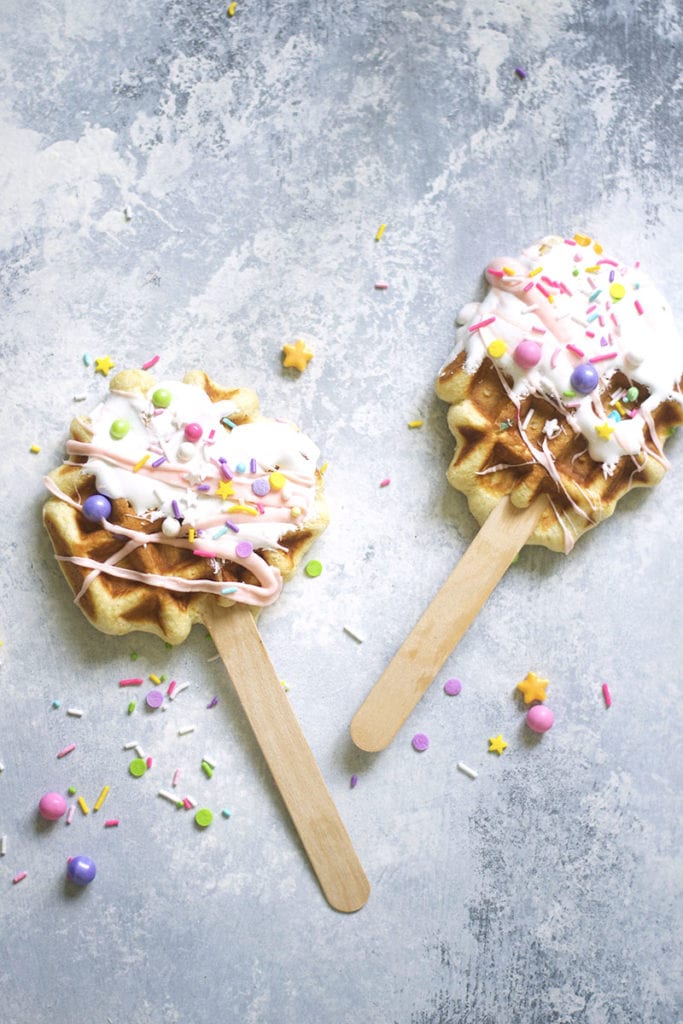 I will keep you posted on the results. My hope is that Andy remembers how much he wanted one of those sugar laden Unicorn Frappuccino's a few weeks ago and buys into my scam. He is smarter than me in sooooo many ways, so like I said, I will report back with my results.
Unicorn and Oreo S'Mores Waffle Pops
Waffle pops two ways! Oreo and S'Mores or Unicorn aka Marshmallow Fluff and White Chocolate and Sprinkle covered waffles.
Ingredients
For the Waffle Batter:
2/3

Cup

All Purpose Flour

1

Tablespoon

Sugar

1/2

Teaspoon

Baking Powder

1/2

Teaspoon

Baking Soda

Pinch

of Salt

1/4

Cup

Low-Fat Buttermilk

1

Tablespoon

Unsalted Butter

melted

1/2

Teaspoon

Nielsen-Massey Pure Vanilla Extract
For the Toppings:
3/4

Cup

Marshmallow Fluff

1

Tablespoon

Nutella

4

Crushed Oreos

1/2

Cup

White Chocolate Chips

Red and Blue Food Coloring

Sprinkles
Instructions
In a medium bowl, whisk together the dry ingredients.

In a small bowl, whisk together the egg, buttermilk, melted butter, and vanilla. Pour the wet ingredients into the dry and mix until no dry ingredients are visible.

Let the batter rest for 10 minutes.

Spread a little clarified butter over your waffle maker grates.

Add abut 1/3 cup scoop of batter to each waffle section. Stick a large popsicle stick into the center of the batter and then add a small teaspoon over the popsicle stick. Close the lid and cook the waffles for 2 minutes. Remove from the waffle maker and set off to the side.

Cook your next two waffle pops.

Slather each upper corner with the fluff.

If you are making the Oreo S'Mores waffles, add crushed Oreos and then a drizzle of Nutella.

If you are making the Unicorn, add the white chocolate chips to a microwave safe bowl. Microwave for 30 seconds, remove, and then stir. Microwave for 30 more seconds. Stir until completely melted. Add 1/2 the chocolate to a different small bowl. Put 2-3 drops of red food coloring in one bowl and 2-3 drops of blur in the other. Mix until desired color.

Use a fork to drizzle each waffle pop with the blue and pink chocolate and then cover with sprinkles.