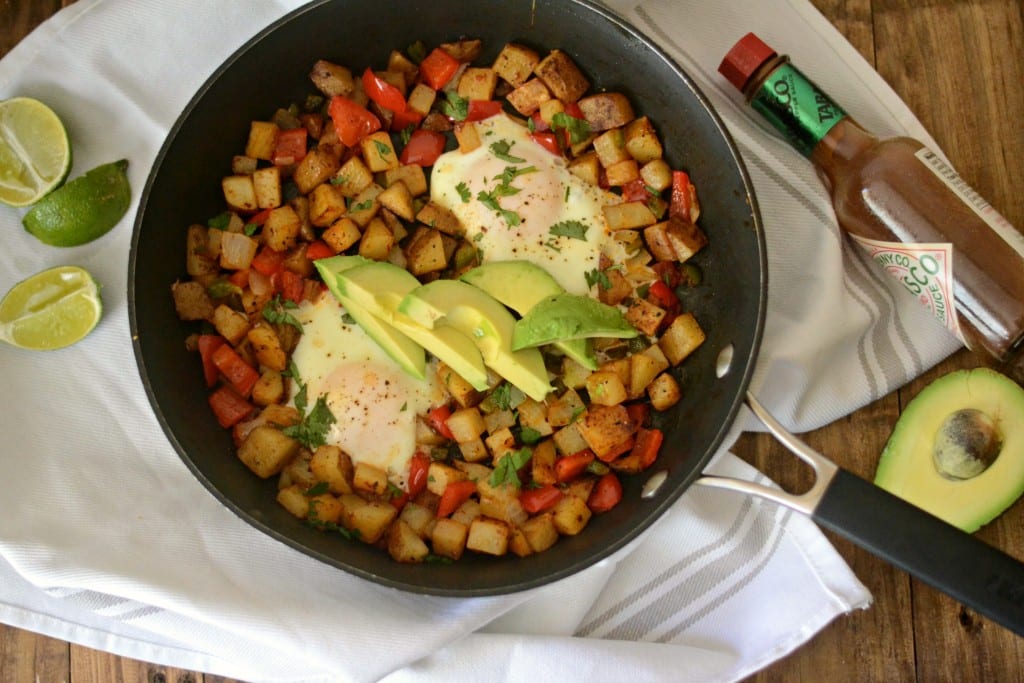 Yeah, it is the holiday season. You probably have your mind on cookies and shopping right? You might be thinking, "Why are you giving us a breakfast recipe in the midst of high baking season?" Well, my friends, the reason is that #1 you gotta eat breakfast and #2 this is the season of hosting out of town guests. Out of towners loooove a good breakfast spread put together by their host/hostess. 
I have never been host to out of towners. Luckily, with baby two coming in three days, all our spare rooms and beds are occupied. So, you wanna come over and stay here you will be sleeping on either a love seat or a couch. Both look suuuuper inviting, but lemme tell you, they are deceptively uncomfortable. Just a little PSA, never get a couch with only two cushions. When you try and sleep on it your butt sinks into the crack and all the way to the springs. Not awesome.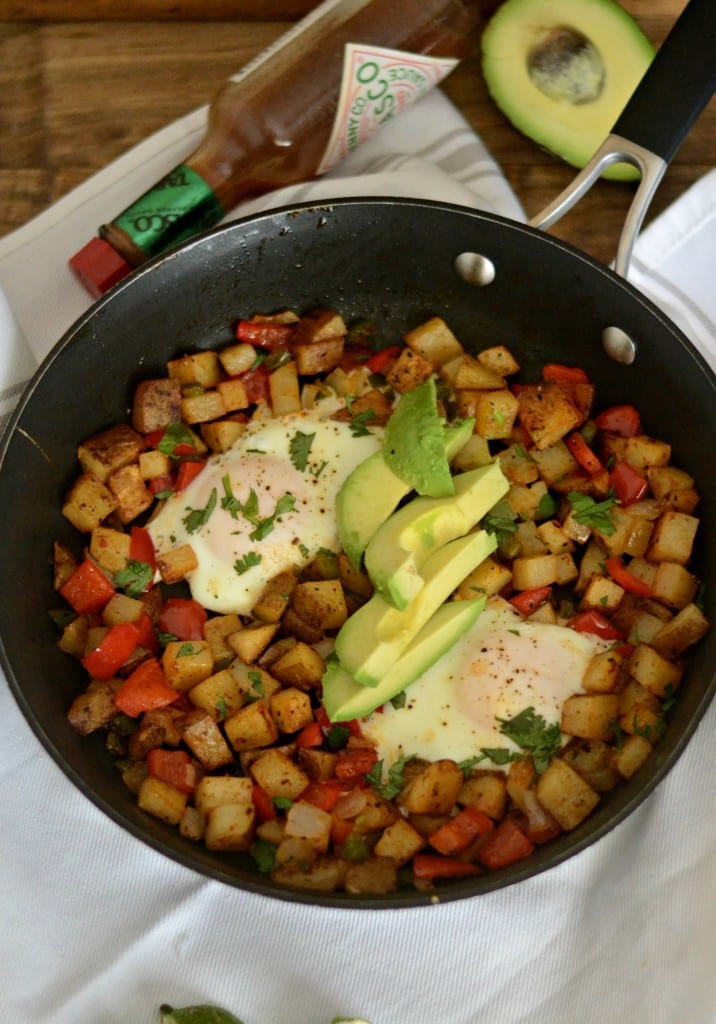 Anyway, breakfast hashes are easy to make for a crowd. I love a good hash, evidence in this recipe and this recipe. You just do some chopping, throw it in a pan, and cook until crisp and golden. You might need another pan or two for eggs or bacon if you like. I found with this recipe, it was easy for me just to crack the eggs right into the pan with the potatoes. Less mess. I like less mess.
Whether you are hosting or not, this hash will be great for any no fuss meal. Give it a go this holiday season. You have seen and probably eaten enough cookies already. Am I right?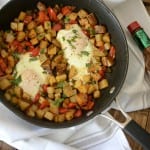 Mexican Hash
An easy and spicy vegetarian has with crispy potatoes, bell pepper, jalapeno, and onion.
Ingredients
2

Tablespoons

Olive Oil

2

Russet Potatoes

diced

1

Red Bell Pepper

stem removed, seeded, and diced

1

Jalapeno

seeded, stem removed, and diced

1/4

Cup

Diced White Onion

1 - 1 1/2

Teaspoons

Pureed Canned Chipotle in Adobo

depending on your spice tolerance

1

Clove

Garlic

grated

Big Pinch of Salt

Ground Black Pepper

1/2

Teaspoon

Cumin

1/2

Teaspoon

Smoked Paprika

Fresh Chopped Cilantro

Lime Juice

Tabasco, Avocado, and Eggs as toppings
Instructions
Add olive oil to a large skillet. Heat over a medium flame.

Add potatoes to skillet. Cover with lid. Saute for 10 minutes. Remove lid and stir. Cover with lid and saute another 10 minutes.

Add red pepper, jalapeno, and onion. Saute another 15 minutes.

Once the potatoes are fork tender, add the chipotle, garlic, salt, pepper, cumin, and paprika. Stir to combine.

Saute another five minutes over a low heat while you get your toppings together. Remove from heat and add cilantro. Serve alongside whatever toppings you desire.