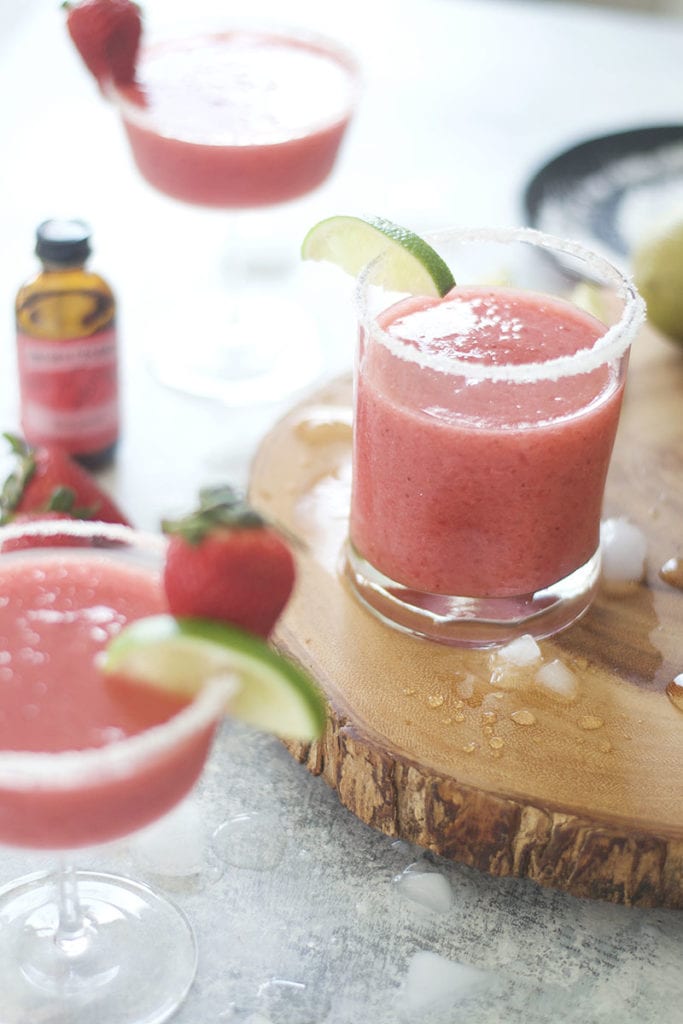 Fresh strawberries and rhubarb are roasted in orange juice and maple syrup. Then blended with ice and tequila. The addition of  rose water from Nielsen-Massey brings the whole drink to the next level. 
Are you a frozen margarita or on the rocks kinda person? Is this a mutually exclusive preference? Are you really a one or the other when it comes to margaritas? Or are you like me and maybe a little bit of both?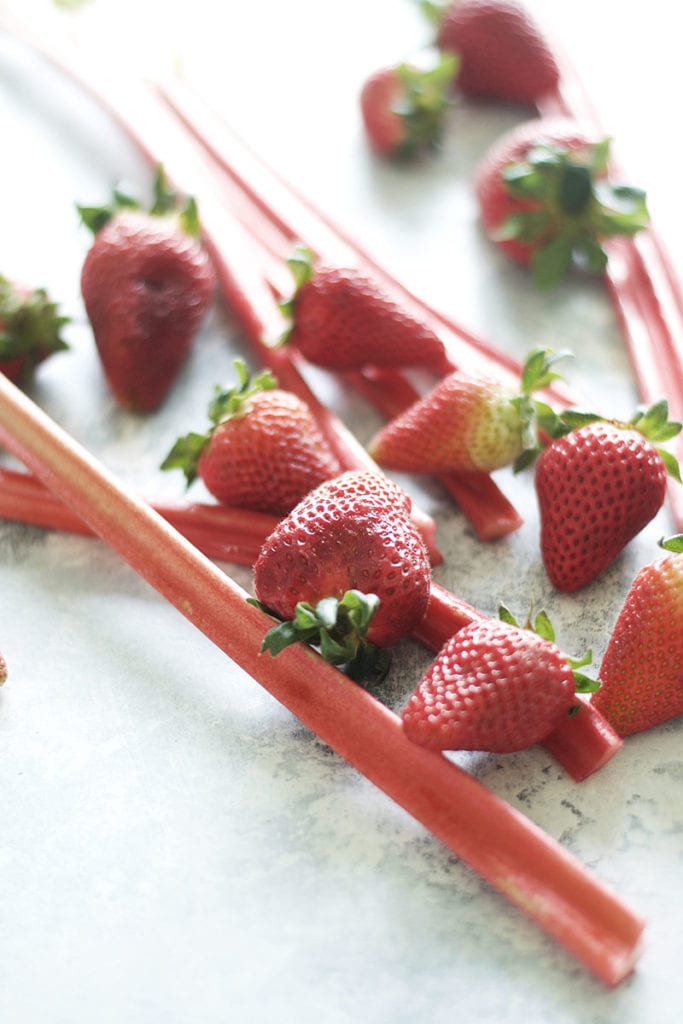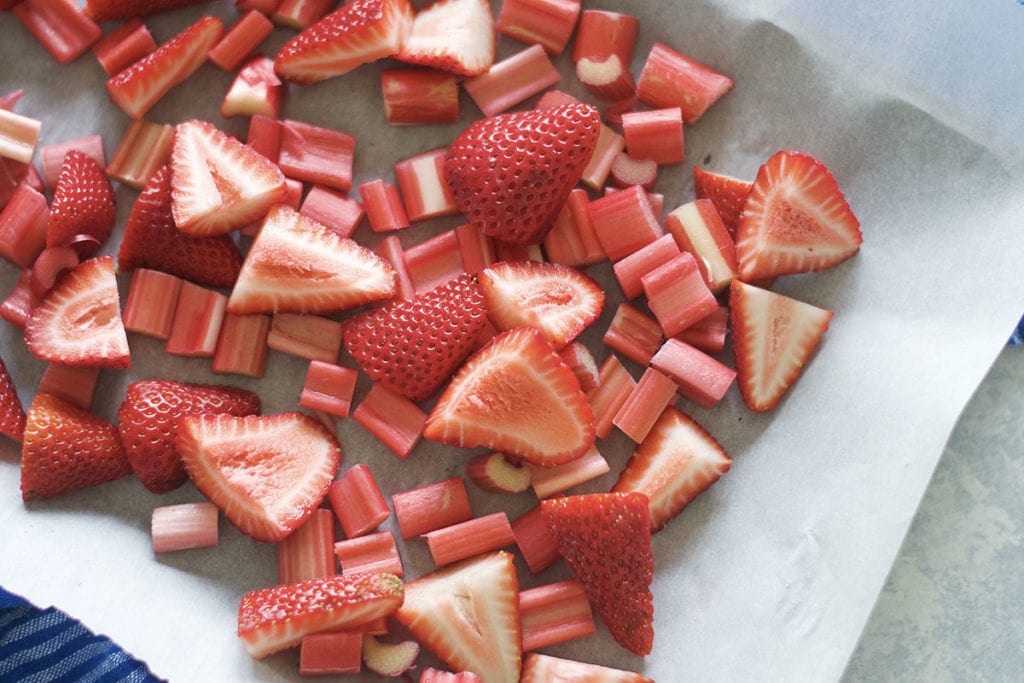 Back in my youth, those old college glory days, there was a Mexican restaurant that me and all my sisters (yep, in case you forgot I was a total woo girl, aka member of a sorority, in college) would frequent. The food and drinks were cheap and (Mom don't read this) they never carded. Or, if for some reason they did decide to card, you could totally get away with, if you were feeling brave enough, (Mom, don't read this) using a fake ID. Chill out mom, I know you read that. I never used a true fake, but I did use an older girl's ID once or twice.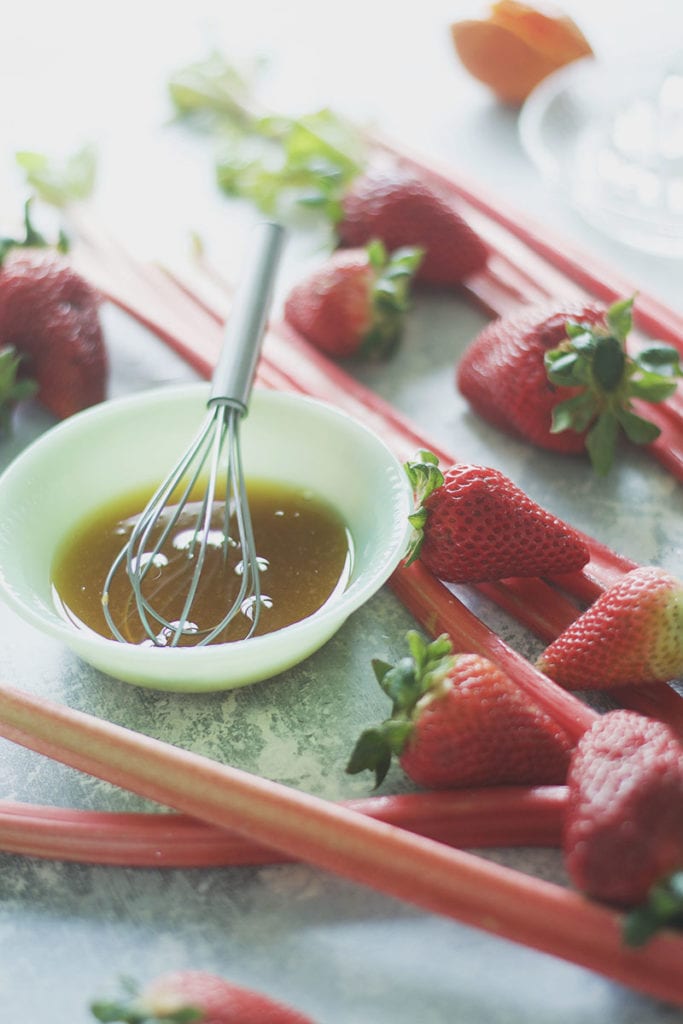 Does that count as a fake? I was always a huge chicken.
Back to margaritas. The margaritas at this place were as big as your head. I believe they were called monster margaritas, over 27 ounces of frozen margarita goodness. If the tequila didn't get you, the sugar along with the many brain freezes did you in for sure. At that time, the thought of ordering a margarita on the rocks was preposterous.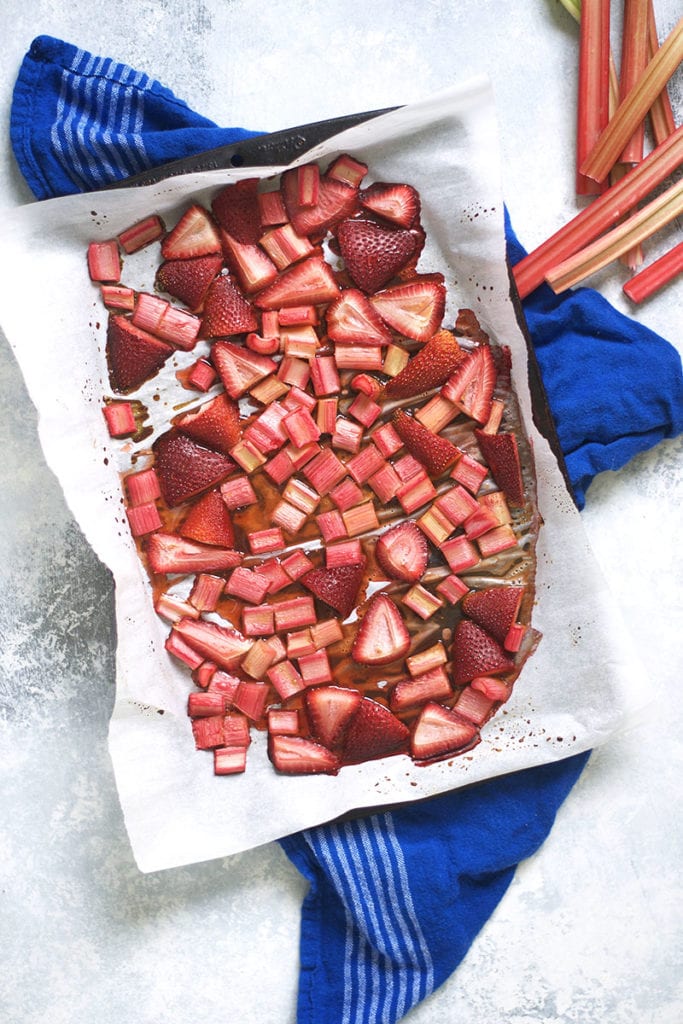 Along the line, I grew up. I had kids and became way less of a woo girl. I miss a good frozen cocktail every now and again.
Well, I am bringing back the frozen margaritas and the FUN for summer.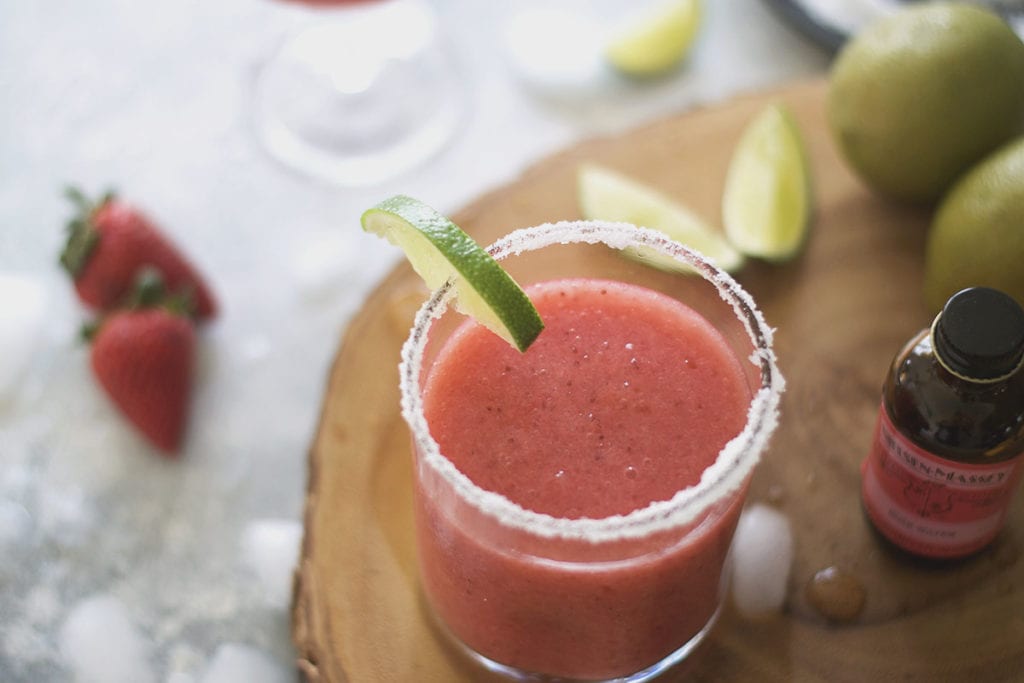 I made you a fancy version of a college fave, the regular old frozen strawberry margarita. I roasted the strawberries and rhubarb in fresh squeezed orange juice and maple syrup to take away the need for sugar or simple syrup. I added in a dash of rose water for a light and floral note. Guys, don't be all like, "I can't drink roses. I am a man!" Uh, my husband loved these. It was so subtle and just enough to make you stop and smell the roses. Get it?!?!?
Rhubarb season comes and goes so quickly, so act fast! You can roast up the fruit, blend it, and then freeze it. When you want to make a batch of the margaritas, just thaw the puree and blend it with the tequila, ice, and rose water.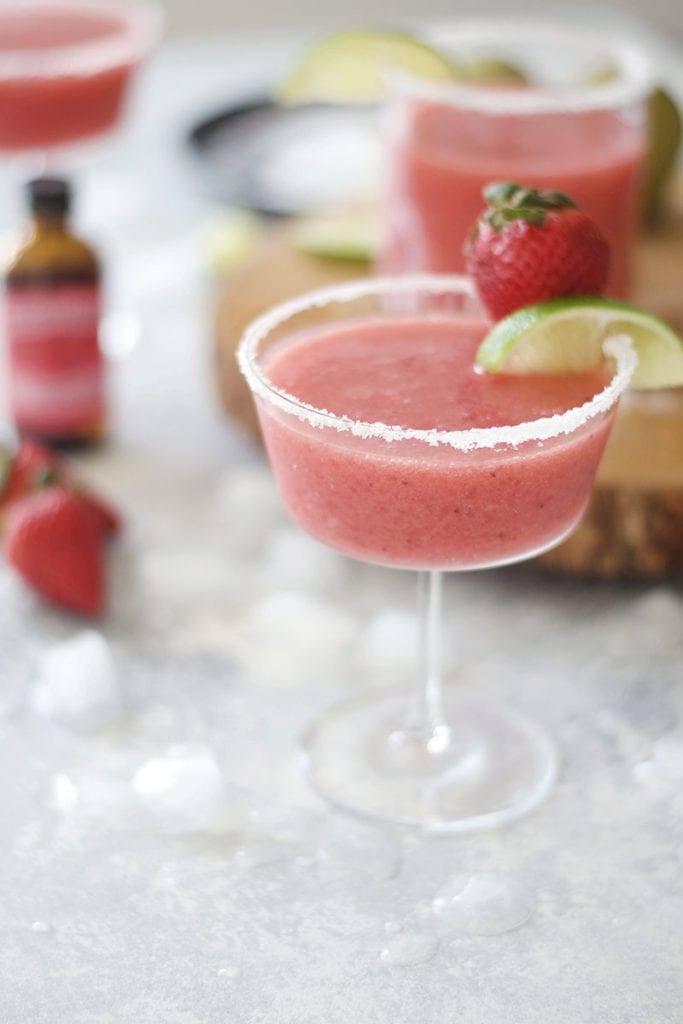 Woooooo! Margaritas on the ready whenever you want them.
Also, in case you didn't know there is a little thing called Cinco de Mayo coming up….
Just sayin!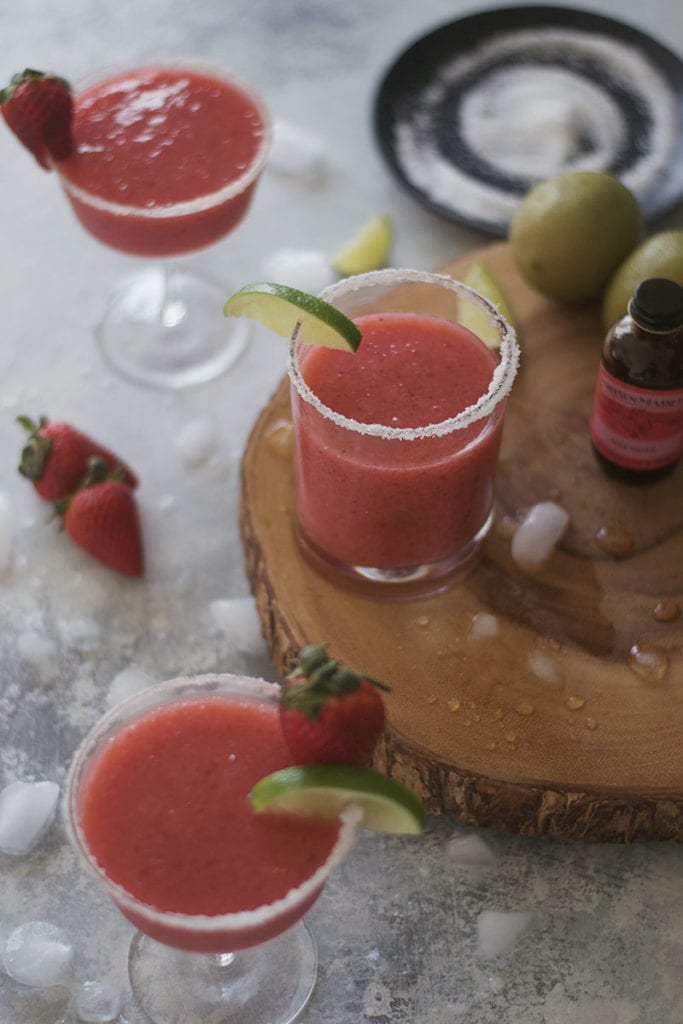 I was compensated by Nielsen-Massey Vanillas for my time in developing this recipe and post. All opinions are my own. I do use Nielsen-Massey Vanillas without being paid to do so on the reg anyway. I really love their products. To learn more about Nielsen-Massey, follow them on Facebook, Instagram, and Twitter.
Related posts: