Yes, Thanksgiving is this week. Now, pasta sauce might not be on your radar. So, do me a favor. If you aren't like my family which requires a pasta side dish at every holiday meal, then just Pin this for later. Oh! Along with the best dang marinara recipe, too. These are both good recipes to have on hand when you have a cold Sunday to kill and feel like warming your home with the smells of garlic and onion simmering away on the stove all day long. Mmmm. So good!
Now that I am a Mom, I need to start making my staple dishes. Ya know, the things your kids will ask for at holidays or when they come home from college. For example, my go-to homecoming requests are my mom's mashed potatoes, sauerkraut, beef stew, and taco salad. Even if it was summer vacation, I was 100% ok with my Mom having the oven on all day making beef stew. She never did because my dad is a ruler of the thermostat and even the slightest movement towards the AC or even the mere whisper of a conspiracy between me and my siblings joining forces to turn on the AC was shut down ASAP.
My dad may have powers. The AC force.
I like to think I have some staple Mom recipes thus far. I get requests for my chocolate chip M&M cookies. I am pretty sure I can rock a good carnitas taco. Oh, the kids love my Mac and Cheese. I have noticed other kids are not as crazy about my mac game as my kids. That is ok with me.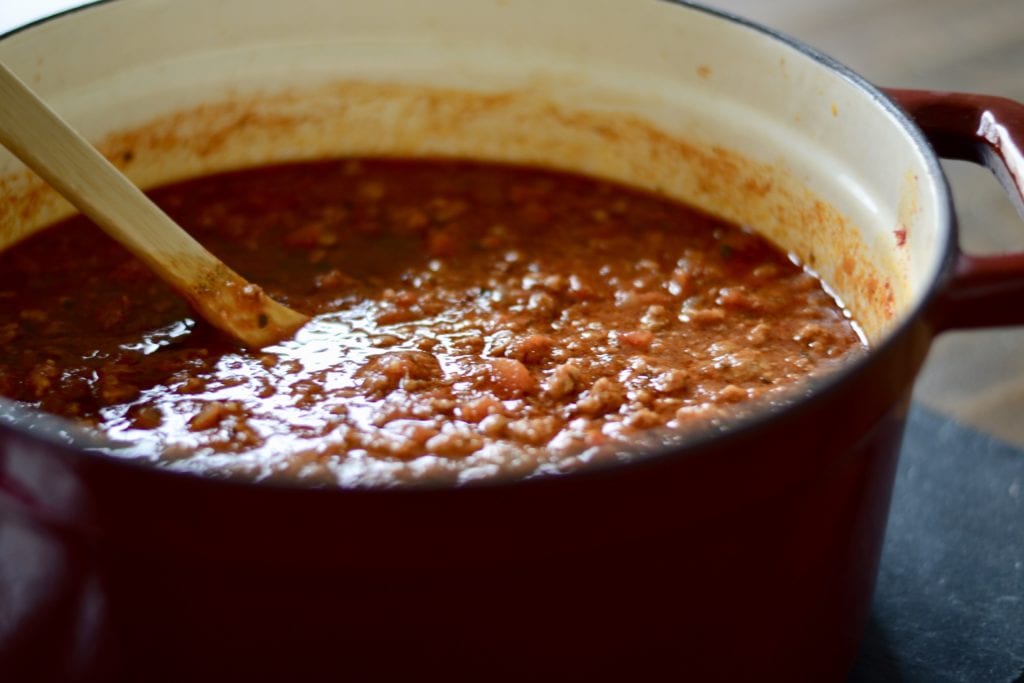 I am also pretty proud, and totally bragging right now, when I say that my kids will always eat any pasta I make. Meat sauce or marinara. They always demolish it. Makes me proud that I spent the 20 minutes chopping veggies and then browning meat. Then the rest of the day letting the sauce reduce and enhance in flavor. Of course the pasta is always served with a big wedge of cheesy, tomato, garlic bread. That recipe, is in fact, my Mom's.
This sauce is great to freeze and pass off to friends and family. I also used this sauce for lasagnas I made for my sisters-in-law after they had their babies recently. It is comforting and hearty. Also, spoiler alert, my secret ingredient is the rind from a wedge of parmesan cheese. It adds a nice salty flavor and thickens the sauce up even more!
Like I said, if you aren't having a pasta dish at Thanksgiving, promise me, you will save this for later. The upcoming month is full of family gatherings, so I am sure you will find an excuse to use this recipe!
The Best Dang Meat Sauce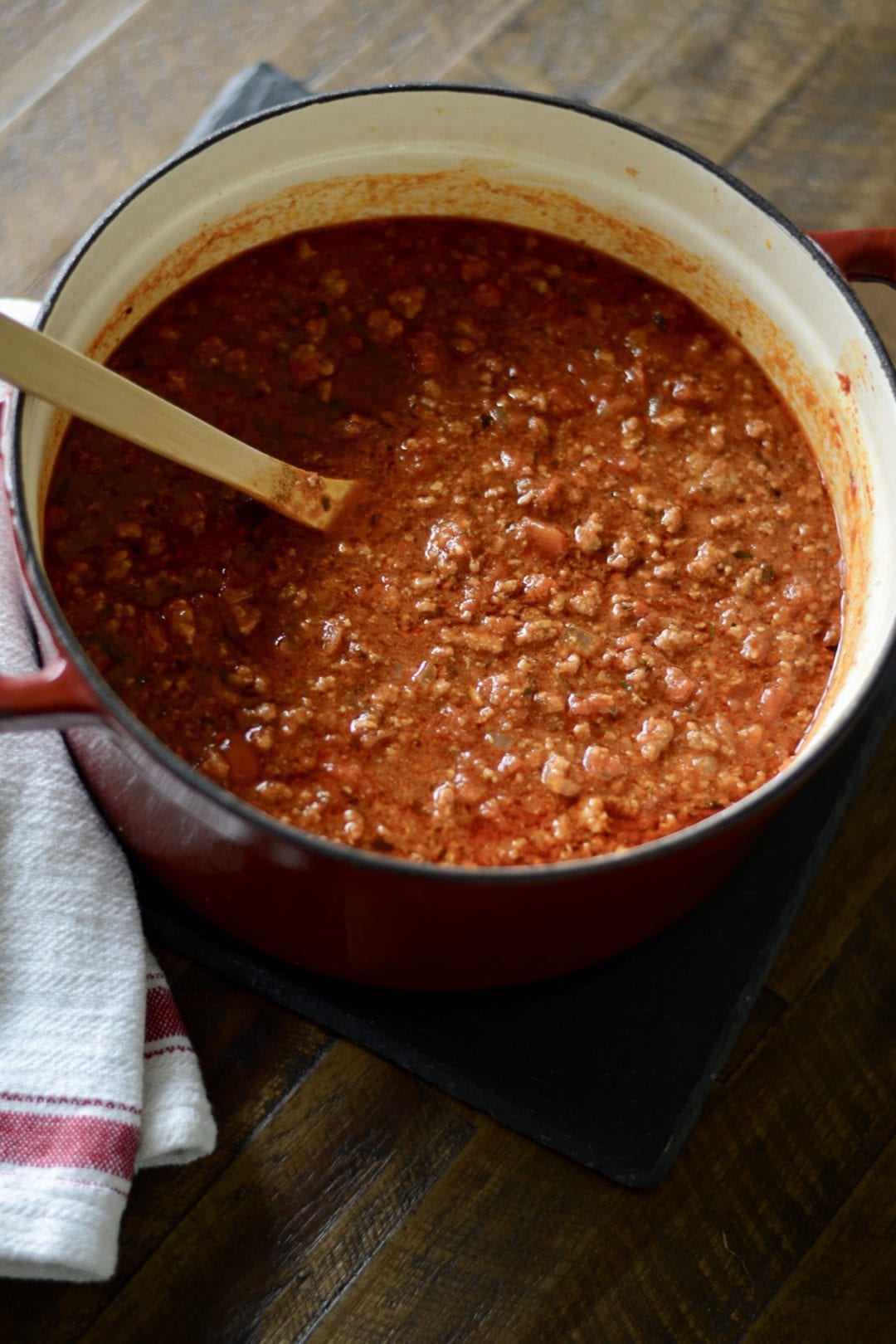 Slow-cooked, hearty meat sauce. Secret ingredients include balsamic vinegar, red wine, and a parmesan cheese rind.
Yields: 10-12 Cups Sauce
1 Tablespoon Unsalted butter
1 Tablespoon Olive Oil
3/4 Yellow Onion, diced
1 Carrot, diced
1 Celery Stalk, diced
3 Cloves Garlic, grated
1 lb Lean Ground Beef
1 lb Ground Pork
1/2 Cup Tomato Paste
1 Tablespoon Balsamic Vinegar
1/4 Cup Red Wine
1, 14.5 Ounce Can Diced Tomatoes
1, 28 Ounce Can Crushed Tomatoes
Salt
Pepper
Crushed Red Pepper Flakes
1 Teaspoon Dried Oregano
1 Teaspoon Dried Basil
1 Teaspoon Dried Thyme
1 Bay Leaf
1 Parmesan Cheese Rind
Add the olive oil and butter to a large Dutch oven or large heavy-bottomed stock pot. Heat over medium/low until the butter melts.
Add the onion, carrot, and celery. Season with salt and pepper. Saute the vegetables for 5 minutes.
Add the garlic, cook one minute. Stir to combine.
Increase the heat to medium. Add the meat. Season with salt, pepper, and crushed red pepper flakes. A few dashes will do you.
Cook the meat until it begins to brown, 10-15 minutes. Use a wooden spatula to break the meat into small bits.
Deglaze the pan with the balsamic and red wine. Mix to combine.
Add the tomato paste and mix until all the meat and veggies are coated. Let that cook for 3 minutes.
Pour in the diced tomatoes and crushed tomatoes along with a cup of water.
Nestle the parmesan rind in the sauce. Season liberally with more salt and pepper and more crushed red pepper if you want a little kick. Mix in the other dry seasonings and bay leaf. Bring to a simmer.
Reduce to low heat. Let simmer for at least an hour and half with the lid partially on. Simmer for at least another 30 minutes without the lid.
Remove bay leaf and parmesan rind before serving.
Preparation time:

10 minutes

Cook time:

2 hours 25 minutes

Total time:

2 hours 35 minutes